We use affiliate links. If you buy something through the links on this page, we may earn a commission at no cost to you. Learn more.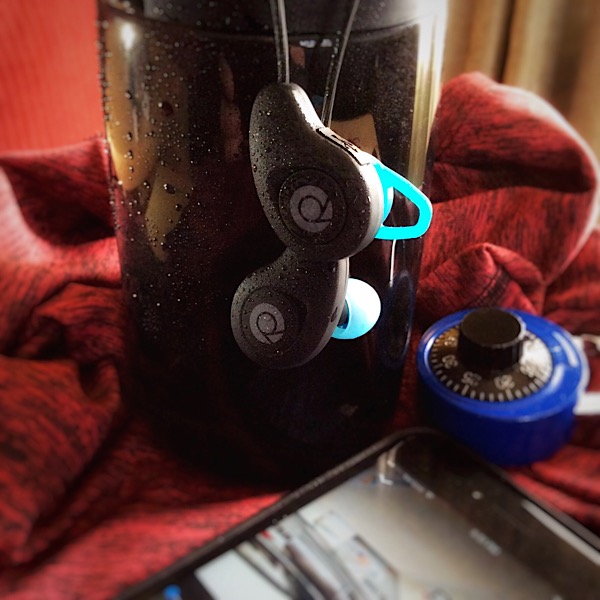 Seems like just yesterday the world was introduced to wireless headphones, now they're everywhere. So many models and price points to choose from it can literally make ones head spin. So what makes a good pair of wireless headphones? Well, that can vary from person to person. For me its a few things. Style, comfort, durability and most importantly sound quality. Then there's the choice between in ear or over the ear styles. Since I LOVE listening to music while I'm at the gym, I prefer the in ear style because they tend to stay in place better while exercising and do a better job of keeping noise out. Do the Rowkin Pulse wireless headphones have what it takes to standout from the crowd? Let's take a look.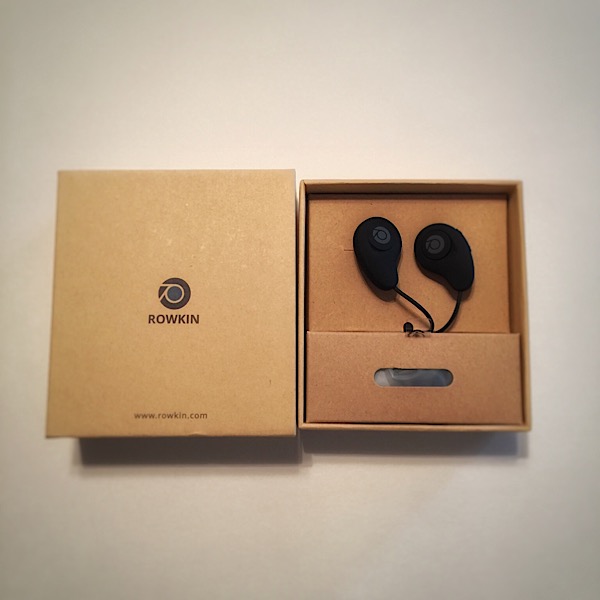 In the box:
A pair of Bluetooth Earbuds
1 USB Charging Cable
9 Ear Tips: Small, Medium, Large (3 colors)
6 Ear Hooks (3 colors)
1 User Manual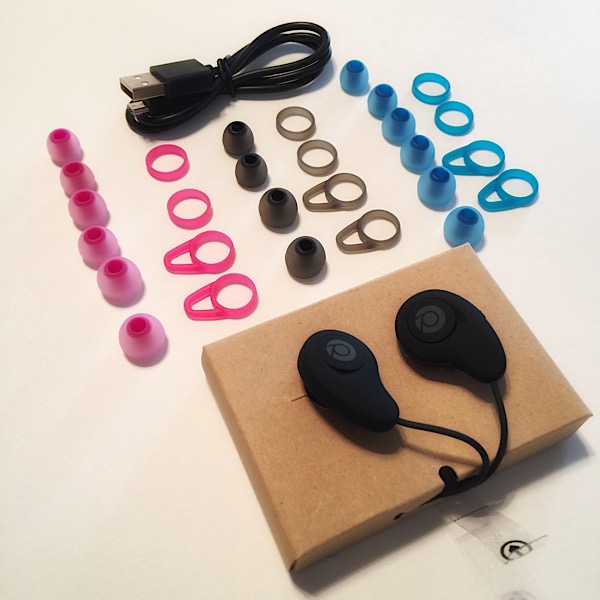 Pulse comes with a nice variety of replacement ear tips, in 3 different sizes and colors, with corresponding ear hooks. I like that Rowkin gives you so many ear tip choices, it assures that you'll get the best fit for your ears. I also like the color variety which includes black, cobalt blue and fuchsia pink, giving you up to 18 different possible color combinations. There's also a USB charging cable and a users manual.
Design and Build:
The design of the Pulse is sleek, with a modern look and matte black finish; or if you prefer they're also available in bright white. The earbuds are small which gives them a nice low profile when in your ears. Build wise they're very lightweight,  yet they don't feel cheap and all the function buttons are well defined and easy to use. Rowkin also uses WaterSafe nano-coating technology, which makes the headphones sweat proof, water resistant and IPX5 compliant. Perfect for running, biking, hiking, exercising, and any other activity.
Charging:
Charging the Pulse is done by plugging the provided USB charging cable into the Micro-USB port which is located on the back of the right earbud. The port is covered by a small plastic piece which is very easy to remove and once put back into place blends in nicely, making it unnoticeable. While charging, the small LED indicator light glows red. Once the headphones are fully charged the LED indicator light turns white. Full charge out of the box took about an hour. The manual states that music listening time on a full charge is 4 hours and I found this to be pretty spot on. They also boast a standby time of 12 hours (power on).
Pairing:
Pairing the Pulse is easy. Press and hold the control button for 6 seconds, and the LED indicator light will blink red and white alternately. This puts the headphones into pairing mode. Select 'Rowkin Pulse' on your device and connect, once connected the LED indicator will begin flashing white. Pulse uses Bluetooth 4.1 technology to connect to your smart device giving you a working distance range of up to 25 feet. In my testing, I was able to walk out of my house to my car without losing connection to my iPhone, approximately 30 feet. I like the freedom of being able to set my iPhone down and bebop around the house without having to worry about losing the connection.
Fit & Comfort: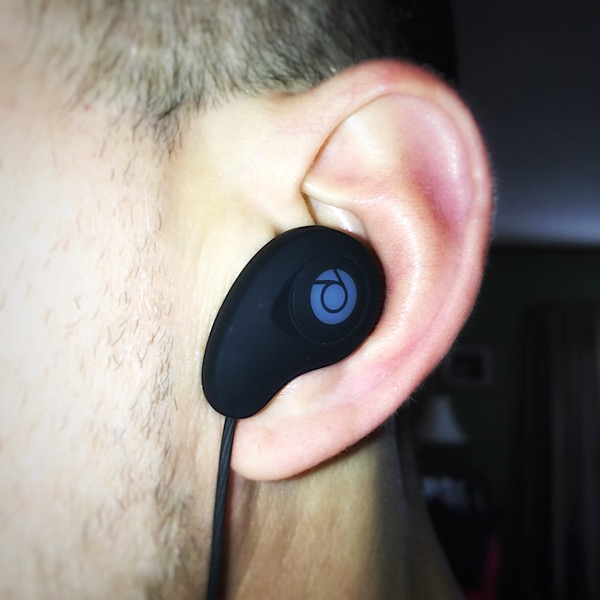 Now that setup was complete it was time to see how the headphones actually felt in my ears. I decided to stay with the ear tips and hooks that originally came on the headphones. I found the Pulse to be very lightweight and comfortable, the earbuds are slightly angled which gives the headphones a more natural fit. The ear hooks, although minimal in size, do a good job of making the fit snug and secure. The cord on the headphones is a nice length too. There's not a lot of excess cord hanging off the back of your neck. Its so thin and light that you really don't feel it at all and maybe more importantly, it's tangle free. Rowkin uses almost invisible grooves to keep the cords In place, so you can toss the Pulse into your gym bag, purse or pocket without worrying about pulling out a tangled mess.
Music & Phone Controls: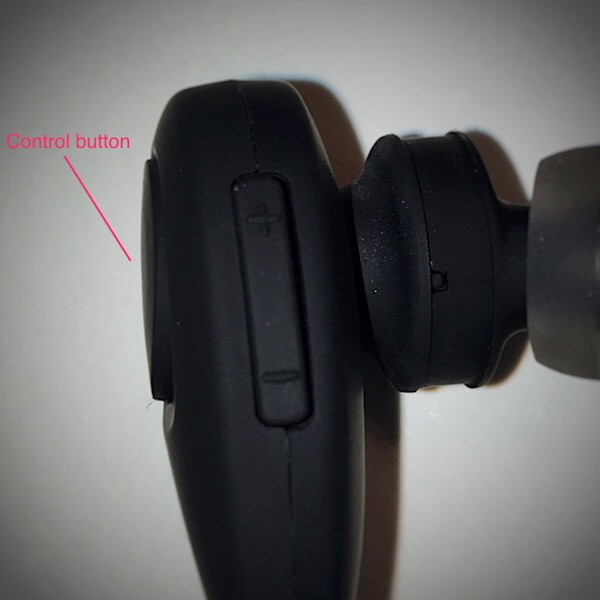 Controlling music on the Pulse headphones is done using the control and volume up (+) volume down (-) buttons. Press the control button once to play music and once to pause. The volume up and volume down buttons are used to control next and previous tracks. Hold volume up 1 second for next track and volume down 1 second for previous track. Pulse also has a built-in microphone for making and receiving phone calls. Answering incoming calls is done by pressing the control button once. Ending the call is done the same way. If you want to reject an incoming call just press and hold the control button for 2 seconds. The built in mic also allows you to access Siri and Google Assistant with just a couple taps of the control button. Giving you a genuine hands-free, wireless stereo experience.
Calling Feature:
I'll admit I don't normally use my headphones to make a lot of phone calls, but for the purpose of this review, I used the Pulse to make a phone call while out walking my dog. It was a cold day and I was bundled up pretty good. Hat, gloves and winter coat. My iPhone was inside my coat pocket, so instead of pulling off my gloves and fumbling for it, I decided it would be a perfect time to try out Pulses Siri voice activation. I was able to double-tap the control button thru my hat to trigger Siri and ask her to make a call. She had no problem hearing my command even though I was outside where there was a lot of ambient noise. Once my call was connected the voice of the person I was talking to was crisp and clear, they said my voice sounded clear without any background noise. Like I said, I don't use my headphones a lot for phone calls, but with spring and summer coming I'll be spending a lot more time outdoors and its nice to know that the call feature is there if I need it.
Listening Experience:
Most of my music listening is done while I'm working out, so I thought the gym would be the perfect place to put the Pulse to the test. There were two things I was looking for specifically. How well the noise reduction and echo cancellation handled the ambient noise inside the gym and how well they stayed in my ears while I worked out. The first thing I noticed is that the Pulse didn't get quite as loud as other wireless headphones I have used, however, the music sounded very crisp and clear with a surround sound like quality. Pair that with the noise reduction / echo cancellation and it made for a very pleasant listening experience. I didn't hear any of the ambient noise that is always present in my gym (music from the sound system or the clanking of weight machines) while music was playing on the headphones. As far as comfort while working out is concerned, the Pulse passed with flying colors. The fit was very natural and comfortable. I never felt like the earbuds were going to pop out and I never had to readjust them or fuss with the cord. Something I was constantly doing with other headphones. My experience with the Pulse was so good that they've become my go to workout headphones.
Wrapping it up:
There's not a lot of bells and whistles with the Rowkin Pulse wireless headphones, but sometimes more isn't always better. In my opinion, that's the case with the Pulse. They're very user-friendly. Both music and phone calls sound crisp and clear. They check all of the boxes when it comes to what I'm looking for in a pair of wireless headphones. Modern style, lightweight comfortable fit, durability and very good sound quality. Are there better sounding headphones out there?  Sure, but in most cases, in order to get premium sound you're going to pay a premium price and even then there are no guarantees. I think the Rowkin Pulse wireless headphones do a very good job of living up to their $49.99 price tag. So if you're in the market for a pair of wireless headphones do yourself a favor and check out the Rowkin Pulse wireless headphones. I think you'll be glad you did.
Source: The sample in this review was provided by Rowkin. Please visit their website or Amazon to purchase them.