We use affiliate links. If you buy something through the links on this page, we may earn a commission at no cost to you. Learn more.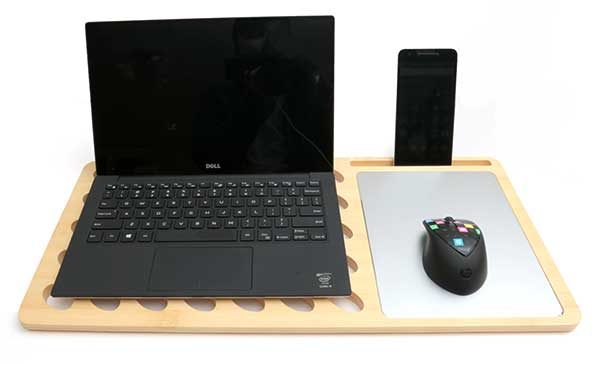 Every evening between 6 pm to 9 pm and later on the weekends, I turn from a mild-mannered Gadgeteer into a couch potato. If Jeanne and I are not watching our favorite TV shows and movies, we're surfing on our MacBook Pros. Jeanne uses a larger version of the Lapinator laptop desk that I reviewed many years ago with her MacBook Pro, but I've always just used MacBook without a lap desk. That changed recently when I was sent a LapLite Bamboo Workstation to review.
What is it?
The LapLite Bamboo Workstation is a lap desk made of bamboo and featuring a mouse pad and a slot for a phone or tablet.
Design and features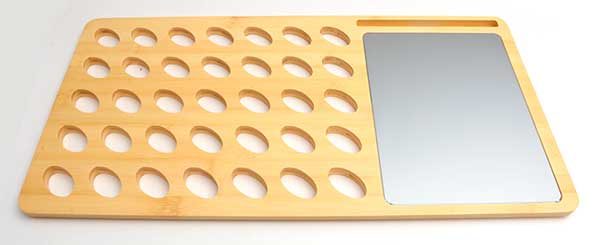 The LapLite lap desk looks and feels like just like wood, but it's actually made of bamboo. Bamboo is a fast-growing fibrous grass that has been pressed together to create a wood-like eco-friendly material.
Overall, the LapLite is 22 x 11 x .5 inches. The laptop area has oval cutouts to help keep the laptop and your lap cool. It can accommodate up to a 17″ laptop.
Next to the laptop area is a 7 x 9.5-inch aluminum mouse pad with a 7.5-inch slot for your phone or tablet above it.  The slot has a pass thru cutout that will allow a charging cable to pass through the lap desk.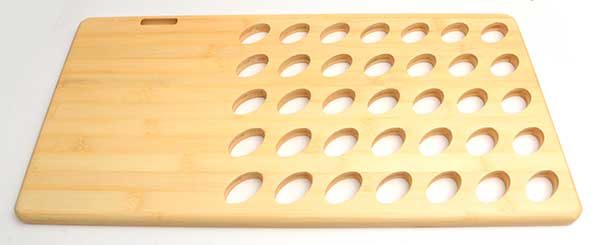 The sides and edges of the LapLite are rounded and smooth. I didn't find any splinters or rough edges.
Using the LapLite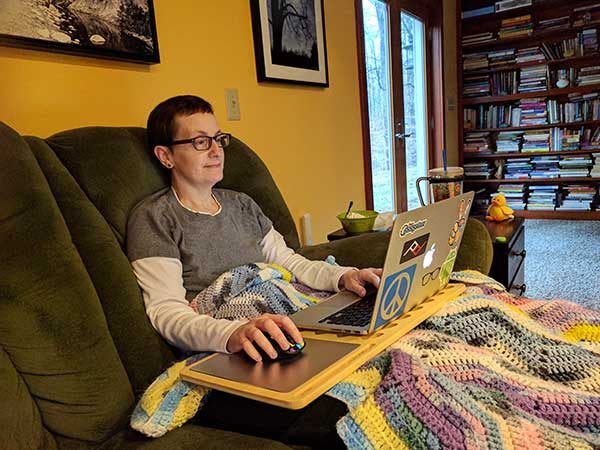 After using the LapLite for a few days, I noticed that it kept my lap cooler than when I put my MacBook Pro directly on my lap.
The LapLite weighs 3 pounds by itself which sounds heavy when you add the laptop and mouse, but I really didn't notice the extra weight on my lap.
With a width of 22 inches, the LapLite Bamboo Workstation is pretty wide. But when you need to use a mouse on the couch it's great having that extra space for the built-in mouse pad. The only problem with using a mouse and the LapLite is that my lap isn't completely flat and whenever I'd let go of the mouse, it would slide down and off the mouse pad.
Speaking of the mouse pad, it's important to note that the LapLite is designed for right handed users because the phone / tablet slot is above the mouse pad on the right side of the lap desk. I'm left handed, but I use the mouse with my right hand, so this was a non-issue.
For people who use a mouse with their left hand, they can flip the LapLite around and use it just fine… except for the device slot which will be below the mouse pad when it's flipped around for left hand use.
Final thoughts
Although the LapLite is really nice, I don't think I'm a lap desk type of user. I don't like having extra "stuff" when I'm working and playing with my MacBook. If I need to do serious work, I take the MacBook to my office and sit at a desk with a mouse and a larger monitor. So the LapLite is overkill for me. I think Jeanne might like it though since she's already a lap desk user and she might enjoy using a mouse with her MacBook because she's always having trouble when she needs to do a right mouse click with the touch pad.
The LapLite Bamboo Workstation is the nicest lap desk that I've used and reviewed. It's well made, looks nice and has extra features (mouse pad and device slot) that set it apart from other lap desks that I've seen and tried.  If you don't mind the size and price, it's sure to not disappoint.
Source: The sample for this review was provided by LapLite. Please visit their site for more info and Amazon to order.
Product Information
Price:
$57.49
Manufacturer:
LapLite
Retailer:
Amazon
Pros:

Holds up to a 17" laptop
Slot for phone or tablet
Built-in mouse pad

Cons:

No left-hand version
Mouse will slide off the mouse pad if lap desk isn't on a flat surface