We use affiliate links. If you buy something through the links on this page, we may earn a commission at no cost to you. Learn more.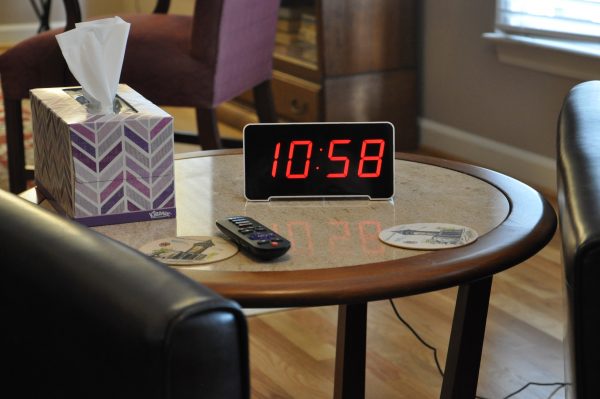 How many of you wake to sounds from your smartphone, charging on or near your bed? How many of you still have a clock in your bedroom for timekeeping (not for decoration)? These two questions will determine your interest in the latest gadget to cross my review desk: the Sandman Alarm Clock.
Note: Photos may be tapped or clicked for a larger image.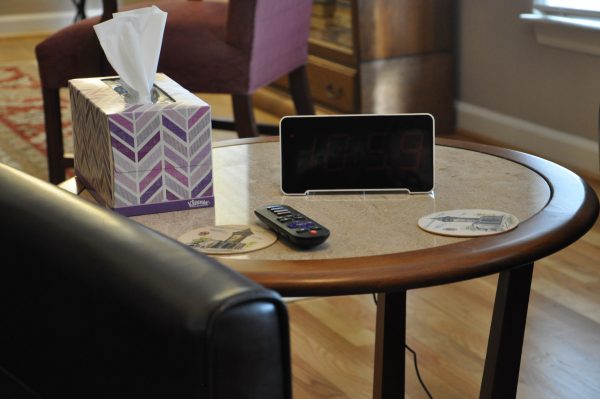 We all sleep, and most of us are cursed with the necessity of having to be awakened at a specific time. For this, most of us use some sort of alarm clock or alarm app. While we're sleeping, most Gadgeteers also plug in their phone, tablet, watch, or another device for charging. The result has made for a lot of tangled confusion on and under nightstands the world over. A company called Palo Alto Innovations has developed something to tame some of this with the Sandman alarm clock. They sent one to me for testing, and I've done so with great enthusiasm. (Anything that includes me sleeping is met with great joy.)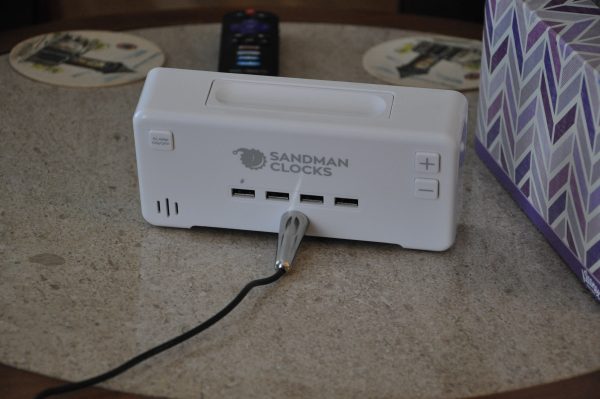 The clock itself resembles any of the thousands of LED clocks you've seen over the years: black plastic face with large numerals and small dots nearby to indicate alarm status and AM/PM. There are buttons to allow you to change the time, set the alarm, etc., on the back. There's also a built in backup battery in case of power outage. The Sandman, however, features a multi-level brightness adjustment on the display, which means you'll actually have a dark room to sleep in once more. (My youngest actually puts an index card over her current clock to dim the display.)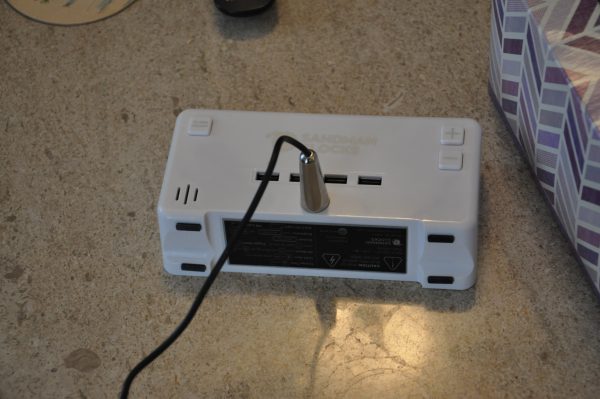 The other secret superpower this clock brings to market is four USB charging ports across the back. No longer do you have to flail about under the bed and nightstand for that cable to plug in your device(s) at the bedside. In fact, since it's right there on the nightstand, using a short cable or one with several tips makes lots of sense.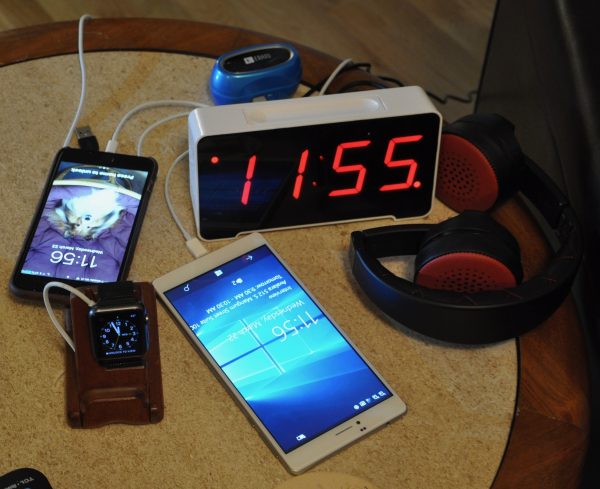 With these features, what's not to like, right? Well, a few things. First, the buttons have no way to lock. So, in the middle of the night, you reach to turn the clock around and read it, and you've grabbed the button to change the time. Or you've turned off the alarm if you grab the other side. Second, setting the alarm takes a lot of twiddling to get the hang of. With only three buttons, you'd think they could have made some other location for them, or built up a collar around them to make it more difficult to change or add a lock button. And holding the snooze bar while holding one of the buttons on another plane means this is never a one-handed operation.


The sound is loud enough to wake me, but I'd like to change the sound or make it louder on those days I'm going to need some added encouragement to rise. These things should be easy enough to add for the next version, but without them, the addition of USB ports is not quite enough to make me change from my current clock.
How has what you keep on your nightstand changed in the last 10 years? How about the last 15? That question brings into sharp relief the changes brought about by cell phones, iPods, smartphones, and our move from needing clock radios to using phones to wake us. This could be an interesting social science study, actually. Let's discuss it in the comments.
Update: In response to one of the comments, here are the specs from the Sandman, which should have been in the original review. Sorry for the omission.
Never miss one of our posts again. Sent MON, WED, and FRI with the latest gadget reviews and news!
FEATURES
4x total USB ports
Large 1.8″ digits
1x high-powered USB port
Alarm function with snooze
Battery backup
Integrated cable management
Adjustable auto-brightness
24-Hour time mode
Small footprint
Neutral design fits any decor
Non-slip rubber feet
Simple and intuitive controls
Red LED's for low power consumption and to not harm your night vision
Source: The sample for this review was provided by Palo Alto Innovation. Please visit their site for more info and Amazon to order.


Product Information
Price:
$44.99
Manufacturer:
Palo Alto Innovation
Retailer:
Amazon
Requirements:
Pros:

Variable brightness levels
USB port allows charging up to 4 gadgets
Backup battery

Cons:

Time and alarm status are easily changed when picking up clock
No control over alarm sound or volume level
Fiddly controls for setting alarm and time