We use affiliate links. If you buy something through the links on this page, we may earn a commission at no cost to you. Learn more.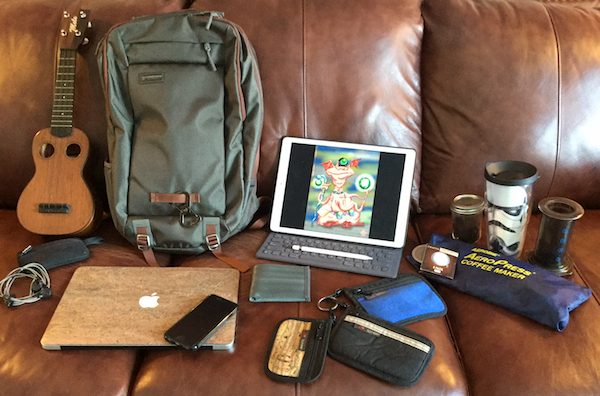 Hello, friends! Welcome to Bob's EDC update. I am always on the go for work and I am obsessive about functional design, so I'm constantly tweaking my toolsets to optimize my daily carry. Here's the go-to list of items that find their way into my daily EDC!
(Note: I've included links to all the items on my list where available f you would like to check them out yourself. In some cases, an item may be an older model, so I have linked to the latest product page where appropriate.)
The Bag.
I'm obsessive about bags. I have used more messengers, briefcases, and backpacks than I care to count. My current go-to is the Timbuk2 Command Backpack. It allows me to haul a whole day's worth of work stuff (including lunch, gym gear, etc.), and it's ridiculously comfortable to carry for extended periods. It looks good in a business-casual workplace, and it's great for one-bag work travel for a short trip. I do have some issues with the accessibility and pocket design, but I have yet to beat it for day-to-day flexibility and capacity.
Having said that… we're moving to an "open space" office design at work, and I'll need to adapt to a more flexible, mobile office solution. I'm thinking that a bigger messenger bag may meet my needs, and I'm researching solutions at this time (I don't mind taking suggestions!).
The Laptop. 
I work in digital marketing, so testing things across multiple devices is a key part of my job. I have a Thinkpad, but I much prefer my 13″ MacBook Air for daily use on the go. It's smaller size and lighter weight is great for running about. Did you happen to notice that MacBook skin in the picture? Kinda cool, right? That's a natural Stone Skin from Cover-Up, which I am currently evaluating for an upcoming review here on The Gadgeteer. More on that soon!
The Tablet.
I'm experimenting with switching to a tablet as a laptop replacement for day-to-day use. I have a work-issued iPad Air that I can use get 80% of my work done, but the current love of my life is the iPad Pro 12.9″. This is my personal tablet, and I have it tricked out with the iPad Pro Smart Keyboard and the Apple Pencil. With this combination, I can accomplish virtually any business, personal, or creative task that I need to get done.
If you're wondering about the illustration on the iPad in the photo, that's one of mine. I draw for fun, and to keep my creative muscles in working order. That piece was done in Sketchbook Pro, but I'm currently digging Proceate as my go-to drawing package. Its integration with the Apple Pencil is amazing.
The Phone. 
I'm an iPhone guy from the first generation, and I currently have the iPhone 6S. It's got all the function and ease-of-use I need at this point, and I don't see the need to upgrade any time soon. My phone case is also a Cover-Up product, called the Stone Explorer. It's also a natural stone material like the MacBook skin. I'll be posting pictures of this along with a detailed review with my evaluation of the MacBook Stone Skin soon!
The Headphones.
My headphones are the Yurbuds Signature Series Sport Earphones. I hit the gym almost every day and these buds are great for their durability, comfort, and water resistance. Sound quality is not exceptional, but more than good enough for playing tunes & drowning out background noise. The microphone is pretty good for personal and conference calls, with minimal background interference. The wire-wrapped chords minimize tangles, which is an added plus.
The Wallet. 
Last year I picked up a Harvey's Seat Belt Wallet. I'm a fan. Not only is it a cool eco-friendly solution, but it's indestructible and really well designed to carry all of your cards & cash without getting overly bulky.
The Coffee Gear.
Life without coffee is unthinkable. I've been using an Aerobie Aeropress Coffee Maker for years. As long as you have access to hot water, it makes the best brewing solution out there in a simple, portable package. I also use stainless steel mesh filters instead of paper filters (yes, it does make a difference in flavor!). There is an  endless variety of these filters available through Amazon, but these are the ones I currently use.
I grind my own beans fresh every morning and keep in a classic Ball jar for transport. You can't beat Ball jars. They keep a tight seal, they're compact, and they are virtually unbreakable.
The Beverage Mug.
The Force is strong with is my Tervis mug. I love that you can go from hot-to-cold in this double-walled beastie, it is easy to clean, and really tough. They also sell a variety of add-ons for lids and accessories. The only downside to this mug is that the lid is not completely sealable, so you do have to be careful about transport. I'll probably need to switch to a watertight option if I switch to a messenger bag, but I'm a Star Wars guy. I'm kind of attached to my Stormtrooper mug at the moment.
Accessory Pouches.
I love Tom Bihn products and have owned a number of their bags over the years. Tom Bihn is legendary for the design and build quality of their bags and accessories, all made in Seattle. Pictured here are a set of their accessory pouches that I use to corral all the loose stuff in my bag. There's a standard pouch (the blue one), a padded pouch that's great for delicate items (the black one), and a cool little pouch that uses a cork material that I have never seen anywhere else. Every pouch also comes with a built-in clip, which allows me to keep them attached to a ring for easy access when dumped into the bottom of my pack. Check out the Tom Bihn web site for all of their products.
The Ukulele.
I'm an avid ukulele player, and I own several of them. I wouldn't call myself good, but I compensate for a lack of skill with a ton of enthusiasm. I'll confess that I normally don't carry my ukulele… but it felt right to sneak one into the picture. 😉
That's the rundown, my friends! If you have any specific questions or comments about my daily EDC, let me know!