The Gadgeteer is supported by readers like you! If you buy something through links on our site, we may earn an affiliate commission at no cost to you. Thank you! Learn more.

Who would want a traditional (aka boring) drone when you can have this remote controlled bird of prey instead. The remote controlled bald eagle has a carbon fiber frame with nylon and polyester wings that are 9.5 feet wide from feather tip to feather tip. The included rechargeable lithium battery powered wireless transmitter controls flight from up to 500 feet away. Enjoy up to eight minutes of soaring, looping and even hovering flight per charge.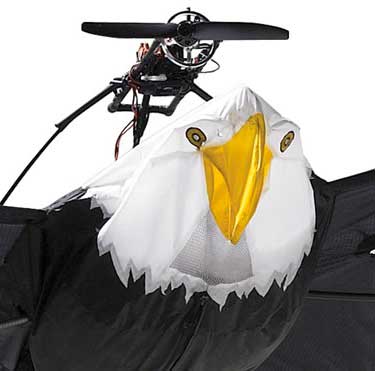 The 9 1/2 foot remote controlled bald eagle is suitable for ages 14 and up. At $499.99, this majestic symbol of the United States of America is going to put a massive dent in your wallet. But if that's not an issue, head over to Hammacher Schlemmer for more info.