We use affiliate links. If you buy something through the links on this page, we may earn a commission at no cost to you. Learn more.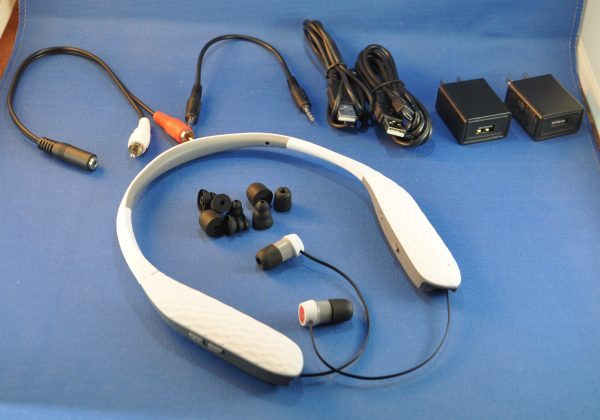 I walk and listen to music or podcasts pretty regularly. Because of the heat this summer, I started doing it in a mall about ten minutes from my house, and have kept at it through the rain and cold this fall and winter. I was recently sent a Lucid Audio AMPED Bluetooth neckband system, which I've used for a few months now. Here's how this unit is different from my standard earphones.
Note: Photos may be tapped or clicked for a larger image.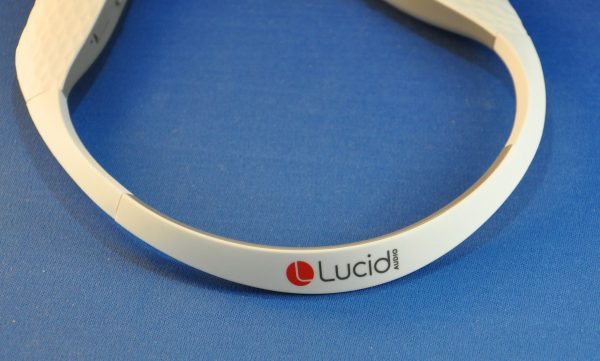 First off, the neckband itself measures 7″ x 5.75″ and weighs about 2 oz. It's roughly horseshoe shaped, and can be slightly stretched to fit over your neck. At each end, there is an earphone, attached to a flat cable on a spring-back system. There is a small button inside the neck on each side to release the spring and retract the wires once you've finished listening. I much prefer this to the "slowly pull out and rapidly recoil" type retractable cord, which usually gets broken after about a week of use.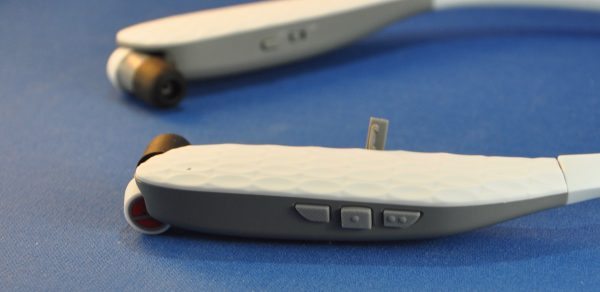 On the left side, outside the band, there are three buttons. These correspond to lower volume, play/pause, and raise volume. (see pic above) Double-clicking on the play/pause button will recall your last phone call. Holding it puts the headset into pairing mode.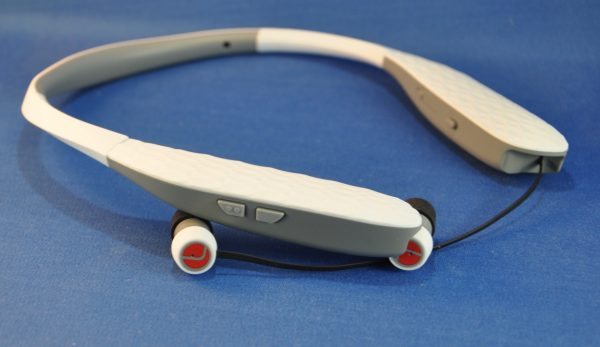 On the right outside, there are two buttons, (see above) which adjust the sensitivity of the ambient noise play-through of the unit. This is called AND, and allows you to hear your audio content, as well as have the option to hear your surroundings better. If you're walking outside, or biking, or just want to not be startled when a coworker comes up behind you, having your surroundings in the mix can be great. If you don't want that, turn it down. There is also a Youth mode, which limits playback volume to 85 dB. Normal (Adult) mode is limited to 95 dB, and there is a Sport mode with "additional mute time for ambient sounds." I have no idea what this means, but it's easy to change, using both buttons on the ambient noise volume buttons at once. The instruction sheet (included along with a nice soft lined nylon bag) is easy to follow, and their help desk is very good and based in your local country.
In use, I found the neckband easy to control. The sound is very treble-heavy, but incredibly detailed. I've been listening through the whole Beatles discography on Spotify for the past few days, and have been delighted to hear details I've never heard in many tracks. Part of that has been the crispness of the sound from these earphones, and of course, the remastered pieces are far and away better than anything I ever heard in any car or pocket radio while they were getting original airplay. And I've not had but the few CDs I repurchased after getting rid of my vinyl. (Notably Revolver, Rubber Soul, and, of course, Abbey Road.) If you like bassier music, head over to another aisle, because these are not gonna do it. But if you like details, or spoken words, you stand a better chance of enjoying these. TV or streamed movies/shows are very clear.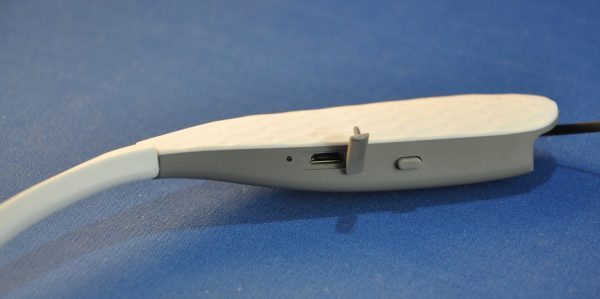 Re-charging through the USB socket is quick and easy. As mentioned earlier, I especially like the release buttons for the wires that retract and expand from the end of the neckband. (Above pic) This prevents the earbud wires from getting tangled up. Wearing the retracted neckband is almost unnoticeable, and activating the earbuds from the stored position is quick and easy – you just pull out enough cord to get the earbud to your ear, and plug it in. (OK, embarrassing true story – I have been looking for the neckband for over an hour. Our house is still a bit topsy-turvy from getting a bunch of renovations done, so there is stuff piled on various tables, and searching is not as easy as it should be. I finally gave up, and returned to writing. When putting on my usual wired headphones, I noticed that the neckband had been on my stinking' neck the entire time I was searching the house for it! I trust you folks enough to not laugh at me, or tell anyone else about it. Let's just say the product is unnoticeable when being worn and leave it at that, OK?)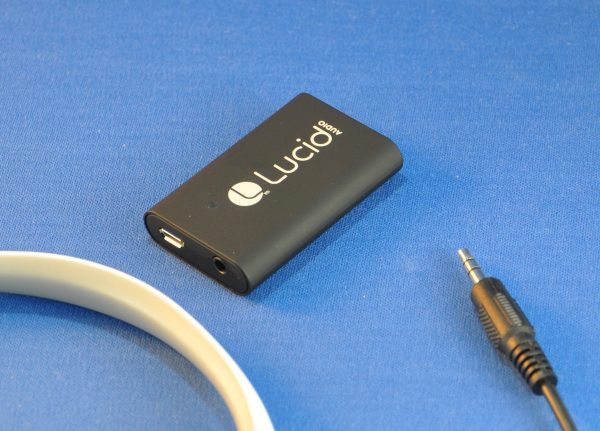 Included in the package is a Wireless Audio Streamer, which connects to any AUX output, and can pair easily with the neckband. To pair, just hold the single button on the streamer until the single LED flashes slowly between red and blue. Turn on the neckband and put it into pairing mode. Just wait now – that's the hard part, and where I messed up. Eventually, the Streamer will show solid blue, and the neckband will show it's usual flashing blue. They are paired now, and any device you connect to the streamer will play through the neckband. You can now watch TV without annoying your SO while they are reading in the same room.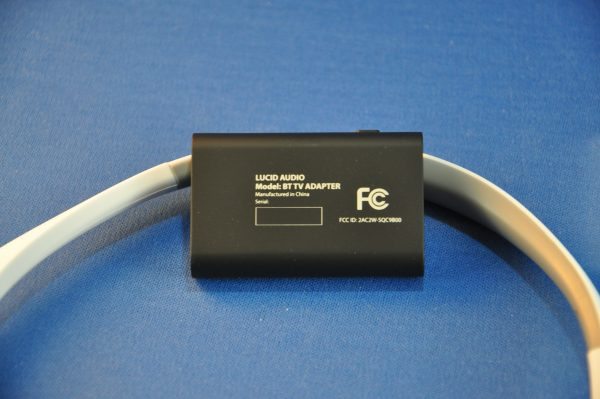 Even without the use of the streamer or the ambient noise amplifier, the Lucid audio headset is a good thing. The heavier weight of the neckband kept the unit from moving about a lot, (compared to wireless earbuds with a connecting cable) and having wires that can adjust shorter or longer depending on where your shirt (or collar) is remains one of the benefits. Not having it tangle while in your bag or around your neck is icing on the cake.
Source: The sample for this review was provided by Lucid Audio. Please visit their site for more info and Amazon to order.

Product Information
Price:
$200 retail, online for as low as $130
Manufacturer:
Lucid Audio
Retailer:
Amazon
Requirements:

Audio source with Bluetooth or AUX output

Pros:

Easily adjustable volume levels for younger listeners
Ambient noise amplifier keeps you aware or filters out room noice

Cons: