We use affiliate links. If you buy something through the links on this page, we may earn a commission at no cost to you. Learn more.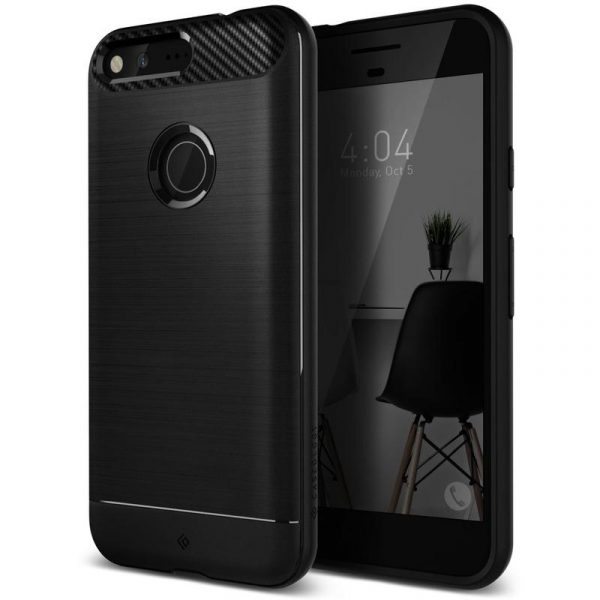 Almost everyone I know has a smartphone. Almost everyone I know has damaged their smartphone at one time or another. I myself am guilty of said offense.
With all the money we invest in our smartphones, it only makes sense to protect it as best as we can.
I was recently granted the opportunity to review the Caseology Vault case for my Pixel XL.
The Vault is a flexible thermoplastic polyurethane (TPU) case. That's basically a fancy way of saying bendable plastic.
Unlike previous Pixel XL cases I've reviewed, the Vault is a simple, one-piece case.
The front of the case wraps around the top edge of the phone.
The edge of the Vault isn't flush with the Pixel screen; if you place your phone screen down, the Vault will protect it from being scratched by the surface it's resting on. Other than that, the Vault offers no screen protection.
The back of the case has cutouts for the camera, sensors, and fingerprint reader.
The back of the case is also laser etched. This textured surface feels secure in your hand and doesn't have that slippery feeling some cases tend to have.
The Vault doesn't offer any protection for any ports or speakers.
The Vault has cutouts around each port and speaker; however, there are no protective flaps to keep dust or water from entering.
The really nice thing about the Vault is it is extremely thin; it adds very little bulk to the phone. It fit nicely in my hand and didn't affect my ability to use the phone at all.
The Vault's lack of bulk does have me questioning just how much protection it provides. There is no doubt the Vault will protect your phone from scratches to its back and sides; however, I'm not sure just how much drop protection it provides.
Caseology claims "[e]ach corner of the Vault's shock-absorbent frame has specially designed cushions to protect against drops." I imagine the case will help mitigate damage, but I can't see the Vault protecting your phone very well from drops onto a hard surface.
The Vault is the perfect case for someone who only requires minimalist protection for their phone. It will protect your phone from being scratched when placed on your nightstand or office desk, and its textured back should help prevent you from dropping your phone. However, if you're looking for added screen protection or protection against drops, you may want to look elsewhere.
The Vault costs $10.99 and is only available in black.
Source: The sample for this review was provided by Caseology. Please visit their site for more information and Amazon to order.