The Gadgeteer is supported by readers like you! If you buy something through links on our site, we may earn an affiliate commission. Thank you! Learn more.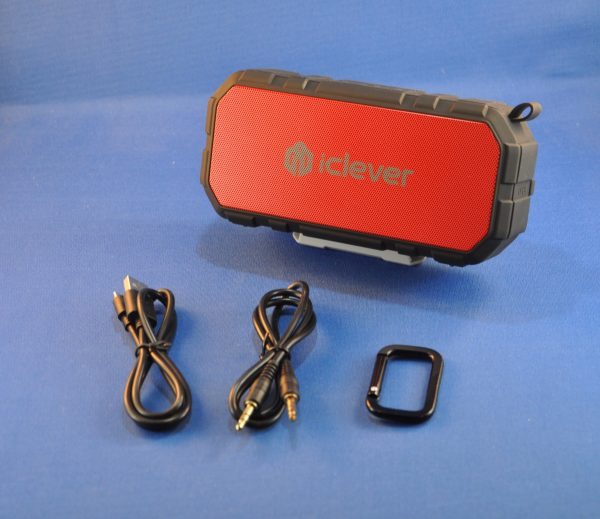 Bluetooth speakers outnumber the grains of sand on the seashore, it seems. Hardly a week goes by that I don't see a review of a new model on some website, especially in what has ecumenically been called "The Gift-Giving Season." /eye roll/ During this period, iClever just released a few new models, and I was sent the iClever IC-BTS06 Bluetooth Speaker in red and black to review.
Note: Photos may be tapped or clicked for a larger image.
Like many speaker enclosures, it is a rectangular box, with controls on top for play/pause, rewind, and next track. There is a small pinhole for a mic, since you can also use this as a speakerphone. There are LEDs under similar holes to indicate battery life (or the lack thereof) and a loop for a carabiner (included) to attach it to your pack, belt, bike handlebars, or dog's harness. Under a weatherproof rubberized flap, there is a charging port, an AUX jack for sources that don't have Bluetooth, and something unusual – a hard-wired on/off toggle switch. Many speakers feature soft switches, or use the play/pause/multifunction button for this. I appreciate having a dedicated button for solid power on/off.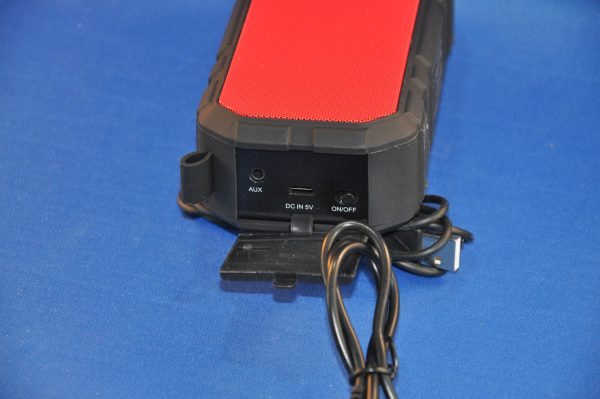 When it's turned on, it immediately enters pairing mode, if there is nothing within range not already paired. I found pairing to be fast and solid – even when there were several items that had been previously paired. It would always grab the signal from the last one used. Changing it to a different paired unit will most likely depend on your OS. I found in iOS 10, I had to disconnect from the current paired device, then connect from the device I want as a source. In other words, similar to most other BlueTooth 4 devices.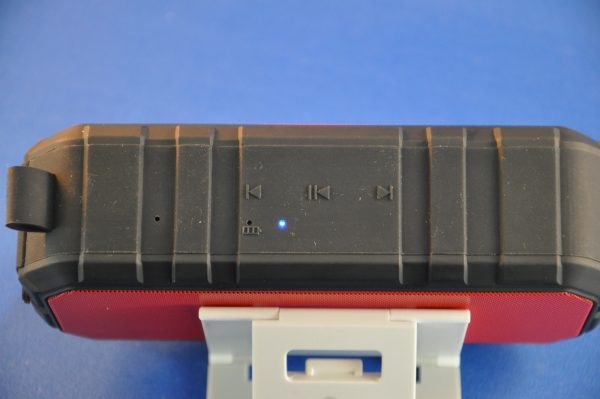 Even when I was walking around the house, working on a remodeling project, the phone in my pocket stayed paired with the speaker. It responds quickly to volume changes from the phone, and filled the kitchen/dining room with Dire Straits, Derek and the Dominos, and Crosby, Stills & Nash. When an alert or the phone rang, it was easy to glance at my phone, determine what needed to be done, and get back to listening.
While our house has been totally rearranged (we're putting in new flooring), the TV has not been available. This speaker and my MacBook Pro produced acceptable sound for the Lovely Bride and I to enjoy a show on Netflix. I grabbed an AUX cable from the desk, rather than changing the pairing, and the unit picked up on the input change without incident. The sound is much fuller than my MacBook (which is fine for one person, but gets a little thin for two).
If the speaker doesn't detect input from a source for a while (maybe a minute?), it shuts off to save battery. This means toggling the aforementioned switch to get things back up, which is a hassle, but not a deal breaker. The solid feel and rugged build means I tend to grab this first, rather than some of the other speakers I've collected when heading to my outside office. And, while it's cool or rainy/snowy, it fills whatever room I'm in fairly easily. I don't have vaulted ceilings or huge rooms, but my den/kitchen is 25′ x 15′, which is not tiny, and this little guy is fine for most sound needs. A huge party may be too much for it to fill, but dinner music for a group is a breeze.
Source: The sample for this review was provided by iClever. Please visit their site for more info and Amazon to order.
Support The Gadgeteer
:
The Gadgeteer is supported by readers like you! If you buy something through the links on our site, we may earn a small affiliate commission. Thank you! Learn more.