We use affiliate links. If you buy something through the links on this page, we may earn a commission at no cost to you. Learn more.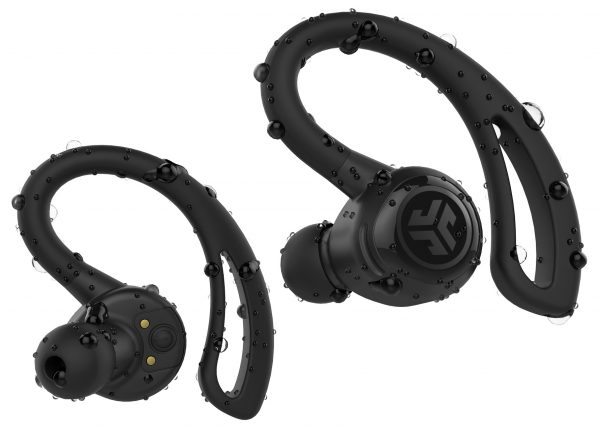 True wireless headphones, those in-ear Bluetooth headphones that have neither a cord connecting them to music or to each other, are the cutting edge of gadget technology. Most people have been excited to try them, but often are frustrated by poor connectivity performance, poor fit, short battery life, or a combination of factors. Manufacturers are therefore in a frenzy to develop products that satisfy consumers insatiable desire for these devices while improving upon the shortcomings of their competitors. One of the latest products to enter the field: JLab Audio True Wireless Epic Air Bluetooth Earbuds. These true wireless earbuds include the features listed below:
Bluetooth antenna in an integral earhook – this innovation addresses two common shortcomings of true wireless earbuds: poor security and poor reception
at least IPX5 – good enough for use in the rain. (I'd love to see IPX7 in case it falls out of an ear and into a puddle.)
6 hours of continuous use, 30 hours of reserve charging in the case, and a USB port in the case that can be used to charge other devices.
8 types/sizes of eartips – all of the gel variety.
Bluetooth 4.1 with AptX – compatibility with your 6-year-old Galaxy Tab 7.0 Plus and a bunch of newer devices too!
You'll find that on the surface, the battery life, number of ear tips, Codec, and ingress protection is about as good or better than most of the competing devices in the field. At $149.99 they are also one of the least costly true wireless options available. If we get a chance to review we'll be sure to let you know how they sound and perform. Visit Jlabs for all the details.