We use affiliate links. If you buy something through the links on this page, we may earn a commission at no cost to you. Learn more.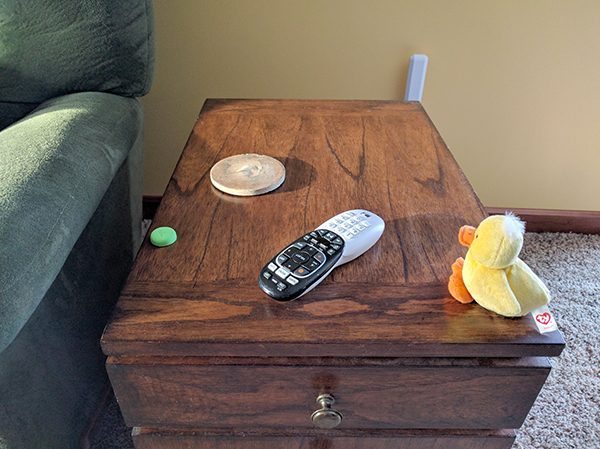 Although I review a LOT of gadgets, I don't end up using many of them once the review is done. Most of the time, the samples go up on a shelf until there's no room left and I decide to do a purge which consists of taking bags of gadgets to work to give away to my friends. I'm glad I haven't given away all the Flic wireless smart buttons that I reviewed the other day because I've found the perfect use for one of them.
I've been doing intermittent fasting since last May. It's helped me lose 20 pounds without a lot of effort. I started out with the 5:2 method of fasting where you just pick 2 days a week to only eat 500 calories (for women, 600 for men). I got tired of that way of fasting and switched over to what I think is much easier – fasting for 14hrs each day.
The way it works is when I stop eating at night, I wait for at least 14 hours before I eat again the next day. That's it except that I break the fast with a piece of fruit and lunch and breakfast are regular meals. It's easy and has really helped me get back to my pre-cancer weight.
Ok, so where does the flic button come into this story? As I said above, I wait for at least 14 hours after I stop eating at night to eat again the next day. I usually look at the clock when I stop eating and try to commit the time to memory. Yeah, that doesn't work too well. The next day I'm wondering if I can eat my apple or orange at 9am or 10am. I know it's a first world problem, but the flic has solved it for me. I stuck one of them the end table next to my side of our double La-Z-Boy recliner. Yes, we eat in front of the TV. Don't judge me 😉 I programmed a single click of the flic to send me an email with the subject line of "Started Fasting" when I click it. Emails have time and date stamps so I no longer need to rely on my imperfect memory anymore. I just check my email in the morning and I know when I can break the fast. I'm a genius! 😉
I also set the long button press to read out my last text message so I don't have to fiddle with my phone when we're watching TV or eating.
I like it when gadgets are actually useful!
How did you use your gadgets today in a unique way?