We use affiliate links. If you buy something through the links on this page, we may earn a commission at no cost to you. Learn more.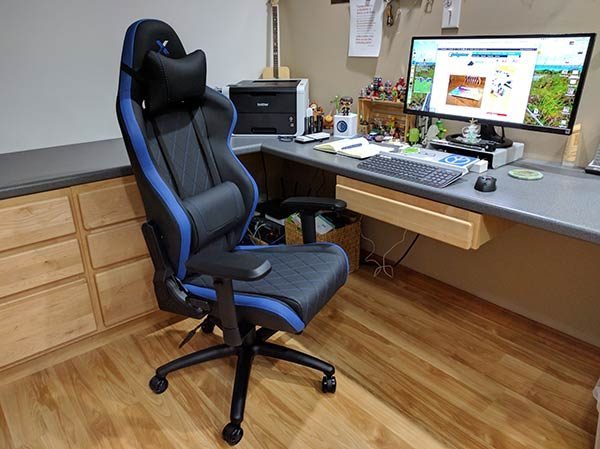 I tried the whole standing desk thing for awhile but it didn't take too long for me to realize that I prefer parking my buns in a chair while I'm working. Since I do a LOT of working, I do a LOT of sitting, so I need a comfortable chair. When RapidX asked if I would be interested in reviewing one of their gaming and lifestyle chairs, I took one look at their cool race car designs and said yes. They sent me the Ferrino which I've been testing for a couple weeks. Let's check it out.

What is it?
The RapidX Ferrino chair is a lifestyle and gaming chair. I'm not really sure what defines a chair for lifestyle and gaming, but this one is at home anywhere there are hard floors.
Design and features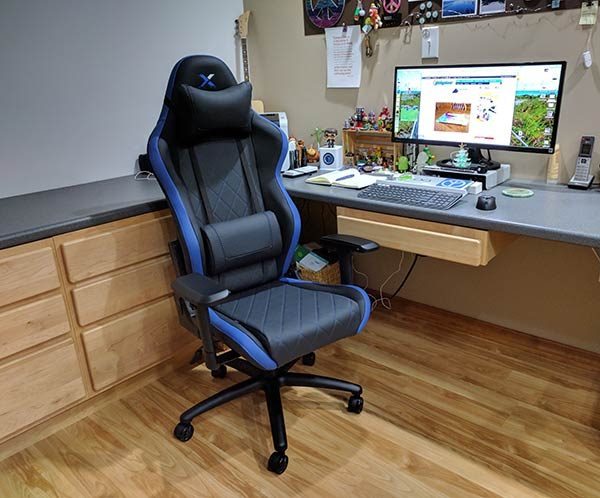 The Ferrino arrived in a large (and heavy) box and required some assembly that wasn't overly difficult. It took me about 30 minutes to attach the chair back to the seat base, attach the seat base to the mechanism, attach the caster wheels to the five-star base and then put the seat assembly on the base. The hardest part was attaching the casters to the five-star base. The rest of assembly was just tightening a few bolts with the included Allen wrench.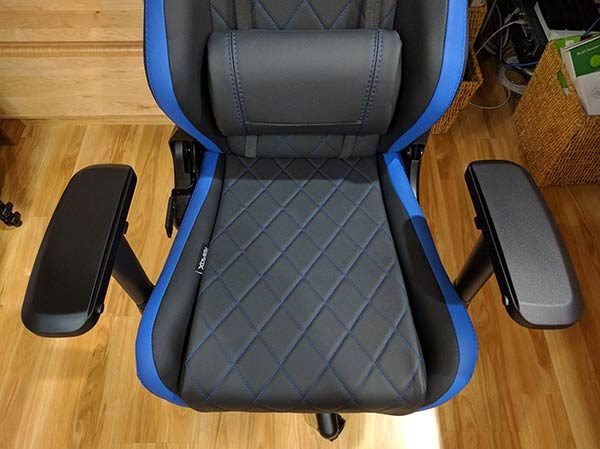 RapidX chairs come in two styles. The Ferrino style which I am showing here and the Finish Line style. Both are inspired by the bucket seats in professional racing cars. I picked the Ferrino style to review because it's not quite as flashy as the Finish Line models which have a checkered racing pattern on the seat back.
The Ferrino style comes in black with blue, black, red, pink, brown or white side. Blue is one of my favorite colors, so that's the one I selected.
The chair material is made of PVC leather and features a contrasting diamond patterned stitching on the seat cushion and backrest. The chair has a molded polyurethane foam core.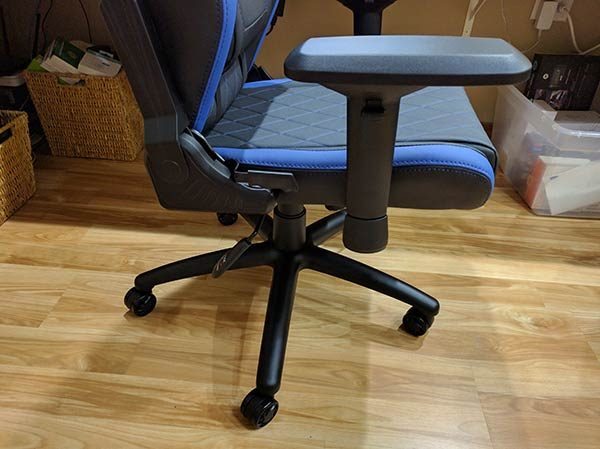 The chair's 10.5-inch long  arm rests can adjust from 11.8 to 14.5 inches in height.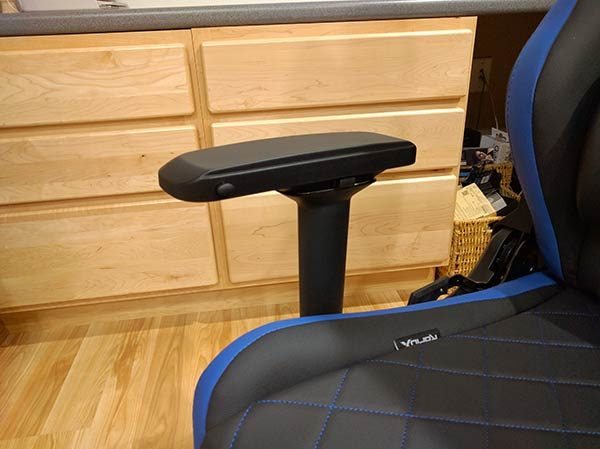 There are two buttons on the side of armrests that let them move forward and backward as well as in and out. They can also pivot out and in by twisting them. The only adjustment option not available for the armrests is an up and down angle adjustment.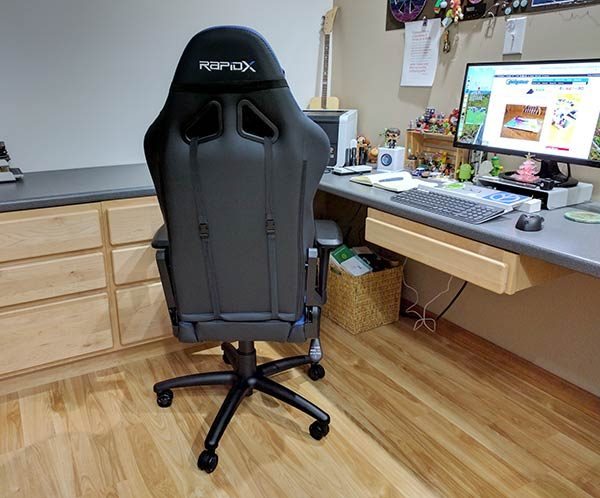 The RapidX Ferrino chair has a lift cylinder that adjusts the seat height from 14 to 16.6 inches and the chair also has a car seat style lever that lets you adjust the backrest 85-155 degrees.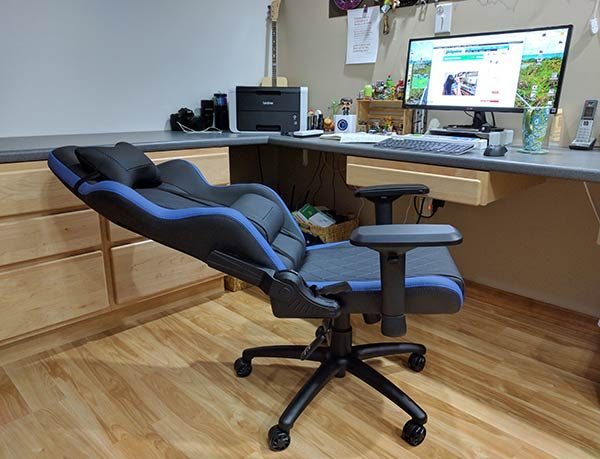 In the reclined position the RapidX chair reminds me of a dentist's chair 😉
Notice the lumbar support and head rest in the image above. The lumbar support can be moved to customize the location and both supports can be removed if desired.
This chair weighs 48 pounds and feels really substantial but it still rolls smoothly on my wood flooring. The chair can support a person who weighs up to 265lbs  (100-150kgs), which seems low to me. I currently weigh about 127 lbs and am 5'6″ tall. The seat back is 34.25 inches tall, measured from the seat to the highest point on the backrest, so the headrest probably won't be tall enough for someone that's over 6′ tall.
As for comfort, the seat cushion is a little firmer than what I personally like, but it's not uncomfortable. I just don't have a lot of natural padding, so the chair starts to feel more like a hard bench to my rear after an hour or so.
Final thoughts
The RapidX Ferrino gaming and lifestyle chair looks great and has a unique style in a sea of boring office chairs. The adjustable armrests, backrests, and lumbar support pillow allow this chair to be customized for the sitter. As long as you don't expect an overly cushioned seat cushion, you'll probably enjoy the RapidX. And you'll definitely get some envious looks from co-workers or other people who see this chair.
Update 2/2/18
Although the RapidX Ferrino was a well-made chair, I didn't find it very comfortable to sit on for an extended period of time. I ended up going back to the chair that I've been using for the last decade or so. The chair sat in my office for a few months just getting in the way until Jeanne asked if she could have it for work. So we loaded it up in her Kia Sorento and took it up to her office where she's been happily using it for the last year. I guess she has a more "fluffier" backside than I do. 😉
Just a few days ago she called me to ask where I'd gotten the chair because a client had come in complimenting and asking about it.
Source: The sample for this review was provided by RapidX. Please visit their site for more info and Amazon to order.