We use affiliate links. If you buy something through the links on this page, we may earn a commission at no cost to you. Learn more.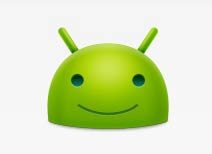 My mobile operating system of choice is Android and my desktop operating system of choice is macOS. When you pair those two together you have to jump through more hoops when you transfer files back and forth than you do if you use Android with Windows. For example, if I snap a picture with my Nexus 6P and want to quickly transfer it to my MacBook Pro, I can't just connect a USB cable from the phone to my MacBook and copy the photos over like I would with a USB flash drive. You can do this with Windows, but not a Mac. Hey, Google, why do you make things difficult for Mac owning Android lovers? 
Sure, there are a variety of other solutions for transferring files.
You can access photos and some other files via Google Drive. That's the way I've transferred images in the past, but it requires that you to go Google Drive in a browser on your laptop, find the files you want to transfer, right click to download, wait for them to download, unzip them and go from there. Too many steps.
You can also email the photos, but that's really not any better than option 1.
You can connect an OTG flash drive to the Android phone and then use a file manager app to copy the files to the flash drive. Then remove the flash drive from the phone, plug it into your laptop and copy the files. Too many steps and of course you need to buy the OTG drive.
You can install a file manager application like X-plore which allows you to setup a wireless connection to a folder on your laptop where you can copy the files. I used to use this method too, but it can be frustrating to navigate inside the X-plore app and setup the wireless file share connection.
There's also the Android File Transfer app for Mac. I've used this too and sometimes it just decides to stop working for no apparent reason.
I recently got annoyed by methods 1-5 that went looking for another option and found HandShaker. HandShaker is a file manager app that installs on your Mac and then a mobile app / service that installs on the Android device.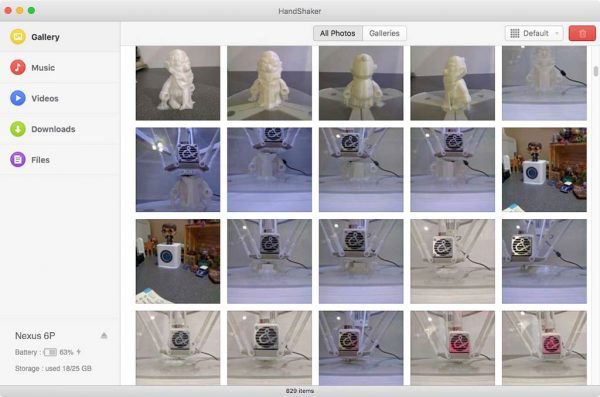 When you plug a USB cable from the phone to the Mac, the HandShaker file browser automatically pops up. You can view the photos on the phone by date, or by galleries. You can also view music, videos, and downloads on phone.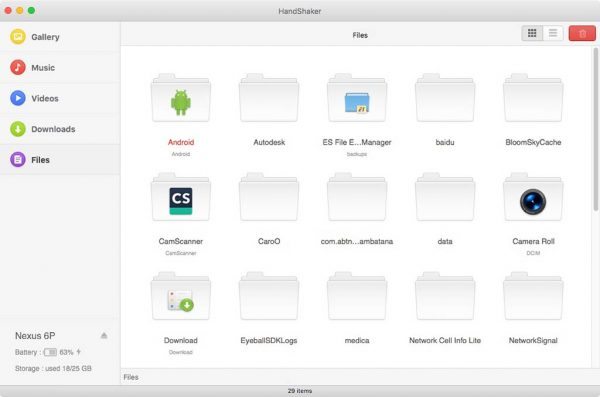 And you can also navigate through the system folders on the phone and copy files just by dragging them from the HandShaker file browser to your desktop. It's extremely fast, simple and best of all, it's completely FREE.
I've been using HandShaker on my Nexus 6P for a month or two and I've had zero problems with it. If you've been trying to find an easy way to copy files from your Android device, you should give HandShaker a try.
If you prefer another method of copying files (images specifically), let me know because I'm always looking for ways to improve my work flow.