We use affiliate links. If you buy something through the links on this page, we may earn a commission at no cost to you. Learn more.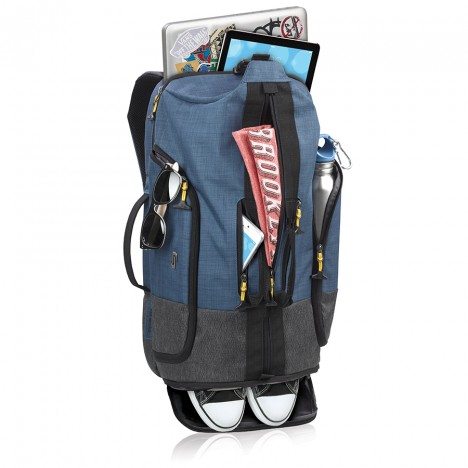 My family and I really enjoy traveling. Whether it's a day trip or a week-long adventure, there are few things better than a little getaway.
As a family of tech enthusiasts, everyone has their favorite gadget(s) they want to bring on a trip. Most of the time, we need immediate access to our gadgets and don't want to pack them away in our larger luggage. This is when backpacks like Solo's Velocity backpack duffel come in.
The Velocity is a hybrid backpack and duffel bag. I was very intrigued by its unique design and hoped to use it for day trips or perhaps trips to the gym.
Design
As I stated above, the Velocity is somewhat of a hybrid bag.
From the top, the bag appears to be a standard duffel bag; however, flipping the bag reveals it's similar to a standard backpack.
The Velocity has a main compartment which unzips straight down the middle.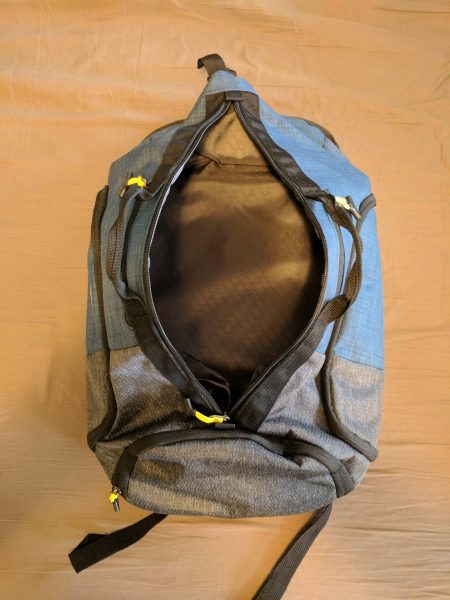 This compartment is your standard duffel bag compartment. It is a large, open area with no dividers or organizational pockets.
Below the main compartment is a shoe compartment.
The shoe compartment opens into the main compartment. When not in use, it is held in place by a velcro strap inside the main compartment.
Near the top of the bag is a laptop compartment.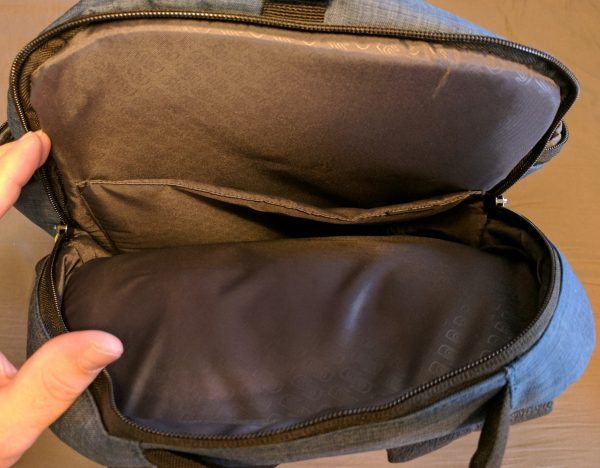 This compartment is divided into two areas, an area for a laptop (15.6″ max) and a pocket for a tablet.
The duffel compartment, shoe compartment, and laptop compartment make up the bulk of the bag, but there are a couple of smaller pockets that could be useful.
To the right of the duffel bag handles is a small zippered pocket.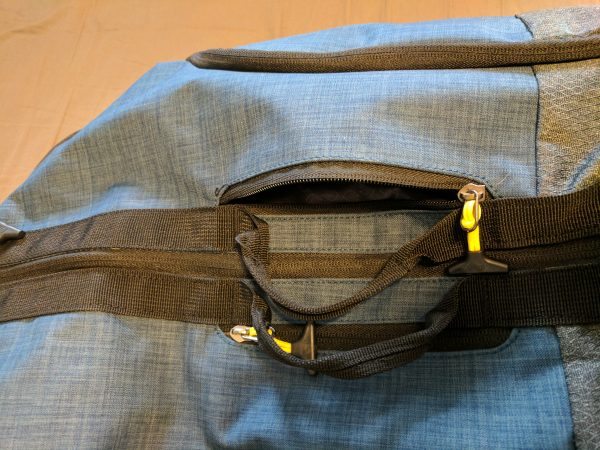 It could be useful for holding keys, phones, or wallets.
Both sides of the backpack have identical, "pop-out" pockets.
They are rather large pockets and could hold a variety of items.
Finally, the back of the bag has a trolley strap attached to it.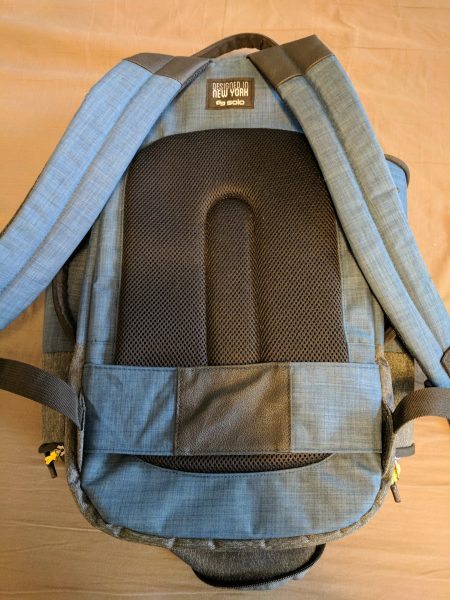 This is used to slip the bag over extendable luggage handles.
I liked the overall design of the Velocity. I found the colors pleasing to the eye and feel the material could hold up over the long haul.
Storage
My immediate thought when I first saw the Velocity was it would make an excellent gym bag. I thought the duffel compartment would be great for a change of clothes and a towel, while the shoe compartment would be great for keeping anything gross away from my clothes.
When I go to the gym I like to pack a t-shirt, gym shorts, underwear, socks, sneakers, and a towel. I decided to gather up those items and pack them into the Velocity. Unfortunately, the results weren't great.
I first inserted my sneakers into the shoe compartment.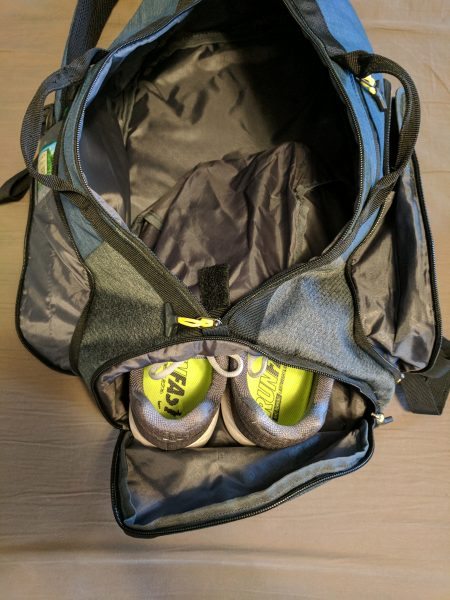 While my sneakers did fit, it was pretty tight.
I wear a 10.5 size shoe; I Googled it, it is literally the average male shoe size in the U.S. So if you have an above average shoe size, not only will I be jealous of you, but your shoes may not fit into the Velocity.
After loading up my shoes, I entered my clothes and towel into the bag.
Like my sneakers, everything fit into the bag, but it was an extremely tight fit. When zipping the bag shut I was a bit nervous I was going to break the zipper.
Also, the small pocket next to the duffel handles is pretty small. I tried to place my Pixel XL into it, but it was too big. This was true even when the duffel was empty.
It's not all bad though, the pockets on the sides of the Velocity are large enough to hold a 32-ounce water bottle. One pocket could easily hold a water bottle while the other could hold shampoo and deodorant.
The Velocity clearly wasn't going to work as a gym bag for me. While everything did fit, it was such a tight fit I worried the zipper would eventually break.
Also, if I ever decided to pack some heavier clothes in the winter, they clearly wouldn't fit.
I was a little bummed the Velocity wouldn't work as a gym bag, but figured it would still make a pretty decent overnight bag. I could use the main compartment for a change of clothes and take advantage of the laptop compartment.
To test the overnight capabilities of the Velocity, I planned to leave the shoes behind and trade the towel for a hooded sweatshirt. I then hoped to put my Chromebook and Nexus 9 tablet in the laptop compartment.
This time around, I had much better luck.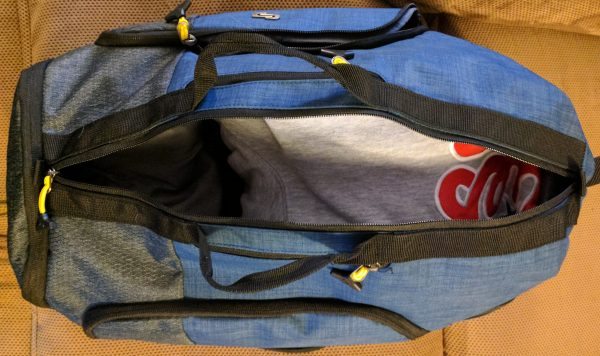 All my clothes fit into the duffel bag with some room to spare. I could have fit a pair of pants and perhaps some extra gym shorts and a shirt as well.
I then placed my laptop and tablet into their respective areas.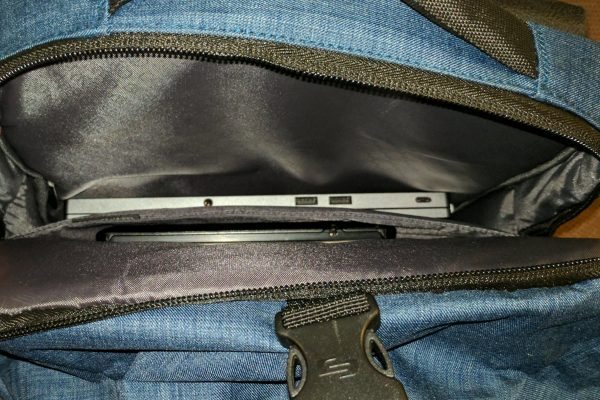 They both fit in easily, with room to fit a charger or two.
The Velocity definitely functions as an overnight bag. When using it this way, you can't use the shoe compartment to hold shoes; however, you could use it to separate dirty clothes from clean.
Use
The final question left to answer is, how does the Velocity feel to wear?
The shoulder straps and the back of the bag have a fair amount of padding on them.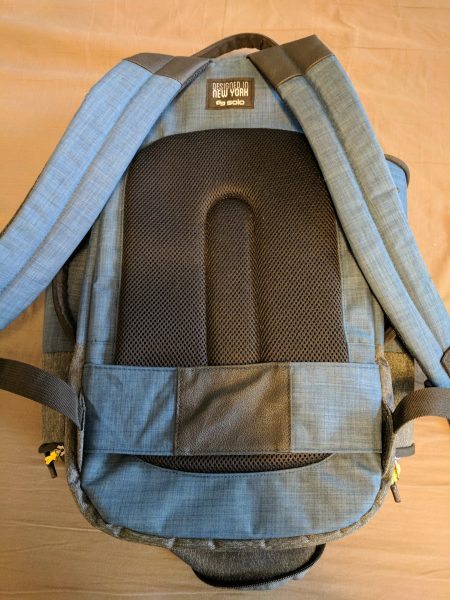 While wearing the Velocity I didn't experience any discomfort. I think it will be comfortable to wear for moderate amounts of time, e.g., walking through the airport, walking to your hotel.
I'm not sure the Velocity would remain comfortable for an all-day walk like exploring a new city or hiking. This is because there isn't padding covering the entire back of the bag; I can imagine a laptop corner repeatedly poking on my back and becoming painful.
Conclusion
Despite being a hybrid duffel bag, the Velocity fails miserably as a gym bag. It is just too small to comfortably fit all the necessary items I would bring to the gym.
On the other hand, the Velocity does work as a pretty solid overnight bag. The main compartment is big enough to store a change of clothes and a couple of extra items, while the laptop compartment allows you to store just enough for an overnight trip.
The Velocity won't set you back too far financially. For $41.99, it's not a bad purchase if you often find yourself on an overnight trip.
Source: The sample for this review was provided by Solo. Please visit their site for more information and check out their shop on Amazon.