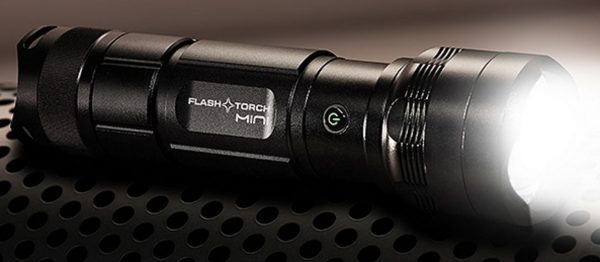 Back in 2012 I reviewed Wicked Lasers' first generation Torch and in 2014 their second generation more polished FlashTorch. Both touted at the time as "the most powerful handheld flashlight in the World" and at a whopping 4100 lumens, they were wickedly bright, extremely hot, but rather large.  The designers at Wicked Lasers have recently introduced a smaller, lighter member of the Torch family called the FlashTorch Mini that packs a respectable 2300 lumens of bright, hot light into a sleeker, slimmer form factor.

As its name implies, the Mini is smaller and lighter than its older siblings, measuring in at just under a foot long and weighing 1.2 lbs. The FlashTorch Mini has a good weight, balance, and one-handed grip to it. Like the Torch and FlashTorch, the FlashTorch Mini's black housing is constructed of a powder-coated, aircraft grade aluminum (and is shaped very much like a lightsaber hilt). The front lens is made of a specialized heat-resistant glass, so it will not crack or shatter due to the decent amount of heat the FlashTorch Mini generates.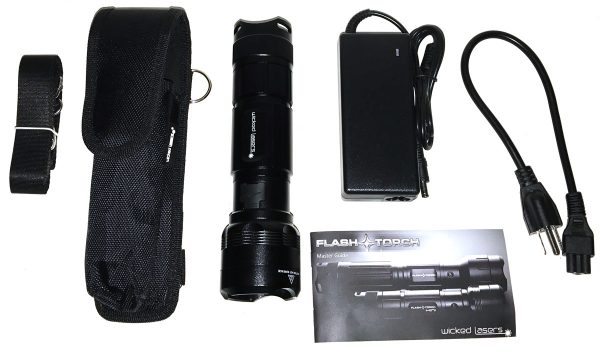 In the box:
FlashTorch Mini
Battery (preinstalled)
Power brick and cable
Nylon belt pouch
Instruction manual
Specifications:
| | |
| --- | --- |
| Lamp Output: | 2300 Lumens with a High-Efficiency Reflector |
| Dimensions: | 57mm x 47mm x 219mm |
| Weight: | 387g |
| Power Supply: | 3 x 18650 Lithium-Ion Battery Pack |
| Power Consumption: | 11.4V@5.5A |
| Battery Lifetime: | 30 – 100 Minutes |
| Bulb Type: | Carley Lamps CL-1909 65W |
| Expected Bulb Life: | 60 – 1000 Hours |
| Color Temperature: | ~3400°K |
| Body: |  6061-T6 Aircraft-Grade Aluminum |
| Finish: | Mil-Spec Type III hard anodized in black |
| LED switch: | Low, Medium & High Power modes |
| Tail switch: | On/Off Button |
| Warranty: | One Year |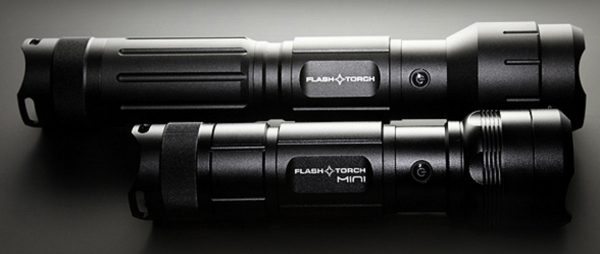 The FlashTorch Mini is approximately two-thirds the size, weight, and brightness of the full sized FlashTorch.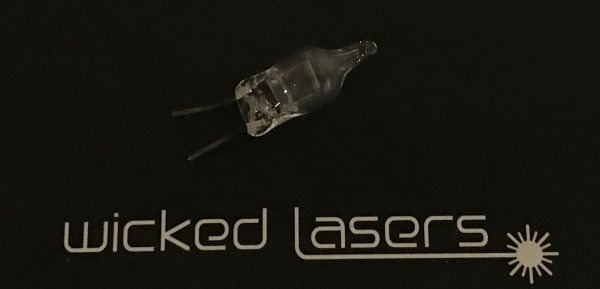 The FlashTorch's light source is not a LED like a majority of today's higher end flashlights, but a filament-based 65W halogen bulb, estimated to last up to 1000 hours of use.  It is truly impressive how much heat and light the little bulb can produce.
As mentioned above, the front heat-resistant glass lens is engineered to not break due to the heat the FlashTorch Mini generates. Being "just" 2300 lumens, the Mini does not get as crazy hot as the Torch or FlashTorch but does create a good amount of heat (see video below). Surrounding the halogen bulb is a high efficiency reflector that funnels the light into a more directed and concentrated beam. The heat-resistant lens and reflector projects the Mini's light into a semi-wide floodlight or searchlight kind/type of beam.
The base of the flashlight has an on/off switch to help ensure that it is not inadvertently switched on. There are also three hard points at the far end for attaching a lanyard or strap to the hilt.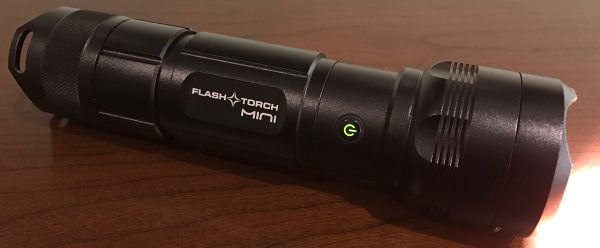 The flashlight has a LED illuminated power switch just below the head of the flashlight that glows green when on. The FlashTorch Mini has three power settings: high / medium / low that cycle thru via the thumb switch. On a fully charged battery, the Mini can operate between 30 – 100 minutes depending on brightness level. The aluminum body of the FlashTorch Mini is engineered to dissipate the heat generated by the halogen bulb making for a decent enough hand warmer on a cold night.

On the opposite side from the power switch, the Mini's handle has a built-in power port for charging. The power port has a rubber cover to protect it from gunk, damage, and moisture.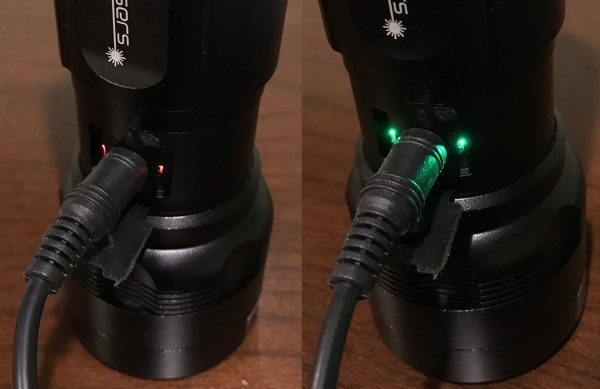 Also like the original FlashTorch, the Mini's power cable and brick are large, as big as one you would use on a large laptop. This charging system is bulky and not very transportable to say the least. The battery plug port has LED indicator lights on either side that glow red while charging and green when fully charged. It does take a fair amount of time to recharge the Mini's battery after being completely depleted.

The picture above does a good job of illustrating the Mini's three brightness levels. As you can see, even at its lowest brightness setting the smaller FlashTorch is more than capable of lighting your way. The high setting definitely lights up our very dark and gloomy ravine without any problems. Being halogen based, the light the FlashTorch Mini produces is more yellow and warm than the white light of a typical LED flashlight.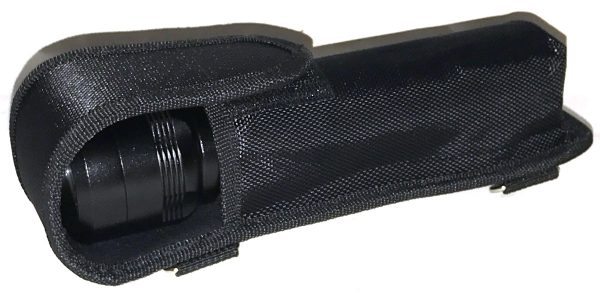 The nylon belt pouch is well made and fitted for the FlashTorch Mini making for an easy and convenient way to carry the flashlight.
According to Wicked Lasers, the FlashTorch Mini is the smallest burning/fire starting flashlight in the world…see video above 😉 .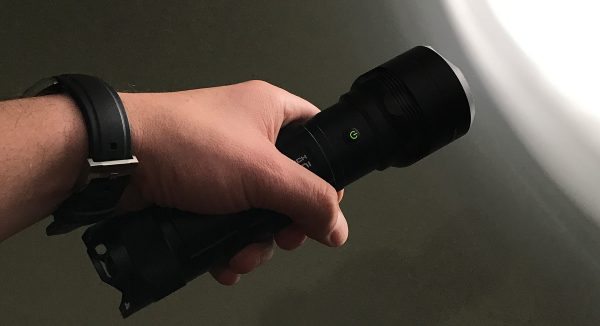 Wicked Lasers has done a good job creating a more compact version of the FlashTorch. Considering the Mini's smaller size, it produces a very bright beam to illuminate your way. In my original reviews, I classified both of its siblings as "handheld spotlights", and even at 2300 lumens their new flashlight still lives up to its heritage.
Source: The sample for this review was provided by Wicked Lasers. Please visit their site for more info and to order.
Some of our links in posts like this one are affiliate links, which means that we may receive a small commission on purchases at no cost to you.
Product Information
Price:
$199
Manufacturer:
Wicked Lasers
Pros:

Very bright (2300 lumens)
Well made/constructed from aircraft grade aluminum
Lightsaber hilt look/design
Can light things on fire
Convienent battery charging port
Rechargeable batteries that do not need to be removed
Easy to use
One year warranty

Cons:

Just OK battery life
Large power brick