We use affiliate links. If you buy something through the links on this page, we may earn a commission at no cost to you. Learn more.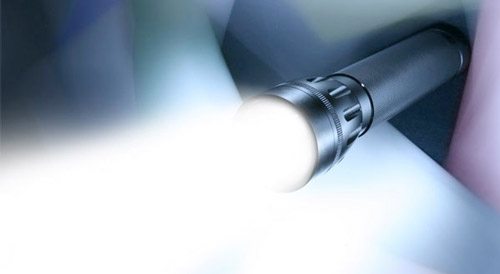 For being (touted as) the most powerful handheld flashlight in the World, the first thought that went through my mind was how very unassuming the Wicked Lasers Torch is….from the packaging to the flashlight itself. According to Wicked Lasers, the Torch throws a massive 4100 lumens, many times more powerful than some of my brightest flashlights (and I have a LOT of flashlights). Having used/reviewed so many in my time, when I read that the Torch was THE Big Dog in town, I definitely wanted to see/play with one in person. Thankfully Wicked Lasers sent me one to see if it lives up to all the hubbub.

When I first saw/held the Torch, it completely reminded me of those old MagLite flashlights. It's casing is constructed of a powder-coated, military grade aluminum. The front lens is made of a specialized heat resistant glass so it will not shatter under the tremendous amount of heat the Torch generates.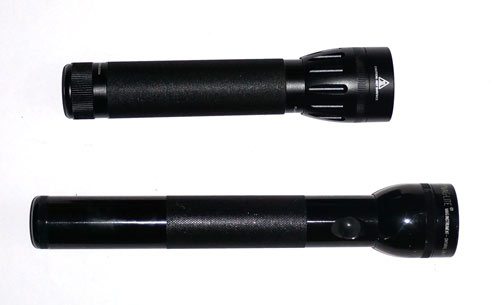 Here is the Torch next to my father's ancient nightstick he carried with him as a police officer. While the MagLite is bigger and heavier, the Torch throws tens (perhaps even a hundred) of times more brightness than this old relic.
The Torch arrived in several plain brown cardboard boxes. Four to be exact, housing the two batteries, smart charger, and the flashlight itself. To understand how everything works, I actually read the user manual/directions.  Considering that you are instructed to attach a thermal couple/sensor to the side of the battery before charging….probably a good idea to read the manual.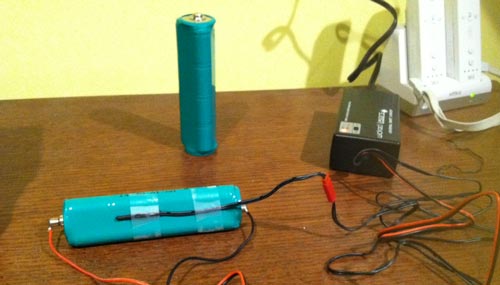 The magnetic +/- leads are color-coded and attach effortlessly. It takes approximately 30 minutes to fully charge the battery. Wicked Lasers advises that you do not overcharge the battery; when the smart charger's indicator light turns green, you should disconnect it soon there after.
Specifications:
Lamp Output: 4100 Lumens w/an Adj High Efficiency Reflector
Dimensions: 2.25″ X 9″ (57mm x 230mm)
Weight: 19.3 ounces (547g)
Power Supply: 12×2/3A 1500mAh Cells 14.4V

Battery Lifetime: 5 Minutes

Bulb Type: 100W Halogen

Expected Bulb Life: 2000 Hours
Casing: Military Grade Aluminum
Tail switch: On/Off Button
Warranty: One Year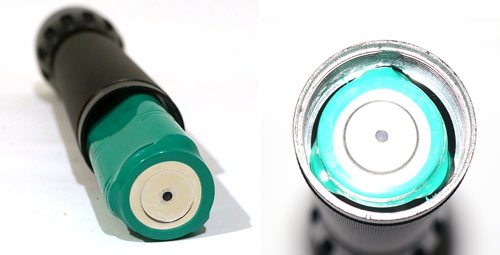 The battery is specifically engineered and shaped for the Torch. The Torch is machined to only accommodate the correct battery (vs C-sized). The battery appears to be constructed of twelve double A-like cells, Macgyver'd into a single powercell (or something like that).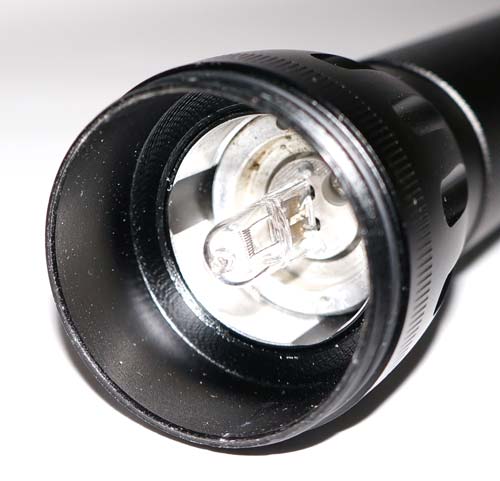 A bit surprisingly, the bulb is not LED but a filament-based 100W halogen estimated to last for 2000 hours of use.
From an operational standpoint, the Torch has its limitations….some pretty large limitations. The manual warns that you should not use the Torch for more than 3 minutes at a time, otherwise the heat it generates can damage its inner workings – a detail I completely agree with. After a few minutes of use, the head of the flashlight gets seriously HOT. So hot, it causes rain to sizzle (aka do not touch the operational end until it cools down). In addition to continuous runtime heat 'issues', the Torch's battery only lasts 5 minutes…. Yep, you see correctly (and stop laughing) – 5 minutes.
But for those 5 minutes, the Torch is extremely bright. I would classify it as carrying a handheld spotlight.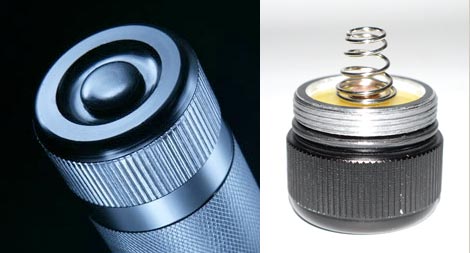 The Torch is controlled with a single on/off button located on the center/end of the tailcap. To say the Torch is simple to operate is an understatement; it is either on or off. No power/brightness settings or special combination of clicks to activate it.
Here is a video of the Torch in action cooking eggs:
It can also burn paper, light cigarettes, and ignite matches.
From a real world standpoint: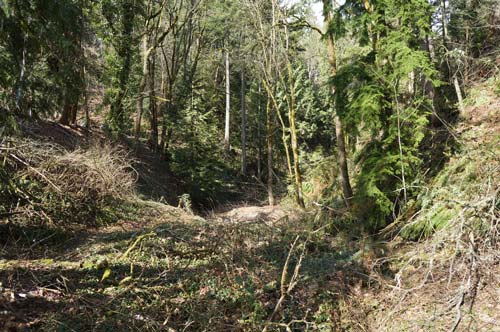 We have a heavily treed ravine that runs through our property. It is a VERY dark at night and the perfect place to test flashlights. So, the Gadgeteer Kid and I took three of my flashlights to see how they stacked up against the Torch and its 4100 lumens. We chose a wide variety of size and brightness to give perspective of just how bright 4100 lumens is.
The pictures (f2.8 / ISO 3200) below can be expanded/enlarged if you click on them.
The Torch illuminated the entire ravine but had a dark spot in the middle of the light it threw. I tweaked the adjustable reflector which helped but did not make the dark stop go away completely. Being a filament-based bulb, the Torch's light was definitely more yellow than the LED-based lights we compared it to.
Overall, the Torch's build quality is good/fine but I would say is not up to 'SureFire' quality. At the time of writing, Wicked Lasers is including a 'free' one year warranty when you purchase the Torch. Considering it is $180 flashlight, a worthy warranty seems like a no brainer.
From a practicality standpoint, it is very difficult recommending a flashlight that can only be on for less than 3 minutes and batteries lasts less than two ON-cycles. Going beyond, my gal-pals ask 'what good is a flashlight like that' after I explain the Torch's complete lack of longevity. Even my flashlight-loving associates question the Torch's true use and function. I found it difficult to argue the counterpoint and come up with a real-world use. But if you want or need an extremely bright lantern/flashlight/handheld spotlight, there are none brighter than the Wicked Lasers Torch.

Product Information
Price:
$179.95
Manufacturer:
http://www.wickedlasers.com
Pros:

- Extremely bright (4100 lumens)
- Well made/constructed
- Easy to use
- One year warranty

Cons:

- 3 minute runtime (before cooling is needed)
- 5 minute battery life
- Expensive