We use affiliate links. If you buy something through the links on this page, we may earn a commission at no cost to you. Learn more.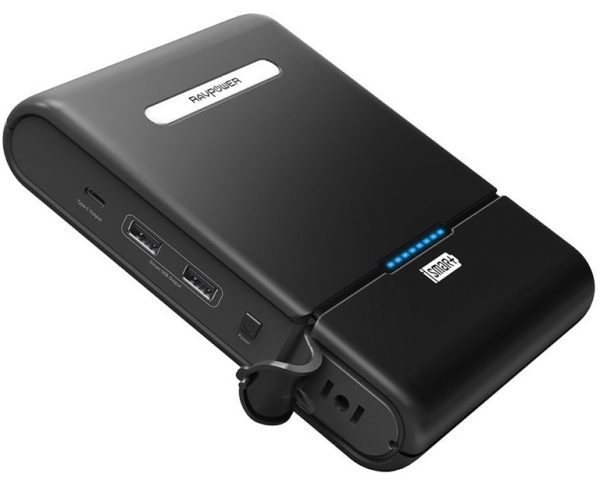 Another USB charger… another USB charger… wait, how come this one has an AC outlet?  That's right, if you've EVER needed a portable AC outlet, take a look at the RAVPower AC Portable Charger.  I was just about to go on a camping trip, so I thought I'd bring it along.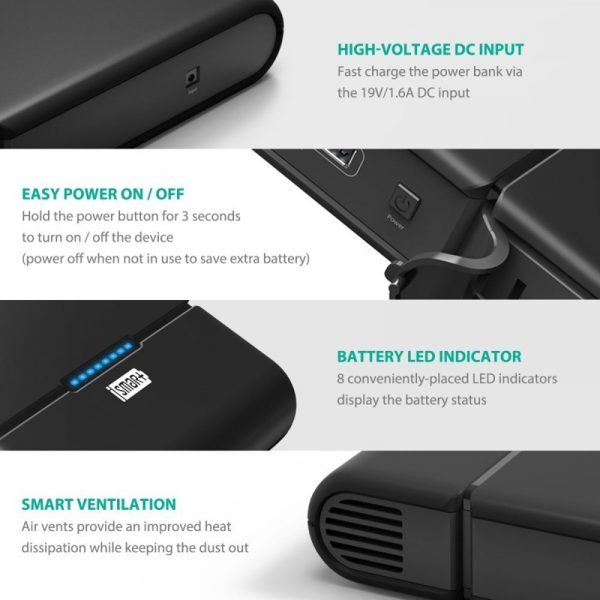 The battery comes in a nice, semi-rigid carry case that holds all the included accessories.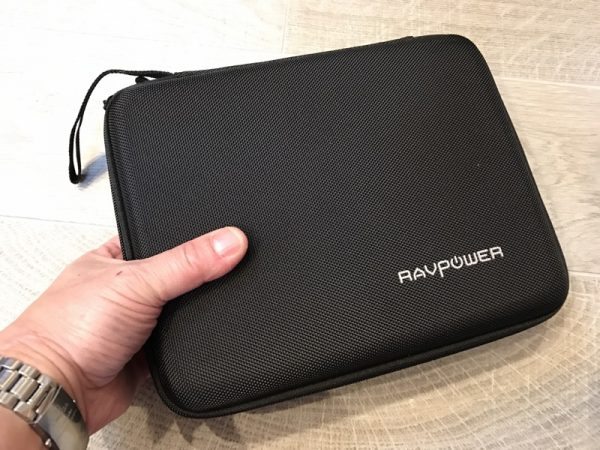 Model:  RP-PB055
Capacity:  27000mah
Output:  1x Type-C 5V/3A output, 2x USB 5V/2.4A
Input:  DC 19V/1.6A
Size: 5.31*6.89*1.38 inches
Weight:  29.9oz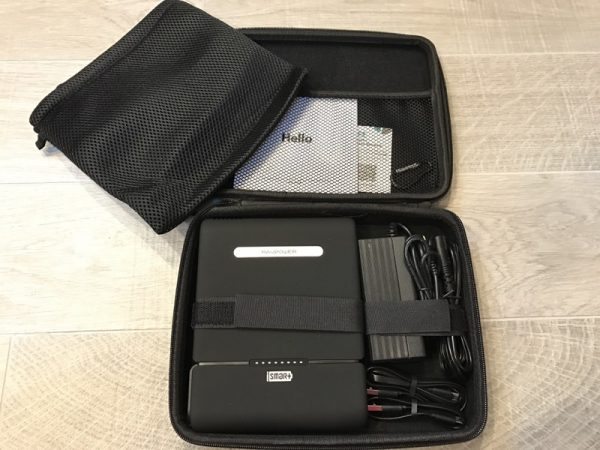 What comes in the box:
Never miss one of our posts again. Sent MON, WED, and FRI with the latest gadget reviews and news!
1 x RAVPower 27000mAh Power Bank (Model: RP-PB055)
1 x Power Adapter
1 x Micro USB Cable (20cm)
1 x Micro USB Cable (60cm)
1 x Travel Pouch
1 x User Guide
Overall the size is not unlike a thick paperback book.  On one side there are two standard USB outputs, and one Type-C output.  The AC outlet is under a flap on the right.
On the opposite end is the charging plug and a vent.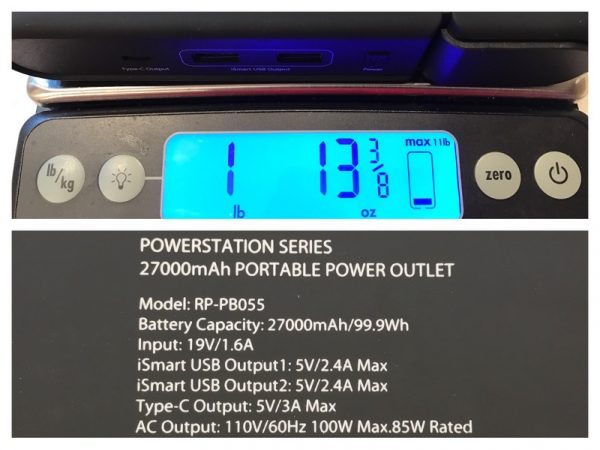 I weighed the battery in at just under two pounds.  The label on the back gives the vital stats.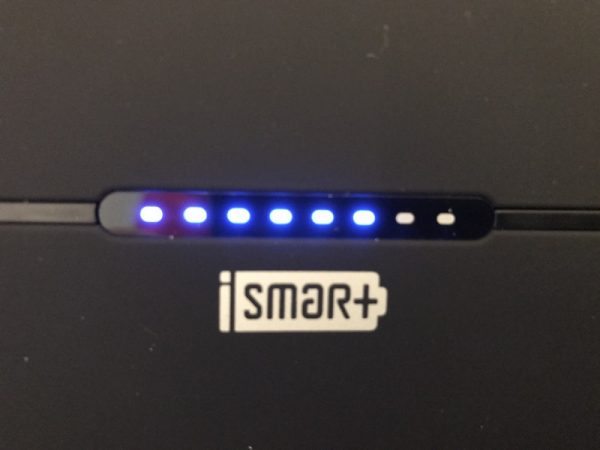 Eight blue LEDs show the charging state.  I prefer this over a single LED.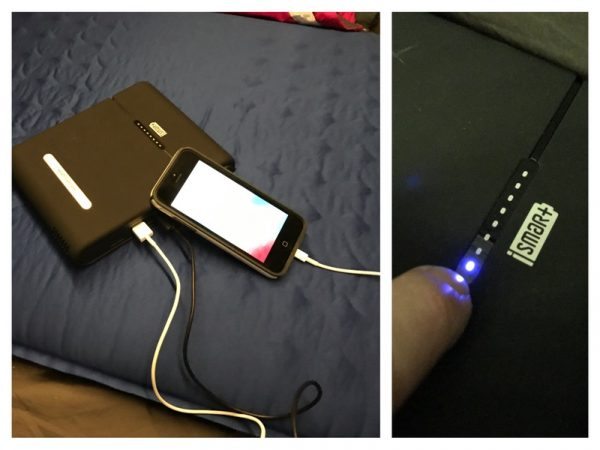 After charging up, I went camping with my son and the Cub Scouts.  I didn't plan to use any AC-powered appliances, but I thought it would be a good way to recharge our phones.  I was baffled to find the battery was completely flat.  In the 24 hours since I took the RAVPower off the charger and tried it at the campsite that night, the eight blue LEDs was down to one (which eventually went out).  Fortunately, I had a backup battery with me on that trip.
Undeterred, I went home and duplicated the circumstances:  I recharged the RAVPower to full capacity, and let it sit unplugged for 24 hours.  It still held a charge.  I have a mystery on my hands, since the RAVPower automatically shuts off if there's nothing charging off of it, and the "AC" portion is activated by holding down the side button for 3 seconds or more.  Even that shuts off with no load after a while.  It wasn't freezing or roasting hot weather, either.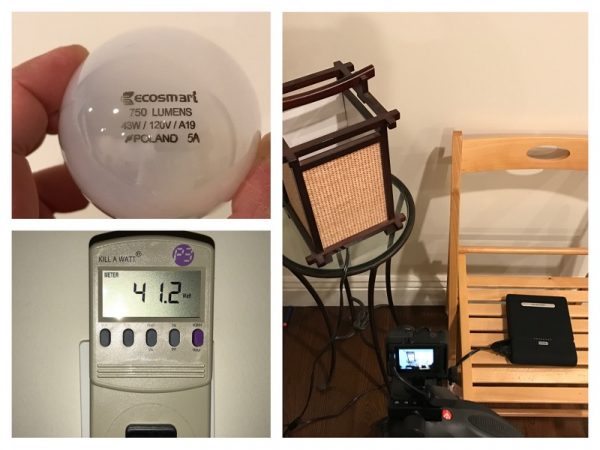 What I really wanted to know was how well the AC portion did.  I found the only incandescent bulb I had lying around (printed at 43W) and tested it with my Kill-A-Watt meter… 41.2W.
I set up my GoPro to time lapse and placed a clock next to the lamp, powered only by the RAVPower.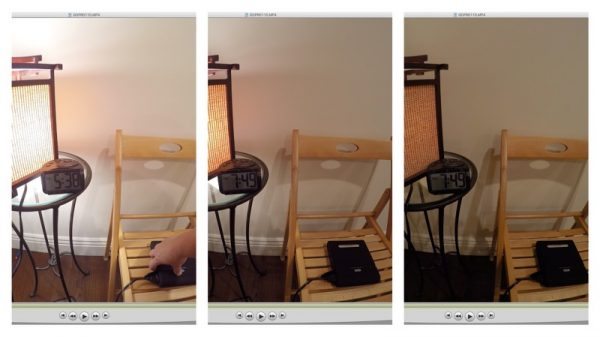 What I discovered was that the bulb remained lit for 2 hours and 11 min.
Mathematically, that's 2.183 hours * 41.2W = 89.95 Watt Hours.
The battery pack is rated at 99.9 Watt Hours.  In THEORY, this usually means if you had a 99.9 Watt bulb, the pack would run flat after an hour.
On the back label, the battery reads 100W peak, 85W "rated".  I would probably use the 85W limit to be safe.  If your laptop's "wall wart" is rated at 85W or less, it ought to work just fine.
During operation, I noticed some fan sounds that turned on and off- exactly like a warm laptop.  If you need totally silent operation, this probably isn't for you.
I still haven't completely solved the mystery of the dead battery at the campsite, but it's worked fine ever since.  The RAVPower AC Portable Charger 27000mAh is the smallest "AC outlet" I've ever seen, and I'll be sure to take it with me on my next camping trip- provided I double check before I go.
Source: The sample for this review was provided by RAVPower. Please visit their site for more info and Amazon to order one.
Product Information
| | |
| --- | --- |
| Price: | $149.99 (Amazon) |
| Manufacturer: | RAVPower |
| Retailer: | Amazon |
| Requirements: | Two-prong North American style AC plug |
| Pros: | Large 27,000mAh capacity USB "battery with a Type-C outlet. Comes with semi-hard case and travel sack. 8-LED charge status display. Portable AC power (100W max, 85W typ) |
| Cons: | Failed on me for my first outing. User error hasn't been ruled out (yet). |