We use affiliate links. If you buy something through the links on this page, we may earn a commission at no cost to you. Learn more.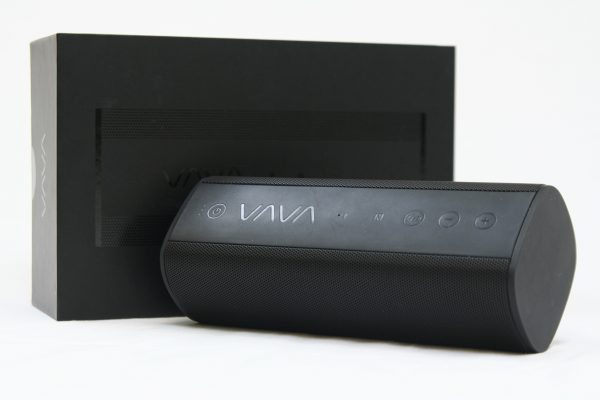 A few months ago I was given the opportunity to review the VAVA Voom Bluetooth speaker. While reviewing it, I found it was a nice speaker, but had a few issues that kept it from reaching greatness.
VAVA recently released their newest speaker, the Voom 20. According to VAVA, the Voom 20 "seeks to redefine premium wireless speakers".
Let's dive in and see if VAVA reached its goal.
In the box
Voom 20 Bluetooth speaker
Micro-USB cable
3.5 mm audio cable
User guide
Travel pouch
Specifications
Bluetooth version – 4.0 + EDR
Bluetooth profiles –

A2DP

, 

AVRCP

, 

HSP

, 

HFP

, 

ACC

Audio codex – aptX
Range –

Up

 

to

 

33

 

ft

 / 

10

 

m

Noise reduction – CVC 6.0
Battery capacity – 5200 mAh
Input – 5v
Output – 5v, 1A
Dimensions –

7

.

58

 

x

 

2

.

81

 

x

 

2

.

38

 

in

Weight –

 

1

.

53

 

lb

Ingress rating – IPX5
Design
The Voom 20 is a tubular Bluetooth speaker that reminds me a bit of a Pill by Beats speaker. It's 7.59 inches long, 2.81 inches high, and 2.38 inches tall.
With those dimensions, and a weight of 1.53 pounds, the Voom 20 definitely qualifies as a portable speaker.

Atop the speaker you will find all the controls and notification LEDs.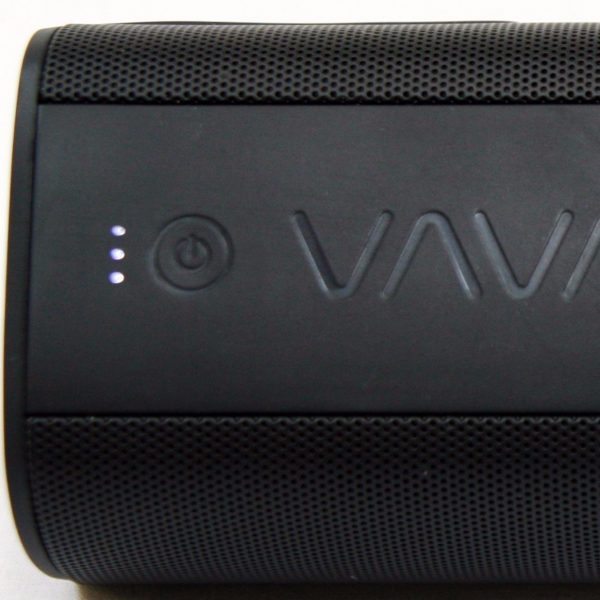 The top left of the speaker contains the power button and 3 notification LEDs.
Each LED represents approximately 1/3 of the Voom 20's remaining battery capacity.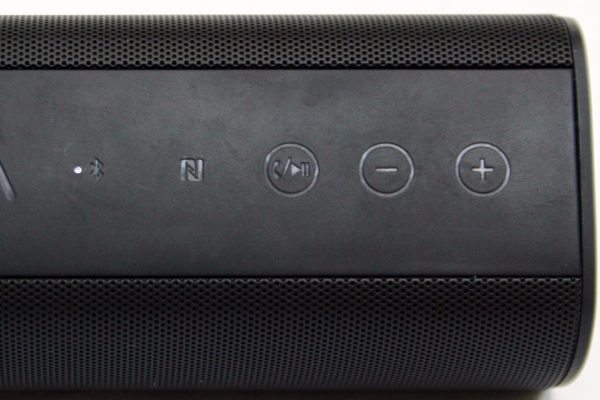 The top right of the speaker contains a Bluetooth indicator, an NFC pair point, the play/pause button, and the volume buttons.

Like the original Voom, the front of the Voom 20 contains nothing other than the speaker grill. I really like the fact that VAVA doesn't use the front of their speakers to display their name.

The rear of the speaker has a rubber cover protecting the Voom 20's various ports.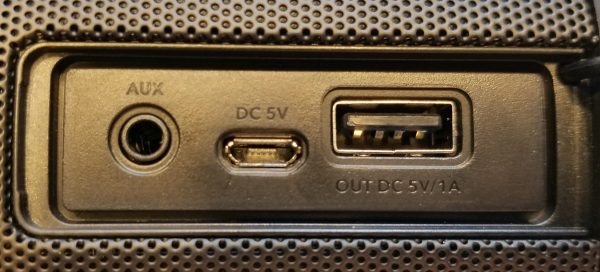 Opening the cover reveals an auxillary port, a micro-USB input, and a USB output.

The bottom of the speaker has some branding, identifying information, and rubber feet.
I think VAVA did an excellent job designing the Voom 20; it's made to be a portable speaker, but looks good enough to be left out in the open.
The Voom 20 also feels sturdy; I wouldn't hesitate to use it outside.
Setup
The Voom 20 is equipped with my all-time favorite Bluetooth speaker feature….NFC pairing.
For those not familiar, NFC pairing allows you to tap your phone on the speaker's NFC symbol and have them pair immediately. You don't have to enable pairing, search for devices, or enter codes; it's wonderfully simple.
Once the Voom 20 was fully charged, I took my phone and tapped it on the NFC symbol, but nothing happened. I moved my phone around several times, but was unable to get the devices to pair.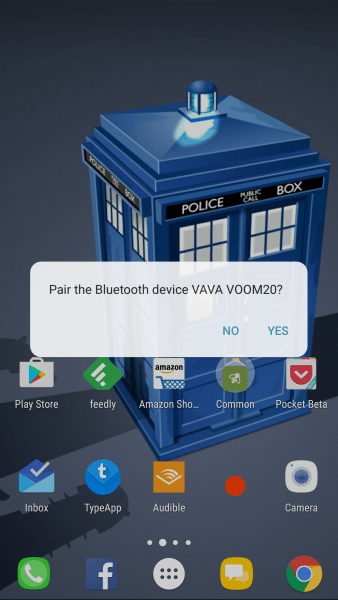 I then remembered I was using a thicker, Otterbox case, which may affect the NFC pairing.
I then removed my phone's case, tried again, and was immediately asked if I wanted to pair my devices. I clicked yes and my phone was paired with the speaker.
The original Voom had this feature, but I had difficulty getting it to work properly; it's good to see VAVA resolved this issue with the Voom 20.
Along with NFC pairing, you can also pair the Voom 20 through your device's Bluetooth settings; even better, you can pair two devices at once.
To do this, you turn off Bluetooth on the first paired device; the speaker will automatically enter into pairing mode. You then enter your second device's Bluetooth menu and select "VAVA Voom20". Finally, you go back to your first device and turn Bluetooth back on.
According to VAVA, "to switch between the two devices, pause the music on one device and start playing on the other."
I tried this using my Note 7 and Chromebook. While I was able to pair both devices to the Voom 20, playing audio with the two wasn't as easy as VAVA described.
To play audio on one device, I had to turn off Bluetooth on the other. If Bluetooth was enabled on both devices, the Voom 20 streamed audio from whatever device was connected last.
Performance
I came away extremely pleased with the sound quality on the Voom 20.
With the original Voom, I heard a constant hissing sound while streaming audio. With the Voom 20, I didn't hear any distortion at all; audio was flawless.
Another complaint I had with the original Voom was the volume range wasn't very good. While the original Voom was loud, I felt it jumped from loud to mute too rapidly.
Fortunately, VAVA resolved this issue with the Voom 20. The Voom 20 is just as loud as the original, but you can lower the volume until it's barely a whisper before it's muted.
VAVA did fail to address one issue I had with the original Voom. I previously wrote:
One thing I found odd while streaming music is, there doesn't appear to be a way to skip tracks. The Voom doesn't have dedicated skip buttons, but most Bluetooth speakers will skip tracks by double tapping the volume buttons or holding them down. The Voom doesn't do this; the volume buttons solely adjust the volume. All the other buttons work as you would expect.
The Voom 20 works in the exact same way.
I think this is a significant flaw with the speaker. I enjoy being able to skip tracks without having to remove my phone from my pocket.
Like the original Voom, the Voom 20 also doubles as a hands-free device.
From my perspective, audio was excellent; I had no difficulty understanding the person I was speaking with.
However, while speaking with my wife, she was immediately able to detect I was using the Voom 20 hands-free, and indicated it was a bit difficult to understand me; however, it wasn't so bad that I had to repeat anything.
Additional features
Along with streaming audio, the Voom 20 can be used to recharge your devices. It is equipped with a USB port that puts out 5 volts at 1 amp for a total of 5 watts.
That will be enough to charge your phone, but it won't be very fast. Quick Charge 2.0 devices can output about 5 volts at 3 amps for a total of 15 watts, three times as much as the Voom 20.
While it's a nice feature, it's probably a feature you will only need in the most dire of situations.
Finally, the Voom 20 has an ingress rating of IPX5. This means the Voom 20 is splash proof.
Just keep in mind, splash proof is not waterproof; the Voom 20 cannot be immersed in water
Conclusion
The Voom 20 is definitely an improvement over the original Voom.
VAVA addressed several issues I previously found. NFC now works flawlessly, there is no more distortion, and the volume range has been significantly increased.
Additionally, the Voom 20 works as a power bank and is now splash-proof.
Of course, the Voom 20 isn't without its flaws. Like the original Voom, the Voom 20 still lacks the ability to skip tracks.
Additionally, the dual Bluetooth pairing doesn't work exactly as advertised.
Even with all the improvements, VAVA is able to sell the Voom 20 for $59.99, that's $40 less than the original Voom. For that price, the Voom 20 is an excellent buy.
Source: The sample for this review was provided by VAVA. Please visit their site for more information and Amazon to order.