We use affiliate links. If you buy something through the links on this page, we may earn a commission at no cost to you. Learn more.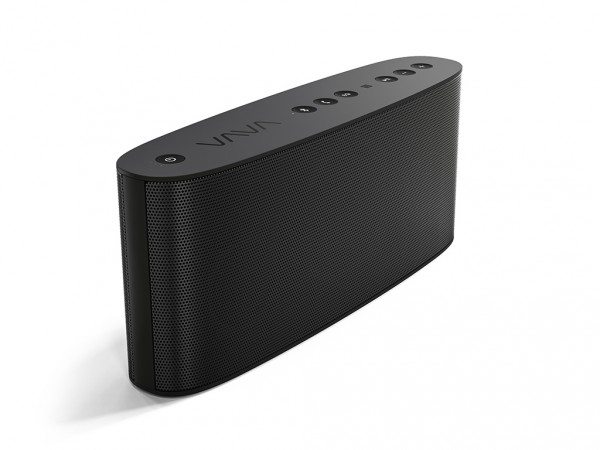 In my never-ending quest to find the perfect Bluetooth speaker, I've managed to collect several small, rugged speakers. What I haven't gotten my hands on is a good Bluetooth speaker that is powerful enough to use at a party and stylish enough to not have to hide.
While marching forth on my epic audio journey, I was offered the chance to review the Vava Voom Bluetooth speaker. According to Vava, the Voom is "[e]ngineered to produce high quality audio, [it] is infused with a timeless design that blends in and complements every lifestyle."
Hopefully, the Voom lives up to Vava's claims and will be the Bluetooth speaker I've been hoping for.
CHECK OUT: Creative Sound Blaster Roar 2 portable Bluetooth speaker review
In the box
Vava Voom Bluetooth speaker
15V DC power adapter
Micro USB cable
3.5mm audio cable
Specifications
Bluetooth version – 4.0
Bluetooth profile – A2DP, AVRCP, HSP, HFP, AAC
Bluetooth range – 33 feet
Audio Codex – aptX
Microphones – Omni-directional
Speakers – 1 x 70 mm subwoofer, 2 x 40 mm tweeters, 2 x 65 mm passive radiators
Battery life – 10 hours
Weight – 1.76 lb (listed), 2.6 (what I weighed)
Dimensions – 3.9″ x 2.1″ x 9.4″
Design
The Voom measures 3.9 inches high by 9.4 inches long and is 2.1 inches wide at it's center. Its user manual states it weighs 1.76 pounds, but it felt heavier to me. I weighed it and found it was 2.6 pounds. Although that isn't very heavy, the Voom feels heavy – if that makes any sense.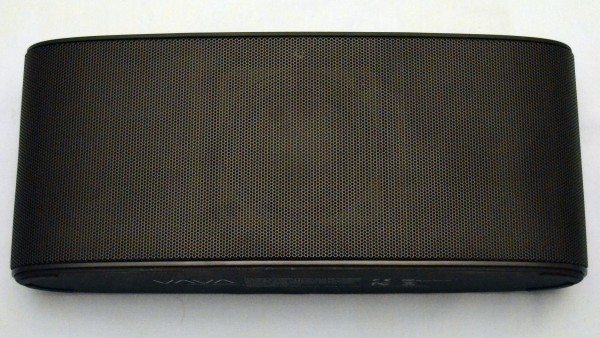 The front of the speaker is nothing but the speaker's grill. I didn't find that to be a bad thing. I like the fact there is no branding on the front.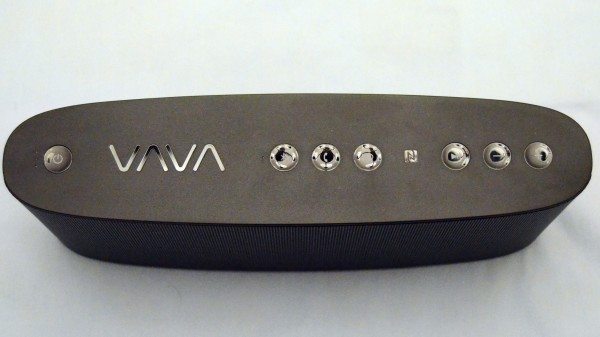 The top of the speaker contains all the function buttons and notification LEDs.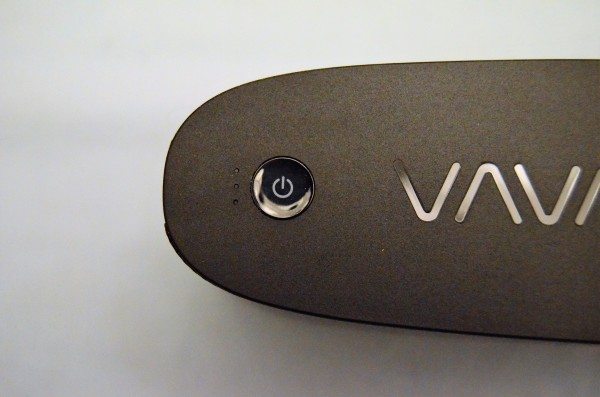 To the left of the of the speaker is the power button and 3 LED notification lights. These LEDs indicate how much power is left in the battery. Each LED represents roughly 1/3 of battery life.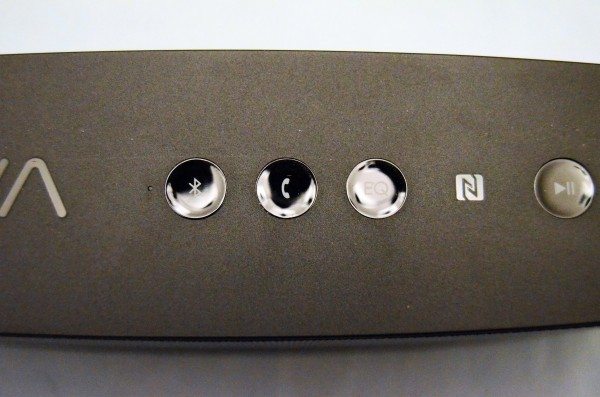 Near the center is a Bluetooth indicator LED, a Bluetooth button, a hands-free button, and an equalizer button.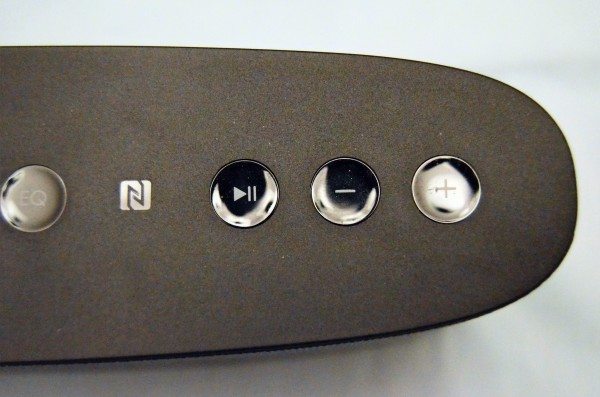 Finally, the right side of the speaker holds the play/pause button and the volume buttons.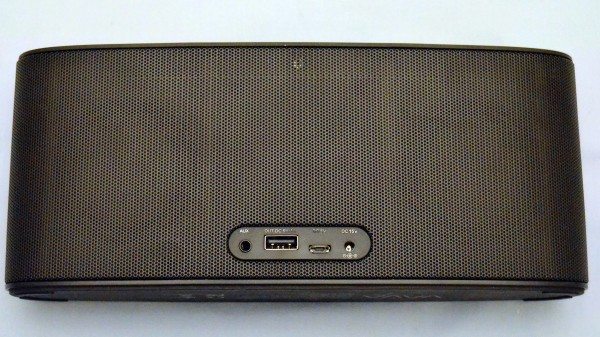 The rear of the speaker has an auxiliary port, a USB output port, a micro USB charging port, and a DC charging port.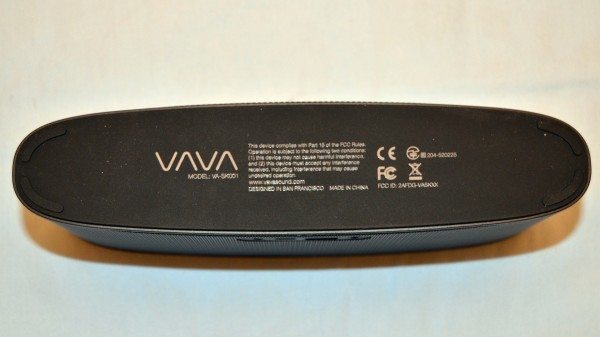 The bottom of the speaker contains some identifying information and rubber feet to keep the speaker from sliding around.
I speaker grill feels like it's plastic, but I'm not certain. The top also feels like plastic, but the bottom is covered in TPU.
I really liked the way the Voom looks and is designed. It's a very minimalist, yet modern design. I would have no problem leaving it out for all the world to see.
I do wish the entire thing was covered in TPU for added protection. I have a feeling that the Voom wouldn't survive many falls.
Set up
There are two ways to set up the Voom.
First, you can do things the traditional way. The first time you power up the speaker, the Bluetooth indicator should flash. When it does, go to your phone's Bluetooth menu and select "Vava Voom". The Bluetooth indicator should then go steady white. Your phone will then request you enter the passcode listed in the user manual.
Of course there is an easier way; the Voom is able to pair via NFC. To take advantage of this feature, you just tap the back of your phone or tablet on the NFC symbol between the equalizer and play/pause button.
This is the second Bluetooth speaker that I've seen with this feature. On the first speaker, the Omaker M4 that I previously reviewed, it worked flawlessly. Unfortunately, it didn't work as well with the Voom.
I tried using the NFC pairing feature with my Nexus 6P, but didn't have much success. When I tapped the phone on the speaker, I received a message asking if I wanted to pair. I would hit yes, but after a few minutes I received a message saying the devices were unable to pair. The exact same thing happened when I tried to pair my Nexus 9 tablet with the Voom. I retried pairing both my tablet and my phone multiple times with no luck.
Just to be sure the issue wasn't with my phone or tablet, I retrieved my Omaker M4 and tried NFC pairing both devices with it. Both devices paired with the M4 immediately.
After confirming the NFC worked on both my phone and my tablet, I decided to try the NFC pairing on the Voom one last time…and it worked. I'm not sure what changed between my first couple of attempts and my last, but it suddenly worked as well as the M4.
NFC pairing is my favorite feature I've stumbled across in a Bluetooth speaker. It makes things so much simpler, especially if you are someone like me who likes to change phones every few months. The fact that it is so finicky is troublesome, but I guess in the end it did work.
Performance
Once you get your phone paired with the speaker, you are ready to stream audio. I found the sound to be generally acceptable, but there was a slight hiss in the background when playing music, watching movies, or listening to podcasts. It reminded me of the sound you hear when you aren't getting perfect reception on a FM station. It doesn't prevent you from enjoying whatever you're listening to, but you are aware it's there.
The speaker is very loud; in fact, it may be too loud. There were times when I attempted to lower the volume, but found the next volume level was actually mute. It should definitely provide enough sound for a party.
One thing I found odd while streaming music is, there doesn't appear to be a way to skip tracks. The Voom doesn't have dedicated skip buttons, but most Bluetooth speakers will skip tracks by double tapping the volume buttons or holding them down. The Voom doesn't do this; the volume buttons soley adjust the volume. All the other buttons work as you would expect.
The Voom does double as a hands-free device. The sound quality is identical to the sound quality when streaming, with the same hiss in the background. Again, it didn't prevent me from understanding the person I was speaking with, but it was definitely there. The people I spoke with didn't express any difficulty hearing me.
The Voom has a built-in equalizer with three modes: standard, party, and surround. The manual describes each mode as follows:
standard – balanced sound
party – more emphasis on bass and high volume
surround – sound coming from every direction
I'm no audio expert, so I'm not great at discerning the subtle difference between various eqaulizer modes; however, I'd say the above descriptions are fairly accurate. After cycling through each, I found I preferred standard mode.
Additional features
One nice feature of the Voom is its ability to be used as a power bank. If your phone or tablet is running low on juice, you can plug it into the USB output and recharge your device. It charges at a fairly decent rate too. I plugged my 6P into the device and it went from 2% to 73% in about 2 hours. That's not bad for a non-quick charge device.
Also, the Voom can be paired to two devices at once. I was able to have both my phone and my tablet paired at the same time. This is a feature I love and wish all Bluetooth speakers had. I stream music with my phone, but watch movies with my tablet; I hate having to constantly pair and re-pair devices to use the same speaker.
Conclusion
Overall, the Voom is a decent speaker, but my search for the perfect Bluetooth speaker will continue. There are just a couple of issues preventing it from being great.
First, the NFC pairing seems to have issues. While I understand most speakers don't have that feature, if you are going to include it, it should work better.
Also, sound quality isn't bad, but there was always a slight hiss in the background. After a while you may not notice it, but it's still a negative.
Plus, while volume is loud, it jumps from audible to mute too quickly. I think it should ramp down slower.
If the Voom was a cheaper speaker I might recommend it, but for $99 I think you could find a speaker with less issues.
Source: The sample for this review was Vava. Please visit their site for more information and Amazon to order.