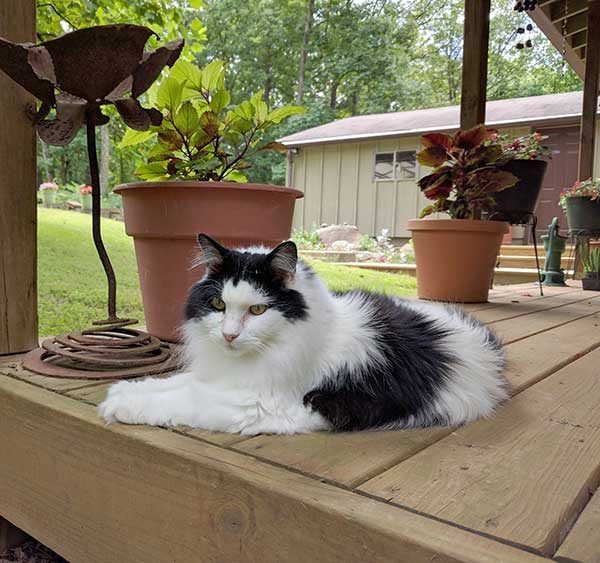 This is Max. He's a stray cat that we've had for about 12 years or so. We think he's part Maine Coon because he's so large and has some of the characteristics of that breed. He acts more like a dog than a cat and likes to follow us around indoors and out. Max is diabetic and takes insulin shots twice a day. It's important that he eat all of his food before we give him his shot. Some days he'll cry and beg for his food but then won't eat it after we've given it to him. I thought he might just be finicky, but then I learned about whisker fatigue and the Dr. Catsby's bowl that has been designed to combat this problem. They sent me one. I mean Max one, to try. Let's see what he thinks and if his whiskers are more energetic now.

What is it?
If you've never heard of whisker fatigue, you're not alone. I hadn't heard of it either before seeing the Dr. Catsby's bowl. Here is some extra info from the Dr. Catsby's site:
When our whiskers are forced into close contact with the sides of our bowls, it can get extremely painful. And that's why we don't always finish our food. Not necessarily because it's the wrong food – but because it's the wrong bowl.

The signs of whisker fatigue:

Leaving food in the bowl, but is still hungry
Pulling food out of the bowl with their mouth or paw to eat off the floor
Leaving a mess behind on the floor
Only eating from 

the center of the bowl

Acting aggressive 

toward other animals in the house during mealtime

Standing by the bowl before eating for a period of time, pacing around the bowl, or being hesitant to eat, though hungry
Max exhibited several of these signs so I was anxious to see if this special bowl could solve the problem.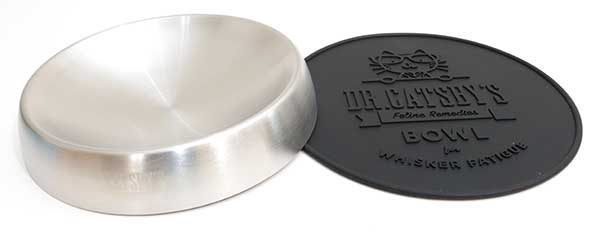 What's in the box?
Dr. Catsby's bowl
Non-slip mat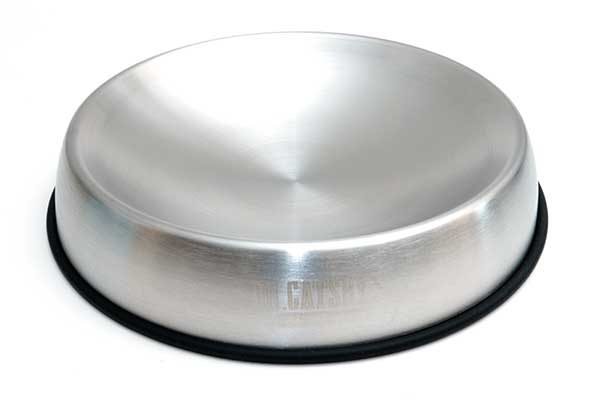 Design and features
The bowl is made of #304 food service grade stainless steel that has a fine brushed look. The Dr. Catsby logo is etched on the front of the bowl, but otherwise, it is plain.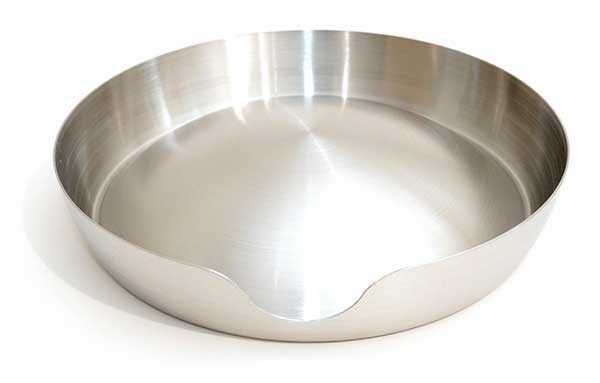 The edges are smooth but not sharp. The bottom edge of the bowl has a cutout that makes it easier to pick up off the included rubber mat.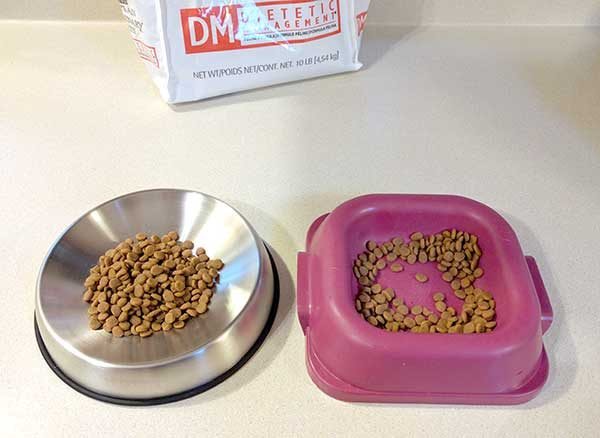 The whole idea behind the design of the bowl is the shape. Unlike a traditional dish like Max's old bowl that we see above on the right, Dr. Catsby's bowl is shallow with angled sides that allow the food to remain in the center of the dish. The food in Max's old dish always seemed to migrate to the corners as he was eating. He'd only eat the kibble in the center of the bowl and then stop because he'd have to stick his face in the corners to get the rest of the food.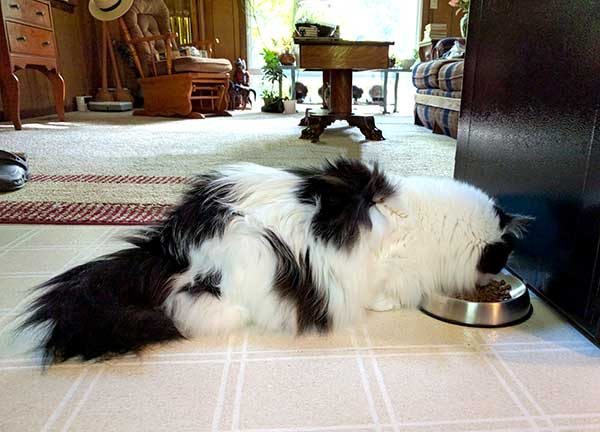 Max's thoughts after using the bowl
Since switching over to the Dr. Catsby's bowl for whisker fatigue, Max has been eating all of his food – at least most of the time. Max likes wet food better than dry kibble, so sometimes he'll take one look at the dry food in the bowl and turn away until he's hungry enough or we cave in and give him the wet food instead of the dry. Usually, we just ignore him and he'll eat the dry – every last morsel.
The Dr. Catsby's bowl works better with dry food as the wet food tends to stick to the sides and some of it will end up sliding out of the bowl and onto the floor.
Final thoughts
$20 may be a little spendy for a cat feeding bowl, but the Dr. Catsby's bowl for whisker fatigue looks nice, is well made and appears to have solved the problem we were having with Max eating all his food in a timely manner.  Sure, you could just put the food on a flat plate, but then you're sure to have loose kibble all of your floor in no time due to the way cats like to eat. The Dr. Catsby's bowl keeps all the dry food in the bowl where it belongs. Max gives it two paws up and I think his whiskers are happy too.
Updates 01/16/18
While I like this bowl because it's stainless steel and it's easy to pick up from the floor due to the notch on one side, I really don't think that this bowl is any better than other shallow bowls at least for my cat Max. At first, I thought it made a big difference in his finicky eating behavior, but over the past year, he's still had episodes where he just doesn't want to eat. The Catsby bowl hasn't fixed that issue. It has nothing to do with his whiskers and more about him being a cat who does what the heck he wants to do when he wants to do it. My advice is to save your money.
Source: The sample for this review was provided by Dr. Catsby. Please visit their site for more info and Amazon to order.
Support The Gadgeteer
:
We may earn a small affiliate commission from purchases made from buying through links on our site. As an Amazon Associate I earn from qualifying purchases. Learn more.
Product Information
Price:
$19.99
Manufacturer:
Dr. Catsby
Retailer:
Amazon
Pros:

Shape allows food to stay in the center of the bowl
Dishwasher safe
Non-slip mat

Cons: