We use affiliate links. If you buy something through the links on this page, we may earn a commission at no cost to you. Learn more.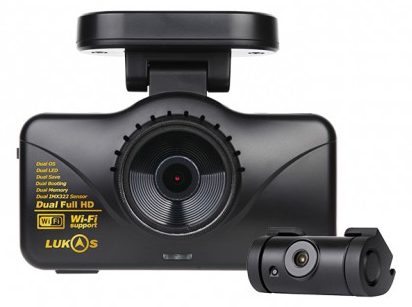 Dash cameras have historically been more prevalent in many other countries than in the US.  (remember the endless dash-cam footage of the Chelyabinsk meteor in 2013?) Recently, dash-cams are becoming more popular in the States, either to have as an archive in case of an accident or to record a drive you rather not have your insurance company know about. Recently I saw the LK-7950 Lukas Dual Lens Dash Camera with WiFi and GPS on-line and thought it had an extensive array of features.
The LK-7950 features two wide-angle HD cameras: one for dash recording and one to mount in the rear of the car. Each records to a separate SD-compliant memory card that may be up to 256GB. Continuous recording, which strategically overwrites old records, guarantees no footage will be missed. Built-in GPS records the vehicle's location and driving route. An on-board WiFi access point allows live footage to be streamed and downloaded to a smartphone app.  The LK-7950 also has a built-in accelerometer.  This sensor allows the LK-7950  to detect an impact and activates the "event" mode to prevent the recorded footage from being overwritten. The accelerometer also detects motion when the car is parked and will record activity even if you're not around to witness it.
The LK-7950 Lukas Dual Lens Dash Camera with WiFi and GPS is available for $275 from Amazon.