We use affiliate links. If you buy something through the links on this page, we may earn a commission at no cost to you. Learn more.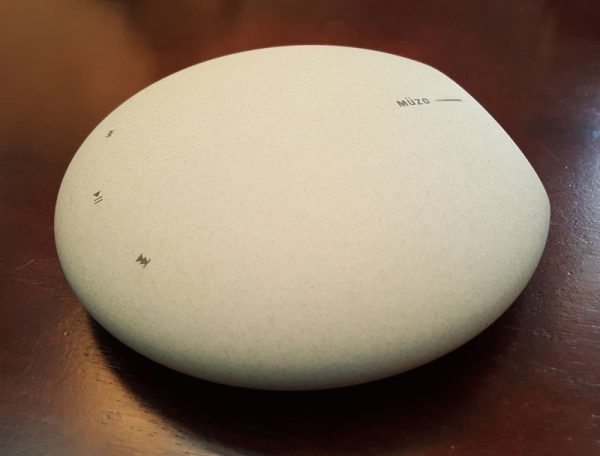 The market for wi-fi enabled audio receivers to stream your music around your house is getting a little more crowded.  Of course, there are market-leading products (in my opinion) like the Sonos System and the Bose SoundTouch® System.  But those are pretty pricey, so there are some cheaper solutions like I the one I reviewed 2 years ago, the Rocki Wifi Audio Adapters which wasn't a bad solution at the time for the sub-$50 per unit price.  Enter the MUZO Cobblestone Wi-fi Audio Receiver.  At a price of $59 does it have what it takes to make an appearance at my next party?  Let's see.
First, the specs.  Here is what Muzo lists for the product:
Diameter: 5.5 inches
Height: .787 inches
Weight: 9 oz
Here is the Cobblestone compared to my Nexus 7 tablet: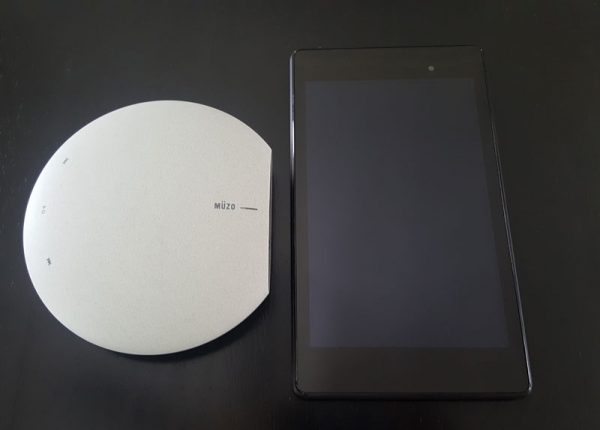 Technical Details
Wi-Fi 8.2.11 b/g/n (AP/STA modes supported)
Music Formats supported: MP3, WMA, ACC (ACC+), Apple lossless, ALAC, FLAC, APE, WAV
Frequency Range: 20Hz – 20Khz
THD+N: -85db
SNR: 96dB 7
MUZO Player App versions: Android, iOS
Connectors: 3.5 mm stereo (audio), MicroUSB (power/charging), Ethernet output
Included in the box: 3.5mm to 3.5mm audio cable, 3.5mm to RCA Audi Cable, USB Charging Cable, USB Charger
Power: 5V, 1A
*Note: This device needs to be on a 2.4GHz Wi-Fi band.  I can confirm this.  I tried using my 5 GHZ band in my home network and it wouldn't work. Read below.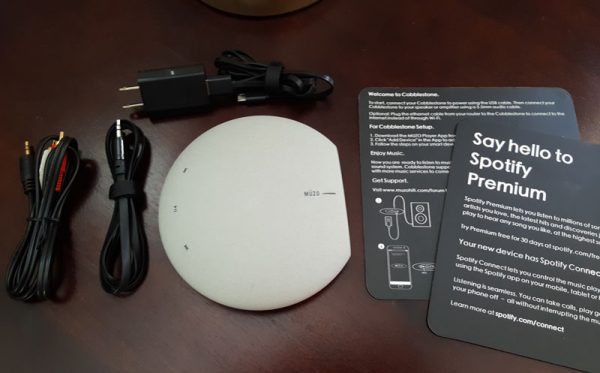 Never miss one of our posts again. Sent MON, WED, and FRI with the latest gadget reviews and news!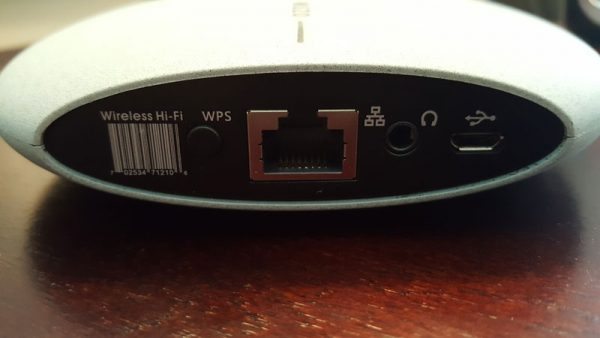 Setup issues
In the box, you'll find a set of setup instructions that look pretty easy.  But I didn't find them to be so easy.  I have a wifi router at home that broadcasts both the 2.4GHz and 5GHz ranges, and my smartphone automatically connects to the 5GHz range.  I tried for 30 minutes trying to get the Cobblestone to work before going to their support site and reading the user guide where on page 7 (in small letters) it states that the Cobblestone can only be used on the 2.4GHZ range.  I am sure I missed something, somewhere, but I thought I would mention that so that others don't make the same mistake I did.  I should also mention here that there is a web-based way to alter the settings on each Cobblestone by using the IP# for the device and connecting using your web browser while on the same Wifi network.
Performance
One of the reasons I wanted the Cobblestone is that it purports to be able to play the same music on all the Cobblestones in your house, or play separate music to each one.  I can confirm this is true and it works great.  The Muzo app has a 'device list' screen (seen in their example screenshot below) where you can drag and drop Cobblestone devices onto each other and then you can play the same music on all devices at once.  You can even set each Cobblestone to play left channel, right channel, or stereo, depending on the setup you are looking for in the room. Pretty cool.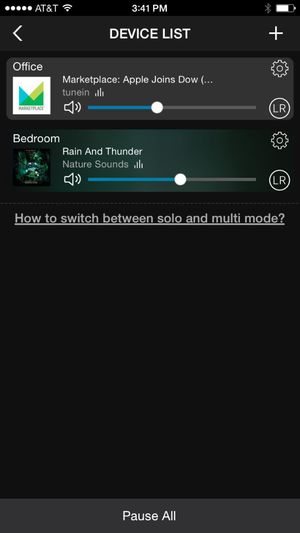 Each device also has a small cog wheel button (see screenshot above) where you can change some settings for each device, like setting a special name you want for the device (living room, bedroom, etc), and getting detailed info about each Cobblestone like the IP# (which can be used to connect to the Cobblestone via the web-based method mentioned in the previous section), SSID, MAC address, etc.  On that menu you can also set a sleep timer of up to 90 min so you can fall asleep to your music.  Finally, on that menu you will see a 'preset' option.  That is supposed to allow you to select some music that you want to automatically play if you press the 'play' button that is located on the Cobblestone itself.  I followed the instructions on the Muzo website to accomplish this but the menu buttons were not there to enable me to use this feature.  It might be only on the iOS version of the app, I am not sure.
What I liked
I like that it works.  I can play the same music to all the Cobblestones or different music to each, and control them from my smartphone or tablet.  I also liked that it looks stylish.  I think that it would fit into any décor.  I like that you can plug it up to any audio speaker… HiFi system, portable speaker, etc.  I have numerous portable speakers sitting around the house and with the included audio cable I can use them all.  I can even stream music from my Windows Media Player app on my Windows 10 computer directly to the Cobblestone via DLNA.
Once you start playing music, you can use the play/FF/Rwd buttons on the Cobblestone itself to control the music.  So if you aren't near your phone you can control the music at the nearest Cobblestone.  Because the music is playing over Wifi and not Bluetooth, you can continue to use your phone/tablet and the music will be uninterrupted, so your party guests won't have to listen to your phone ringing through the speakers when someone calls you.  I also like the Muzo Player app.  It is fairly intuitive and easy to use.  And finally, I like the price.  $59 is a great price for what you get.
What I didn't like
I don't like that you must plug the Cobblestone into power.  That means I am limited to being within about 3 feet of a power outlet because that is the length of the cable.  It sure would be nice if it at least had a rechargeable battery built-in so I could take it outside the house where we don't have any power outlets.
I don't like that Pandora is no longer supported.  MUZO says on their website that you can use AirPlay for iOS to connect Pandora, but Android users are out of luck.  Pandora is one of my main sources of music that I listen to, so I am disappointed. My other main source of music is Spotify Connect Free.  And sadly you must have a Spotify Premium account to use Spotify.  The Cobblestone does support music from iHeartRadio, Tital, TuneIn, TTPOD, and some music services from Asian markets.  But I don't use any of those.  They say that Amazon Music, Rhapsody, and Napster are also coming, but… I don't use any of those either.  I use Pandora, Spotify, and Google Music.  None of which are supported. Sigh.  So I downloaded some of my music files on my computer to my phone and tablet and the Muzo Player app instantly found my music files and allowed me to play them.
Bottom line
If you are looking for an affordable solution to streaming music around your house in a stylish package, the MUZO Cobblestone is a good option.  The app is well-designed and is pretty intuitive, and the quality of music you will hear over your WiFi network is going to be much more robust than listening over Bluetooth.  But you have to be willing to accept the music services offered for the device, as well as the fact that it must be tethered to a power outlet.  And of course, you need some speakers to plug up to the Cobblestone.  If all that sounds good to you, then the Muzo Cobblestone will be the right fit for you.
Source: The sample for this review was provided by Muzo. Please visit their site for more info and Amazon to order.