We use affiliate links. If you buy something through the links on this page, we may earn a commission at no cost to you. Learn more.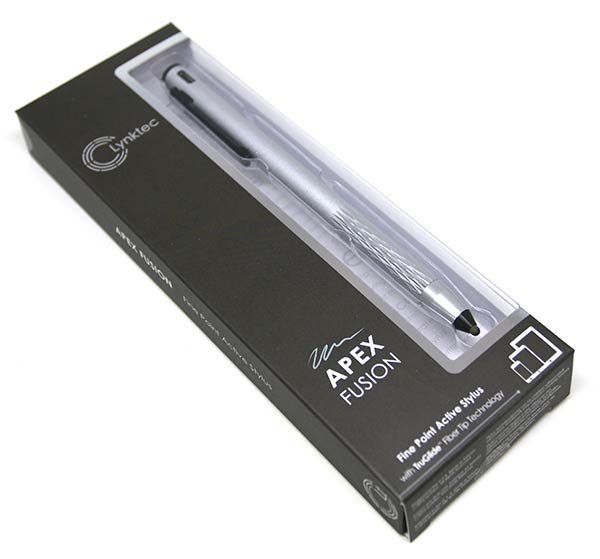 Back in the day when touchscreen devices were not finger-friendly, a stylus was a must have accessory. Today, styluses have two main uses: note taking and drawing. Like pens and pencils, styluses come in all manner of shapes and sizes, but one thing holds true with today's styluses… If you want a stylus with a fine tip, it will have to be an active stylus. The difference between an active stylus and a passive stylus is that active styluses require a battery to power the active circuitry. Lynktec sent me their new Apex Fusion fine point active stylus to try. Let's see if it's a good option iOS or Android device.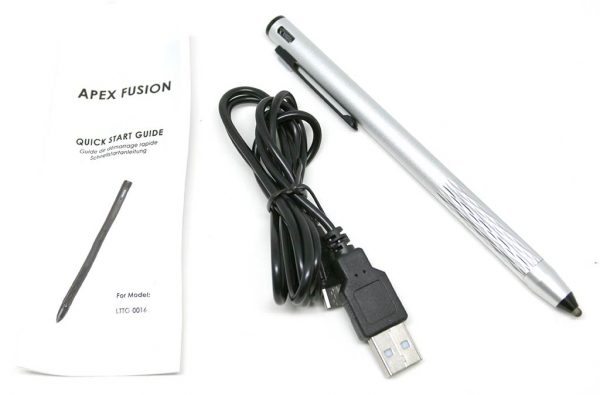 What's in the box?
Lynktec Apex Fusion stylus
Micro USB cable
Quick start guide

What is it?
The Lynktec Apex Fusion is a fine point active stylus that is available in four colors including the silver version that you see here. It's 5.9″ long and could easily be mistaken for a fancy pen since the dimensions are very similar. It has a brushed aluminum barrel with a carved grooved grip.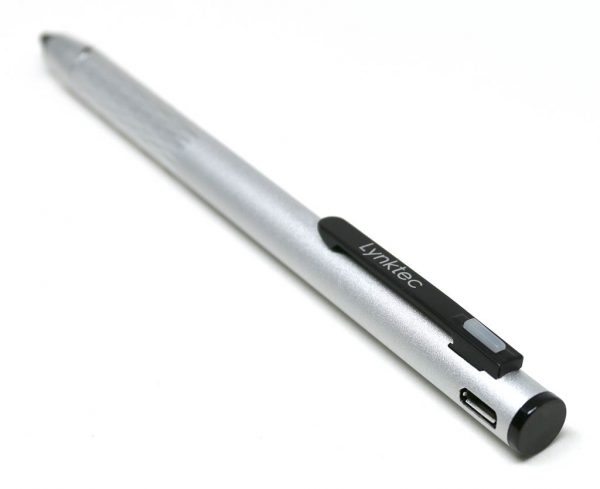 The Apex Fusion has a black steel pocket clip with a power button at the top and a micro-USB connector below it. The built-in lithium-ion rechargeable battery provides up to 14 hours of writing time and automatically turns off after 30 minutes of inactivity.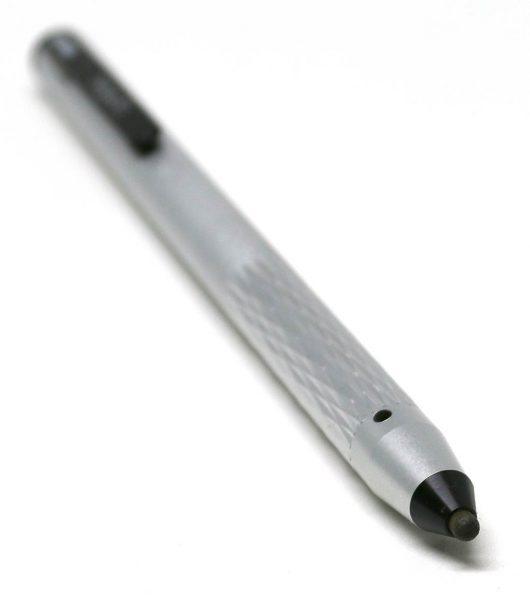 The other end has a status LED that glows red while charging and turns blue when charging is completed and when the stylus is powered on.
The TruGlide fiber tip is solid, unlike the larger hollow tips that you'll find on some passive styluses. The TruGlide tip is 2mm and can be replaced if it becomes damaged or worn with use. Note that there isn't a cap to keep the tip protected when it's not in use.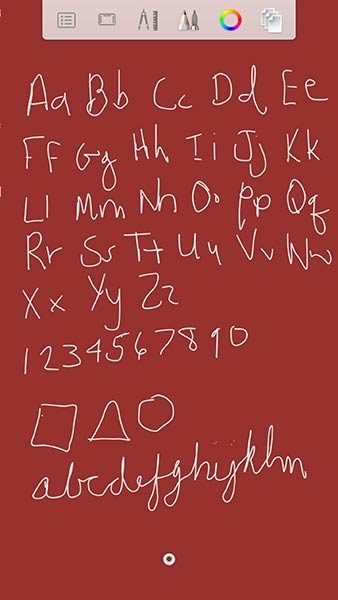 Using the Lynktec Apex Fusion stylus
This stylus does not require Bluetooth or any special setup to use it with your iOS or Android device. All you need to do is connect the included micro USB cable to the end of the stylus and the other end to your computer to charge it. Once charged you just hold down the power button on the top of the pocket clip. Then you write or draw. There's nothing else that you need to do in order for it to work with your device.
The stylus is light weight, so your hand will not become fatigued when using it for long stretches of time. And since it's the same diameter and length as most pens, it will feel very natural to hold.
I tested this stylus with my Nexus 6P and didn't have any issues using it with drawing and note taking apps other than the typical jagged diagonal like issue that almost all active styluses have. This one wasn't as bad as others I've used though…
The TruGlide fiber tip glided smoothly across the screen and did not skip or stick to the glass. It actually felt a little too slippery in my opinion. I really prefer a more pencil on paper feel and the Lynktec feels like glass on glass. My phone does not have a screen protector installed, so I can't comment about using the Lynktec with a protector. I always use tempered glass protectors now, so I don't think it would feel any different.
Final thoughts
I had no issues using this stylus with my Android device. I was able to print, write in cursive and doodle without any issues. The selling point with the Lynktec Apex Fusion is the TruGlide fiber tip, but it didn't feel ant different than other styluses that I have with hard fine tips. So it comes down to the construction, features, and price. I have no complaint about the construction of this stylus. It's well made and has a nice premium look / design. As for features, it really doesn't have any that stand out unless you count the rechargeable battery and no requirement for Bluetooth. It's the price where I have a problem with theLynktec Apex Fusion. This stylus is $60, which is pretty expensive for an active stylus. You can find many similar active styluses with the same features and fine tip for less than half this price. The Lynktec Apex Fusion is a nice active stylus, but I am not convinced that it's worthy of the higher price.
Source: The sample for this review was provided by Lynktec. Please visit their site for more info and Amazon to order.
Product Information
Price:
$59.99
Manufacturer:
Lynktec
Retailer:
Amazon
Requirements:

Compatible with all iOS devices including the iPad Pro (9.7-inch), iPad Pro (12.9-inch), iPad Air 2, iPad Air, iPad Mini, iPad 2/3/4, iPhones, and many popular Android devices

Pros:

Rechargeable
Replaceable tips
No need for Bluetooth

Cons:

Slick glass on glass feel (I guess this could be considered a PRO for some)
No cap to protect the tip when it's not being used