We use affiliate links. If you buy something through the links on this page, we may earn a commission at no cost to you. Learn more.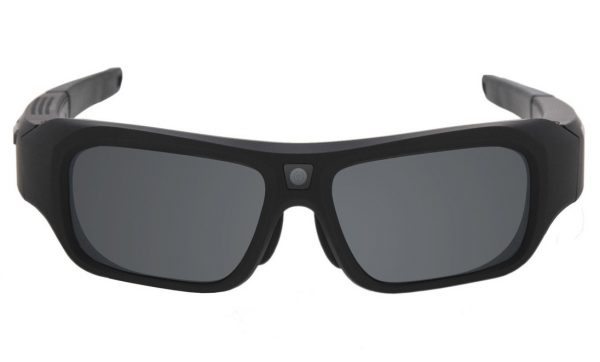 In this day and age of recording devices and selfie sticks, it's fun to see what's out there in terms of videography gear.  iVue has come out with the Horizon Pro Sport Camera glasses, which allow you to record video right from the eyeglass frame, and useful for recording while you are doing outdoor activities or water sports.  Let's take a look and see what features are available in these camera glasses.
Note: Images can be clicked on to view a larger size.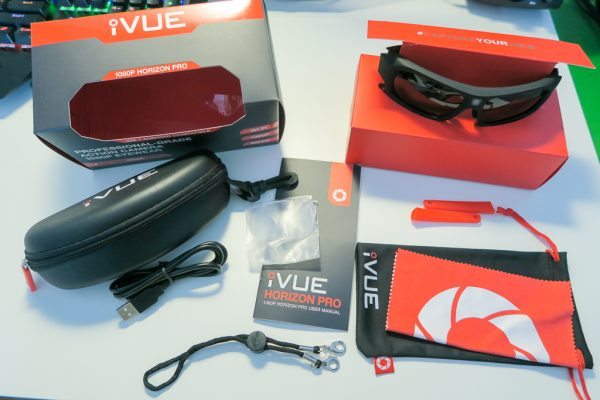 What's in the box?
1080P Horizon Pro glasses
Dark Tint & Clear Lenses
Hard & Soft Case
Cleaning Cloth
USB Charging & Data Cable
Black & Red Ear Pads
Retainer Strap
User Manual
1-Year Warranty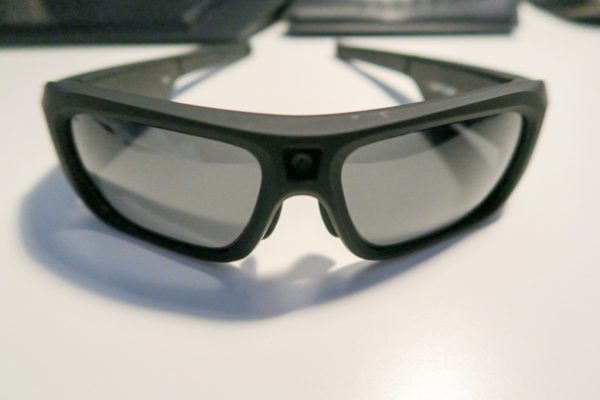 The iVue Horizon Pro camera glasses record HD video at 1080P upto 60fps. They are made with a plastic/rubber black frame that is weather resistant and black polarized lenses. The built-in Li-Ion battery is 550mAH which is roughly one hour record time, and the camera angle is 90°.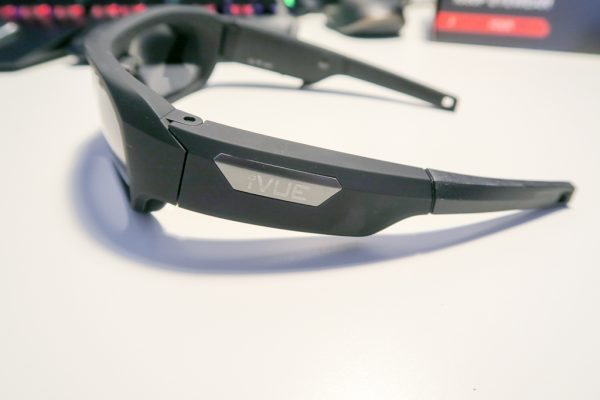 Here a shot of the left side of the glasses, with a huge iVue logo – not the sleekest.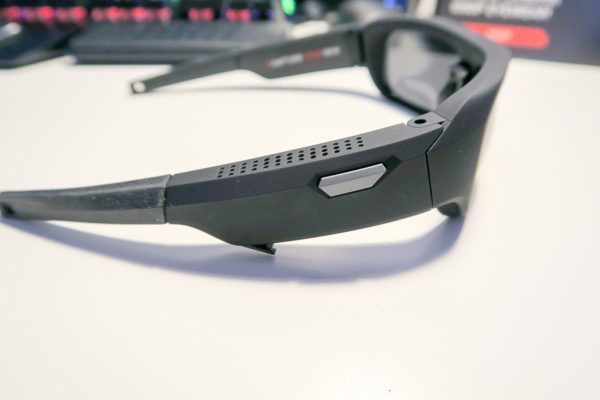 The right side of the glasses feature a speaker/microphone and the recording button, which make the frames super thick and bulky.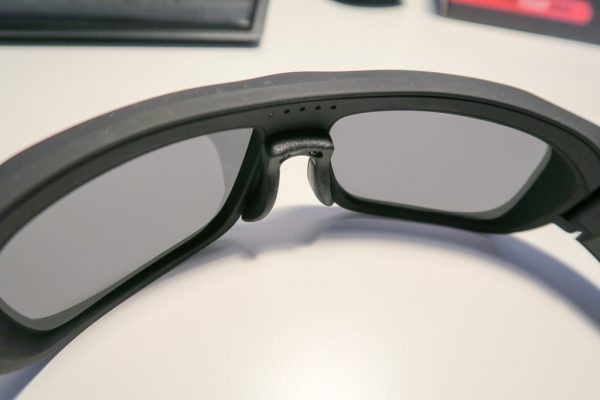 The glasses come with a thick nose pad that gives you extra grip, in case you are in bad weather or sweating.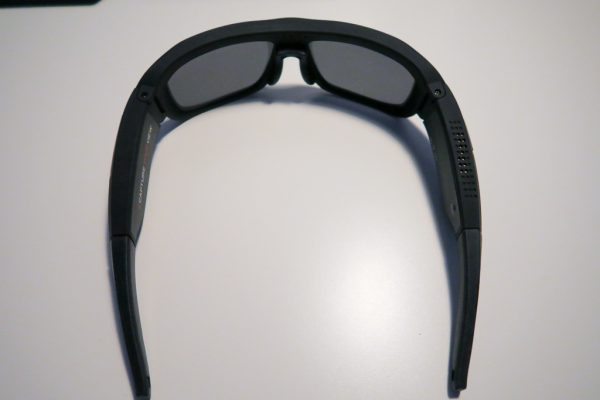 As you can see, the glasses are pretty wide and bulky. They don't look too terrible while wearing them, but they are still pretty big.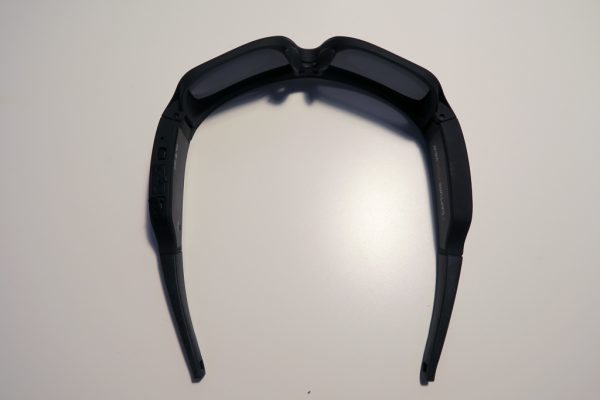 Here's the bottom of the glasses where multiple connections are available.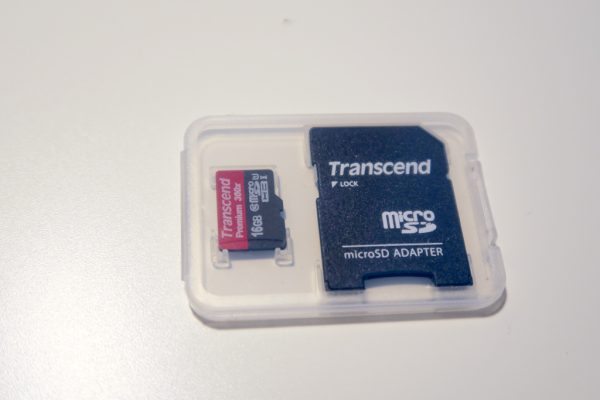 My review unit came with a 16GB MicroSD card and adapter. You can use any MicroSD card up to 32GB.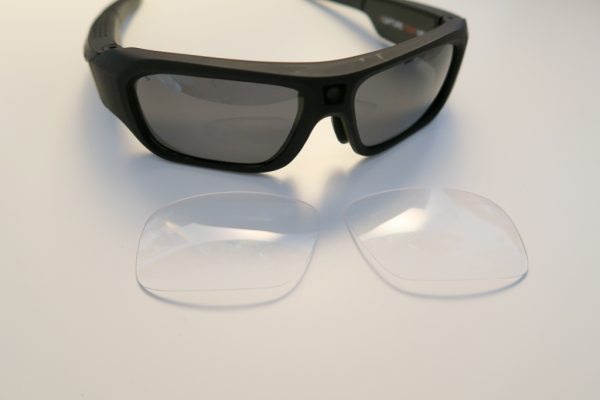 The glasses also came with clear frames in case you want to do any other sport that doesn't require shades (perhaps surfing, or using them in the rain). I didn't change mine out, so hopefully they are easy to pop in and out.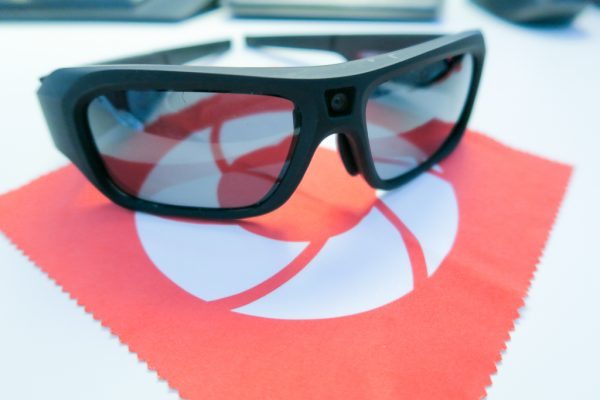 The camera is right on the front of the glasses in between the lenses. I think it looks rather obvious that there is a camera, but maybe because I already know it's there.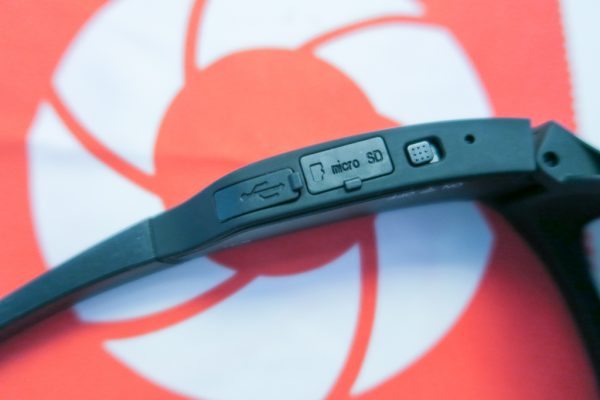 Here's where you can plug in the glasses to charge them up with the included Micro USB cable and insert the microSD card.  The toggle button is to turn on the wifi availability when you connect to your smartphone to use the iVue app.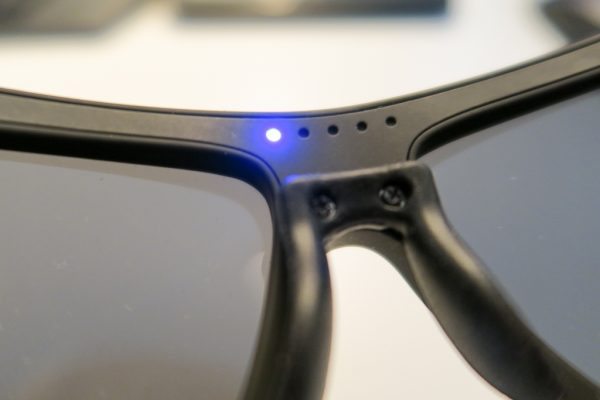 When recording has started, a blue light blinks inside the frame to notify you that the camera is on.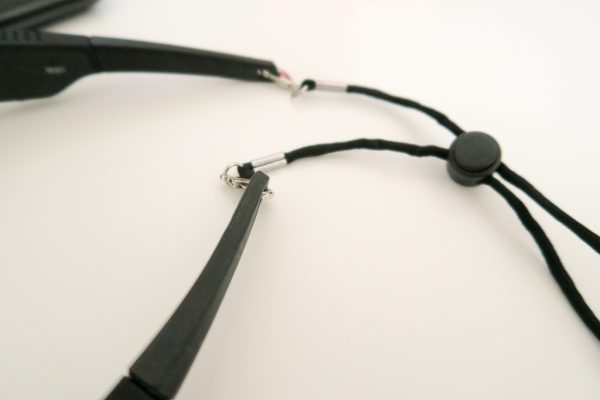 The glasses come with various accessories, including a retainer strap for when you really need the glasses to stay put.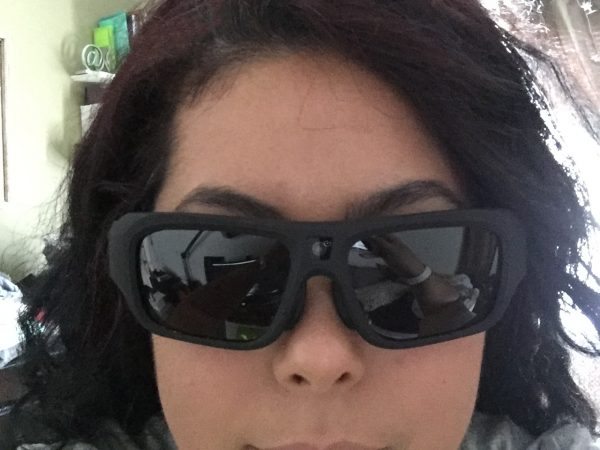 Here I am wearing the iVue Horizon Pro. They overwhelm my face a bit, but maybe on a tall person with slightly bigger face they'd fit well.  They were comfortable however, and the rubber pads helped keep the glassed on my nose.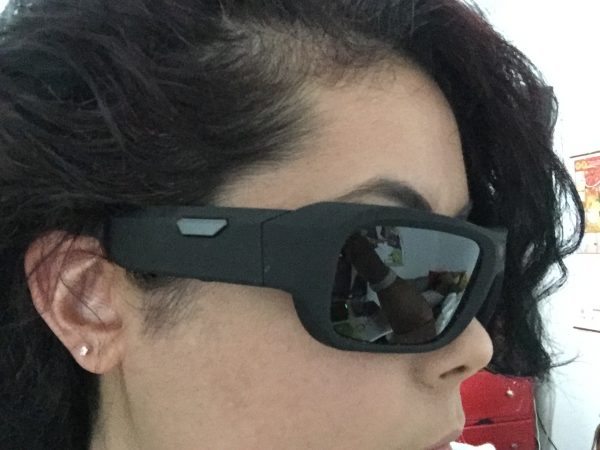 You can see that the frames are pretty bulky. Having long hair, a complaint I have is that the rubber ear pads pull my hair when putting them on or taking them off. I understand the need for the rubber ear pads, but this is just a warning for folks with long hair!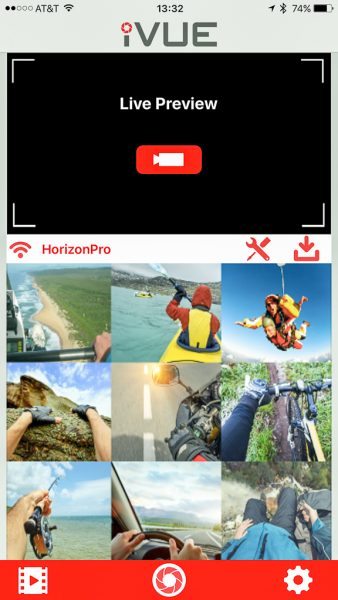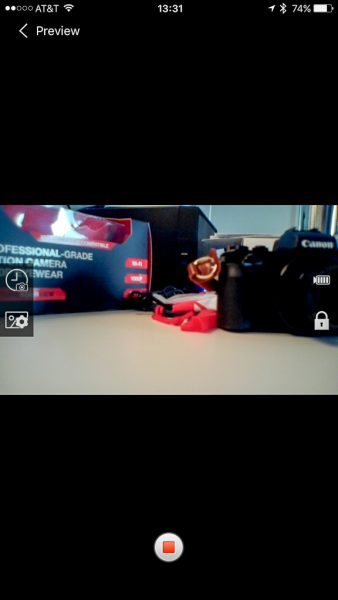 The iVue app (for iOS or Android) allows you to connect to the live video feed of your glasses, just like any action cam app. It's also convenient to change multiple settings.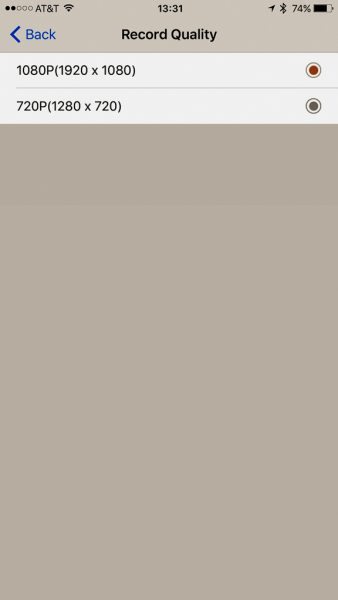 The glasses can record in 720P or 1080P.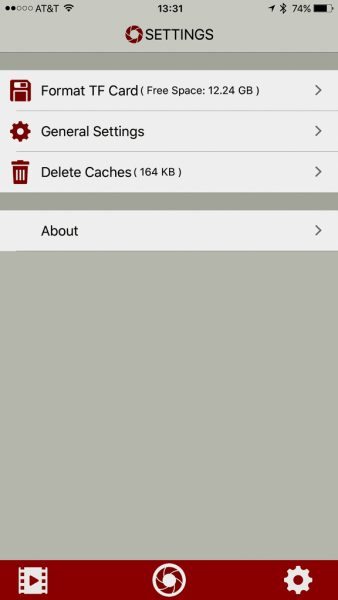 Here you can format the MicroSD card, as well as synchronize the video time with your phone's time.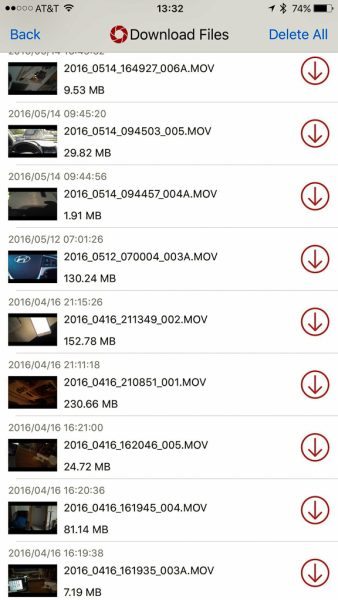 Once you record some video, they are broken down into multipleH.264 .MOV files.  Click on the video below to see sample video footage of me wearing the glasses during a drive:
I wore the glasses for my 20 minute drive, and these puppies got super HOT. I'm not sure how anyone would wear them for longer than that. I had to take them off after the 20 minutes, or at least stop recording. I guess they'd be fun to wear to capture something in small bursts, but honestly, you might be better off with an action cam that doesn't get so hot, yet is still small and portable. The only benefit from wearing camera glasses is if you are doing a sport such as biking or running, and want to capture the scenes in small bursts. If these frames were a bit thinner and didn't get so hot, I'd recommend them since the video quality is pretty good. For now, these are just too big and awkward to use practically.
Source: the sample for this review was provided by Recorder Gear. Please visit their site for more information and pricing.
Product Information
Price:
$179.00
Manufacturer:
iVue
Retailer:
Recorder Gear
Requirements:

computer running Windows or Mac to view video
iOS or Android phone for app

Pros:

Great video quality
mobile app control and live preview

Cons:

bulky
runs hot after 20 minutes