We use affiliate links. If you buy something through the links on this page, we may earn a commission at no cost to you. Learn more.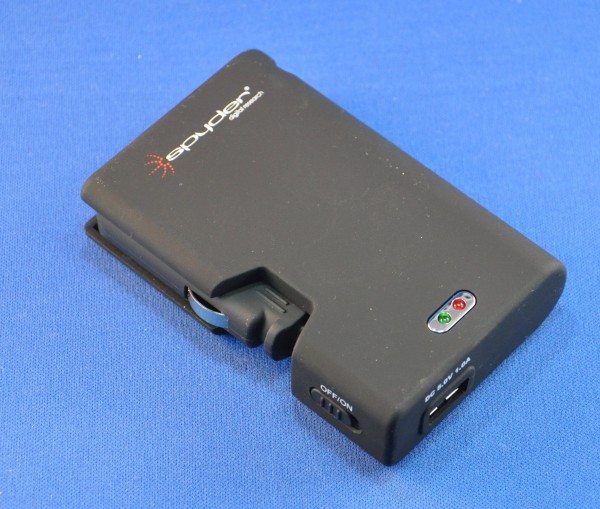 We all have battery chargers by now, right? Some are large, some small, some include cables to connect to phones or tablets. But one thing almost every charger I have seen has is this: you have to carry along a phone charger or a device capable of charging the battery to top it off. (It gets kinda meta, doesn't it?) Well, not anymore, folks! Spyder Digital Research has brought to market a 3-in-1 charger, that pairs a 2600 mAh battery with three different methods of recharging. I was sent a unit to test.
Note: Photos may be tapped or clicked for a larger image.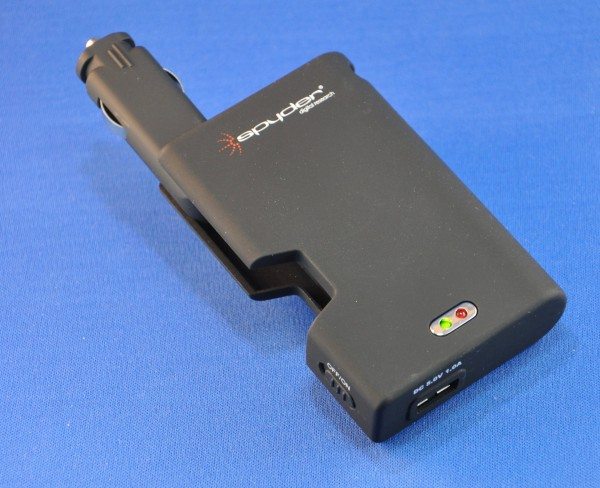 The first thing you think when you first see this is that it looks very soft – and it is. The outer surfaces are a nappy, soft-touch finish that is easy on the hands. Attached to one side of the ~4 x 2.5 x 1″ box is a swivel-out 12-volt connector. So, while you're driving or boating off somewhere, you can be prepping your battery backup as well. On the back, you'll notice a fold-out US power plug, which can charge the unit directly from the grid. And, through the standard USB port, you can plug in any phone or tablet charger (or laptop/desktop computer) and charge the 2600 mAh battery as well. When you want to use all that potential energy, you just flip the side switch to "On" and plug your device into it with the same cable you'd use for the factory standard charger.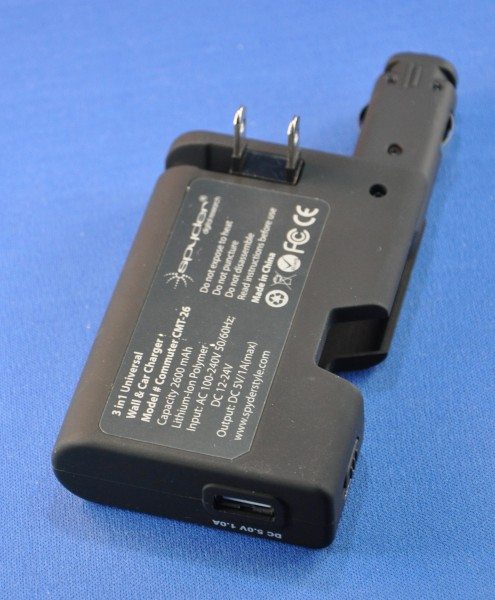 When charging another device, the 3-in-1 has a green LED that lights up to let you know "It's working." When you're charging it up, there's a red LED beside the green one to indicate it's getting power. Once it's charged, the LED goes out.
Since the output is only 5V/1A, it's only useful for phones and smaller tablets, but, still, having something that can be recharged virtually anywhere without remembering to bring anything other than the device cable has to be worth SOMEthing!
Like some other battery packs, you can charge it and also pass-thru charge a device (although, not through the USB port, obvs!). As expected, both LEDs light up when this is happening, but, due to the fact that there's no "gas gauge", you have no idea if the battery is full, dead, or progressing toward either extreme. And that becomes the downfall of the device. Having a battery is great, but only if you know how much power it contains.
Source: The sample for this review was provided by Spyder. Please visit their site for more info and Amazon to order.
Product Information
Price:
$50
Manufacturer:
Spyder Digital Research
Retailer:
Amazon
Requirements:

Cable to power device being charged
Power source: 12-volt plug, US 110 outlet, or USB cable

Pros:

Versatile
Compact
Soft-touch coating makes it feel friendlier than other batteries

Cons:

No battery level indicator