We use affiliate links. If you buy something through the links on this page, we may earn a commission at no cost to you. Learn more.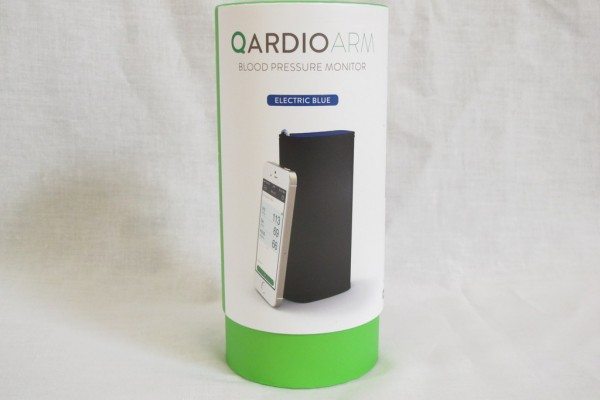 For those of us that suffer from hypertension,  keeping track of our blood pressure is important.  An annual check up with the Doctor isn't enough, so home testing is helpful.  I've used several devices to do my daily checks, but most of them are either very inaccurate or they are bulky and not fun to carry on trips.  Qardio believes they have a device that is both accurate and convenient to use.  Hopefully, that's the case.
Features:
Measures your systolic, diastolic blood pressure as well as heart rate, includes irregular heart beat detection.
Tracks your measurements over time with smart charts, trends and stats.
Supports multiple users.
Fully integrates with the Qardio product family using the companion Qardio App which automatically stores all your data in Qardio's secure cloud.
Allows you to share your measurements and progress automatically with your doctor and family.
Works with Apple Health and integrated with Apple HealthKit.
Compatible with iOS and Android devices.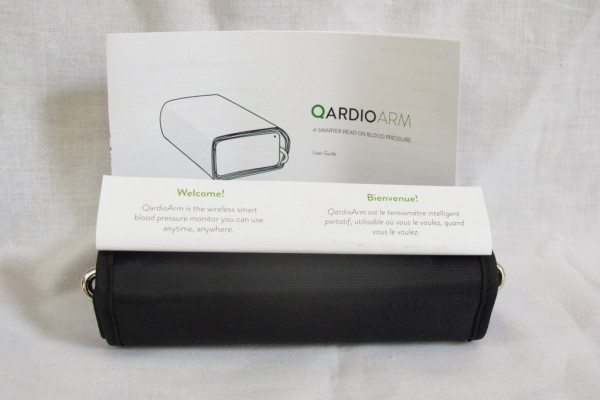 When rolled up, the Qardio Arm device makes a small package.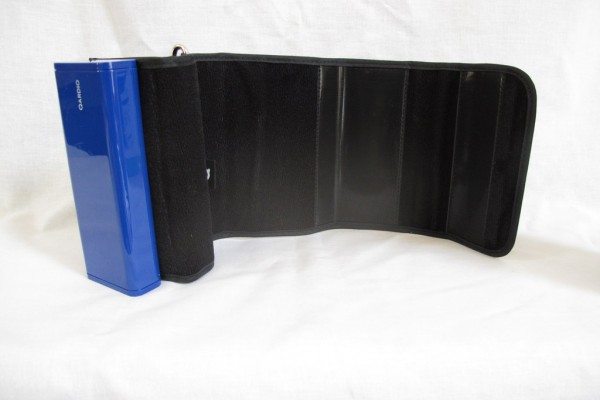 The device consists of the plastic box which houses 4 AAA batteries and the electronics and cuff inflation hardware.  The attached cuff has hook and loop at various points making it easy to adjust to different size arms.  When unrolled, the device turns on because there is a magnetic switch in the plastic box that is activated by the cuff.
The cardio came delivered ready to go with the batteries already installed.  The first steps necessary to use it were to download the iOS or Android APP to a smartphone or tablet.  Next I paired the device using Bluetooth to my iPad mini and then I registered an account, so that my data could be saved and shared in the cloud.  I also attempted to use my Moto G v1 phone, but it was not on the list of compatible devices and although it seemed to work, I kept losing connection, so I stuck with the mini.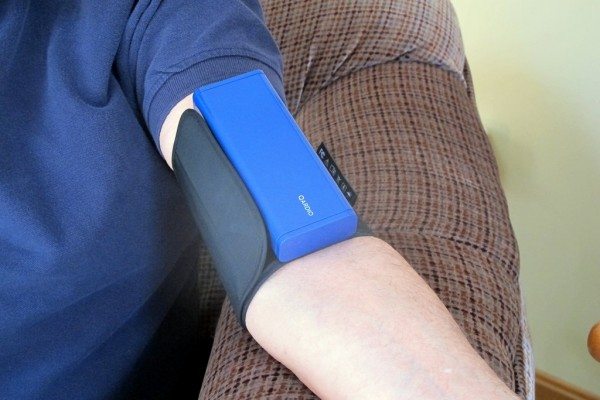 Attaching the Qardio is a simple matter of unwrapping the cuff and looping it around the arm.  There is enough hook and loop to adjust it to fit almost all sizes.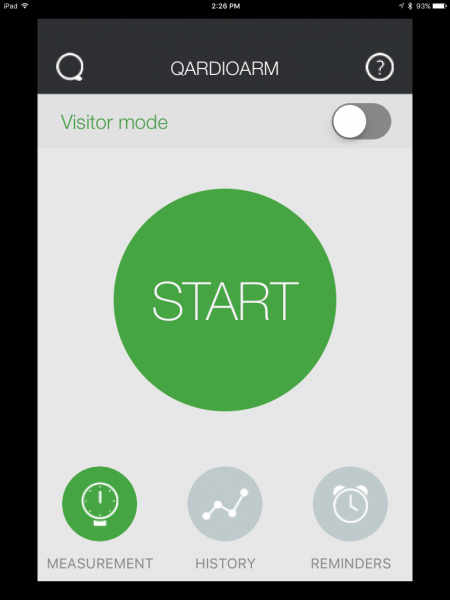 When starting the APP, you are presented with the start screen.  If the Qardio is paired and turned on, the start button is green.  If not it will be grayed out.  Here you can also set a visitor mode, which allows one to take a measurement without it being added to the users history.  It's also important to point out that multiple users can have APPs on their device with a unique account.  My wife has hers on her iPad.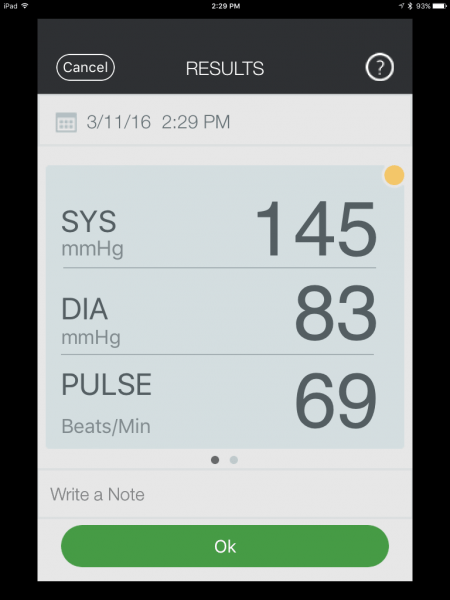 With the cuff positioned correctly on your arm and after you press start, the cuff will inflate and cycle through the test.  At the end you will be presented with the results.  The yellow dot signifies that the results are outside a "normal" range.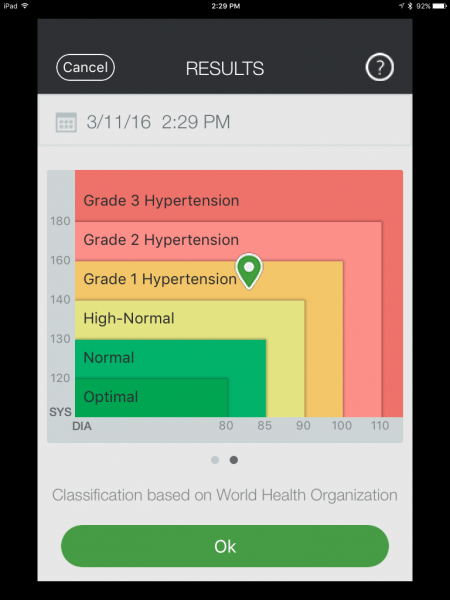 A swipe to the right on the previous screen will show the results graded by WHO classifications.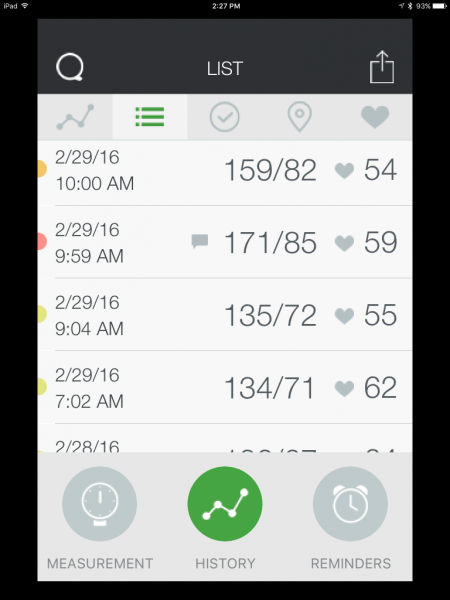 There's provision to track the history of your measurements in a list.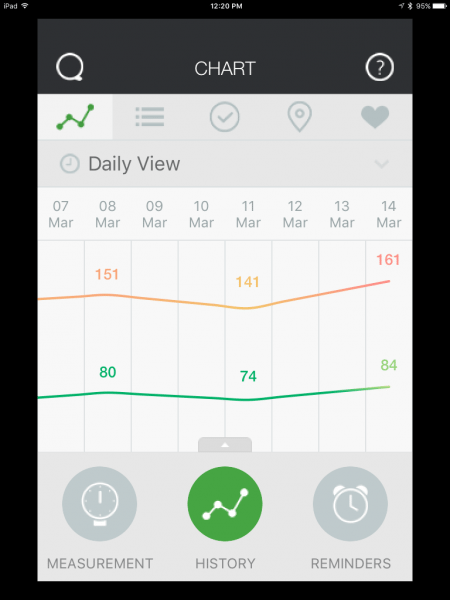 You can also chart your measurements in a graph.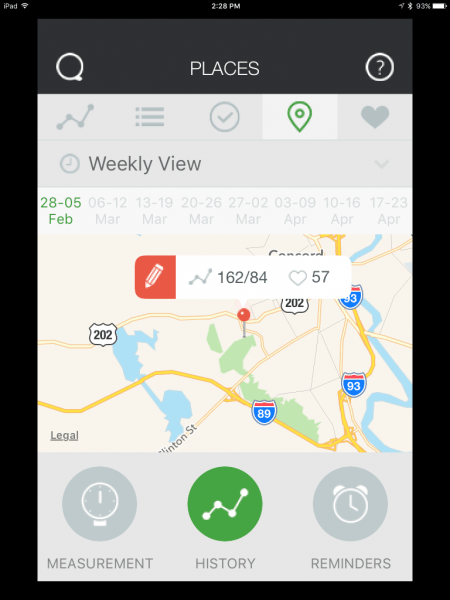 And for a reason that escapes me, you can display where you took your blood pressure reading.  For those who share everything, there is also the option to automatically share your readings with friends.  While I'm not into sharing everything, there is the option of sending the results, via email, to your Doctor.
I've been using the Qario Arm for about a month and I have a concern about its accuracy.  Because I have a treatable hypertension issue, I have taken blood pressure readings for the past 10 years using a device given to me by my medical professional.  Those readings have been compared to my office visit readings done by a Doctor and the device has been validated.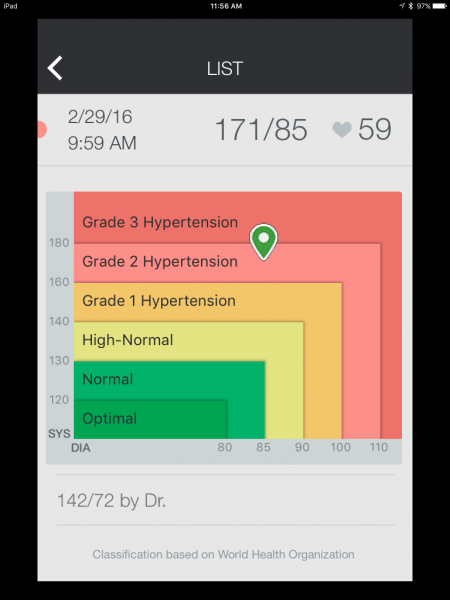 The above screenshot was taken from a visit to my Doctor (M.D.) in his office less than one minute after he checked my blood pressure using the stethoscope method.  His reading was 142/72 and as you can see, the Qardio showed a much higher reading.  My Dr. likes technology, so we did another test and although the Qardio reading came down, there was still a 20 point difference between it and what the Doctor found.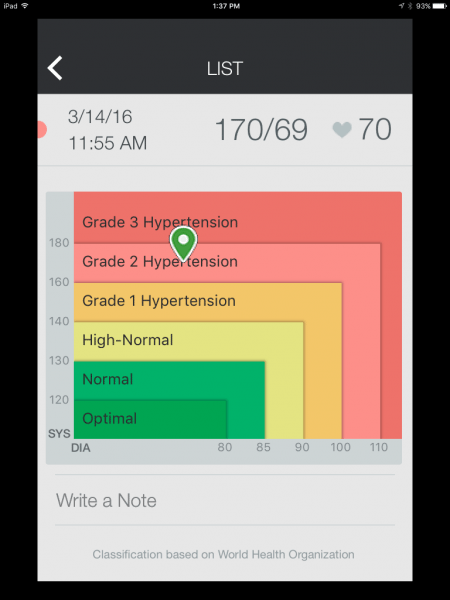 Here's a more recent example.  Immediately after this measurement was taken, I RAN downstairs to use my tried and true BP device and it registered 156/85.
A person's blood pressure will vary depending upon many factors and there is a provision with the Qardio to take up to three reading in a row and average them for the displayed result.  However, even after doing that, I found the Qardio readings to be much higher than my other device.  Perhaps I have a malfunctioning unit, but for now, I'll stick with my old tech blood pressure monitor where I can trust the readings.
Source: The sample for this review was provided by Qardio. Visit their site for more info and Amazon to order.