We use affiliate links. If you buy something through the links on this page, we may earn a commission at no cost to you. Learn more.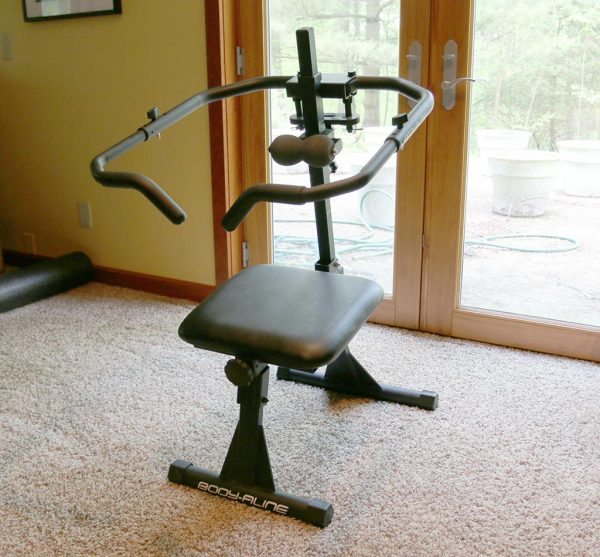 I know that I have bad posture. I slouch all day in front of a computer when I'm at work and do the same thing when I get home. Sometimes I catch my profile when I'm reviewing my security camera footage and see myself walk by the window with my head forward and rounded shoulders. Ugh. Bad posture not only looks bad but over time, it can and will cause neck and back pain. Several months ago I experienced significant back pain when I reached down to retrieve something from a cabinet. I have pretty high pain tolerance, but I was in tears later when I was unable to sleep because no matter how I positioned myself on the bed, my lower back was killing me. I ended up going to a chiropractor which is something I had vowed never to do because I had heard horror stories about them. He fixed my short term problem, but that didn't fix some of the underlying issues – bad posture. When I was approached to test and review the Body-Aline back and posture exercise machine, I was happy to accept, hoping that it would be able to cure my slouchy appearance and make my back healthier. Let's see if this specialized machine can do what it claims.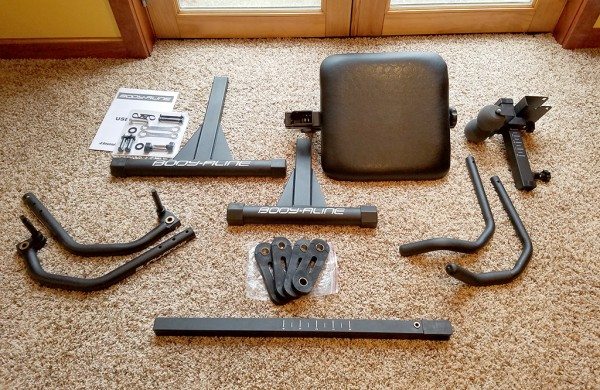 The Body-Aline arrived in a large box with all the parts that you see above. I had to carry the individual parts down to my basement because the box was too heavy to carry downstairs on my own. The machine is made of rugged steel parts, a padded seat cushion, and thick rubber tension bands.
The tools required for assembly are included along with easy to understand instructions. It took me less than 45 minutes to fully assemble the machine.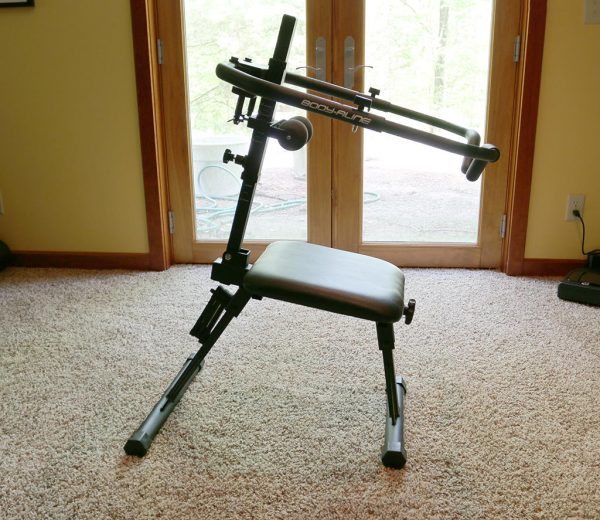 Here is the fully assembled Body-Aline machine. Although it appears like it could fold up for storage, it does not. This is something you should really consider before buying it as it does require about 4.5 ft by 3.5 ft of floor space. That said, the machine isn't overly heavy, so one person can move it around with minimal effort.
The Body-Aline machine features a large padded cushion and an adjustable frame that can support a person who weighs up to 350 lbs and is between 4 feet 10 inches tall to 6 feet 6 inches tall.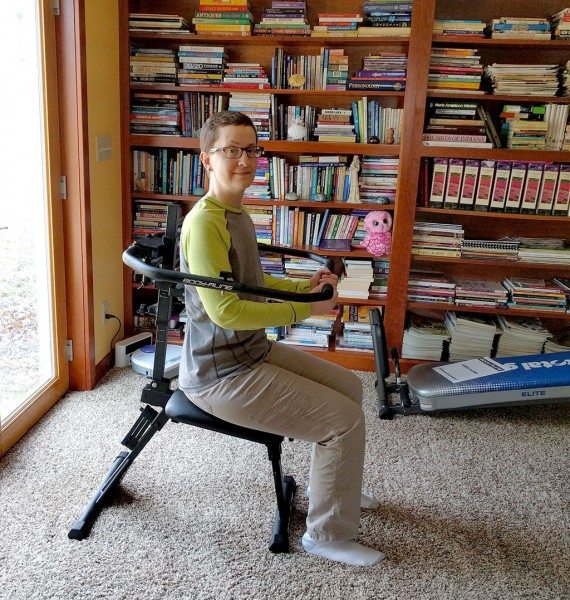 To use the machine, you sit on the padded cushion, grasp the handles, bend backward at the waist and then spread the handles apart. Here's a video that shows the correct form of the exercise.
The instructions tell you that you only need to do 10-15 of these exercises 3-4 times a week to see benefits. During my testing, I found the motion to feel awkward at first, but I quickly became used to it. However, it is important that you adjust the machine to fit body and strength level.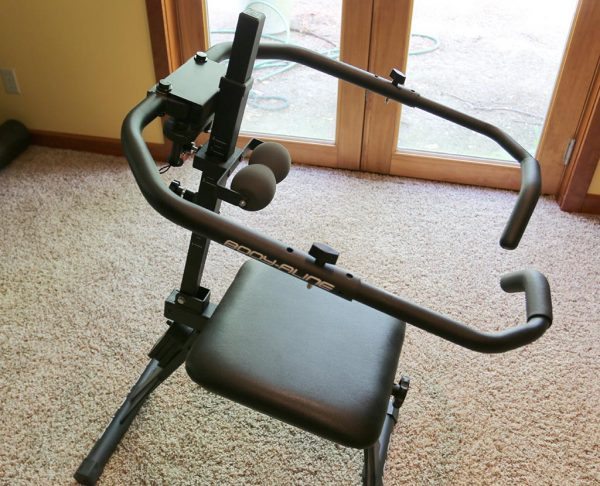 The machine has several ways that it can be adjusted for your height, arm length and strength level. The height setting is adjusted by loosening the bottom knob on the back of the center post. This knob allows the arm assembly and foam roller assembly to move up and down the post.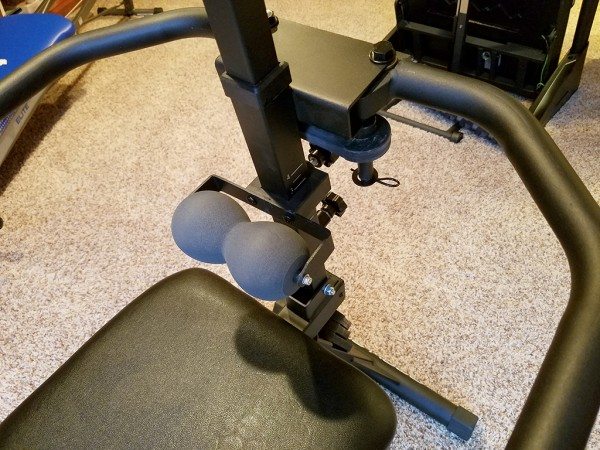 The Body-Aline has a foam roller that travels up and down your back as you perform the required motion and gives the muscles on either side of your spine a massage. The starting position of the foam roller can be adjusted with the top knob.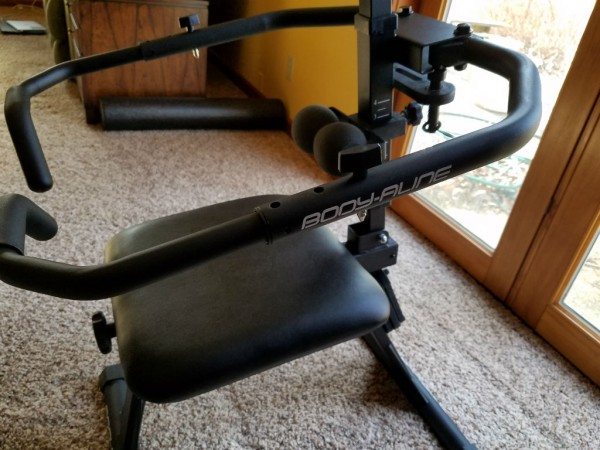 The handles can be adjusted by removing the pin on each side and choosing which of the three adjustments work for your arm length.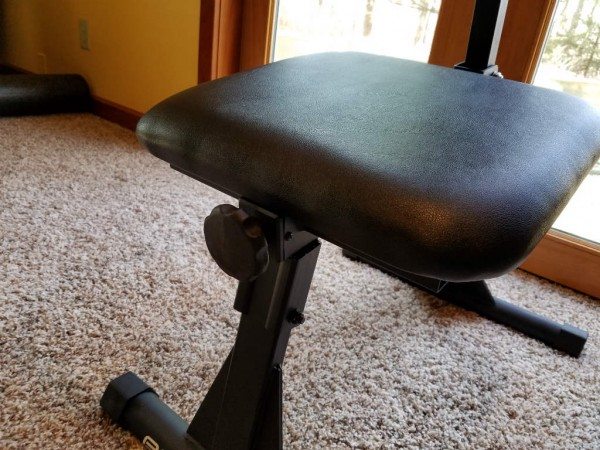 To adjust for your strength level, you can turn the knob under the cushion to adjust the center bar friction level. This affects the first part of the exercise when you lean back.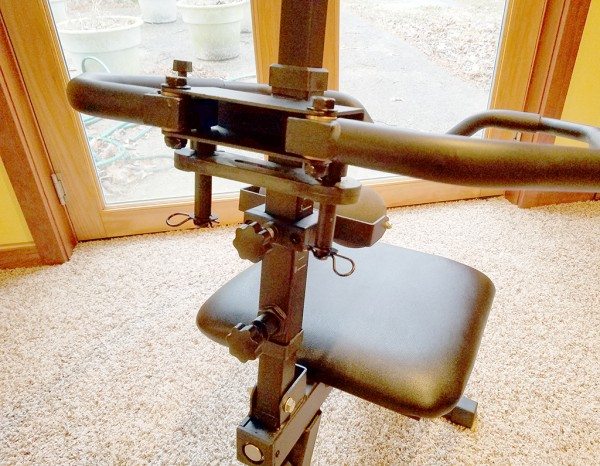 The handle tension can also be adjusted by adding or removing the rubber bands. You can see that I have one band installed on the two posts that point down from the back of the handle assembly.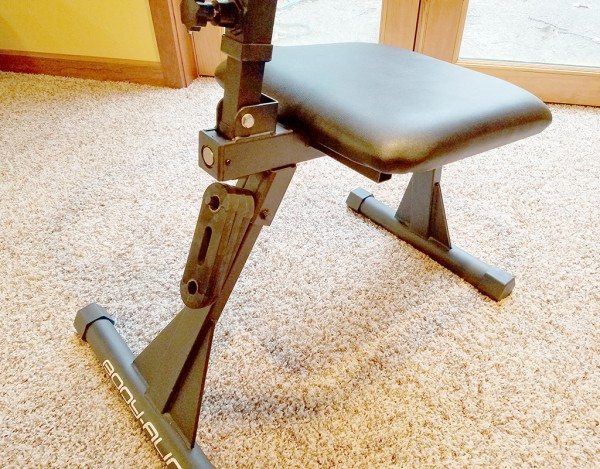 The Body-Aline ships with 4 bands that can be added as you get stronger.
I have been using the Body-Aline every other day for a couple of weeks. At first, the exercise motion felt very awkward, and I wasn't really doing it right, but after watching the video (above), it became easier and more smooth. I did notice after the first day of testing it, that my upper back muscles felt noticeably sore like they do when I don't work out regularly. I think it's safe to say that the machine will make your back stronger. The leaning back motion works your lower back muscles and the handle spreading motion works your upper back muscles and provides a good stretch across your chest and shoulders.
I was disappointed with the foam roller massage feature because it doesn't actually roll up and down the entire length of your back. It really only moves about 6-7 inches upward and doesn't get to the top of your back where I'm usually the tensest. Check the video again to see what I mean.
After only a couple weeks using this machine, it's too soon to tell if my bad posture is "cured". But when it comes down to it, I think the Body-Aline is a well-made machine that can help improve back strength and posture. The problem I have is that the machine is expensive, is only good for one purpose and can't easily be stored if you don't have a dedicated workout space. If you already own a universal body workout machine, you might be able to replicate the exercises that the Body-Aline offers. I have a lower end Total Gym machine that I use to do some back exercises like the first part of the Body-Aline exercise for the lower part of my back. It can do some upper back exercises too, but I think the Body-Aline does a better job. I plan to continue to use the Body-Aline and will follow up with an update in a month or so to let you all know if I'm continuing to use it or if it's been re-homed.
Source: The sample for this review was provided by Body-Aline. Please visit their site for more info. You can also order from Sears or Walmart.

Product Information
Price:
$399.97 ( or four installment payments of $149.99)
Manufacturer:
Body-Aline
Retailer:
Walmart
Pros:

Easy to assemble
Easy to use

Cons:

Expensive
Specialized use
Can't be easily folded for storage