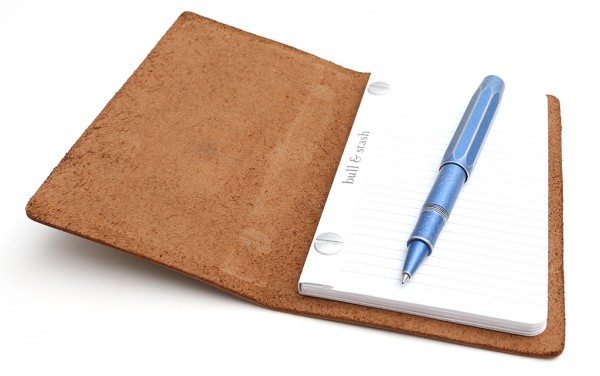 I love my smartphone, but when it comes to to-do lists, bullet journals, diaries and other note taking, I prefer a good old fashioned paper notebook. Putting a pen to paper and watching a notebook become worn as it fills with info, ideas and memories makes me smile. I'm kind of a notebook addict and am always ready to add a new one to my collection. The latest notebook under consideration is the Bull & Stash Travel Stash notebook. Is it good, bad or somewhere in between? Let's find out.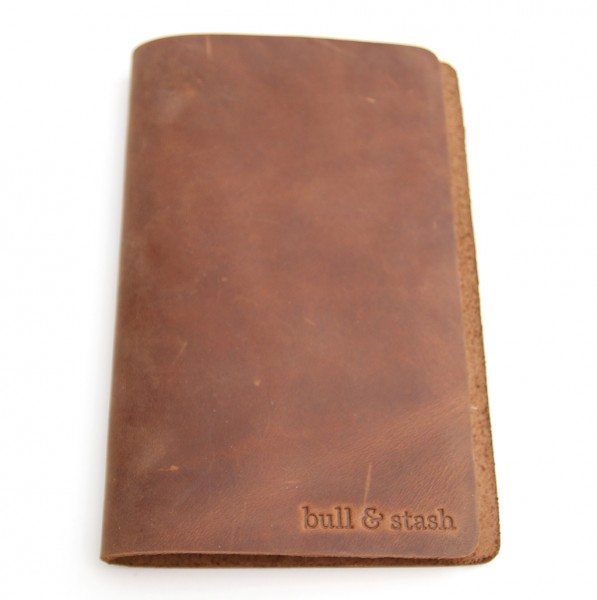 Bull & Stash offer two notebooks. The Stash which is 5.5″ x 8.75″ and the Travel Stash which they sent to me and is 3.4″ x 6″. The notebook features an oiled leather cover with the Bull & Stash logo stamped into the bottom right corner.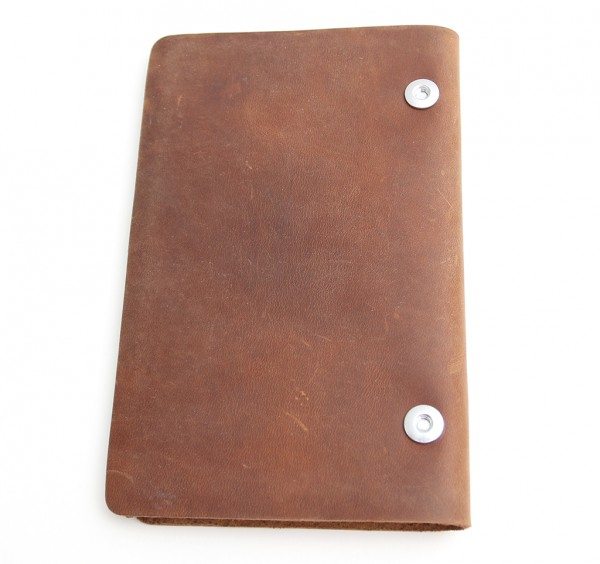 The leather feels great. It is smooth, soft and smells wonderful. But it is easily scuffed and scratched. If you have a problem with imperfect things, you won't want one of these notebooks. I actually don't mind leather that is easily marked. I think the more it's worn, the better it looks. But I can understand why  everyone might not share this feeling.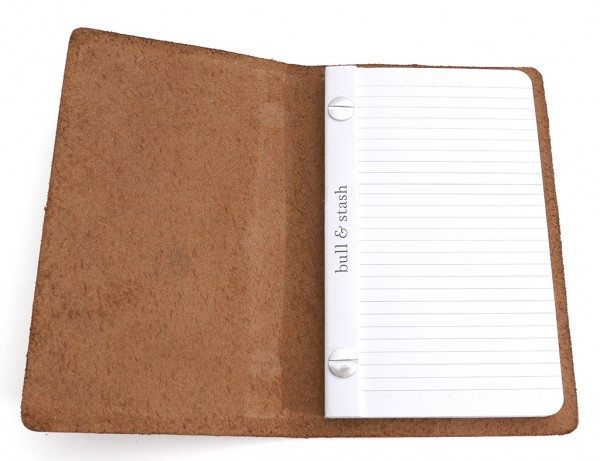 The cover opens and lays flat. There's a 30 page notebook attached on the right side by two screws that go through the cover.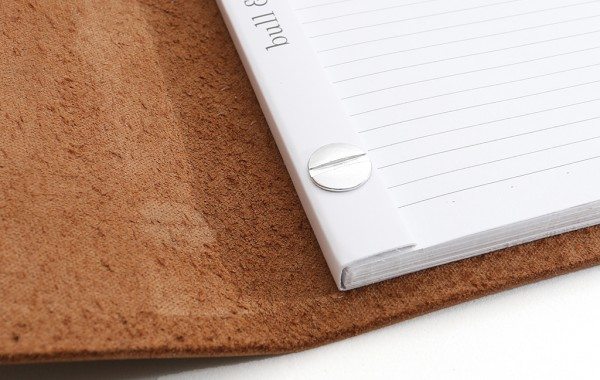 The screws give the notebook an interesting look. but they create a problem… the pages have to be folded over as you flip them and you can't open the notebook in the center and expect it to lay flat.
The paper is #60 paper and comes in plain, lined and grid versions. I was sent the lined version. The pages are white with black lines on the front side of the paper. The back side of the paper is blank.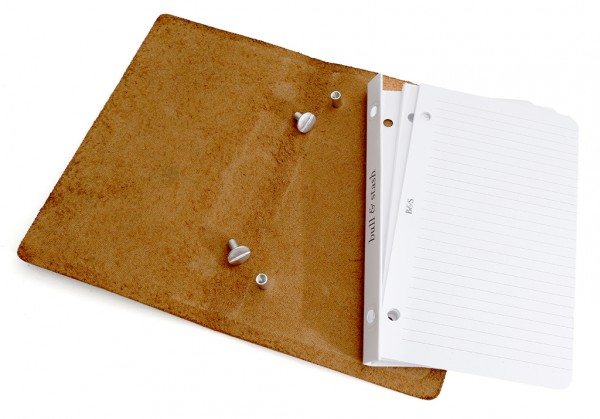 Bull & Stash say that their notebooks are the last ones you'll ever need because they are refillable. This is true. You can unscrew the screws and add more pages. However, refills are priced at $5 for 50 pages (lined, blank or grid). I suppose you could make your own refills if you have a paper cutter, a hole punch and time.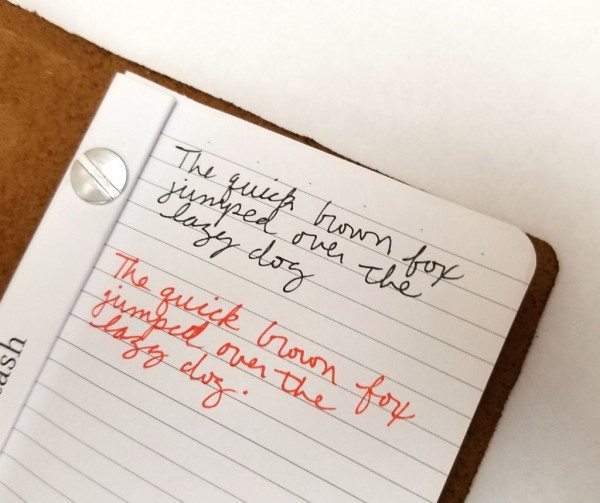 The paper itself doesn't feel much different than ordinary copy paper or school notebook paper. How does the paper hold up to ink? I did a basic writing test with a Kaweco AL Sport with a Pilot G2 refill and a Sharpie ultra fine point permanent marker.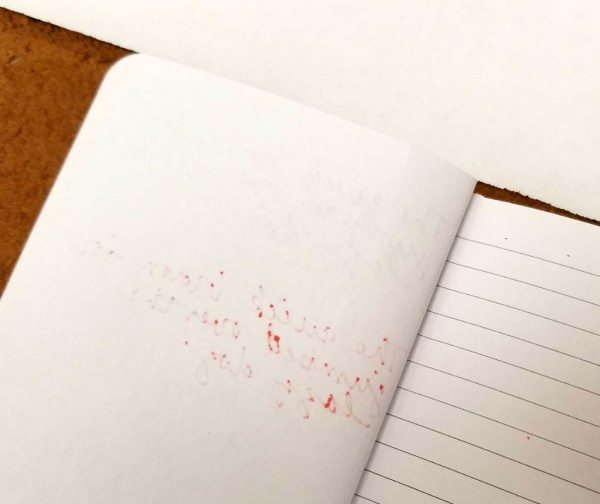 As you can see, the Sharpie bled through. Not surprising though.
I like the look of the Bull & Stash Travel Stash notebook, because I love leather. But as a notebook, it's not something I would personally use because of the way the paper is attached. I like a notebook that can lay flat and stay open on the page I'm working on. You can't do that with this notebook. If you're looking for a pocket notebook that you can use for quick notes, the Bull & Stash Travel Stash notebook is obviously suited for that task. It's just not ideal for a "working" notebook because of the way the pages are attached and the price for the refills.
Source: The sample for this review was provided by Bull & Stash. Please visit their site for more info.
Support The Gadgeteer
:
We may earn a small affiliate commission from purchases made from buying through links on our site. As an Amazon Associate I earn from qualifying purchases. Learn more.
Product Information
Price:
$25.00
Manufacturer:
Bull & Stash
Pros:
Cons:

Refills are expensive
Have to fold pages over, won't open flat