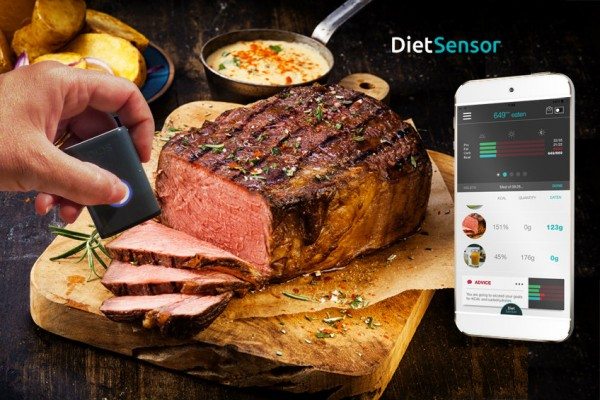 Currently, figuring out the nutritional content of your meal means futzing around with labels and sifting through databases of similar-sounding items. SCiO, a pocket-sized near infrared spectrometer, combines with the DietSensor app to up the ante, allowing you to scan the food in front of you and determine its nutritional information with the touch of a button. Described by some as a real-life Tricorder out of Star Trek, SCiO identifies the molecular fingerprint of an object by analyzing the spectrum of light reflected off of it. This information is then relayed through your phone to DietSensor's cloud-based engine which interprets the data and sends details about calories, carbohydrates, fats, and proteins back to your phone. Of note, only homogenous foods—foods whose surface and internal composition are the same—can currently be scanned accurately; for other items, DietSensor's app lets you search a traditional nutrient database (powered by FatSecret). SCiO began shipping to developers last year, enabling the creation of third-party apps; DietSensor was unveiled at CES 2016 where it received a Best of Innovation Award. If you're interested, SCiO can be purchased on the Consumer Physics website for $249.00 with an expected ship date in July. DietSensor should be available in September for customers in the US and Canada through the iOS and Android app stores; access to the service will be subscription-based though the exact cost is yet to be determined. Sign up for updates through the DietSensor mailing list.
Support The Gadgeteer
:
We may earn a small affiliate commission from purchases made from buying through links on our site. As an Amazon Associate I earn from qualifying purchases. Learn more.