We use affiliate links. If you buy something through the links on this page, we may earn a commission at no cost to you. Learn more.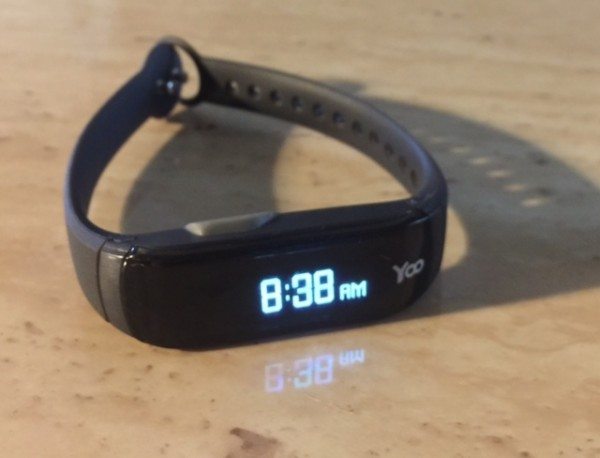 We all compare ourselves to others it seems.  Whether it's healthy or not, and whether we realize it or not…most of us do it!  When trying to make lifestyle changes and get fit, it's easy to become discouraged when you look around and see other people taking what seems to be great leaps, while you are struggling to hop out of bed.  The YOO fitness tracker is all about YOU.  The only competition is between the "old" YOO and the "new" YOO.  Seems like a pretty neato and original way to market this product, but like anything else, it will depend on what motivates YOO (I am apologizing in advance for a review full of shameless puns). 
Check out: Avia Stride activity/fitness tracker review
I'm not a newbie when it comes to exercise, and I'm no newbie when it comes to fitness tracking either.  I was excited about the opportunity to review this wrist worn activity band that claims to monitor what you're doing during the day, and determine the quality of your sleep at night (or whenever you sleep).  Years ago I used the Nike+ to track my runs and then switched to using the Fitbit One…then to the Fitbit Flex. Having the prior experience was helpful during this review for sure, but I like to approach reviews with an open mind and just look, see and feel what the product has to offer. Here we go!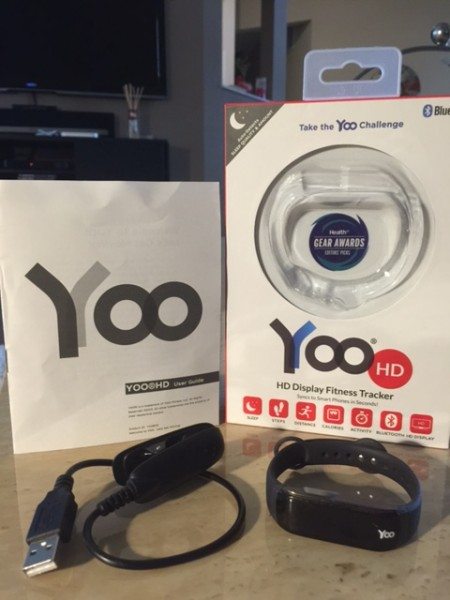 What's in the box (see pic above)
1 YOOHD fitness tracker band
1 USB charger
A "YOO"ser's guide
What's it like?
The YOO comes in three different colors: pink, blue and black. The two bands on each side slide off the face of the device allowing the possibility to modify the color or look of it, but I don't see the bands alone for sale anywhere at this point (maybe I wasn't supposed to take it apart?).  What you see is what you get.  The band is flexible and is fastened together by inserting the ends together through the hoop and pushing down to click the two metal rods through the holes in the band to get the right fit.  I thought it was quite comfortable; I forgot I had it on most of the time.  The first time I wore it in the shower I was a little nervous because I didn't read the part in the manual yet that said it was showerproof. Wheew.  After reviewing the user's guide, it does tell you that you should not immerse it in water…good to know!
| | | | |
| --- | --- | --- | --- |
| | | | |
Charging is simple.  YOO can plug the USB cord into your computer, or a USB outlet adapter. The YOO will take a full charge in about 2 hours and it holds a charge for a good 7 days, so I like to do it in the evening when I'm just going to be sitting around watching TV before bed.
The charger just clips onto the YOO after the triangles on the underside of the unit and the charger itself are lined up as can be seen in the pics above.
The YOO app
In order for the fun to begin, you need to download the YOO app.  The YOO HD is compatible with smart phones that have Bluetooth 4.0 technology.  You can view a compatibility list here.   After downloading the app, I simply followed the on-screen instructions for setting up my profile.  Pretty simple and straightforward.  Syncing the device to the app was the next step. Once in the app, in the upper left there is a menu button.  Click that and you are brought to a screen where you can view and set options for the device.  Making sure that you've enabled your phone's Bluetooth, press "Sync Device" in the menu, as seen below, and then press and hold the button on the side of your YOO band.  YOO will then see the screen on the right below, as your fitness tracker syncs your tracker's data to the app.
| | | |
| --- | --- | --- |
| | | |
I found the interface to be easy to use and understand, but it seemed a bit juvenile to me. I like the idea of competing against myself, but the cartoon-type look of it just made me less likely to take it all seriously.  On the more serious side of it all,  you do get to set some personal goals.  The pic below is what you see when you select "goals" from the menu.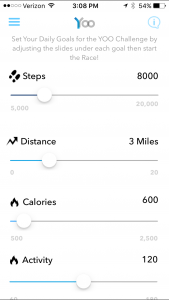 On the screen below is what you see when you bring up the app.  It's supposed to be the view of the race between the old YOO and the new YOO.  As you can see the steps, calories and the distance you've gone can also bee seen on this view.  The blue YOO seen in the bottom corner of the first pic on the left is happy all the time, no matter if he/she is winning the race or not and the old YOO that is red is always tired and worn out looking.  The numbers next to each of these characters changes and where you are in regards to the mountain in the pic moves as you get closer to your goal as well.  In the pic on the left, my new YOO is only 481 steps into the day, and the mountain looms ahead, and the pic on the right my new YOO is almost there…you can see the mountain is behind me and I have only 780 steps to go!
| | |
| --- | --- |
| | |
After you've made your goal for the day…your YOO tracker will vibrate and when you sync the tracker with the app, you get to see your SUPER YOO that has a fabulous cape and is flying through the air.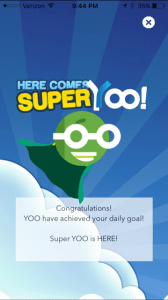 There are more aspects to the "game" should YOO choose to play it, however, I found that I was not motivated by earning bonus points for doing things like syncing to the app, or other non-fitness type actions.  Below you will see the screen that teaches you how to play the game in order to conquer the old YOO.  I thought it was a neat idea for sure, and very creative…but not motivating for me personally.  I only want to be "rewarded" for the actual fitness work that I put in, but I can see how these other types of rewards are beneficial because they keep you thinking about your goals throughout the day. The only advantage I want over my old YOO is the work I put in physically, not some points I earned in a game on my phone that won't really benefit me in the real world.  Just my opinion however.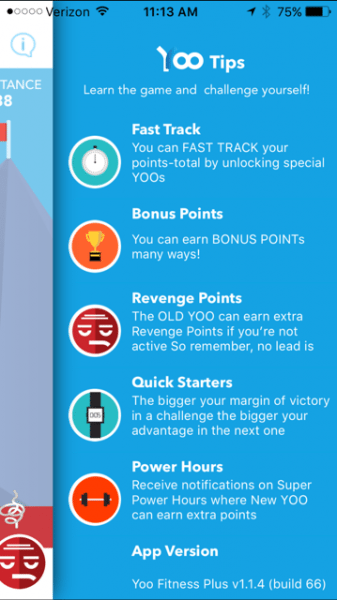 Sleep Tracker
There are two different ways to track your sleep.  I personally like the automatic setting where you enter your approximate bedtime and just let it go.  It will pick up on when YOO go to bed, calculate how long it took you to fall asleep, and then even tell you when your sleep was restless.  You can also manually put the device into sleep mode by pressing the button on the tracker until you see the sleep icon, then hold the button down until you see "Good Night" and then a picture of a bed with Zzz's floating over it will be displayed on the device.  I can never remember to do this, so I like to just let it do it's thing.  Here is last night's record of how I slept: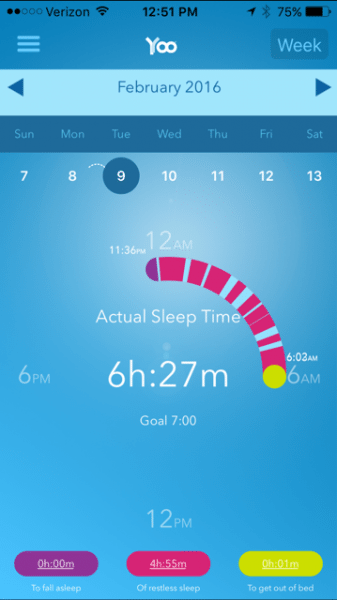 This was pretty accurate.  I fell asleep as SOON as I layed down, and I was up at 6AM to get the coffee going.  I do think it took me more than 1 minute to get out of bed however…more like 5.  As YOO can tell, I didn't make the goal of 7 hours of sleep I made for myself, and it appears that almost all of my sleep time was restless.  Pretty typical of me…I guess I move a lot in my sleep.
Accuracy 
As I mentioned above, I have used other trackers in the past, but I never really paid attention to how accurate they actually were. I did a little test to see just how accurate the YOO tracker is.  I used my iPhone's pedometer, the YOO, plus I actually counted steps out loud as I walked around my living room.  My cat and dogs were watching me thinking I had finally gone off the deep end as I counted out 520 steps.   The results were that my iPhone counted the exact number of steps, and the YOO thought I took only 435 steps.  It was off quite a bit, but I don't think that it's a huge problem because the numbers are used as a reference.  So if you set your goal to 6000 steps a day, and you get there, you may actually be taking over that..which is a good thing anyway!  I did one other test on a bit larger scale, and I wore my mom's Fitbit for a day, along with my YOO.  The results were: Fitbit – 6690 steps, YOO – 9526.  SO…in this test, I can't be sure which one was incorrect, and I did not verbally count every step that I took that day, so the world may never know.  I don't think it's a big problem because any tracker YOO use will give you the same results based on its way of calculating the steps, you will just adjust your goals accordingly.  The only time I can see this as being problematic is if you were in a contest with someone, and you wore different brands of trackers.  If this is the case, someone may have to walk more to win.
Conclusion
All in all, I liked the YOO fitness tracker. It is pretty basic and does everything that most others in its class do in that it tracks steps, calories burned, number of active minutes in a day and sleep. It doesn't detect heart rate, or flights of stairs, or calorie intake like some others do however. It was comfortable, the display was bright and very easy to read, even without my glasses on. The app was easy to use and collected a lot of data over time that you could view in charts to see your progress if you want.  I wasn't a huge fan of the cartoony-type look of the app, as it seemed a bit juvenile, but that could just be me being overly serious about fitness.  The sleep tracker worked very well too, and I was alarmed to find out how much I actually move in my sleep!  I would recommend this to someone who needs a little help staying motivated to workout everyday and is looking for a basic fitness tracker. If you need other people for competition or motivation, this is not for you, because here…it's YOO against YOO.
Source:  The sample for this review was provided by YOO. Please visit their site for more information.
Product Information
Price:
$69.99
Manufacturer:
YOO
Retailer:
YOO
Requirements:

Android or iOS phone or device with Bluetooth

Pros:

Comfortable
Bright, clear display
Durable
Charges quickly
Can make fitness fun
Charge lasts a week

Cons:

Certain movements at night cause the display to light up, disturbing sleep
App is juvenile
Pricey for what it does