We use affiliate links. If you buy something through the links on this page, we may earn a commission at no cost to you. Learn more.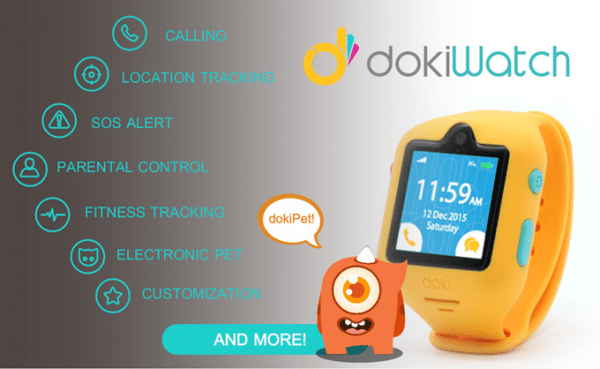 As cellphones become more prevalent and ingrained into our daily lives, many parents find themselves wondering, "At what age do I let my child get a phone?" For those parents who aren't ready to let their children have the full cellphone experience, but still want to be able to contact them when away, a solution may be at hand.
The dokiWatch is a 3G connected smartwatch designed for kids 6 to 12 years old. It's capable of making phone calls and video calls, and receiving text messages through a GSM or WCDMA SIM card (AT&T or T-Mobile in the U.S.). Parents can create and manage their child's contact list to protect them from unwanted calls and texts. 
The dokiWatch also has several safety features to help keep parent's minds at ease. First, the watch is equipped with GPS which allows parents to always know where their child is. Additionally, parents can create "AlertAreas" that will send notifications when a child leaves or enters specific locations. Perhaps most importantly, the dokiWatch is equipped with a "SOS" button children can push that will broadcast their location to all members on the child's contact list.
In order to add a little entertainment to the watch, the makers created a virtual pet for kids to care for. The pet, known as dokiPet, is actually a fitness tracker that grows as your kids become more active. As kids reach certain fitness milestones, they will receive virtual badges alerting them to their achievements.
The watch is controlled by an app on the parent's cellphone which will be available on both iOS and Android. The dokiWatch will be available in yellow, pink, blue, or grey through Kickstarter. The project can be backed starting at $129 with an estimated delivery date of May 2016. For more info, visit the dokiWatch Kickstarter site.