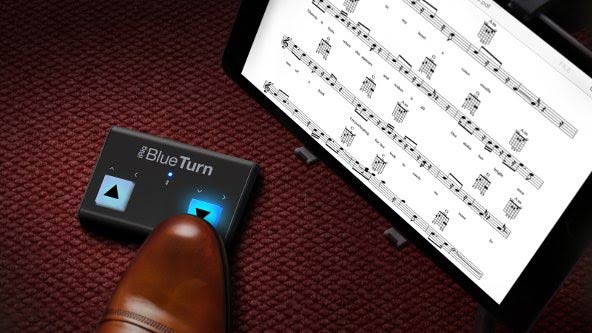 Cue the SNL grumpy old man voice… Why, back in my day, our sheet music was made of paper with real pages that we had to turn with our hands, and we liked it! Today, musicians display their sheet music on tablets and computers because it's easier to read with a backlit screen and you can carry 1000's of songs on one small device. The problem is that tablets and computer displays can't always show a full song, so scrolling and page turning is an issue because the musician has to stop what they are doing to advance the music. One solution to that problem is a wireless page turner like the new iRig BlueTurn Bluetooth page turner. Bluetooth page turners aren't exactly a new thing, but the BlueTurn's claim to fame is that it is the first Bluetooth page turner with backlit buttons. The BlueTurn provides a hands-free way to turn pages and scroll through set lists, scores, lyric sheets, slides, presentations and other documents on an iPhone, iPad, iPod touch, Mac and Android devices. The small foot controller features a rugged enclosure with two highly visible backlit soft-touch buttons that can be tapped with your foot to advance documents on the paired device. The button presses can be set to three different modes. They can send Page Up/Page Down, Arrow Up/Arrow Down or Arrow Left/Arrow Right commands depending on whether scrolling or page turning is required. The iRig BlueTurn is powered by two AAA batteries which will last a long time due to the unit's low power consumption. The BlueTurn will be available next month (February, 2016) for $69.99. Visit irigblueturn.com for more info.
Support The Gadgeteer
:
We may earn a small affiliate commission from purchases made from buying through links on our site. As an Amazon Associate I earn from qualifying purchases. Learn more.