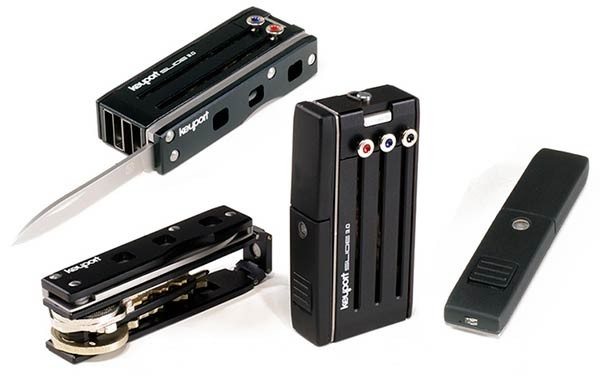 I'm a huge fan of Keyport's Slide key organizers and carried the Slide 2.0 for a couple of years until I began a minimalist phase and switched to something even smaller than the Slide. My alternative solution worked ok, but I missed the Slide. That's why I was very excited when I found out that Keyport just launched a Kickstarter campaign for brand new products that are smaller and even more modular than their previous products. They are introducing the Pivot which is a key holder that uses your existing keys and the next generation Slide 3.0. Both feature an all metal body and new add-ons including a pocket knife, Bluetooth locator and an LED flashlight. But what excites me is that there will be two sizes of the Slide 3.0. There's a 6 port version like the original Slides and a 4 port version which is smaller and more compact. That's the one I want. There's also good news for current Keyport owners. The key blades in their current Slides will be compatible with the new one. Their Kickstarter campaign goal is $100,000 and they have already pulled in a little over $80,000. There are many pledge points, with a $16 pledge pre-ordering the Pivot and $29 for a 4 port Slide or $39 for a 6 port slide. for more info head over to Keyport Kickstarter page.
Support The Gadgeteer
:
We may earn a small affiliate commission from purchases made from buying through links on our site. As an Amazon Associate I earn from qualifying purchases. Learn more.