We use affiliate links. If you buy something through the links on this page, we may earn a commission at no cost to you. Learn more.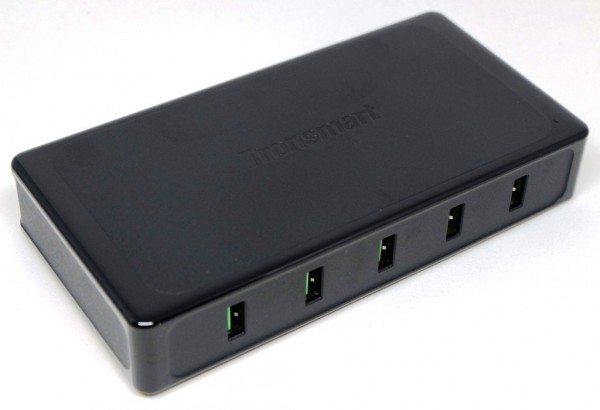 I'm a big fan of Quick Charge 2.0 technology. They're just now becoming more commonplace in charging devices. So when the Tronsmart 5-Port Quick Charge 2.0 Desktop USB Charger became available for review, I requested it. So far, I've been very pleased with its performance and the only negative is that the unit is rather large.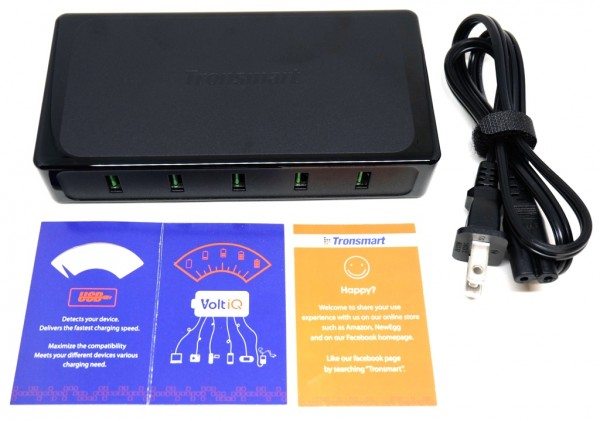 Package Contents
Tronsmart 5-Port Quick Charge 2.0 Desktop USB Charger (UC5F)
Cable
VoltIQ Guide
Satisfaction card
Technical Specifications
Input: 100-240V (Max)
Output: All 5 Ports – Quick charge 5V/2.4A, 9V/2A , 12V/1.5A (Max)
Total power:90W
Design & Build Quality

My first impression of the Tronsmart 5-Port Quick Charge 2.0 Desktop USB Charger was that it is big! It is essentially the same length and width as my Nexus 6 phone and measures 6.25″ long x 3.125″ wide x 1.125″ high. It is made of a rigid black plastic and feels fairly durable. It is equipped with Tronsmart's VoltIQ technology which "automatically detects your mobile devices and delivers best charging current".

I like the fact that this charger has a power switch in the back next to the port for the power cable.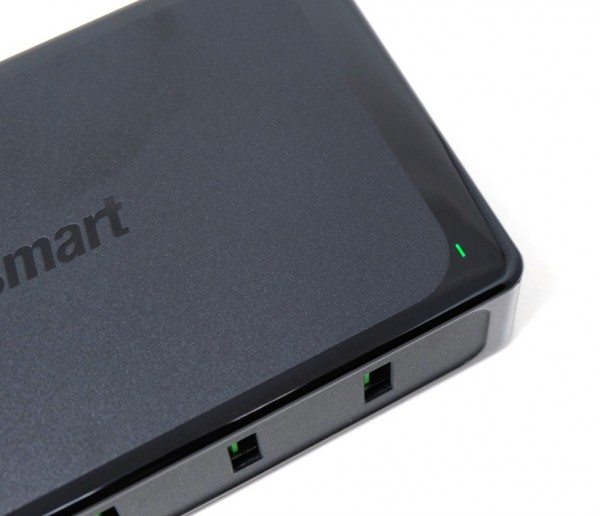 It has a tiny LED that shines green when the charger is plugged in and turned on. When you turn off the power, this stays illuminated for a few seconds before turning off. I like it that the light is small so that at night, it is not too distracting.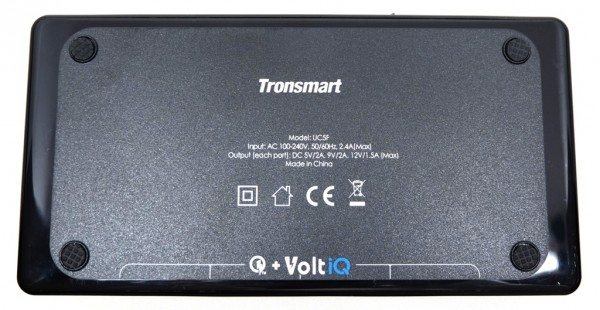 The bottom of the charger has four small circular rubber pads to help keep the charger in place and prevent scratching your furniture when placed on top of your desk.
Use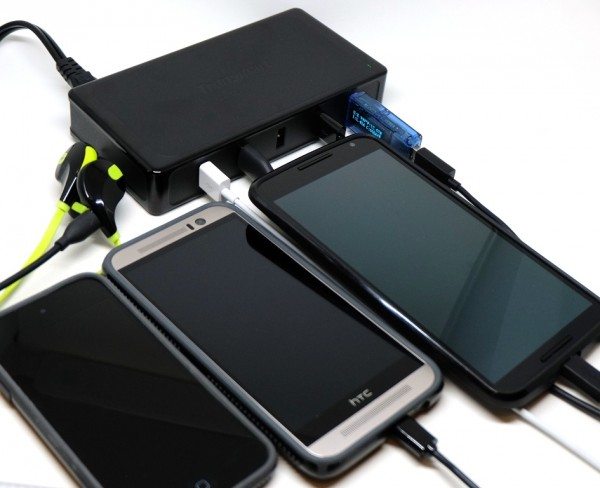 Using my DROK USB multimeter, I first tested all my cables to be sure that they would allow the required current and voltage when used with a Quick Charge 2.0 device like my Nexus 6 phone. I actually had two bad cables that I needed to throw out before my testing began. Once all the cables were tested, I plugged in my phone into each of the five USB ports to see if it would deliver Quick Charge 2.0 voltage and current. My USB multimeter reported that each port does indeed do this. Next, I plugged each of my devices into the charger at various times: a Nexus 6 phone, HTC One M9 phone, two HTC One X phones, an iPod Touch 5G, iPad Mini, and an iPad Mini 4. The above photo shows me charging (starting from the top and going counterclockwise): my MPOW Swift Bluetooth 4.0 Headphones, an iPod Touch 5G, an HTC One M9 phone, and my Nexus 6 phone. My Nexus 6 phone charged at 9.01V, 1.47A, 13.23W when nearly completely drained. My phone went from 5% to 100% in one hour and 53 minutes which is the exact time it takes to charge my phone using its OEM cable and AC adapter. My husband's phone is also Quick Charge 2.0 compatible and charged from 18% to 100% in one hour and 49 minutes which is the same amount of time as when using other Quick Charge 2.0 adapters.
Our old HTC One X phones charged a little slower when compared to my OEM AC adapter charging data (data was collected one year ago). This may actually be due to the aging of the battery. My older data showed that a typical charging time was three hours and 43 minutes to four hours long; whereas the Tronsmart charged one phone in four hours and another in 4.5 hours (0-100% for both).
When testing my Apple devices, I discovered that they either charged faster or at the same rate as when using their OEM cables and adapters. When charging an iPad Mini with its OEM charger, it took four hours 32 minutes but with the Tronsmart took only two hours 42 minutes. An iPad Mini 4 took only two hours 58 minutes to charge from 4% to 100% using the Tronsmart. My iPod Touch 5G went from 19% to 99% in 42 minutes then took forever to reach 100% (it charges the exact same way using other chargers, so it might be because of its older battery).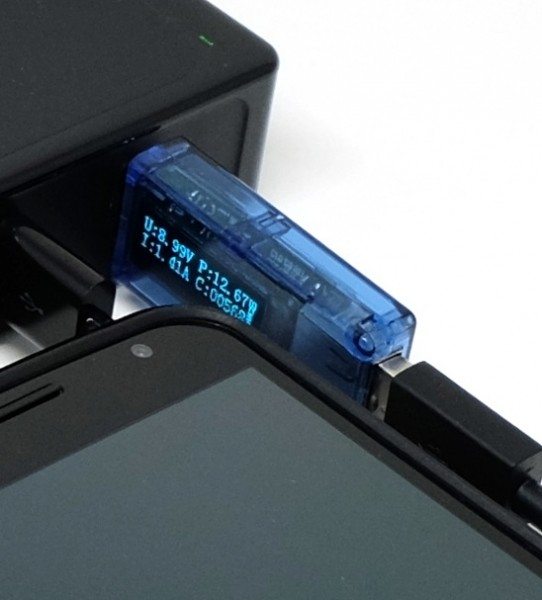 In the photo above you can see that my phone charges at the Quick Charge 2.0 voltage and current (the voltage and current are a little lower at the time the photo was taken because I had been charging my phone for a little while and as your phone charges, it demands smaller amounts of power as it approaches full charge).
Conclusion
I cannot think of any problems that I had with the Tronsmart 5-Port Quick Charge 2.0 Desktop USB Charger. If I was to pick out a negative feature of the Tronsmart charger, I would say that it is rather big and bulky to carry with you when you travel. Other than that, the charger charged our Quick Charge 2.0 compatible devices (Nexus 6 and HTC One M9 phones) at the same rate as other Quick Charge 2.0 chargers. Additionally, it charged the iPad Mini more quickly than its OEM charger but charged an iPad Mini 4 in the same amount of time as its own AC adapter. However, the HTC One X and iPod Touch 5G charged more slowly probably because they have older batteries. I am very pleased with the Tronsmart charger and if you can overlook its large size, then I highly recommend it.
Updates 08/08/16
I love this charger. It currently resides in my EasyAcc Multi-Device Organizer so that I may charge up to five of our devices at their highest rate. This is my go to charger because ALL of the ports support Qualcomm Quick Charge 2.0 charging speeds. I highly recommend this charger!
Source: The sample used in this review was provided by Tronsmart. Please visit their website for more information or visit Amazon to purchase one for yourself.