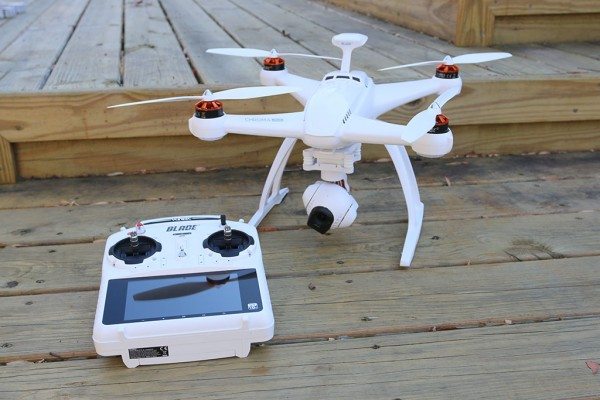 Over the years I've reviewed quite a few remote controlled toys including cars, tanks, planes, helicopters and more. They were all fun to play with for a little while, but none of them were nearly as much fun as the Chroma Drone with Stabilized CGO3 4K Camera that I've been testing from Horizon Hobby. Drones are definitely one of this year's most talked about gadgets, But let's see if the Chroma is a worthy addition to your wish list.
Note: Images can be clicked to view a larger size.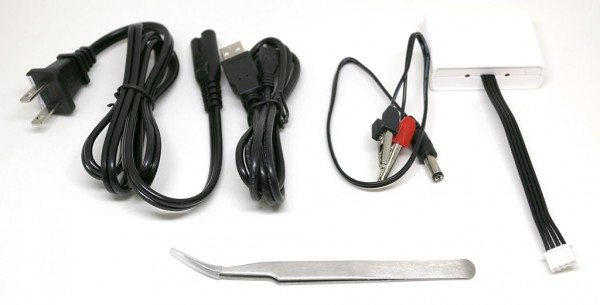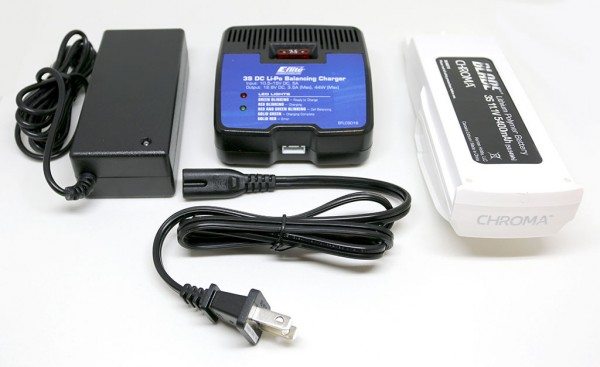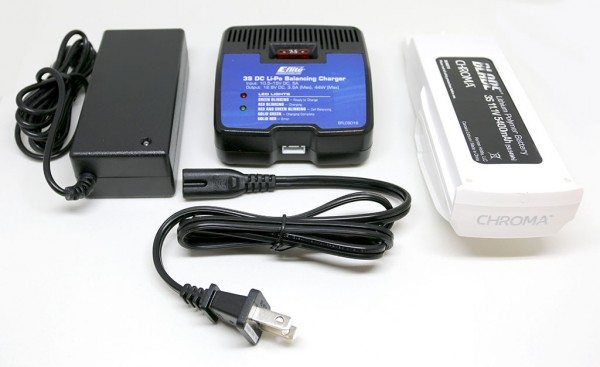 What's in the box?
Chroma Drone with stabilized CGO3 4K camera
ST-10+ controller with touch-screen display
2 sets of propellers
6300mAh LiPo flight battery
Flight battery charger
USB programmer cable
Tweezers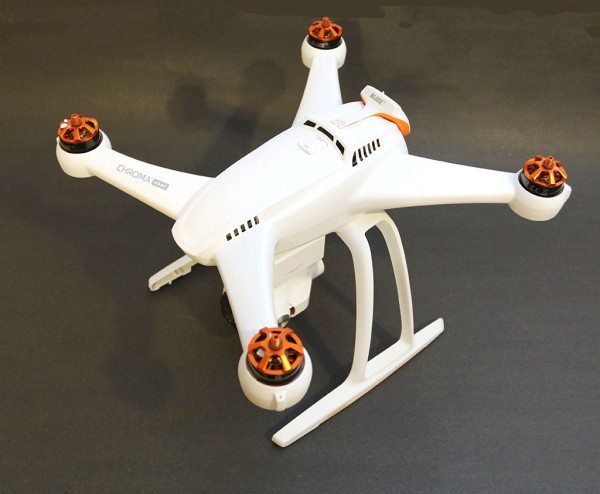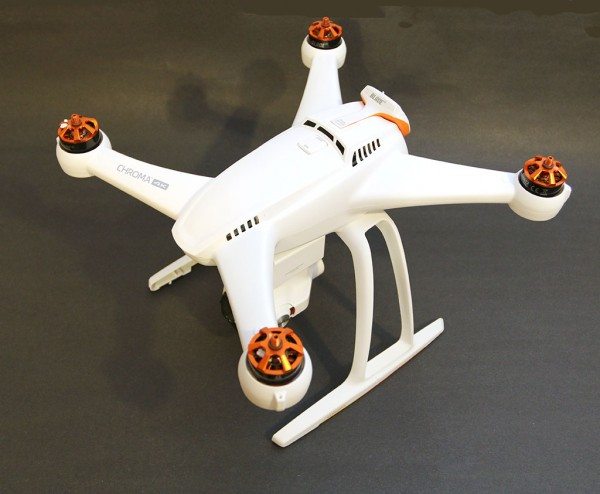 I was honestly a little intimidated when I was offered the opportunity to review the Chroma CGO3 4K drone. First of all, this isn't a toy helicopter that I can fly around the room and crash into the ceiling and then the floor without being worried. Forget about indoor flying, the Chroma is a large remote controlled quadcopter that must be flown outdoors for reasons of safety and maneuverability.
The Chroma is made of white plastic and has a quadcopter design, which means it has four individual motor pods. These pods have colored LEDs on the bottom that light up to signify various status modes.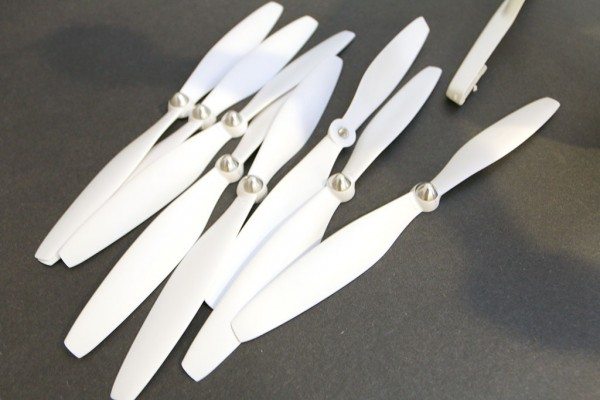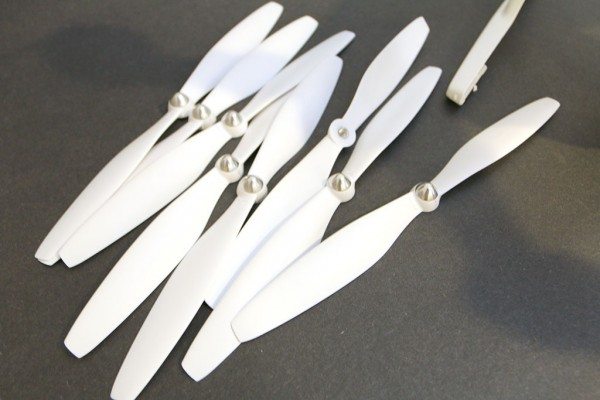 The Chroma drone comes with two sets of propellers in case you damage them with your flying exploits.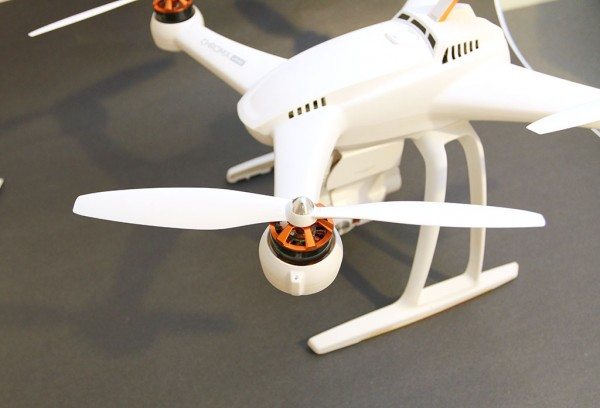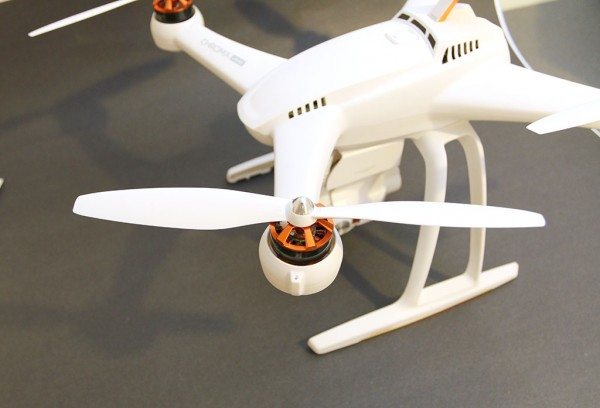 The propellers are keyed and screw on to each motor either clockwise or counter clockwise according to the key.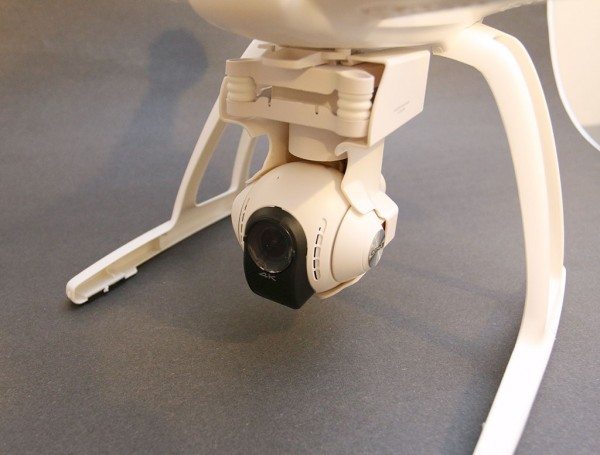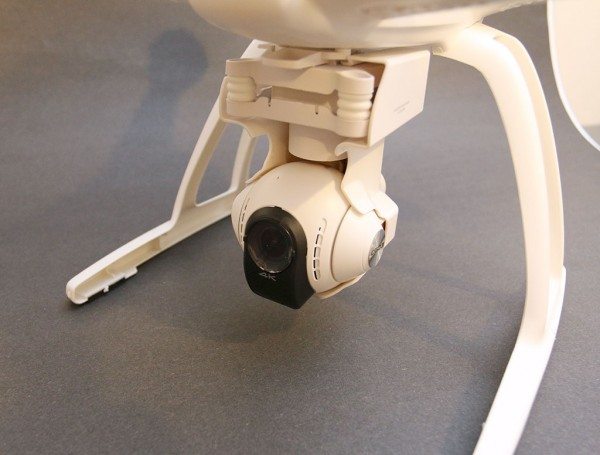 The Chroma has a camera attached to a gimbal on the underside. If you don't know what a gimbal is, it's a way of mounting the camera that allows for rock steady, smooth video without shake. According to Wikipedia:
A gimbal is a pivoted support that allows the rotation of an object about a single axis. A set of three gimbals, one mounted on the other with orthogonal pivot axes, may be used to allow an object mounted on the innermost gimbal to remain independent of the rotation of its support (e.g. vertical in the first animation). For example, on a ship, the gyroscopes, shipboard compasses, stoves, and even drink holders typically use gimbals to keep them upright with respect to the horizon despite the ship's pitching and rolling.
The 4K camera included with the Chroma CG03 takes fantastic video at the ultra high resolution of 3840 x 2160 pixels.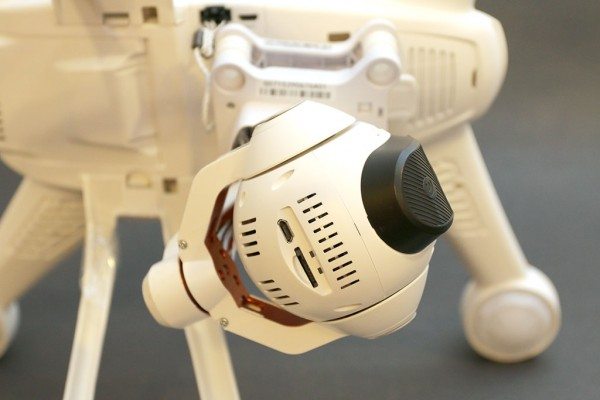 On the bottom of the camera there is a microSD card slot and a micro USB port. A flash card isn't included with the drone, so you'll need to supply your own. Just remember that since this camera is 4K, that captured video will require a lot of space so you'll want a large capacity card. A 3-4 minute video will result in a 1GB file.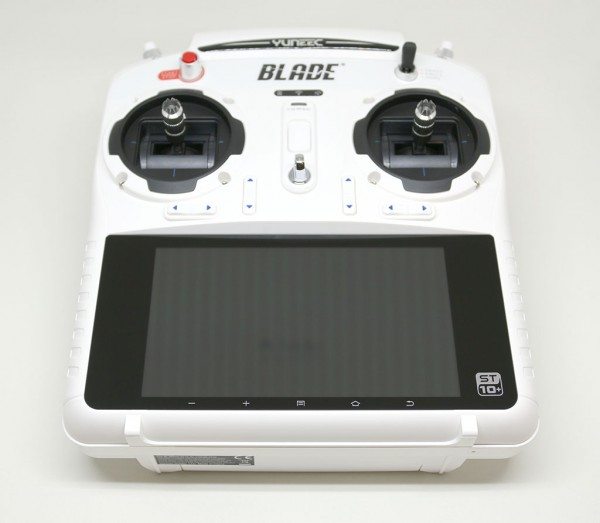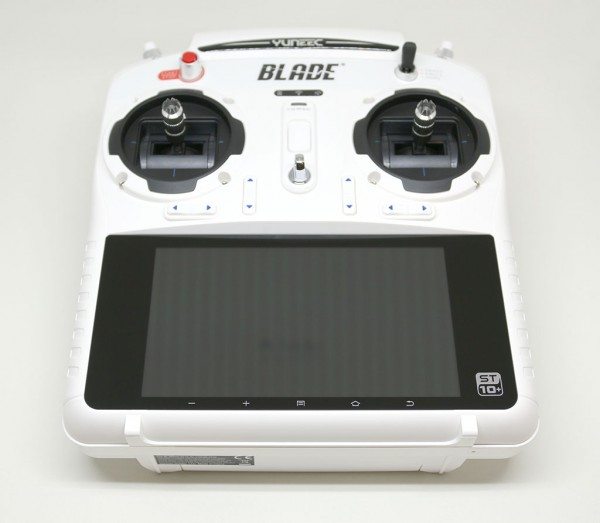 Also included with the Chroma drone is a large handheld controller that has a built in color touchscreen that is powered by Android. The ST-10+ controller looked pretty complicated at first glance, but it's really pretty easy to use. On the top are two thumbstick controls that are used to navigate the drone horizontally and vertically. The left thumbstick is the throttle/altitude/yaw controller and the right thumbstick is the pitch/roll controller. There are also pitch trim buttons that will let you fine tune these settings. I haven't needed to use the trim buttons so I haven't messed with them.
The red button is used to power up and power down the Chroma's motor pods and the black toggle switch is used to change modes from smart, AP and return home.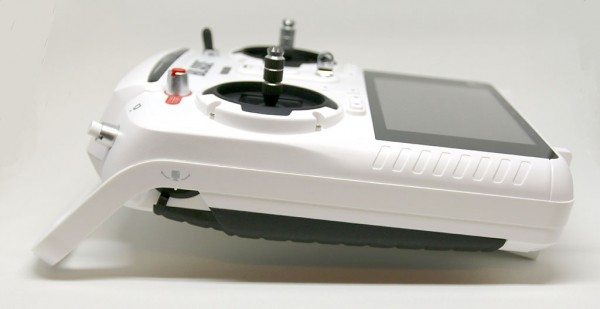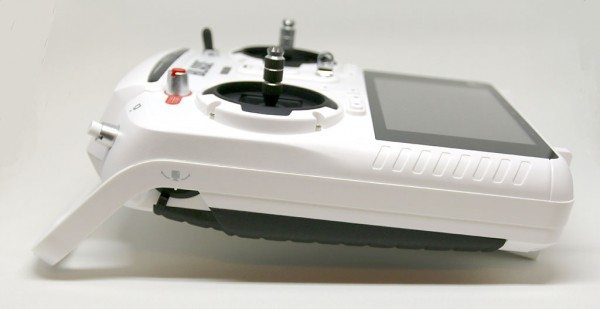 On the left side of the controller there is a camera tilt slider switch that rotates the camera on the vertical axis.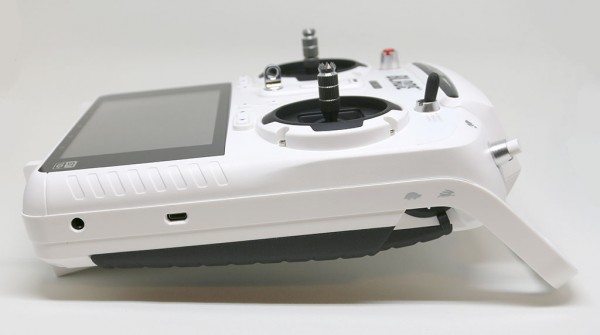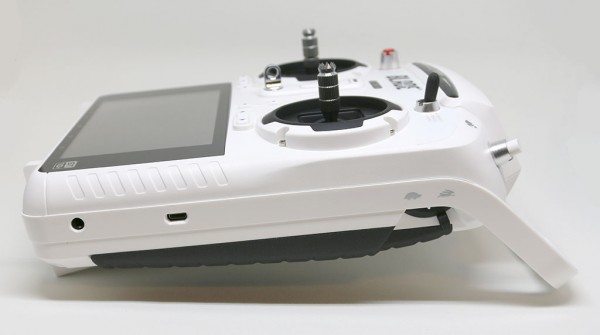 On the opposite side of the controller is another slider switch that changes the speed of the drone. There is also a micro USB port to charge the controller's battery and a 3.5mm jack for a microphone.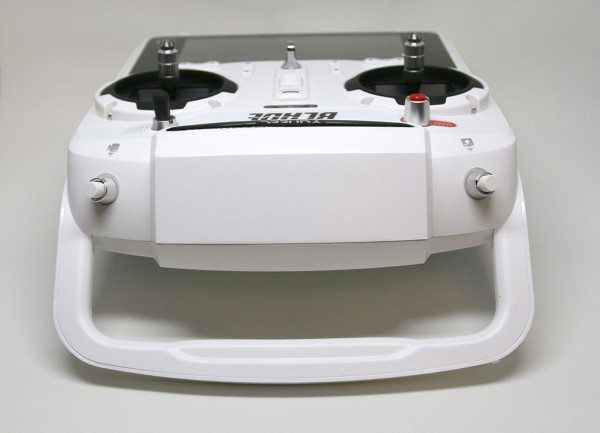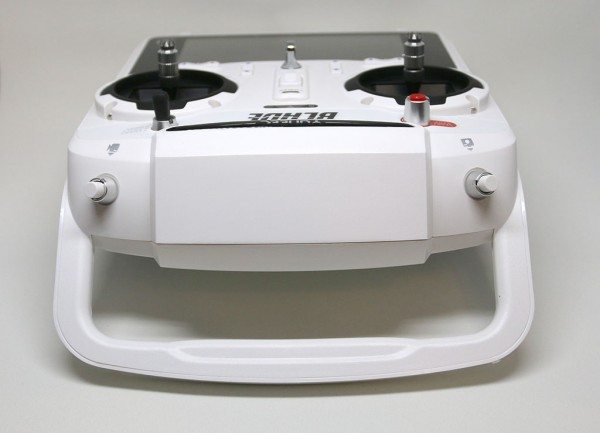 Buttons on the controller's "shoulders" let you toggle video and image capture. Note that you can't snap an image while video is being recorded.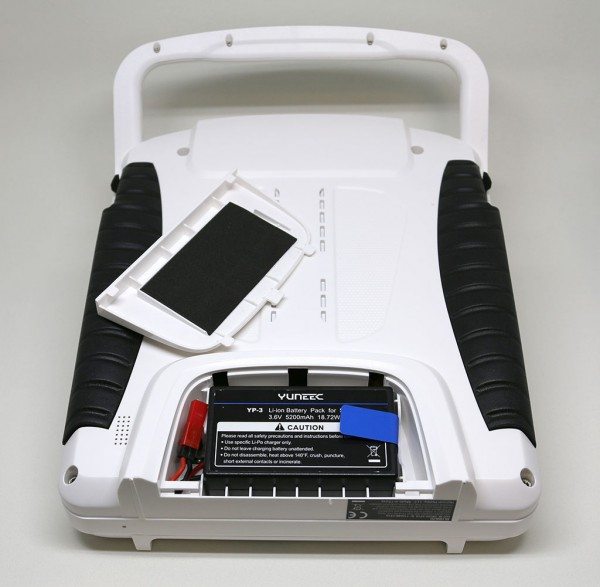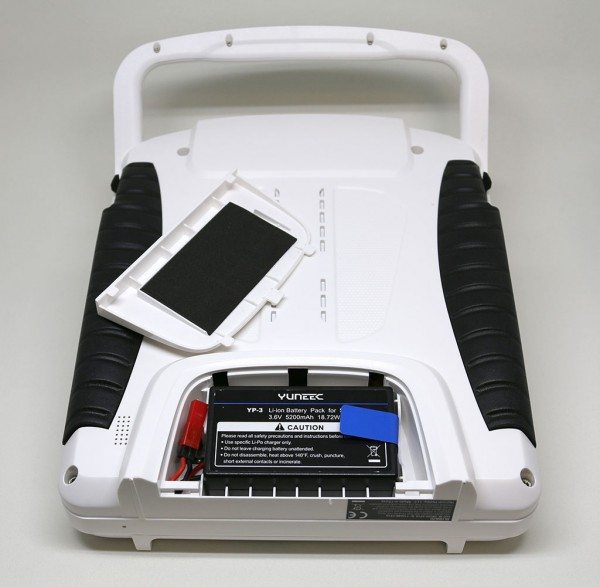 The ST-10+ handheld controller has a removable battery that can be accessed on the back side.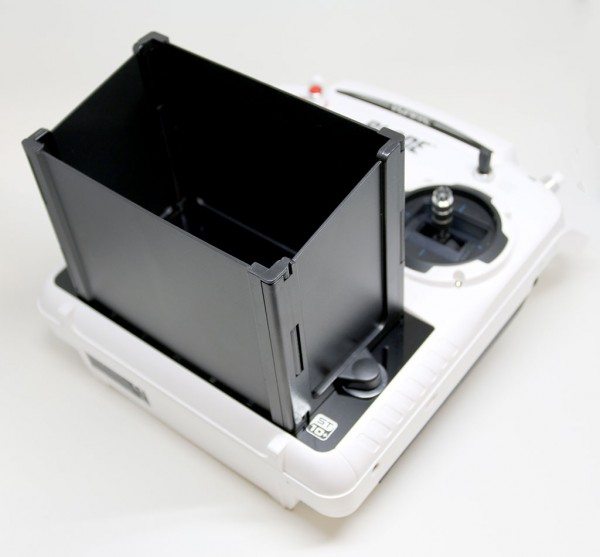 During my testing, I used the controller on a sunny day and didn't have a lot of trouble seeing the display. However, there's a special glare shield that's included if you care to use it. It does make the controller bulkier than it already is though.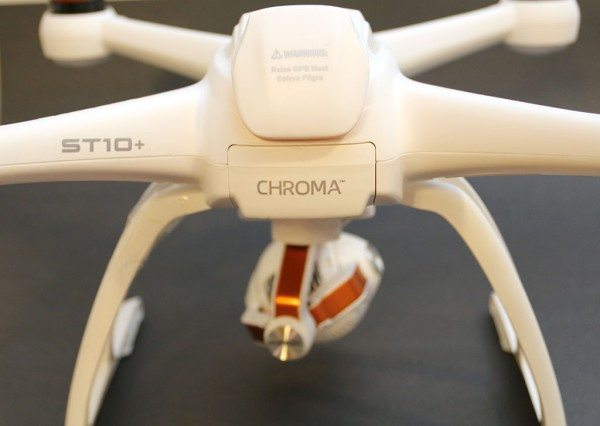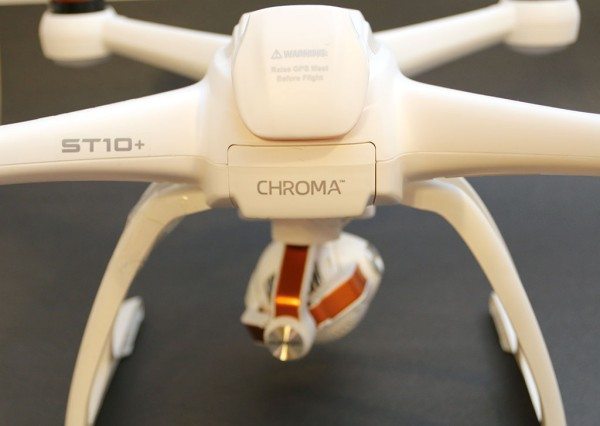 To prepare for flight, the battery for the handheld controller and the drone itself needs to be charged. The ST-10+ controller is charged with a micro USB cable that is included in the package. To charge the drone's battery first have to remove it from the back of the drone.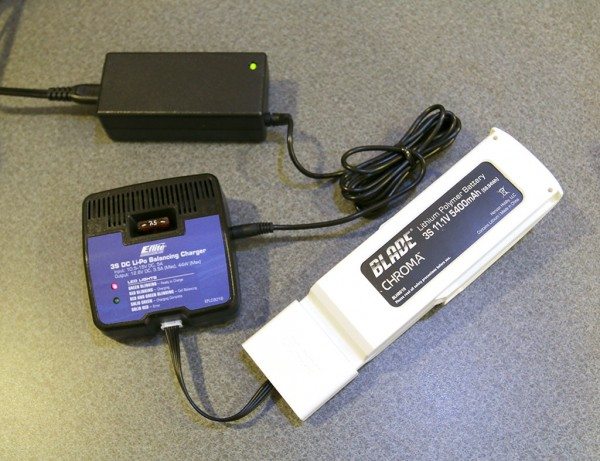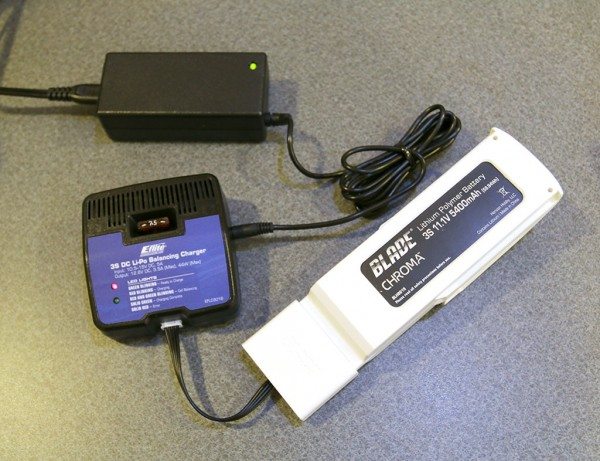 It then connects to the included charger and AC adapter. I found the charging setup to be cumbersome and wished there was a way to charge the battery while it was inserted in the drone. A full charge takes quite a while. I didn't time it, but it was at least a couple hours. The drone can fly for about 30 minutes on the fully charged 6300mAh capacity battery (yes, I know the capacity in the image above only shows that it's 5400mAh, but it's really 6300mAh. The batteries were incorrectly labeled  according to the website). For a long day of flying, you will probably want extra batteries which sell for $120 each.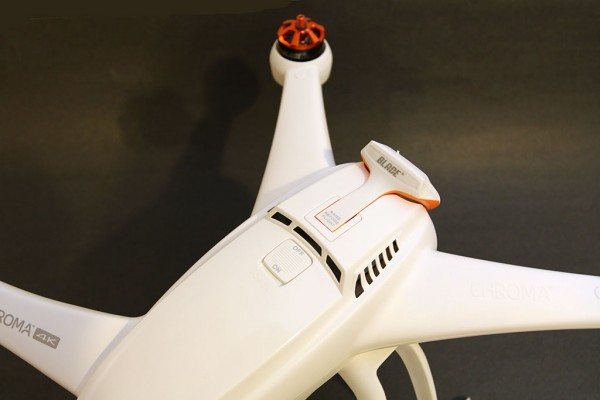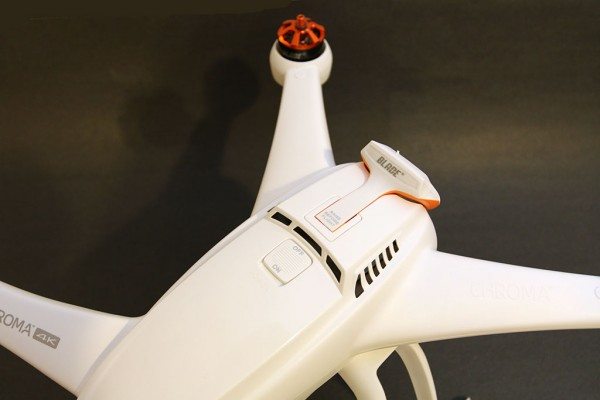 After the drone's battery has been fully charged and reinserted, it's almost time for flight. The next step is to raise the GPS mast.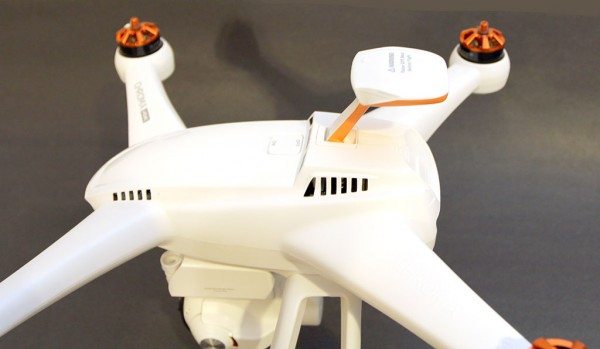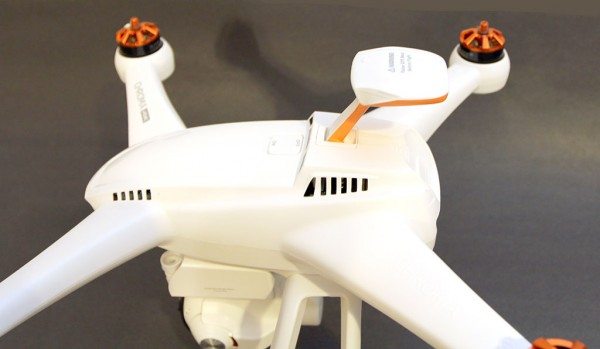 It easily lifts and clicks into place. If you forget to raise it, you'll have trouble navigating and controlling the drone.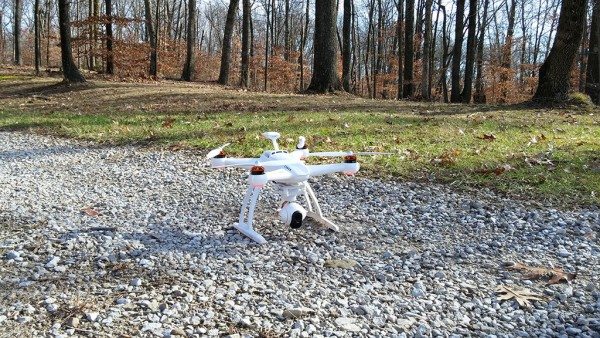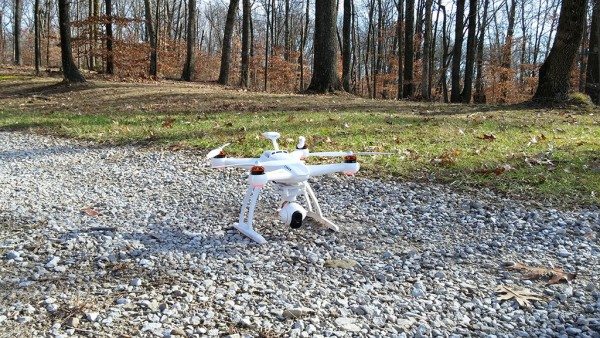 I was nervous for my first flight. I took the Chroma drone outside to my driveway, raised the GPS mast on the back, flipped the power on and then performed the initial calibration as instructed in the manual. This mostly consists of rotating the drone on each axis to calibrate for navigation.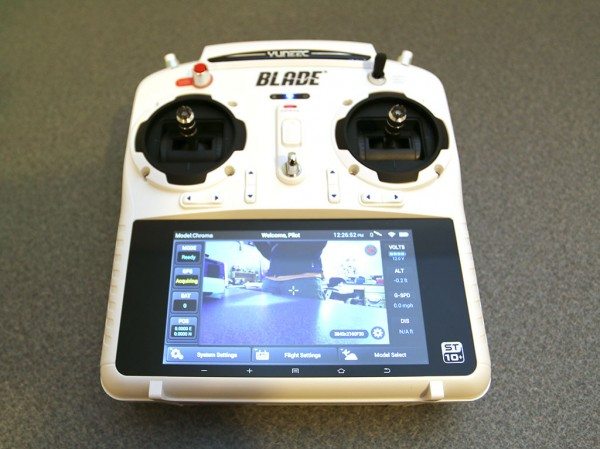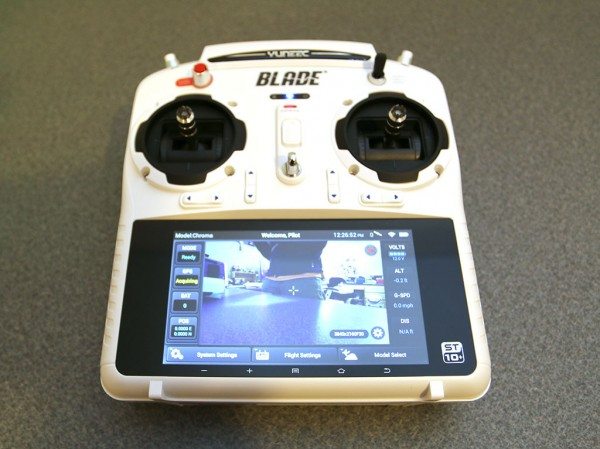 Then you have to turn on the ST-10+ and wait for it to show that the GPS is ready. I then flipped the mode toggle to smart mode and held down the red power button to start the drone's motors.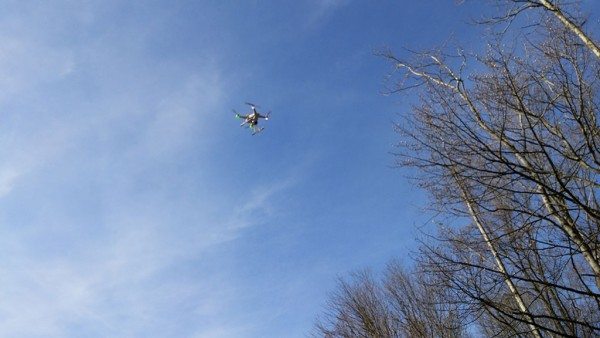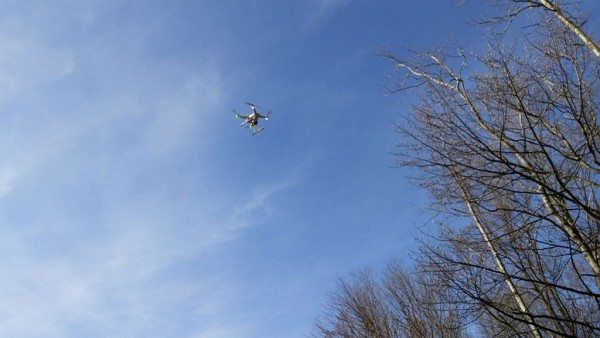 Then with a press of the throttle joystick, the drone lifts off nice and smooth. I was amazed how easy it was to fly. Every toy copter I've ever tried has been almost impossible to control. But flying the Chroma is almost effortless. It hovers in one place with little to no drift. On my first flights I had no issues controlling the Chroma and the camera. I even landed manually instead of using the return home feature which will land the drone automatically without manual intervention.
I thought I was a natural drone pilot and got too cocky because things didn't go so well on my third flight.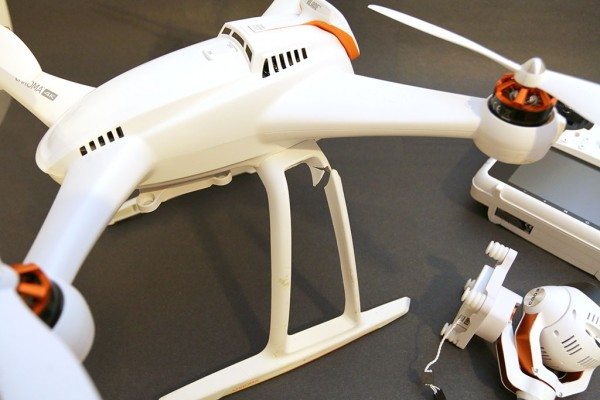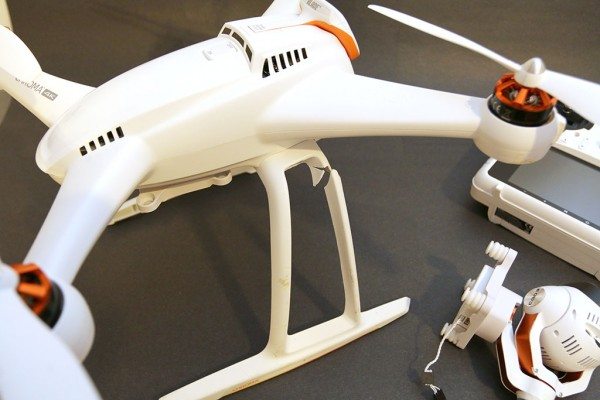 Who ever says that the third time's the charm hasn't flown drones before. Ugh. On my third flight I decided to go to another part of my yard that has a few more trees. Mistake. I accidentally let the drone fly into a limb and it immediately came crashing down about 15-20 feet to the ground. Unfortunatel, this drone does NOT have any type of obstacle avoidance features. The camera detached from the drone but looked intact, so I wasn't too worried. But then I noticed that one of the legs was broken. Crud! Luckily, almost all the main parts of the drone can be replaced, including the legs. A set of legs is less than $20 from Horizon Hobby. A few days later the replacement legs arrived. I reattached the camera / gimbal assembly to the drone and I was ready to try again. This time I asked my neighbor if I could fly on his property because he has a much larger open space than I do.
Here are some images that I snapped while in flight. I haven't edited the images at all, they are straight out of the 4K camera. And here's a video of some of my flight clips including take off and landing video using my LG G3 that also gives you an idea of how much sound the drone puts out.
I know my video clips aren't very action packed, but that's because I'm still learning the ropes of drone flying. That said, I am amazed at how easy it is to control the Chroma. It's the easiest remote controlled flying gadget I've ever tested. The follow / tracking modes illustrated in the video work very well, so the potential to capture cool action video is endless. The ST-10+ controller is a bit bulky to carry around when you want to use the follow and tracking features. Chroma does offer a smaller handheld wand that can be used as an alternative remote, but it's a separate purchase. I'd like to see some type of small fob that you could put in your pocket for those times when you want the drone to follow you.
I really can't get over how smooth and clear the video is. You can practically see each individual rock in the drive way from 20 – 30 feet in the air.  I've tried to think what would make the Chroma Drone with Stabilized CGO3 4K Camera better than it already is and there are only two things that come to mind that would improve the experience. One is some type of obstacle avoidance feature and two is a smaller controller. Other than that, this drone is very fun to fly and I have nothing but good things to say about it. I know the price will be a big factor for a lot of people, but if you can afford it, I think you'll be impressed.
Note: At the time of this posting, the Federal Aviation Administration (FAA) has not yet mandated that drone pilots must register their aircraft to fly in the US. This will happen at some point, so keep an eye on faa.gov for more info. Until then, practice common sense when flying drones like the Chroma. They are not toys and could cause damage to property and serious physical injury for the pilot and bystanders if treated as such.
Source: The sample for this review was provided by Horizon Hobby. Please visit their site for more info.
Some of our links in posts like this one are affiliate links, which means that we may receive a small commission on purchases at no cost to you.
Product Information
Price:
$1199.99
Manufacturer:
Chroma
Retailer:
Horizon Hobby
Pros:

Easy to fly
Fantastic sharp, smooth video
Long battery life
Replacement parts are available

Cons:

Handheld controller is bulky for follow and tracking action video