We use affiliate links. If you buy something through the links on this page, we may earn a commission at no cost to you. Learn more.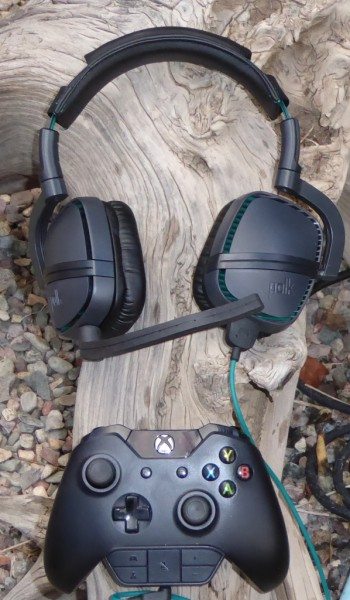 While the Xbox One has been out for approximately two years now, the games and high-end peripherals have been slow to roll out. One area that has had some traction in the market is gaming headsets. While there are a lot of contenders out there, it is hard to find a set of gaming headphones that not only provide quality sound, but also good comfort and solid construction. Polk, a company known for its audio products, have brought out their new gaming headphone for the Xbox One, the Striker Pro Zx.
Note: Images can be clicked to view a larger size.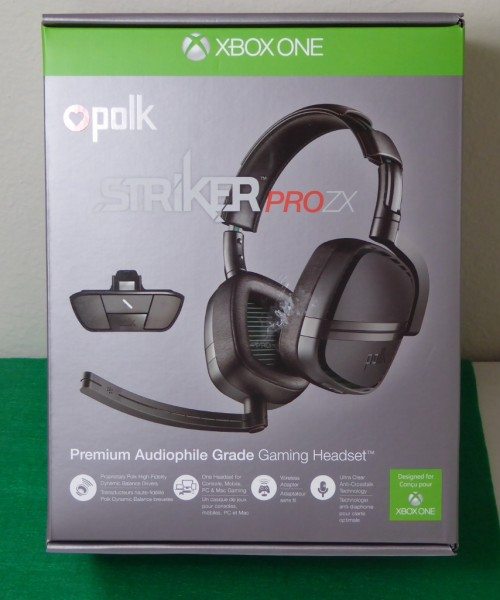 Polk is no stranger to gaming headsets for the Xbox with several Xbox 360 models as well as offerings for the newer Xbox One. The Striker Pro Zx is the evolution of their Striker series, with a better cable system, better microphone setup and better build materials. With those upgrades comes an upgraded price tag. The model I am testing is designed for use with the Xbox One, other Striker Pro additions are designed for other gaming systems.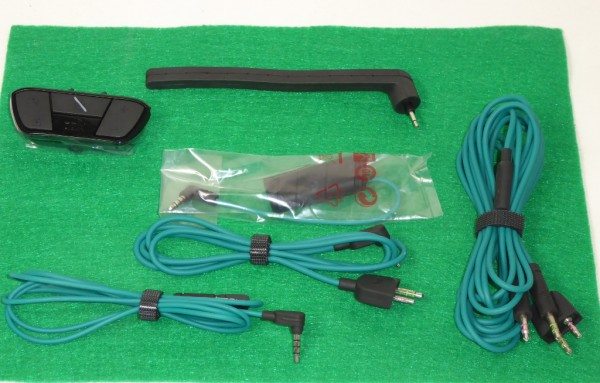 The Striker Pro Zx come with the following:
Striker Pro Zx headphones
Instruction manual
Quick start guide
Polk sticker
Detachable mic
Three sets of detachable cables
Inline remote (for gaming systems other than the Xbox One)
Xbox One gaming adapter
have the following listed features:
Engineered with custom tuned drivers equipped with Polk's patented Dynamic Balance® technology for elite, expansive, ultra-clear immersive sound
Built with Polk Optimized Electro-Acoustic Tuning (POET) for a richer, realistic audio experience
Flexible, removable, omni-directional microphone with push button mute for crystal clear chat
A low profile, discrete, in-line microphone is included for chatting on the go
Custom high-fidelity, dual-jack cables lower the noise floor, dramatically increasing microphone intelligibility and eliminating distracting crosstalk
Xbox One wireless headset adapter. Polk's headset adapter for Xbox One has a built-in DSP tuned specifically for the Striker Pro. The adapter gives you quick easy access to control both your game and chat volume mix
In-Line remote with master volume and microphone attenuator switch (for PlayStation 4) prevents voice distortion during loud chat sessions and heated game play
Compatible with Xbox One, PlayStation 4, Wii U, PC, Mac, tablets and smartphones
Includes three detachable cables: mobile connect cable, dual-jack console controller cable and dual-jack, extra-long PC connect cable. You can also use your own 2.5mm or 3.5mm cables
Quick PlayStation 4 plug and play setup for the ultimate wireless experience
PC and Mac compatibility. Connect the Striker Pro Zx to your PC with the included PC connect cable. Mac users will use the console controller cable for audio and microphone connection
Phone and tablet compatibility. The included 3.5mm one button remote with microphone lets users play/pause songs and answer phone calls without having to touch their device
Lightweight design, leatherette-wrapped headband and lay-flat pivoting ear cups are the next level in comfort and portability
More than a gaming headset, the Striker Pro brings Polk's legendary sound quality to your favorite movies, music and TV shows
and have the following specs as listed on the Polk web page:
Dimensions – Overall Diameter; 40 mm
Dimensions – Product Weight (each); 0.7 pounds
Electrical – Actual Impedance; 32 Ohms
Electrical – Max Sensitivity; 98 dB @ 126mV
Electrical – Total Frequency Response; (-3 dB) 20 Hz – 20 kHz
Headphone Specs – Included Cables; Apple MFI certified mobile connect cable with in-line remote and microphone, dual-jack console controller cable (1m), and dual-jack, extra-long PC connect cable (3m)
Headphone Specs – Input Connections; 3.5 mm
Headphone Specs – Type; Over-ear
Headphone Specs Transducer – Type; Dynamic Balance PET driver
Shipping – Included Accessories; Detachable in-line remote, owner's manual, and Xbox One headset adapter
Warranty – Speaker Warranty; 1 year
As you may have noticed, there are a lot of different cables for these headphones. That's because they are not only designed for gaming but for everyday life as well.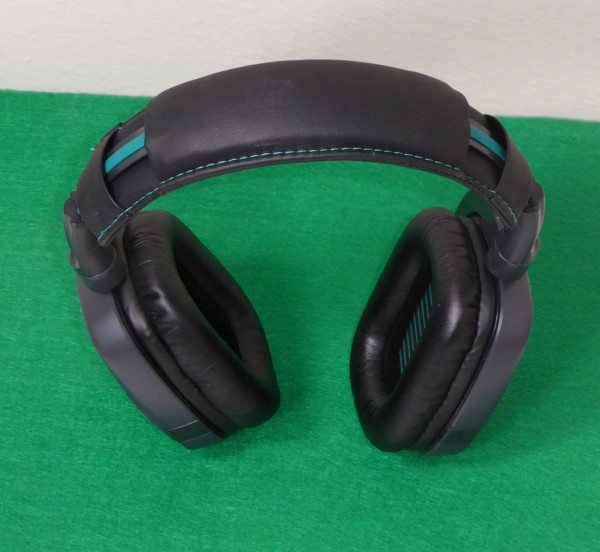 The top of the Striker Pro Zx headphones have a leather-like cover over a metal frame. The metal frame has a green stripe running down the middle of the frame. The leather-like cover is padded underneath for a comfortable long term use.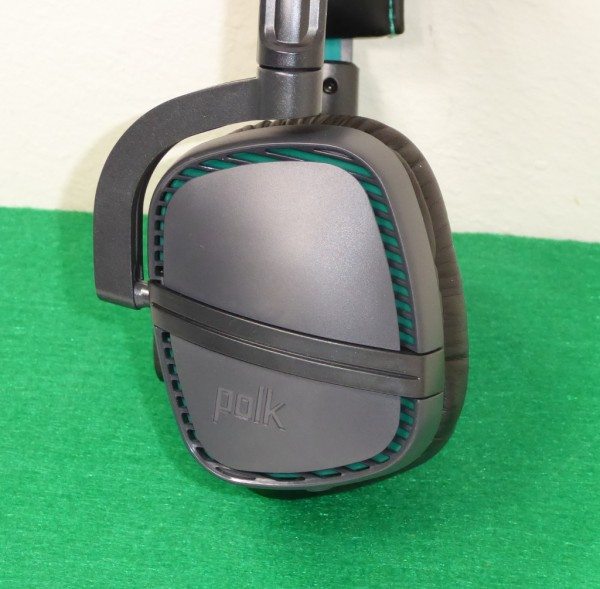 The right side of these headphones have a microphone jack and the Polk name.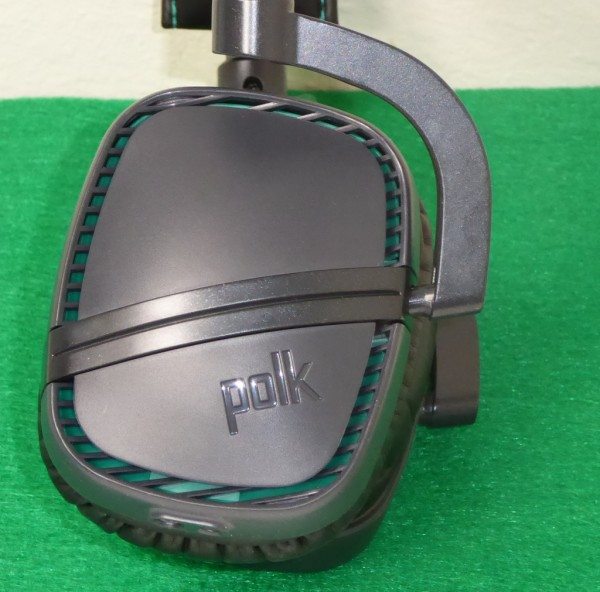 The left side of the Striker Pro Zx has the Polk name and the cable jack.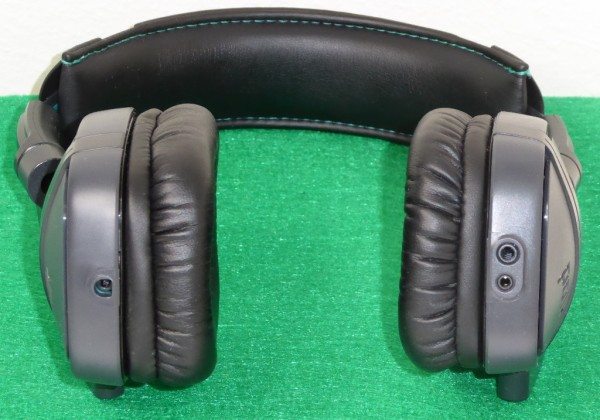 From the bottom of the Striker Pro Zx headphones, you will see the microphone and cable jacks. The single hole is for the detachable microphone while the double hole is for the gaming cables. The bottom side of the overhead frame is a nice padded leather-like covering.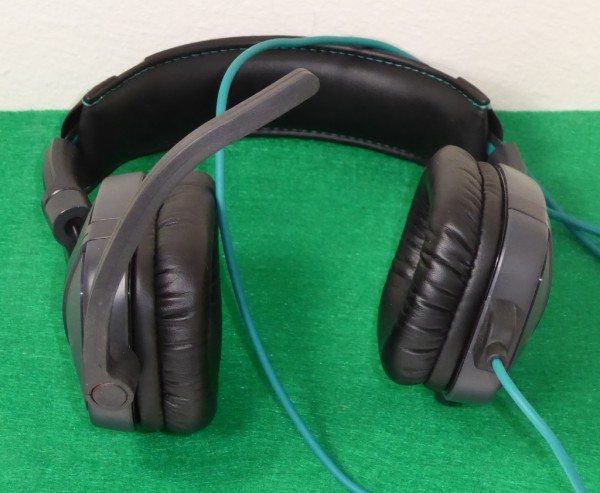 With the microphone and cable attached you can see it adds some length to the bottom of the headphones, but it is not real noticeable when gaming.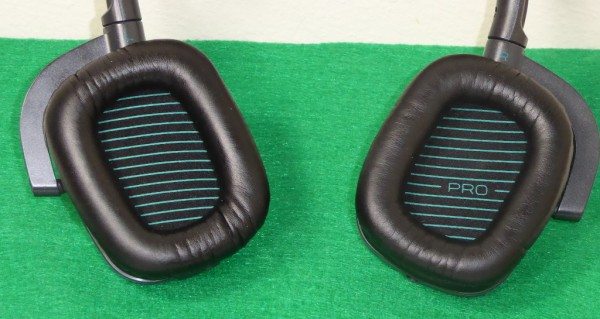 The ear cups for the Striker Pro Zx are well padded for long term wear. Inside the over the ear cups have a nice felt like lining with the word "Pro" printed inside of the right ear cup.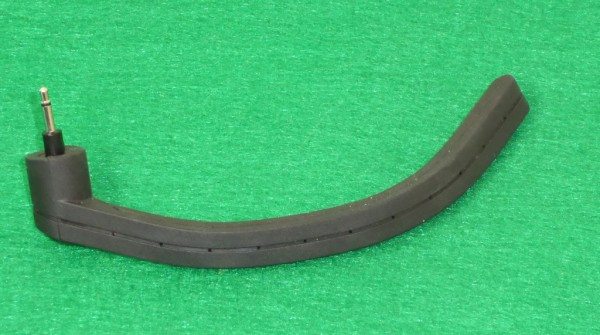 The detachable microphone is a rubberized boom type with some flexibility. The mic is attached via the 3.5mm jack and a plastic housing the locks the microphone into the proper use position. On the bottom of the microphone is a mute button.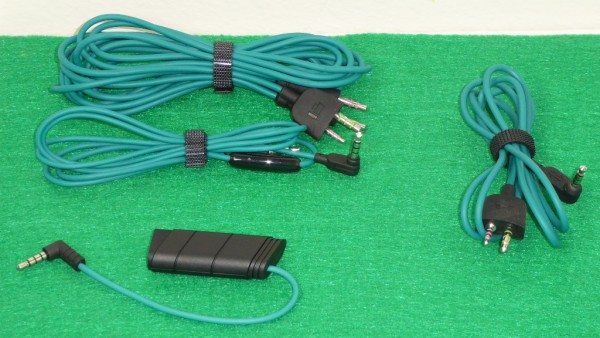 Striker Pro Zx comes with several other cables for additional capabilities. These cables include:
PC connect cable
Mobile connect cable
Inline volume cable for PS4 and other consoles
As you can see Polk is providing for all your gaming scenarios.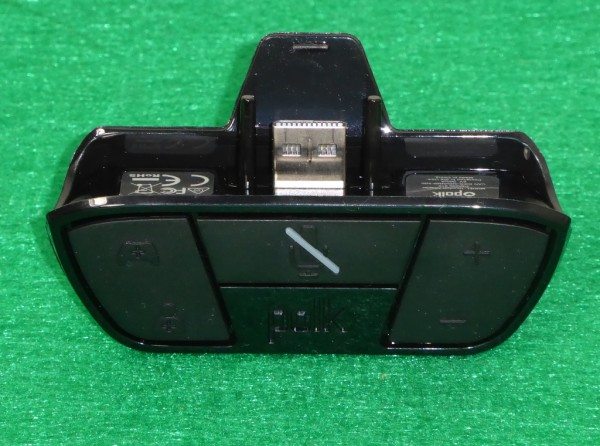 What makes the Striker Pro Zx the Zx model is the inclusion of the Xbox One adapter. Now this is a good news, bad news scenario right now, I will explain why. The adapter shipped with the Striker Pro Zx is designed for the new model Xbox One controller, the one with a USB looking connector at the rear. Microsoft announced and shipped a new controller model earlier this year and Polk changed its adapters to mirror this change. The original Xbox One controllers have a 2.5mm headphone jack meaning you had to have an adapter to use standard 3.5mm jacked headphones. Luckily I have an original adapter to use with my controller and test the Striker Pro Zx. Unfortunately, I could not test the included adapter yet (I am expecting to get a new controller with the new USB type opening). I will say that the Polk's Xbox One adapter looks and feels similar to the Microsoft model so transitioning to it should not be an issue. The adapter has three main functions besides allowing you to use the Striker Pro Zx headphones with the Xbox One controller. First, it allows you to control the in-game volume. Second, it allows you to control your game chat volume. Third, it allows you to mute the microphone.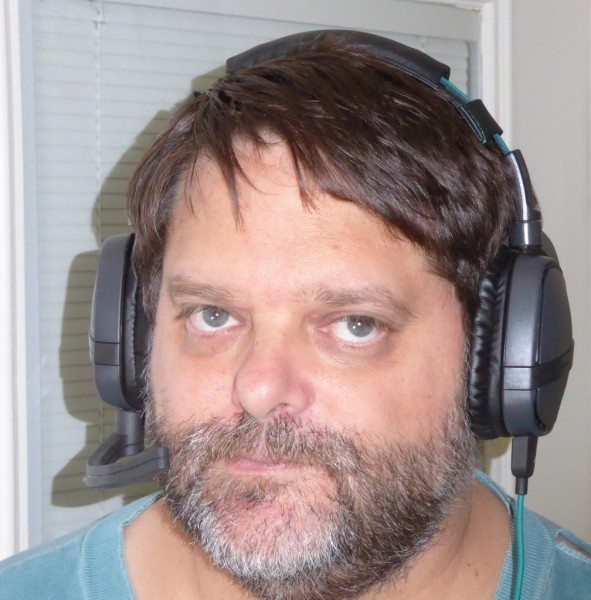 With all the small talk out of the way, the real question you probably want to know is how are they for gaming. The two areas I will touch on in gaming is game sound and in-game chat sound. Game sound was clear and sharp while playing Elder Scrolls Online I could hear all the different sounds near and far. Although these are not true surround sound I could plainly hear when things were happening behind me, or to the left or right of me. While playing Star Wars Battlefront that multi-directional sound pickup is priceless when storm troopers are trying to shoot you from behind. Sound volume was loud when turned up all the way and never became garbled when used at high volume. When using the headset for chatting while gaming I could hear my friends clearly and they could hear me clearly as well. At times, my friends did say they noticed an echo from me when chatting, but I do not know if I could blame that on these headphones as it is not a continual issue. The included adapter for the Xbox One should allow you to mix the voice and game sound to meet your gaming situation.
So, what is my bottom line here? The Polk Striker Pro Zx gaming headphones rock. While I was a little apprehensive about them when I first pulled them out of the box as they were a little on the heavy side, all my fears went away after using them for these last couple of weeks. These headphones are solidly built and comfortable to wear over long (and short) periods of time. The padding on the ear cups is more than adequate and block out a lot of ambient outside noise. Overall, I would consider these a true gamers set of headphones and with a price of only $149.95 $99.95 from Polk the price rivals other gaming headphones in its class.
Updates 03/15/16
I currently use the Polk Striker Pro Zx at least 3 times a week for hours on end. Although these are not the best gaming headphones on the market, they may be the most versatile. They still sound great and I can be heard by other gamers loudly and clear. This is one review item that still meet and exceeded my expectations.
Source: The sample for this review was provided by Polk. Please visit their site for more info and Polk's Amazon page.