We use affiliate links. If you buy something through the links on this page, we may earn a commission at no cost to you. Learn more.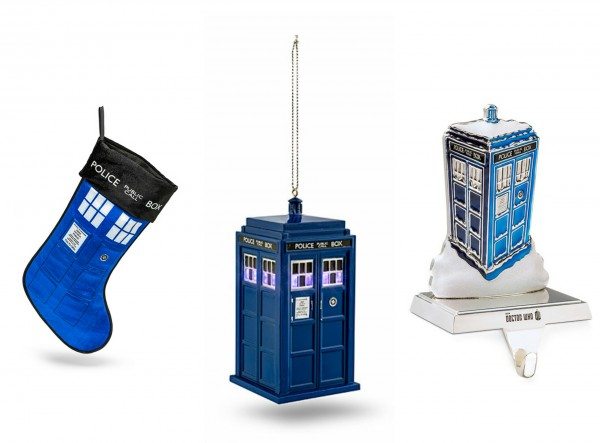 When it comes to Christmas there are two types of people in the world. The first group hears the word "who" and thinks of Dr. Seuss and the characters from "How the Grinch Stole Christmas". The second group – the more awesome group – hears the same word and immediately thinks of a completely different doctor….Doctor Who.
It may not be immediately clear to the non-Whovian, but Doctor Who and Christmas go hand in hand. Every year Doctor Who airs a Christmas special where the Doctor inevitably saves the day. It only makes sense that a true Whovian should own his or her fair share of Doctor Who Christmas decorations. With that in mind, I present to you some of the cooler Doctor Who Christmas merchandise I've stumbled upon.
First up is the official Doctor Who Christmas stocking. Made to look like the Doctor's TARDIS, the stocking claims to be "bigger on the inside" so you have room for all your Christmas goodies. Pressing on the cuff of the stocking activates the TARDIS's distinct vworp sound.
Next, we have the official Doctor Who ornament. Again, it's modeled after the TARDIS, with light-up windows that cycle through various colors. The ornament has an off switch if you don't want it illuminated.
Finally, what use is a Doctor Who stocking if you don't own the official Doctor Who stocking holder. The stocking holder is – you guessed it – designed to look like the TARDIS. The stocking holder doesn't do much other than look awesome and help your stocking battle the evil forces of gravity.
All three items can be purchased from Think Geek. The stocking and stocking holder go for $24.99, while the ornament goes for $7.99. I suggest you buy all three immediately… and send them to me, Julie has my address if you need it.