We use affiliate links. If you buy something through the links on this page, we may earn a commission at no cost to you. Learn more.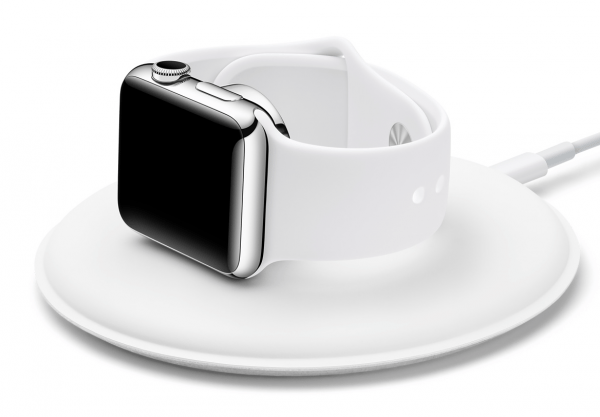 According to the excellent AppleWorld.Today, Apple is adding a new item for in-store and online purchasing on Friday: an Apple-branded charging stand for Apple Watch. The white saucer-shaped unit will feature a flip-up charging puck, so that the user can have the Watch flat or on it's side, in order to use "Nightstand Mode". This mode is a feature of watchOS 2, which allows you to have the Watch on it's side while charging, and the time will show dimly when it is moved. Fifteen minutes before an alarm is set to ring, the time will also be displayed very dimly, growing brighter until the alarm actually rings.
The charging stand is priced at $79/€89.
This marks the first Apple Watch accessory released by the Cupertino, CA firm other than bands. Can AppleWatch socks be far behind?
(Photo from AppleWorld.Today)