We use affiliate links. If you buy something through the links on this page, we may earn a commission at no cost to you. Learn more.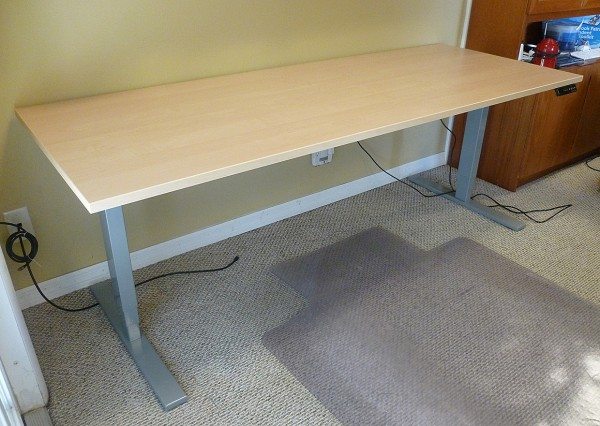 Even though I love reviewing audio gear more than anything else, it's always fun to test something that makes no sound—well, almost no sound. This time, I'm trying out the UPLIFT height adjustable standing desk. To be honest, when I was given the opportunity to try out this desk, I had some reservations because I already liked my existing desk—even if it was a monster. A slight exaggeration, but that desk is a converted workshop table made from pressure-treated lumber. It was an 80" X 36" heavyweight. The much more svelte UPLIFT desk is also heavy, but it's not dead weight. No, the UPLIFT is a simple, but useful marvel.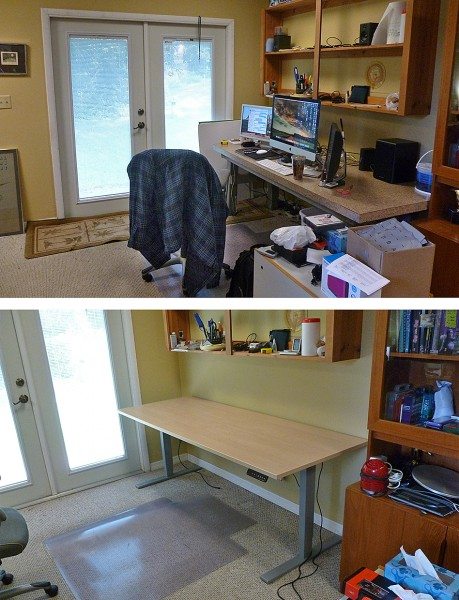 So how can a desk be a marvel? Simple, really. The UPLIFT desk is a motorized sitting and standing desk. The health benefits of a standing desk are becoming obvious as more and more studies point out the health risks of sitting over long periods of time. If you (like me) work at a computer all day, the risks add up through the years. The UPLIFT desk helps alleviate some of those risks by raising up to a height allowing for standing comfortably while working. It's such a simple, but effective way to minimize the damage from sitting. Point in fact—I recently threw my back out doing yard work. Standing has been more comfortable than sitting as my back heals itself. The UPLIFT table could not have arrived at a better time.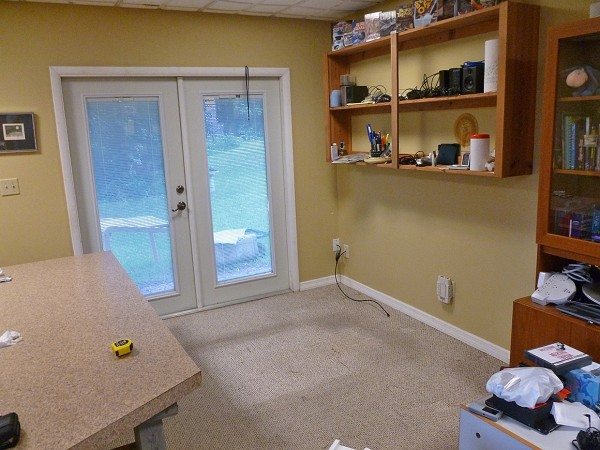 Purchasing the UPLIFT sit/stand desk is done online. The website is easy to navigate and makes it clear what exactly you are ordering.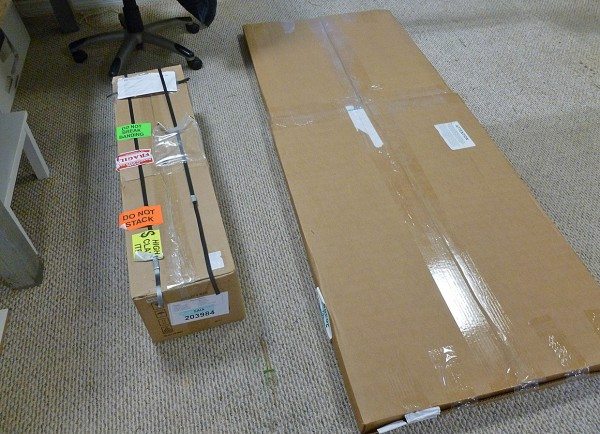 Understand that when a desk is ordered, it will be a heavy package. Mine was a little over 250 lbs. in two packages—the top in one box and hardware in another. The weight differences will mostly depend on what option table-top is ordered. I ordered the standard top with maple laminate finish. Solid new/reclaimed wood, bamboo and even stainless steel is available for an extra charge. I really liked the look of reclaimed wood, although that choice costs substantially more than laminate. Keep in mind that the UPLIFT desk is no beauty. They're not ugly, just kinda plain looking.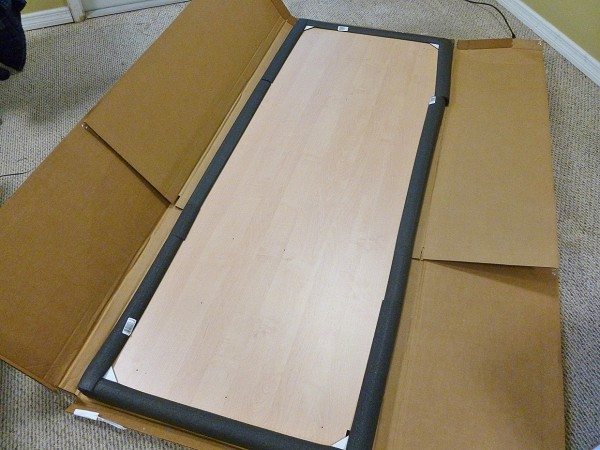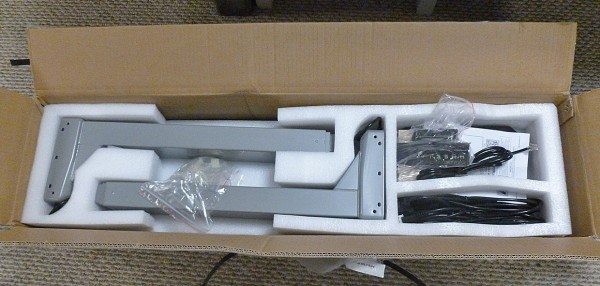 Shipping the table became an adventure in itself. It did not arrive via UPS, FedEx or US Postal Service. It was to be delivered to my house by semi … as in semi-truck. I don't have a straight driveway—it's long and L-shaped, plus here are two brick posts and a gate that no oversized truck will fit through. So I called the shipper—Saia, who could not have been any nicer—and was told that the truck only needed access to my street and an electric forklift would bring it to my door … except that my driveway is very rough, too rough as it turns out. The only alternative was to go to Saia's office on the other side of town—about 45 min. away—and see if it would fit into my SUV. It did, but barely with all the seats down. An Saia employee helped me load the SUV. As I said, the two boxes were a bit over 250 lbs. which makes for a sturdy table. It was a hassle to unload when I got home, but in hindsight, it wasn't all that bad—it was just a very hot day and I hate to sweat. Once the two boxes were in my air-conditioned backyard studio building, I began to unpack and assemble.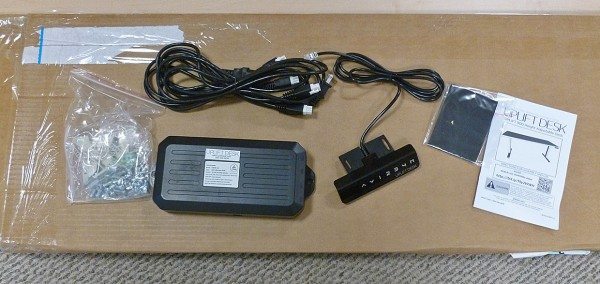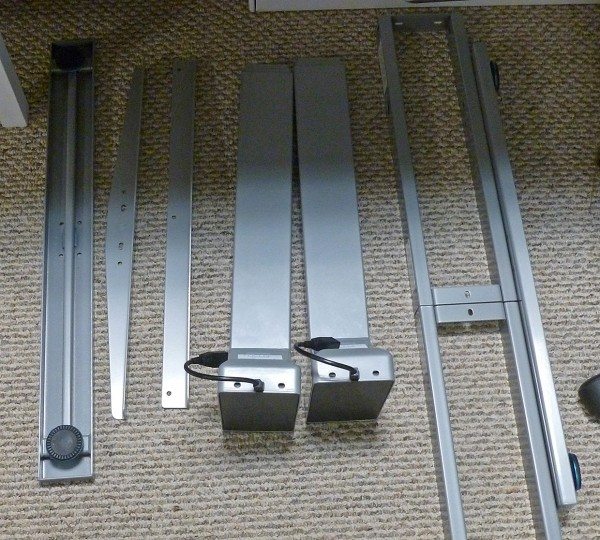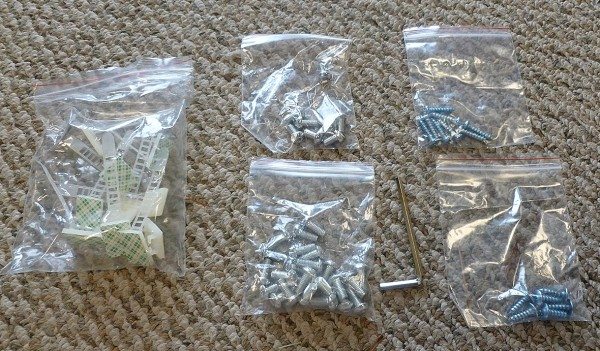 I had to refer to the manual constantly. Not because it was overly difficult to assemble, but because several screws were similar in size and I needed to pay attention. I go slow when I put things together. The assembly process was foolproof, except this fool (me) was the one putting it together. Towards the end of assembly, I noticed that I had placed some screws in the wrong holes and had backtrack some steps to make it right.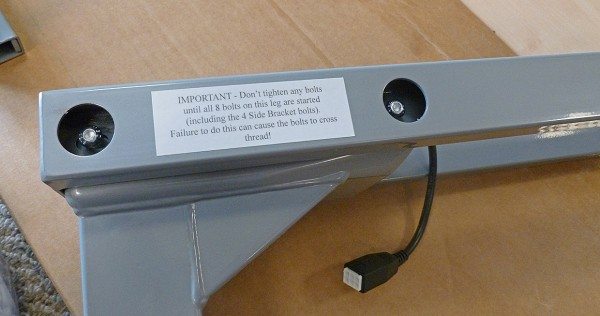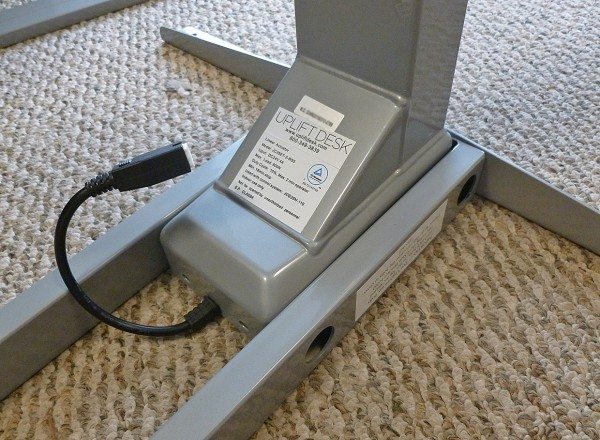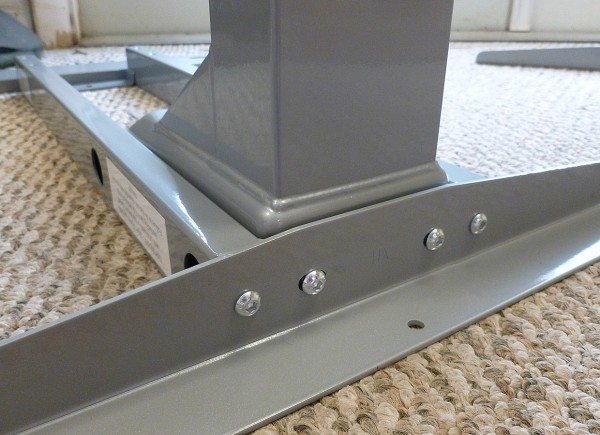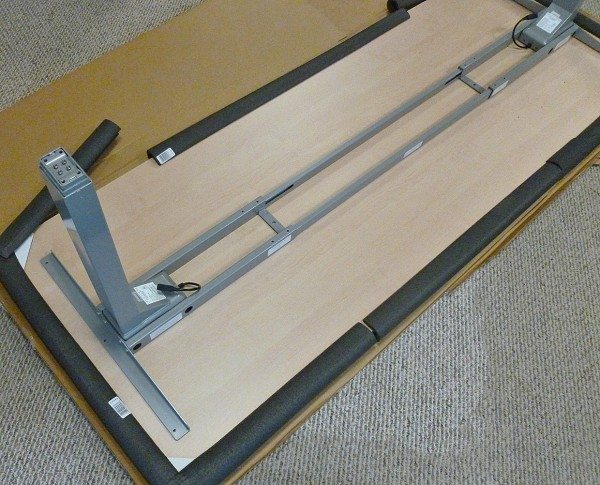 All parts fit exactly as indicated in the instructions. The metal legs and motor are heavy, but manageable. UPLIFT also has an assembly video which I viewed occasionally on my iPad. It took probably 1.5–2 hours to assemble, but as I said, I'm slower than most people. I would recommend 1-1.5 hrs.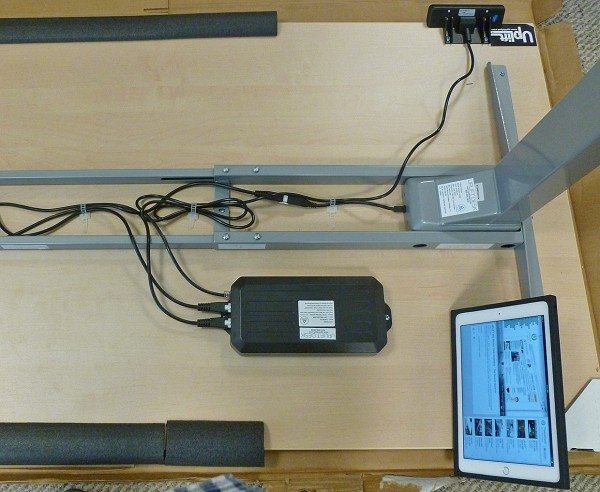 Depending on the table-top size, a bit of room is required to comfortably work. Included in the assembly package are some self-sticking locking tabs to help keep wiring out of the way. UPLIFT offers options for better wire-management if too much wiring becomes an issue.
In fact, UPLIFT offers a LOT of options. There is even a treadmill available for people who want to slowly walk as they work (yes, that's for real). It's fun seeing all the cool options that are available.
I only needed help from another person once in the assembly—turning the table right-side-up once finished. I was able to do everything else alone. Once the UPLIFT table was in place, I loaded my computer, monitors, extra hard drives and speakers on it. Top sizes range from 30″ wide X 48″ long up to 80″ long (my choice). Height adjustments go from 24.5″–50.5″. That's a big range.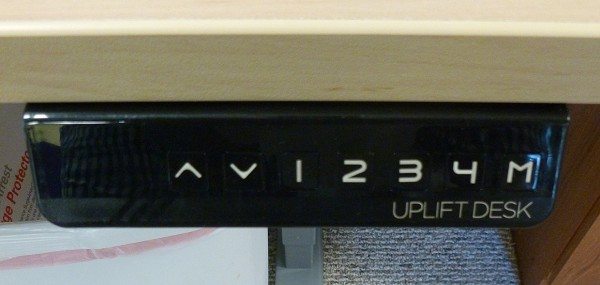 The UPLIFT desk comes with a standard up/down button but I recommend the optional advanced keypad which allows set and forget height settings with one touch of a button. Press one of four buttons and the desk will stop automatically at any pre-set height you prefer. This option is much easier than guessing each time.

Once the UPLIFT height adjustable standing desk  is set up and in use, it is basically just a desk—that moves up and down. Using it day to day  allows me to sit and stand whenever I want. Pressing the height setting button activates the quiet motor and within seconds it stops at the set height. It can't be any easier.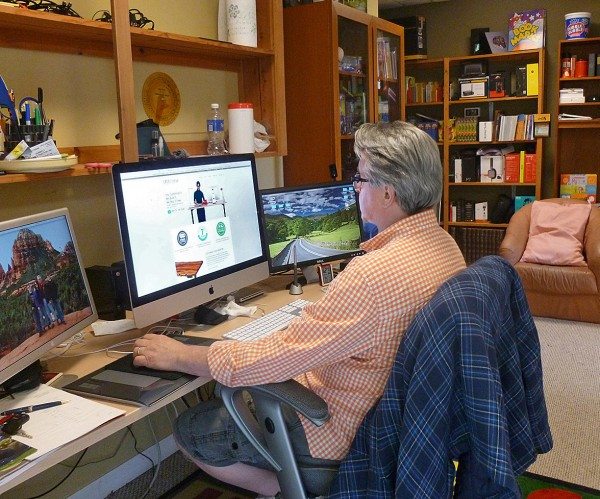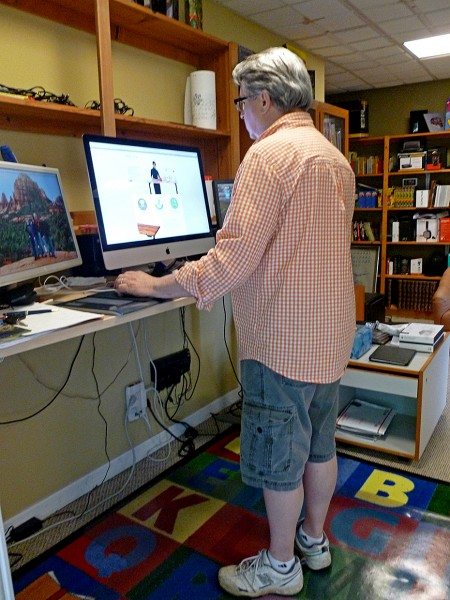 Since the desk changes height smoothly and slowly, it doesn't upset any object sitting on it, such as a full coffee cup. There is no jerkiness in the movement at all. When the desk is at standing height, it's not quite as steady compared to when it's lower, but the difference is so slight that it's insignificant.
The way the UPLIFT desk ingratiates itself into my workflow every day has spoiled me. Any product—like the UPLIFT desk— that can disappear completely into one's daily routine and eventually become indispensable is genius.
Source: The sample for this review was provided by UPLIFT. Please visit http://www.upliftdesk.com for more information.
Product Information
Price:
$807 U.S. – My option. Prices range from $469 - well over $1000 depending on options
Manufacturer:
UPLIFT Desk
Pros:

Healthier alternative to sitting desk
Almost silent motor
Smooth operation
Solid construction

Cons:

Expensive
Shipping can become an issue