We use affiliate links. If you buy something through the links on this page, we may earn a commission at no cost to you. Learn more.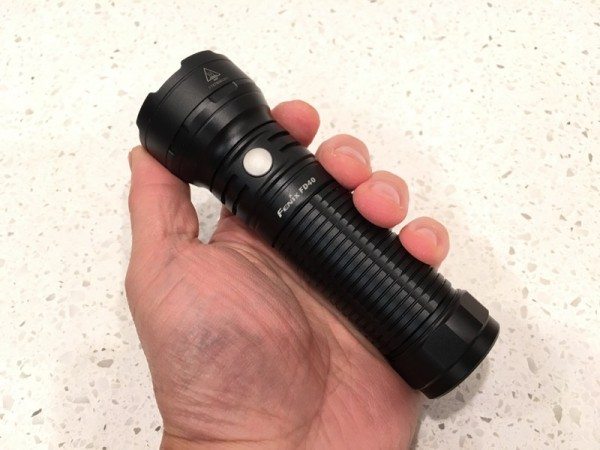 My name is Andy, and I'm a Flashaholic.  I have a lumen problem.  Ever since my first "cool" flashlight 30 years ago, the MagLite, I've been chasing the next go-to handheld torch.  This illumination arms race has only escalated in the past 15 years with the introduction of better and brighter LEDs.  Today I've got the latest from Fenix that has something my MagLites of yesteryear had- an adjustable focus.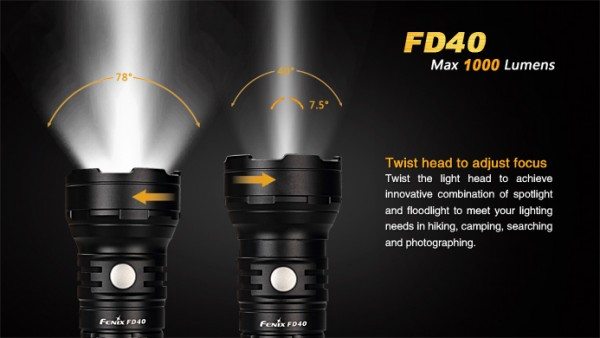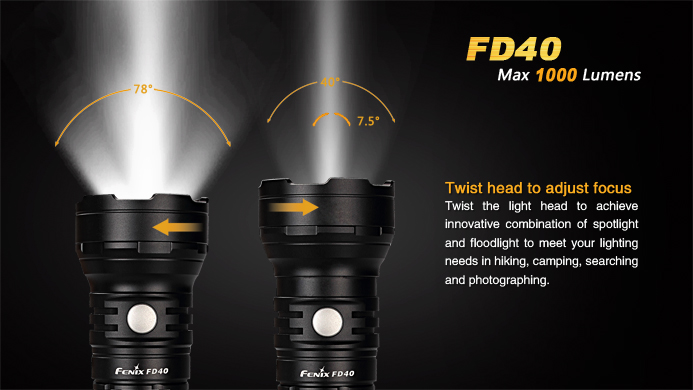 Remember the original MagLite?  You could twist the head and adjust the beam from a wide flood to a narrow spot.  The Fenix FD40 features an adjustable focus as well as a 1000-Lumen beam from a Cree XP-L HI LED.
Length:  5.1 inches/130mm
Tube Diameter:  1.3 inches/32mm
Head Diameter:  1.8 inches/45mm
Weight (excluding batteries): 5.6 oz./159 grams
Twist head to adjust focus: 78 degrees for flood; 40 degrees for spot with a 7.5-degree center beam
Spotlight maximum beam distance:  984 feet
Stainless steel side switch
New Lock-out function to prevent accidental activation
Standard tripod mount in body
Flat tail cap for tail standing capability
Digitally regulated output maintains constant brightness
Over-heat protection to avoid high-temperature of the surface
Intelligent memory circuit, automatically enters previously used brightness level when turned on again
Reverse polarity protection to protect from improtper battery installation
Made of durable aircraft-grade aluminum
Premium Type III hard anodized, anti-abrasive finish
High efficient lens with total reflective coating
Waterproof to IPX-8 rating, under water 6.56 feet for 30 minutes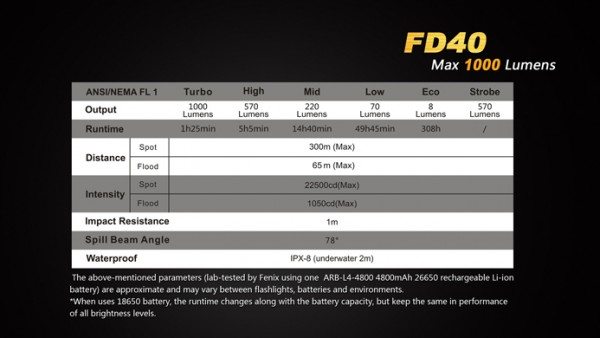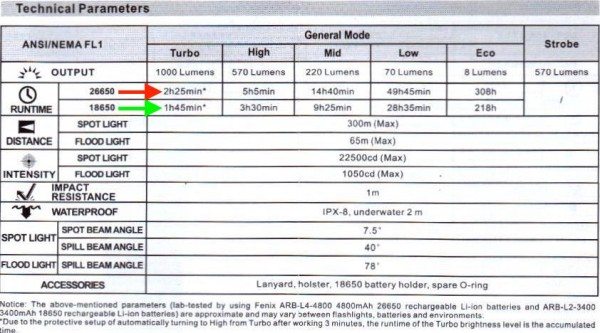 There seems to be a discrepancy between the published runtimes and those in the printed manual.  The FD40 can accept the 18650 battery or the larger 26650 one, which has greater capacity.  It is reasonable to believe that the runtime for the larger 26650 battery (red arrow, below) would be longer than the smaller 18650 (green arrow).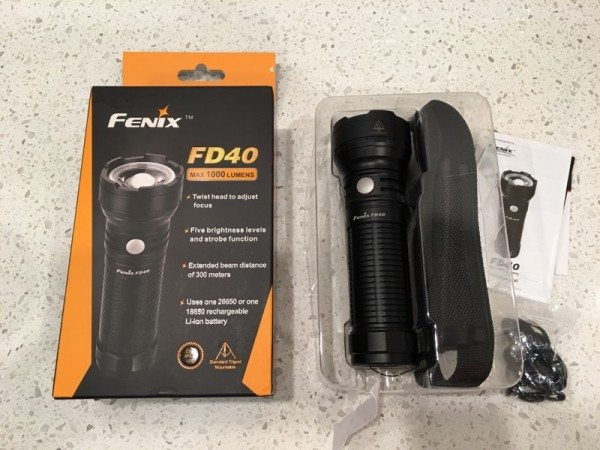 In the package you get the PD40 light, one lanyard, one holster, spare O-ring, manual and warranty card.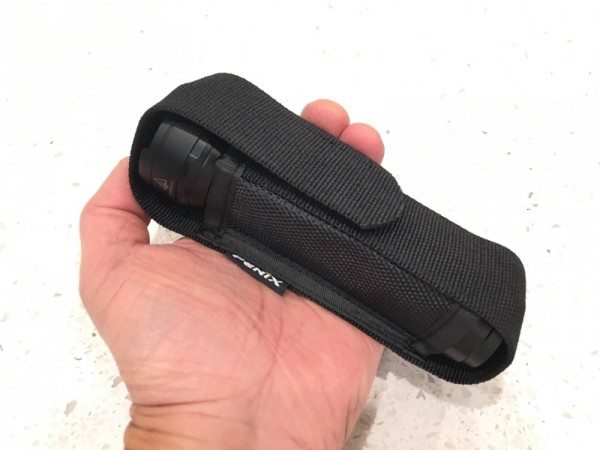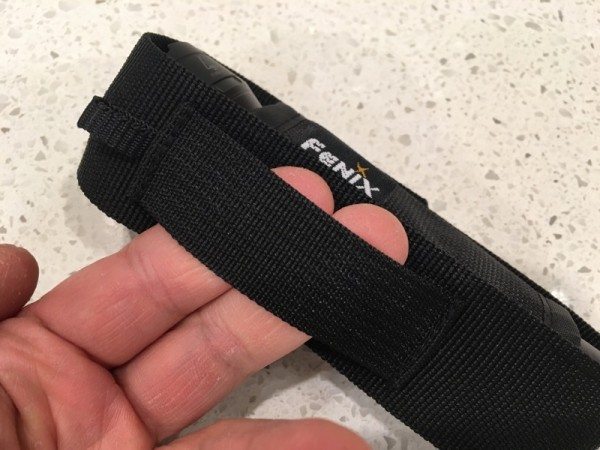 If you're familiar with Fenix flashlights, the holster will look familiar.  It's got a hook and loop flap and a belt loop on the back.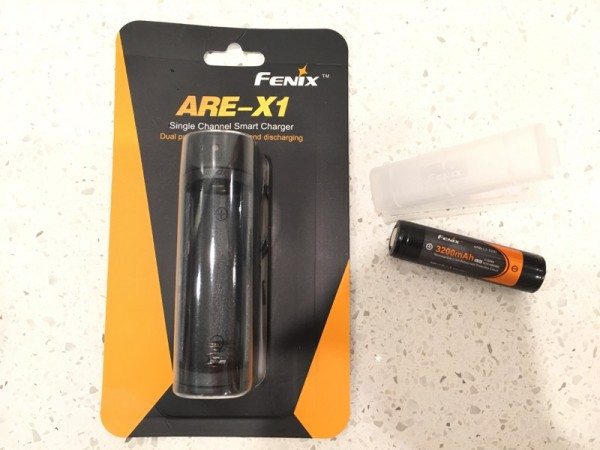 For evaluation, I was sent the Fenix ARE-X1 single battery charger and the Fenix ARB-L2S, a 3400 mAh lithium ion, type 18650 rechargeable battery.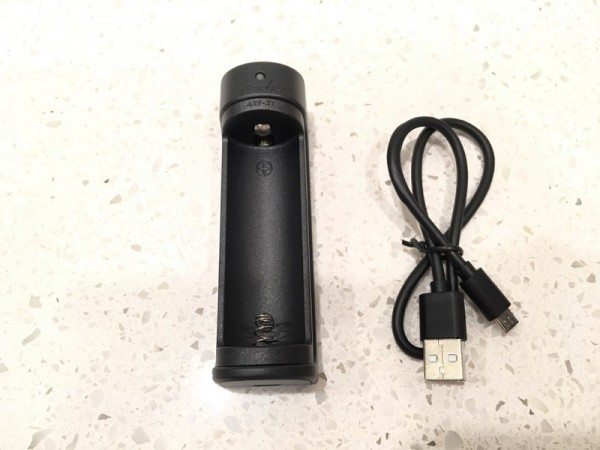 The ARE-X1 kit comes with the charger and a short microUSB cable.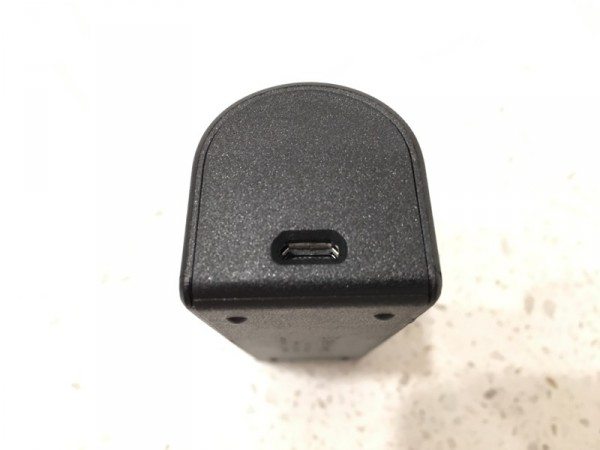 The microUSB connector is found on one end…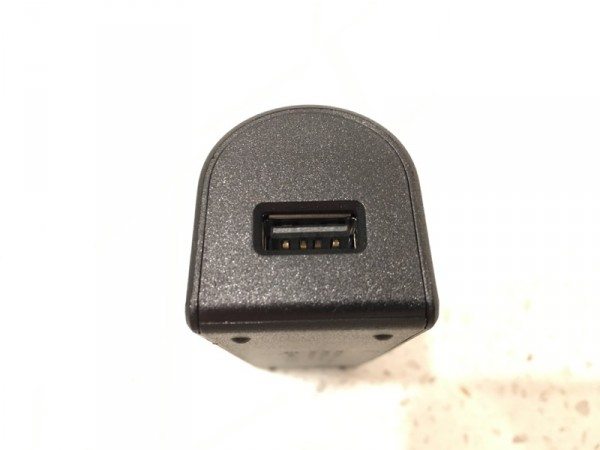 …And the full-size USB can be found on the other.  You can actually use this charger to recharge or top off your USB-chargable gadgets.  It's like having two gadgets in one.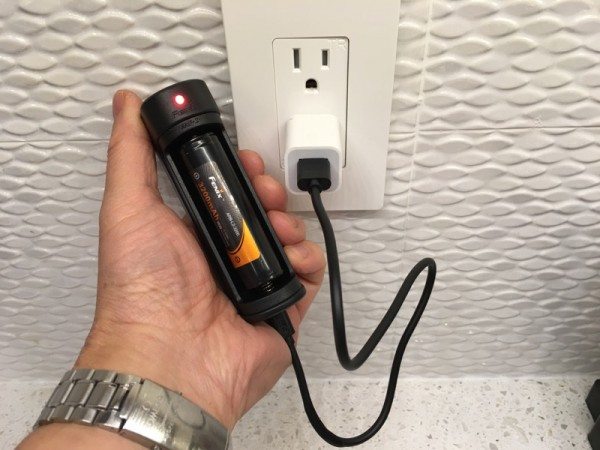 I've plugged the ARE-X1 into a spare iPhone charger to juice things up.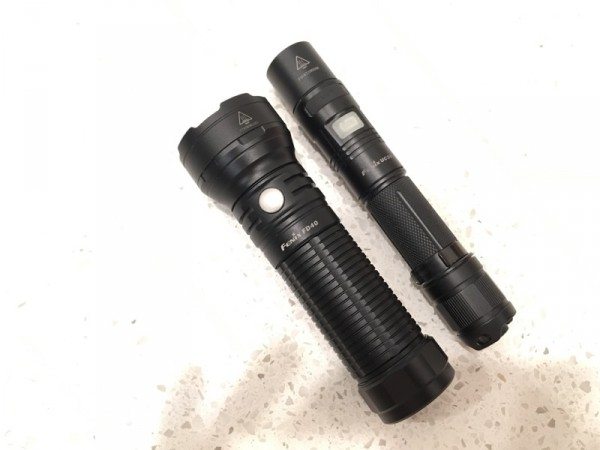 Size-wise, the FD40 is shorter and thicker than my current go-to flashlight, the Fenix UC35.  While the UC35 has a tail-clicky cap button for on-off and a second barrel-mounted mode switch, the FD40 has just one round button.
On the opposite side of the button is a threaded hole, suitable for tripod mounting.
There's a lanyard hole on the tailcap.  Note that the cap is flat, so you can stand the FD40 up in "candle mode".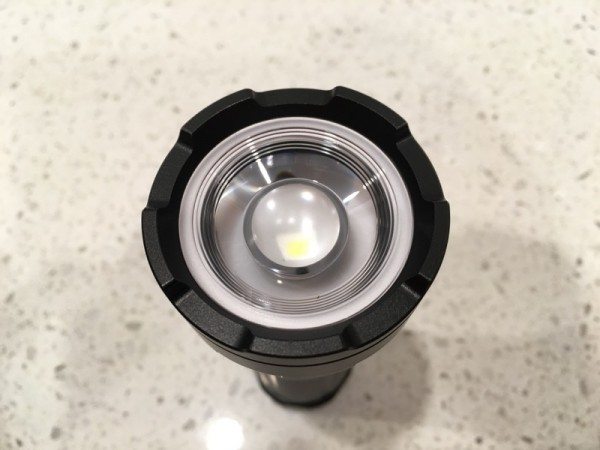 The business end of the FD40.  Do NOT look into this end when lit!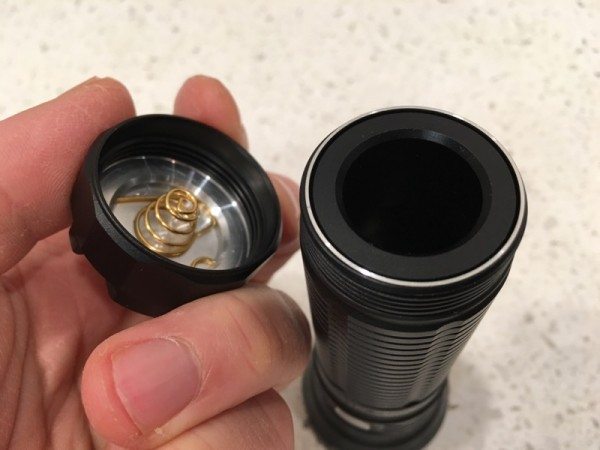 Feeding time!  Twist the tailcap off…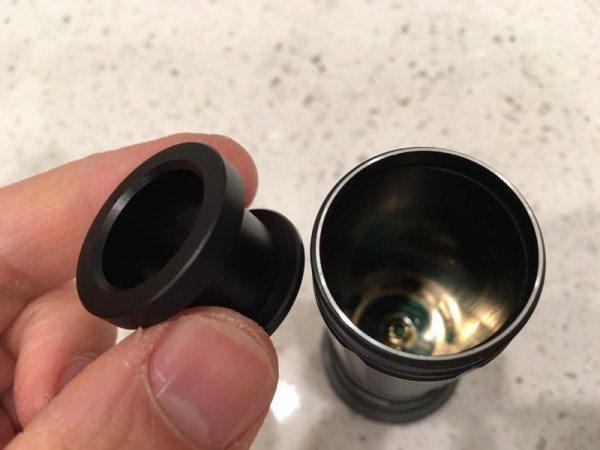 …and you'll find this aluminum spacer.  Why?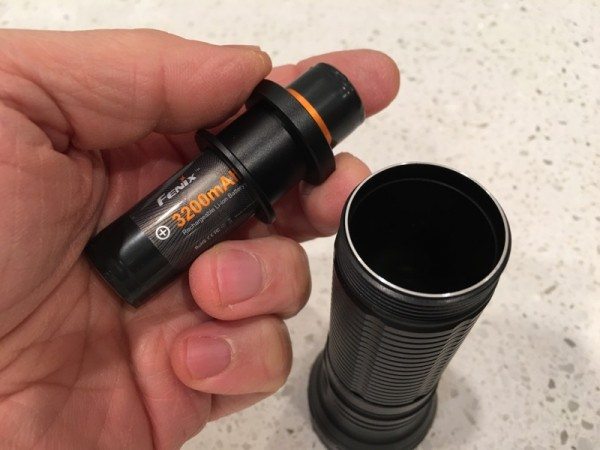 If you use a 18650 battery, you'll need the spacer to assure a proper fit.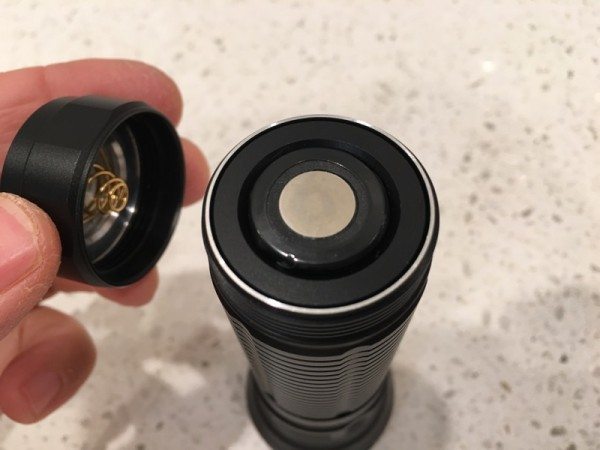 Here's the 18650 battery in the barrel of the FD40, ready to go.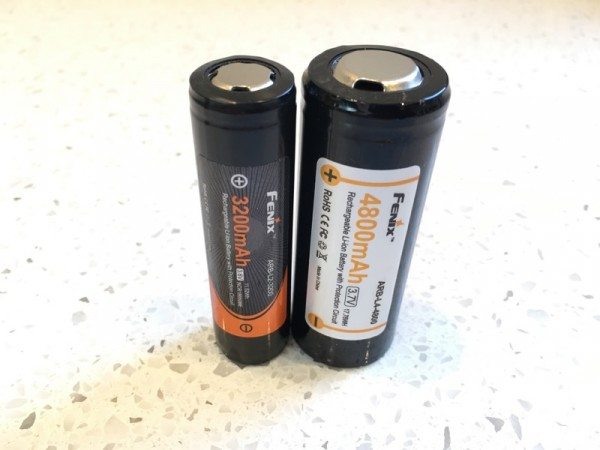 On the left is the skinnier 18650 battery.  On the right, the 26650.  (I bought the 26650 on my own and was not included as part of the evaluation kit)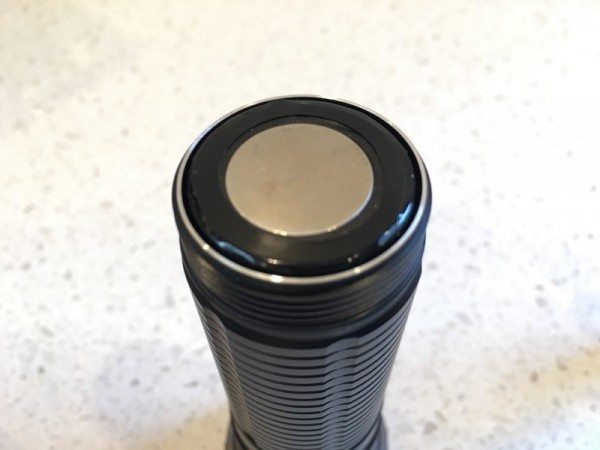 As you can see, the larger 26650 is a perfect fit.  No spacer necessary.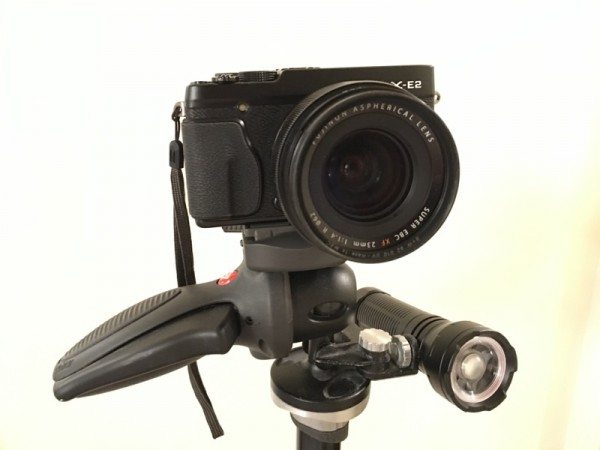 OK, so how bright is it?  How well does the adjustable focus work?  To try this, I set up this ridiculous rig with my Fuji X-E2 (see link to Mark's review).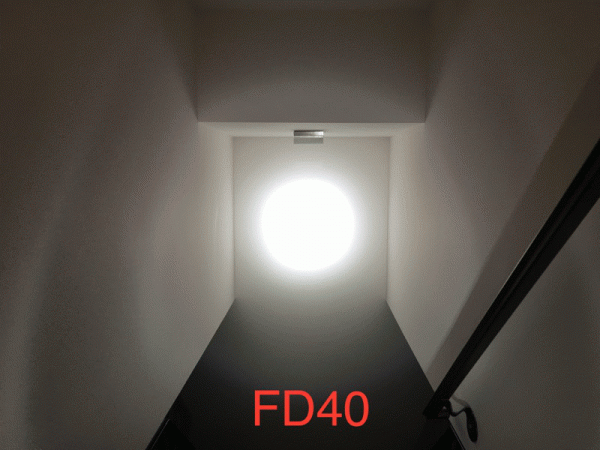 (Click on image above to open if animated .gif doesn't load)
I was curious to see how it would compare to my old Fenix UE35, which had a less concentrated center.  The FD40 produced a much more "round" circle of light.  Both lights at the brightest setting.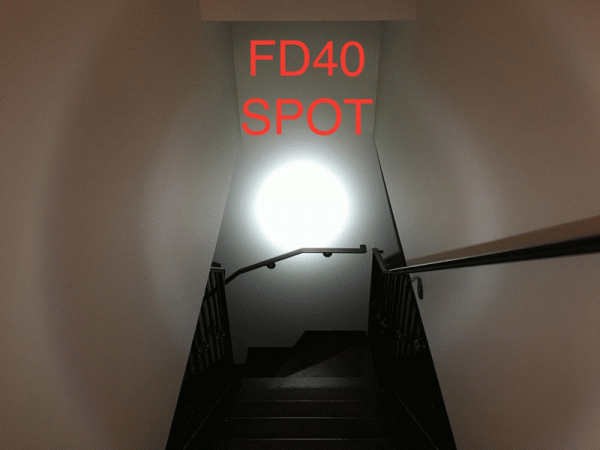 (Click on image above to open if animated .gif doesn't load)
Next I compared the FD40's spot vs. wide "flood" beam.  It's hard to tell from here but the wide pattern is actually quite seamless without dark spots. (Click on image above to open if animated .gif doesn't load)
Finally I clicked through all the brightness modes (Eco, Low, Mid, High, Turbo).
Oh yes, there's also a strobe mode.  You can press and hold the button from the off mode for a few seconds and… well, don't look if you're prone to seizures.  It's wicked annoying.  It will certainly get your attention.
Is it the brightest flashlight ever?  The smallest?  The largest?  No.  For me, the versatile adjustable focus and ability to use both 18650 or higher capacity 26650 batteries makes the Fenix FD40 the new ruler of my flashlight kingdom.
Updates 03/15/16
Although it's been four months, the Fenix FD40 is still my go-to flashlight. That's an eternity in the world of ever-changing flashlights. I think it's the fairly compact size and adjustable focus that seal the deal for me.
Updates 05/18/16
Many flashlights have come and gone, but I still keep the Fenix FD40 on my desk as my go-to flashlight. Its large battery capacity and flood/spot beam focusing make it the ideal flashlight for me.
Source: The sample for this review was provided by Fenix Outfitters. Please visit their site for more info.
Product Information
Price:
$79.95
Manufacturer:
Fenix
Requirements:

18650 or 26650 lithium ion battery

Pros:

Adjustable focus, multiple brightness levels
Long runtime with 26650 lithium ion battery

Cons:

The larger 26650 battery may be sold separately (depending on your reseller)
One button control has a learning curve (albeit short)
As with most LED flashlights, the "Turbo" mode stays on for 3 min before tapering to "High"