We use affiliate links. If you buy something through the links on this page, we may earn a commission at no cost to you. Learn more.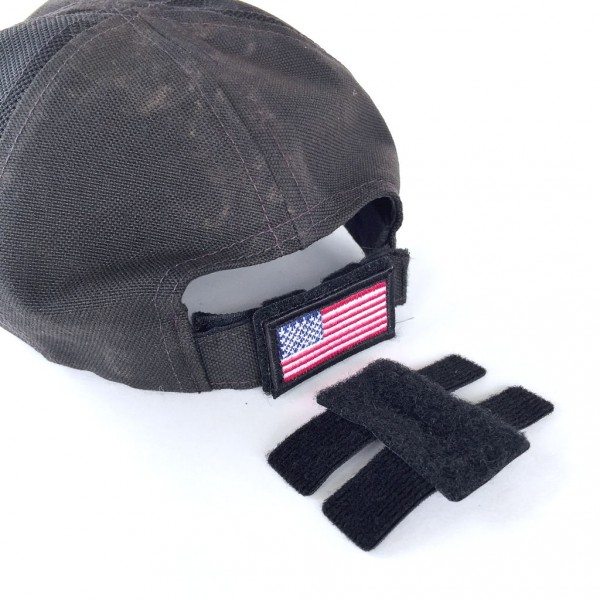 Velcro®-backed patches have become very popular in some circles, especially within military and related communities where they are often called "morale" patches. Additionally, clothing, backpacks and other soft goods designed for military, police or similar occupations include strips of webbing that can be used as modular attachment points for the customized addition of pouches and other accessories. Why not utilize the webbing to add…more patches! That's what the folks at RuckWorks had in mind when they conceived of PatchPALS. Made in USA from industrial-grade Velcro, PatchPALS wraps are cleverly-designed to be affixed to PALS or MOLLE webbing by wrapping around the back of the webbing and presenting a rectangle of Velcro on the outside, perfect for attaching a patch. Let's check it out!
Background
Since becoming involved in the GORUCK community, and having now completed six GORUCK events, I've become a bit of a fan of morale patches.  Upon earning a patch by completing an event, I've typically attached them to the single Velcro field on one of my GORUCK rucksacks or on the front of my GR TAC cap.  But when I stumbled upon RuckWorks' PatchPALS while searching for accessories for my rucks, I thought they had a simple yet clever idea for providing the opportunity to attach more patches to places where I normally couldn't.  More patches = more fun, so I immediately wanted to try them out and the folks at RuckWorks were good enough to send me some to review.
Options
PatchPALS are available in three color schemes.  While all of them have black attachment Velcro, each has a different front Velcro field color:
Black – $4.99
Mil-Spec Coyote – $5.99
Mil-Spec Olive Drab – $5.99
Packaging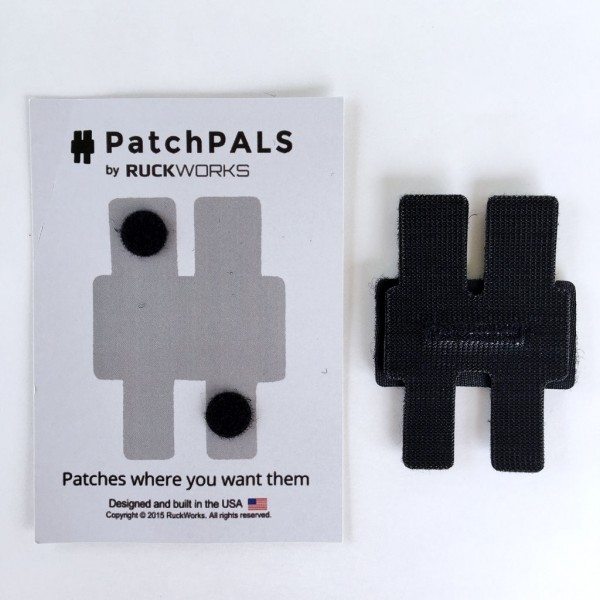 Like the product itself, PatchPALS' packaging is nice and simple.  It's a sheet of thick cardstock to which the product is affixed with a couple of small dots of Velcro.  Simple but with a very professional appearance.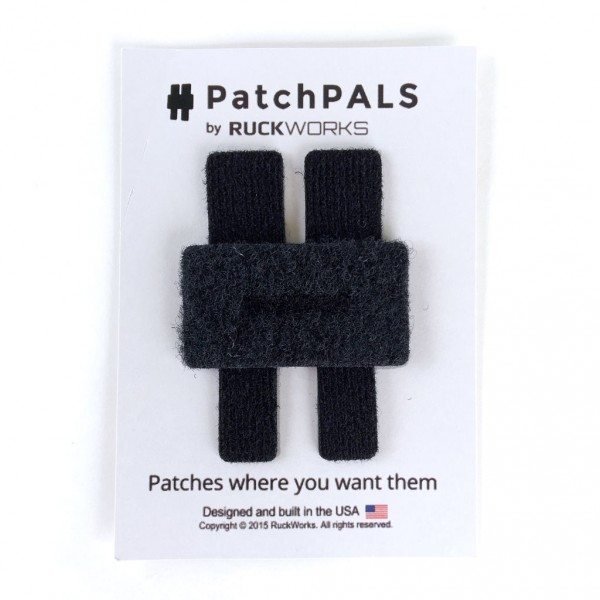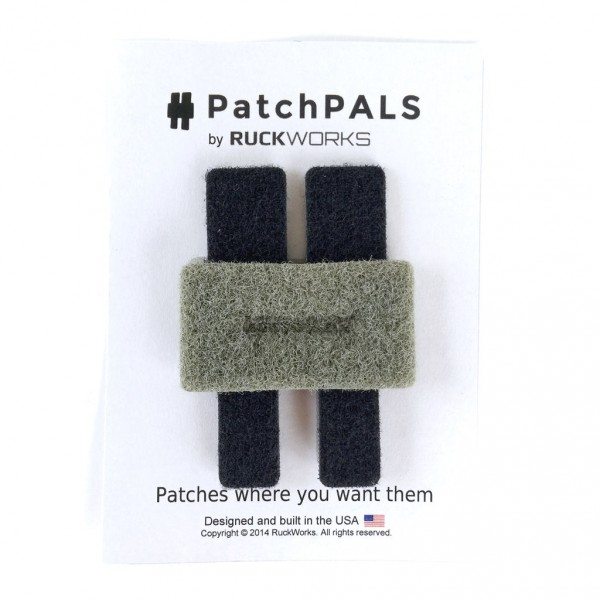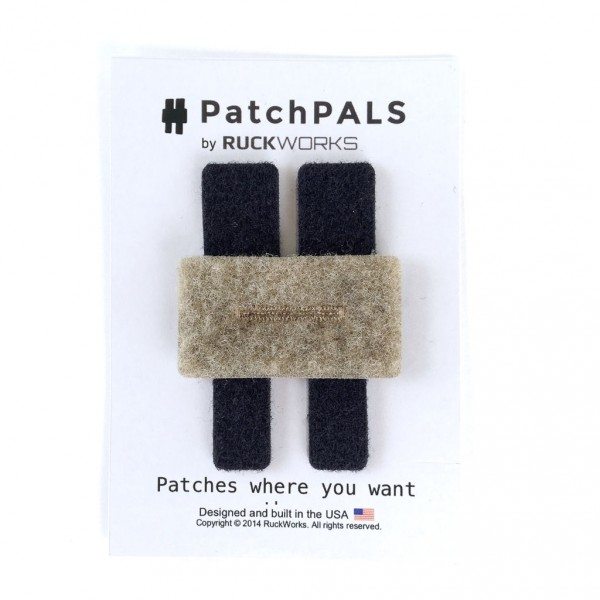 Features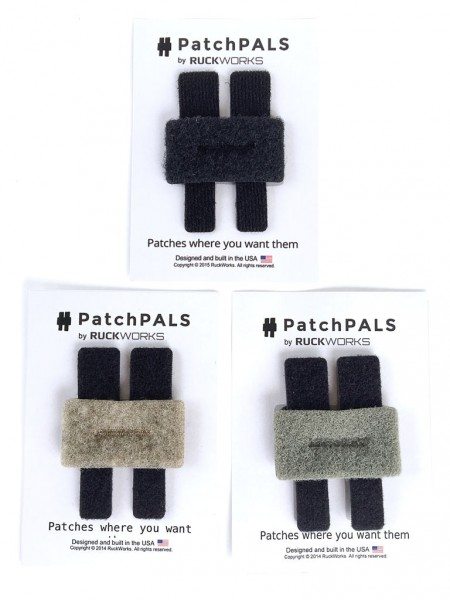 The folks at RuckWorks were generous enough to not only send me samples of each of the three colors of their PatchPALS product, Black (top), Mil-Spec Coyote Tan (bottom left) and Mil-Spec Olive Drab (bottom right)…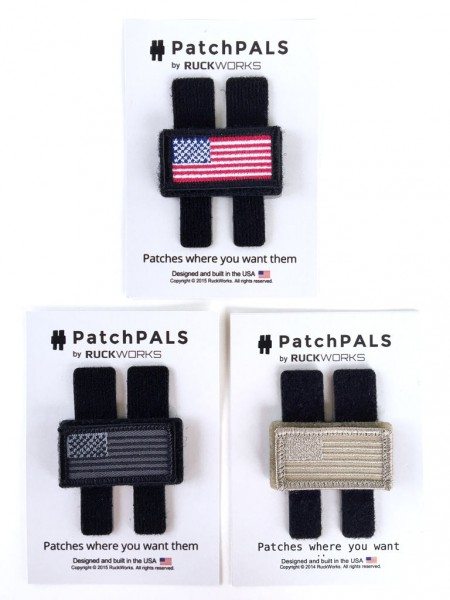 …but also samples of each of the three colors of their Velcro-backed US Flag Mini Patches in Traditional (Red/White/Blue), subdued Black and subdued Desert.  Each of the Mini Patches are available for $4.99 from RuckWorks.
Features and Functions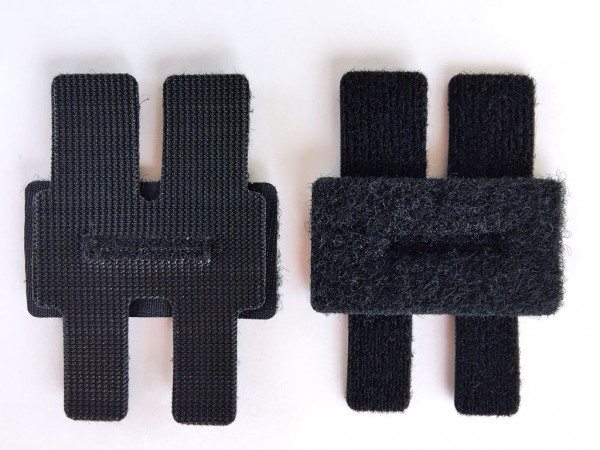 The PatchPALS patent-pending design is deceptively simple.  It's essentially two pieces of industrial-strength Velcro that has been bar-tack stitched together at the center.  The "bottom" piece of Velcro is double-sided (meaning that it sticks to itself), cut into a shape resembling a capital letter "H" with two sets of protruding tabs, a narrower pair and a wider pair.  The "top" piece of Velcro is a standard piece cut into a simple rectangle about 2 inches wide by 1 inch high.  The second rectangle of Velcro also allows PatchPALS to maximize the amount of usable Velcro area without losing it to the wrap-around process.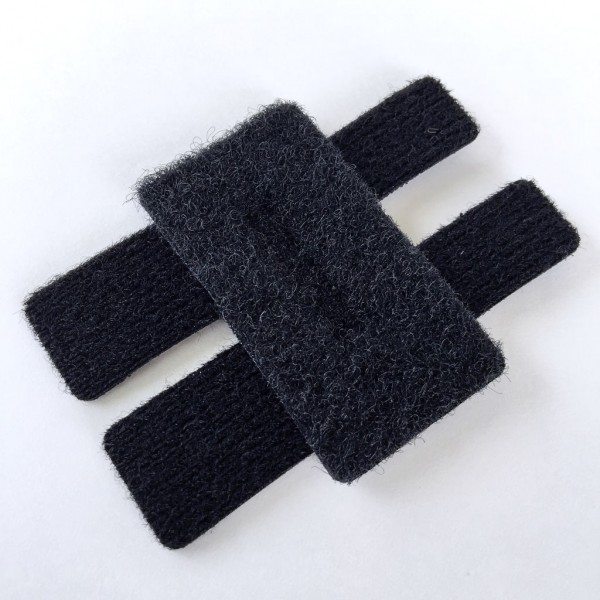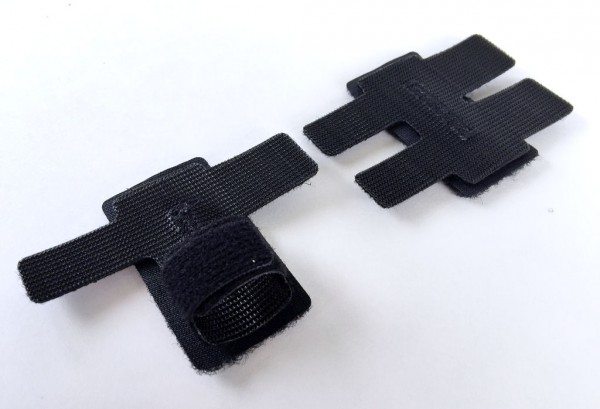 The function of the two pairs of tabs is to wrap around strips of webbing and attach to itself as depicted in the image above.  This secures the tabs around the webbing.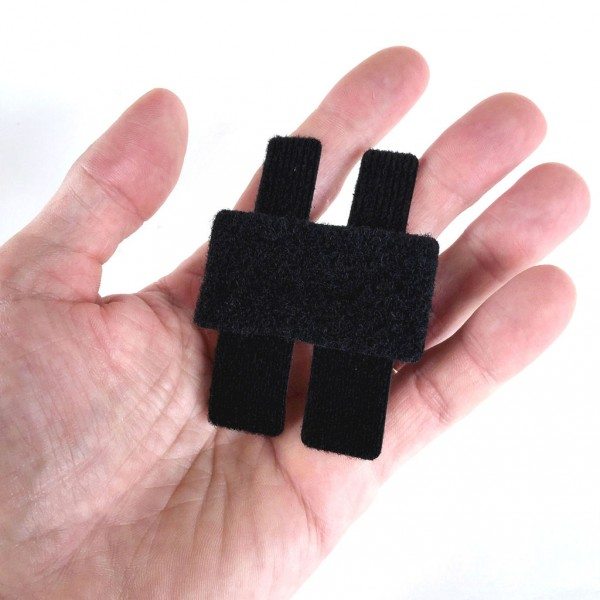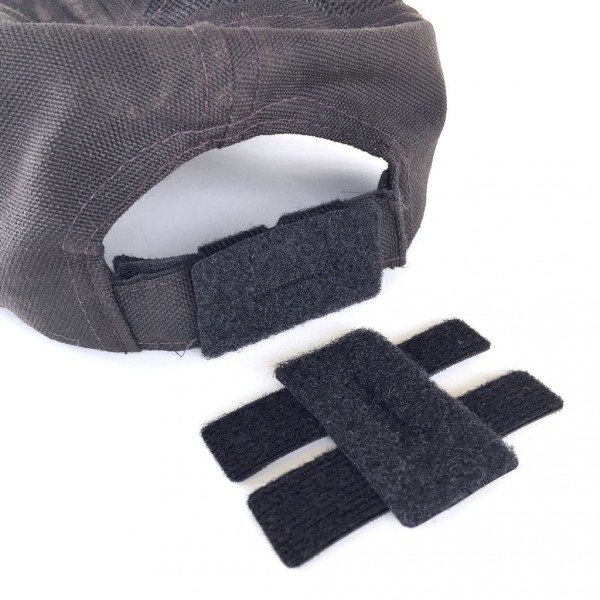 One of the first places that I attached a PatchPALS was to the back of my GORUCK GR Tac cap.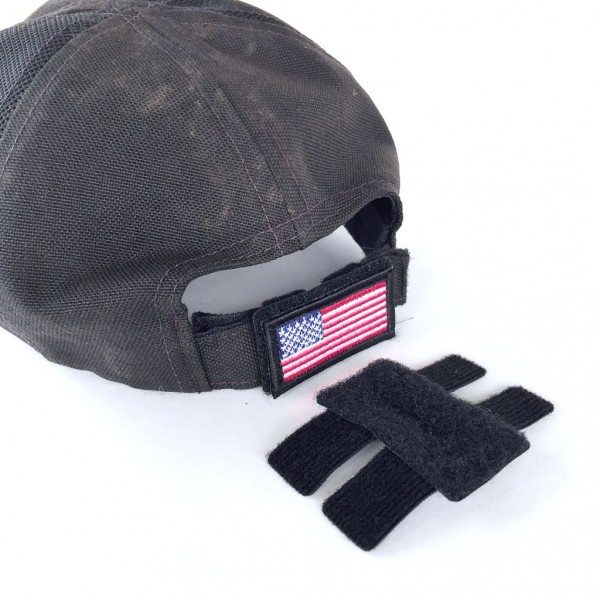 I had been wanting a way to display a small patch on the rear of my GR Tac and PatchPALS gave me a quick and inexpensive way to do this, as seen in the image above.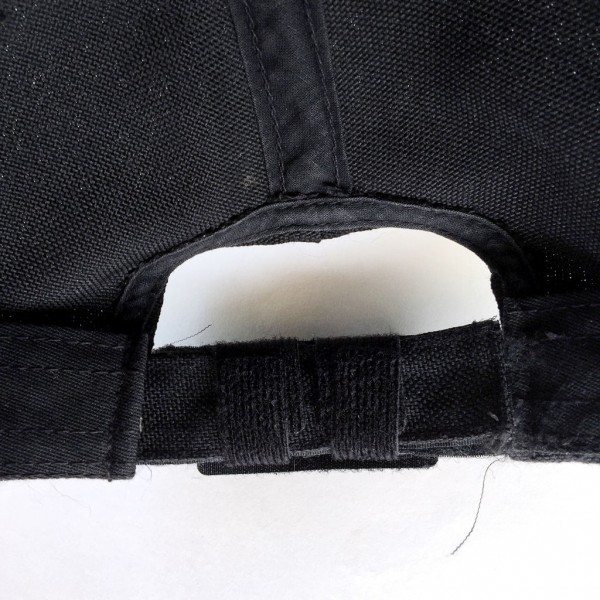 I simply wrapped the two sets of tabs around the strap on the back of the cap, two over the top and two over the bottom, folding them down securely atop each other, and…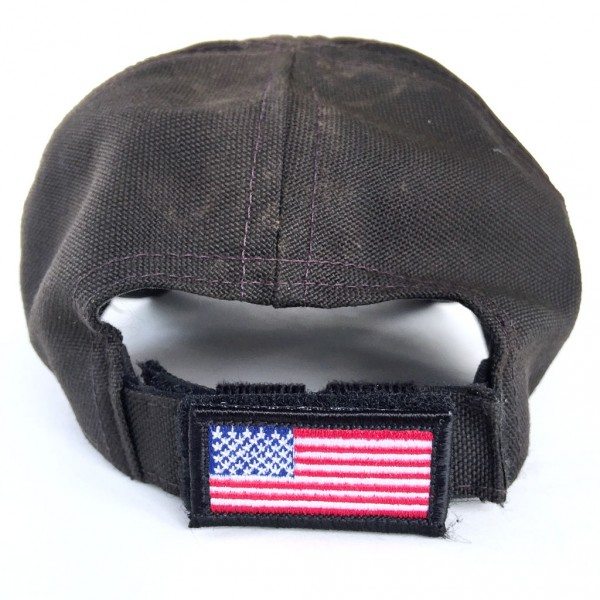 …boom.  Just like that, I had a new place to mount one of Ruckworks' small 2-inch by 1-inch US Flag Mini Patches.  Stars and bars looking sharp.  Pretty cool.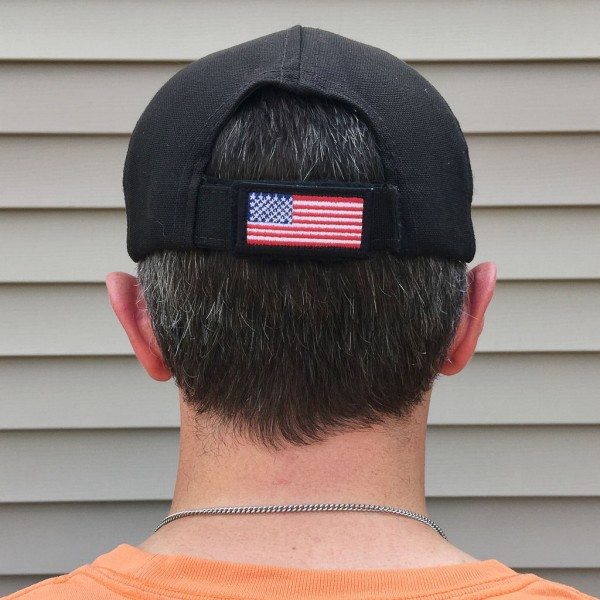 As an aside, there are quite a few of these small, roughly 2-inch by 1-inch patches available out there.  Just do a Google search for "2 x 1 patch velcro" and that should get you started.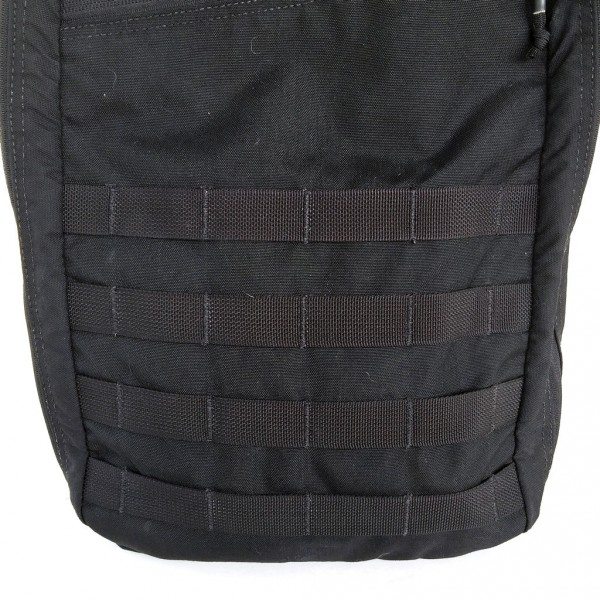 In addition to the back of my GR Tac cap, I tried out PatchPALS on the webbing of my GORUCK 15 Liter Bullet Ruck, which has four horizontal strips of webbing.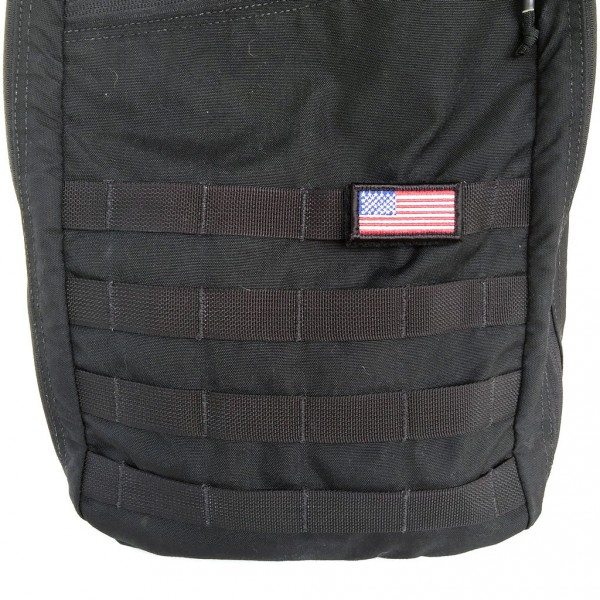 Attaching the PatchPALS to the webbing on my Bullet Ruck was only slightly more challenging than attaching it to my GR Tac cap's strap.  This was because I had to get the tabs to attach to each other in the narrow space between the webbing and the ruck itself; however, this was still pretty darn easy.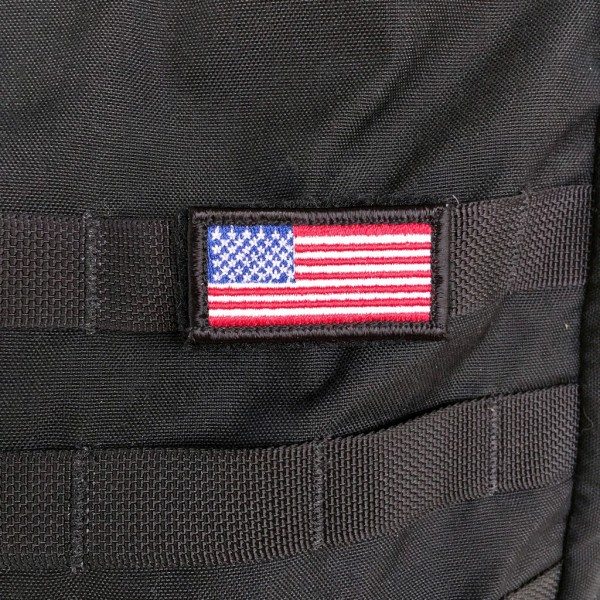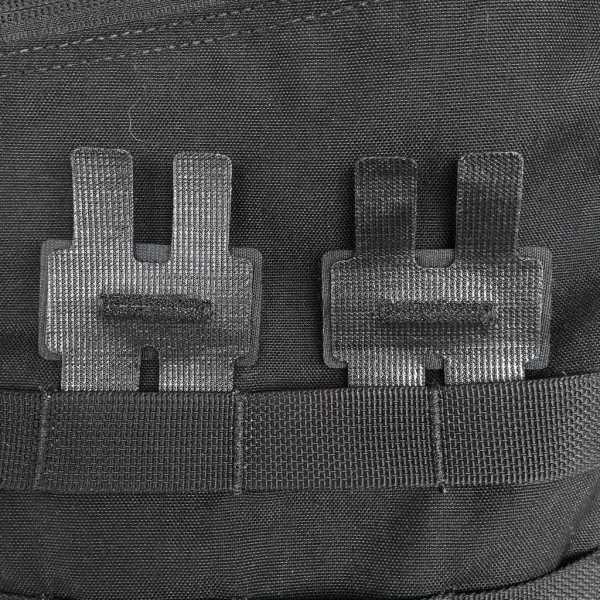 One interesting aspect to note is that PatchPALS has several variations in how it can be mounted.  One variation is in whether the tabs are placed around a single segment of webbing, as seen above on the left, or placed around two segments of webbing, as seen above on the right.  Either variation is equally secure, so this choice depends on personal preference of the user.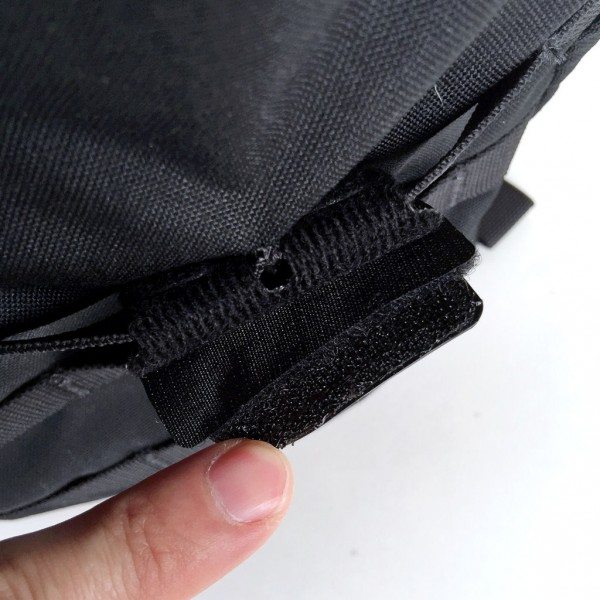 One of the things I was concerned about with PatchPALS was getting it caught on something and either having the front Velcro field or the patch torn off.  However, because of its design, the patch can "flex" away without being sheared off, and PatchPALS has an 8 psi shear strength, so it's going to be pretty tough to remove the patch or the front Velcro.  I yanked on it quite hard and it didn't yield a bit.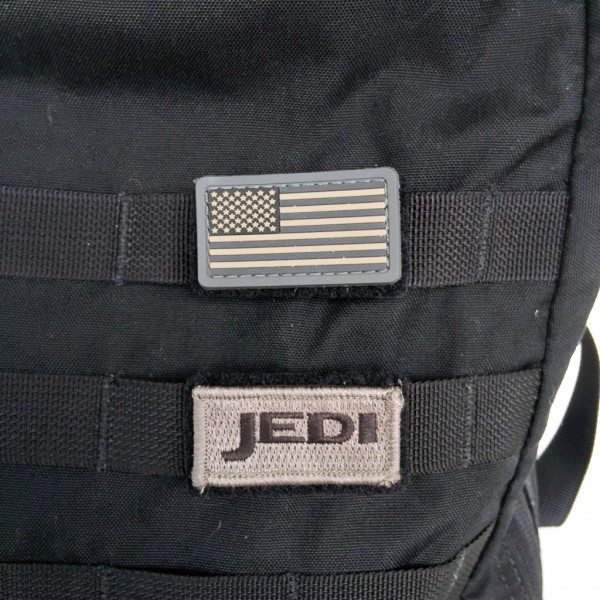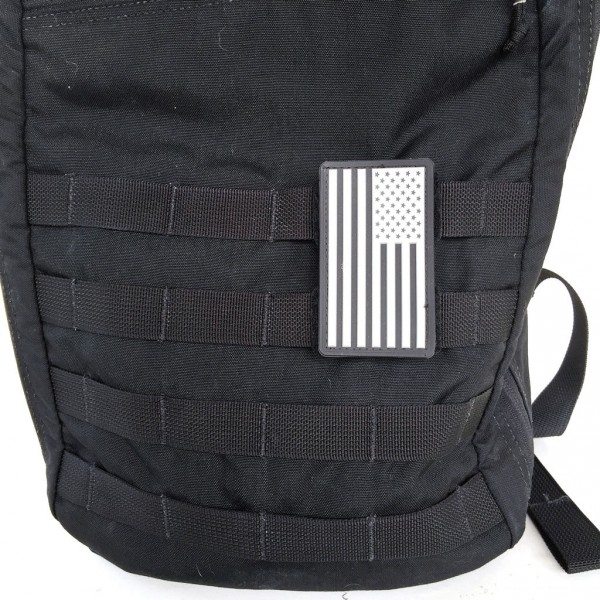 Although the most typical usage of PatchPALS is to mount 2-inch by 1-inch patches horizontally, it can also be used to mount the more commonly-sized 3-inch by 2-inch patches vertically, as shown above.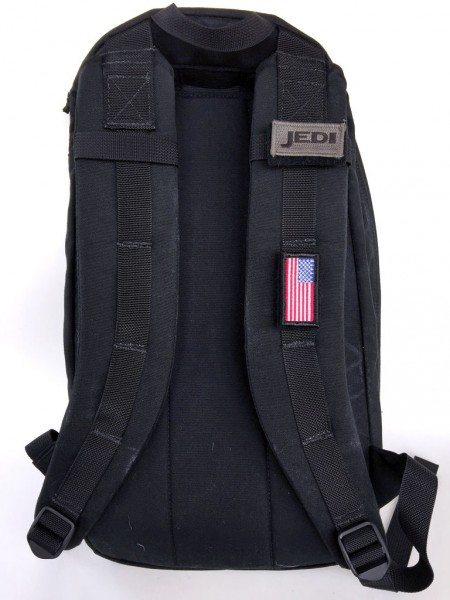 Yet another way to use PatchPALS is shown above.  I used two PatchPALS to mount a couple of the mini patches to the webbing on the shoulder strap of my Bullet Ruck.  Patches on the front, patches on the back, patches galore!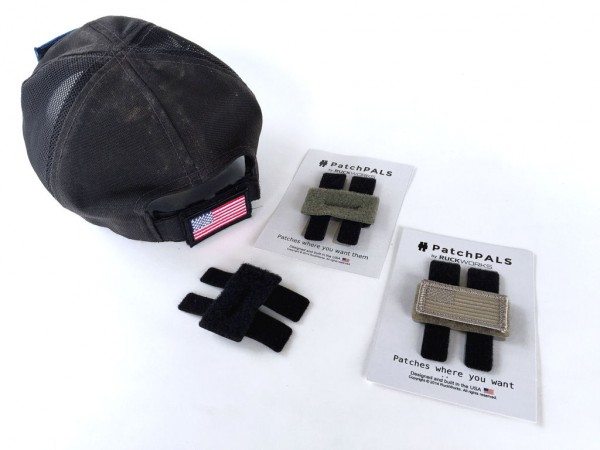 Conclusion
RuckWorks has a really PatchPALS is cleverly-designed, simple to use, durable, inexpensive and just works and works well.  My son and I have been using PatchPALS on our caps and rucks for a few months now and we both really like them.  We both took them on vacation this summer, hiking in Rocky Mountain National Park, and they held up great.  I'm considering picking up a few more of them.  Give 'em a look see, I think you'll like them.
Updates 04/11/16
My son and I both have a PatchPALS on the back of our favorite caps. It's a neat way to add a small patch–or take it off quickly if you like.
Source: The product sample for this review was provided by RuckWorks. For more information, please visit ruckworks.com.

Product Information
Price:
Black $4.99, Coyote & Olive Drab $5.99
Manufacturer:
RuckWorks
Requirements:

An item with webbing or a strap approximately 1 inch wide

Pros:

Simple to install and remove
Durable
Versatile
Inexpensive

Cons: