We use affiliate links. If you buy something through the links on this page, we may earn a commission at no cost to you. Learn more.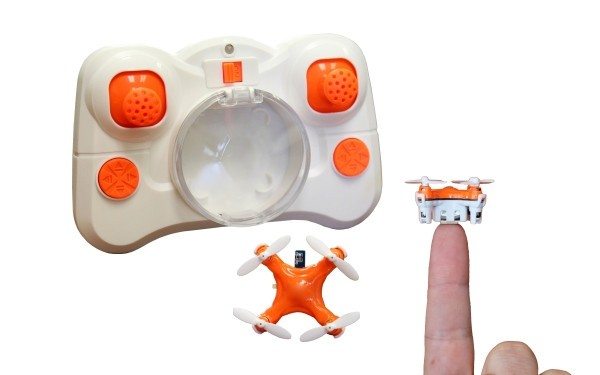 In the past year or so, quadcopters and drones have exploded onto the scene. What used to be a novelty in Brookstone or the Sharper Image, is now everywhere. I'm not exaggerating when I say I recently saw a shelf full of drones in a local 7-11.
I've always wanted to get one, but could never justify spending the money. Fortunately for me, I was recently given the opportunity to play with thoroughly review the Axis Aerius quadcopter.
In the box
Aerius
Controller
USB charging cord
Extra propellers (4)
Design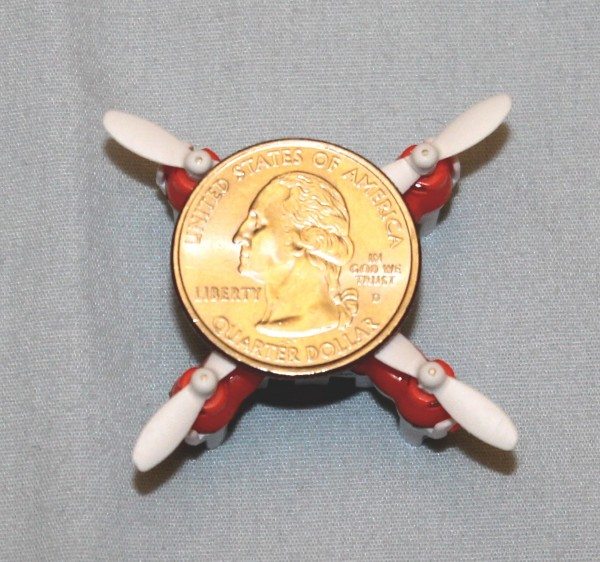 Axis claims the Aerius is the world's smallest quadcopter; I have no idea if that's true, but it's definitely tiny. At 3cm x 3cm x 2cm, it's barely larger than a quarter. It's available in orange, black, green, and blue.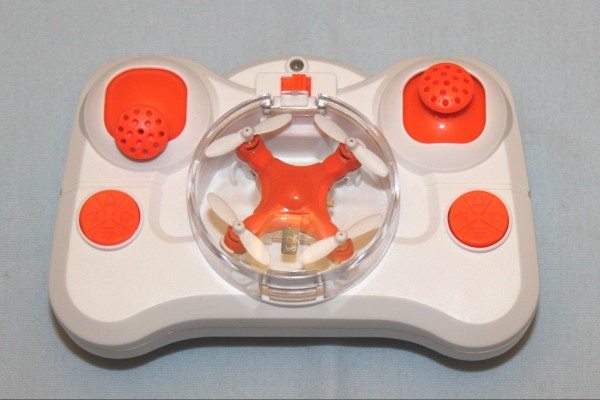 In fact, it's so tiny, its controller has a built-in compartment to store the Aerius.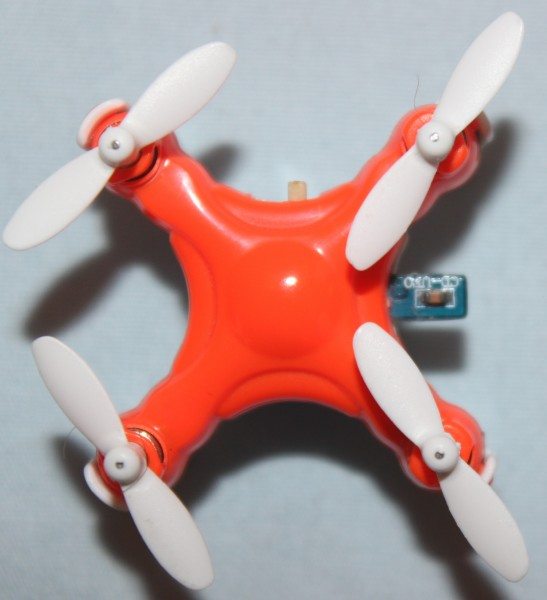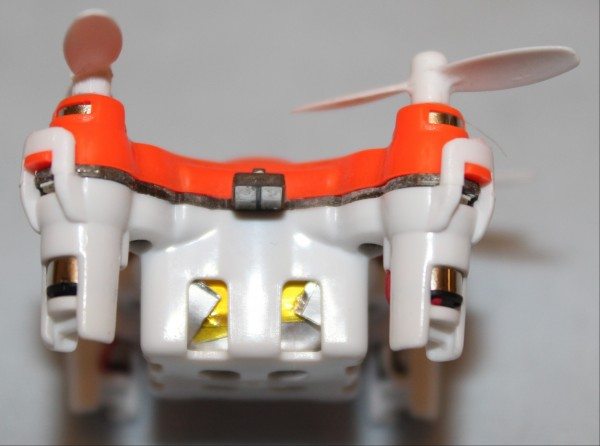 One side of the Aerius has a small tab that is used to charge the quadcopter.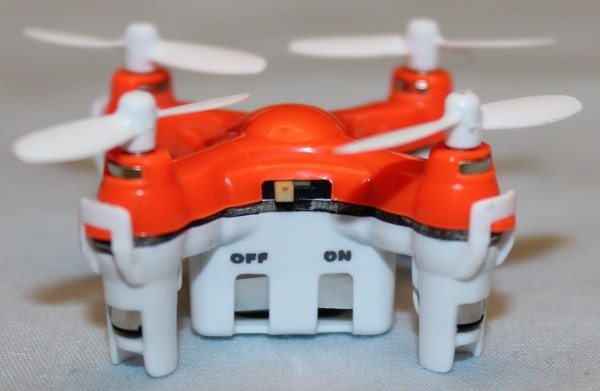 Another side has a small on/off switch.
Below each rotor is a small LED. The two front Leds light up blue, while the rear light up red. As you can see in the picture, one of the red LEDs stopped working. This happened about halfway through my review, but didn't affect its function.
With the exception of the storage compartment, the controller looks similar to most drone controllers I've seen before.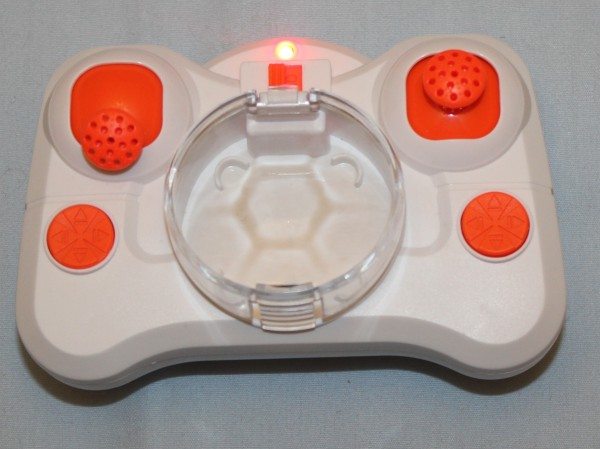 There is an on/off switch at the top and a red LED power indicator.
The left stick controls the throttle and rotation, while the right stick controls front to back and side to side motion. The circle on the left doesn't have a function, but the right circle controls the trim. Clicking the right stick activates trick mode, but I'll go more into that later. The controls can be reversed if you prefer.
My only issue with the design is the charging tab; it's basically an exposed circuit board. In my opinion, it looks like they forgot to finish designing it. I think it would look better if it was hidden in the body or had some sort of cover.
Operation
Before flying the Aerius you have to pair it with the controller. This is a simple process, you turn on both the controller and the drone and then move the throttle forward, back, then forward again. Once paired, you are ready to fly.
To have the drone take off, you push the throttle forward. Axis stated the Aerius has a "6-axis gyro-stabilization". This is meant to keep the drone from drifting, but mine would always drift to one side. There is a process to reset auto-stabilization; it's an easy process, but would be too lengthy to describe here.
I repeatedly tried to reset auto-stabilization, but was unable to get my drone to stop drifting. Eventually, the problem became so bad that the drone would immediately flip over upon take-off.
I then sent an e-mail to Axis support. I received a response the next day and it was quickly determined that there was an issue with my drone. Axis then shipped out a replacement. I can't remember if it was an overnight shipment or two-day shipment, but either way, I was shocked and impressed how quickly I received the replacement.
Once the replacement was paired, I pushed the throttle forward and….. we have takeoff. The Aerius was functioning perfectly and there was no need to reset the gyro.
The Aerius isn't difficult to operate, but if you're a first time flyer (like me), there is definitely a learning curve. I think part of the issue is that I wasn't used to operating on a three dimensional plane; my car goes forward, backward, left, and right. Once you get the extra dimension of up and down, things get a bit more complicated; however, as time wore on, I became increasingly adept at operating the drone.
Also, there are three modes that the drone can be placed in: junior, intermediate, or headless mode. Headless mode means no matter which way the front of the drone is facing, pushing forward on the controller will move the drone away from you and pulling back will move the drone closer.
As I've said before, clicking the right stick activates trick mode. After clicking the stick, you push it left, right, forward, or backward, and it performs a corresponding trick. Pushing left and right performs a barrel roll, while pushing forward and back performs a flip. You can perform one trick per click.
If I could change one thing, I would make the left stick a dedicated throttle and add a left and right bumper button on the top of the controller. I sometimes found I would accidentally rotate the drone when attempting to adjust the throttle.
Other than that, the only issue I had was that I wasn't able to get the drone to just hover; it seemed like I was always adjusting the throttle to keep the drone from moving up and down. Admittedly, this could be 100% my fault and simply part of the piloting learning curve.
Battery
The Aerius is tiny so its battery is not going to last very long. Axis says it will last about 5 to 7 minutes per charge; I imagine that's of continuous flight. I was getting about 15 to 20 minutes of up time, but that was with me flying it for 10 seconds and then crashing into a wall.
Even though battery life isn't long, it only takes 15 minutes to fully recharge. That 15 minutes can be used to get a snack or perhaps touch up the paint on your walls depending on your flight skills.
Durability
In the beginning I was terrible at flying this thing; I crashed into my walls, my ceiling, my floors, my couch, etc. Despite all that, the Aerius continued to fly without a hiccup. The only maintenance I ever had to do was occasionally straightening out the propellers or popping them off. Every now and again they would bend from crashing, but they could be bent right back into place. Other times I had to remove them in order to untangle lint from crash-landing into my rug. Even if the propellers do become permanently deformed, Axis provides four spares.
The true test of durability came when I let my 2 and 5 year old children play with the drone. Both made no attempt at long term flight, but rather were simply content with flying the Aerius into my ceiling as fast as possible. Even then, the drone continued to function fine.
The only damage to the drone came when one of the red LEDs stopped lighting up. I'm not exactly sure when it happened, but it didn't appear to affect flight at all.
Conclusion
One of the reasons I could never justify purchasing a drone was because I assumed I would get bored with it quickly. I imagined spending 15 minutes flying the first day or two, then having a lovely, drone-shaped paperweight on the shelf. I couldn't have been more wrong; my family and I played with it almost every day since receiving it.
Flying the Aerius is fun, surprisingly fun. My kids thought it was hilarious when I chased them around the living room with it and we all thought it was hilarious to chase our dog with it. Even if you aren't particularly good at flying the drone, some of the crashes and ricochets off household items were pretty funny.
The only unpleasant part of flying the drone was when I unintentionally crashed it into my leg and found out how much pain those tiny rotors can cause. Of course the pain caused was less physical and more emotional, the realization of how much joy and laughter it brings my wife and kids to see me struck down by a drone.
If you're considering buying a drone, especially if you're new to flying one, this is an excellent choice. At $35.00 it isn't very expensive, yet it's extremely durable and fun to fly. Plus, if you do run into issues, customer support is excellent.
Source: The sample for this review was provided by Axis Drones. Please visit their site for more information.

Product Information
Price:
$35.00
Manufacturer:
Axis Drones
Retailer:
Axis
Requirements:
Pros:

Affordable
Fun
Excellent customer support

Cons:

Possible emotional trauma from family laughing at you