We use affiliate links. If you buy something through the links on this page, we may earn a commission at no cost to you. Learn more.
Backpacks and messenger bags have become our preferred everyday carry bags. But what happens when you need something a little more business-like? Waterfield's newly updated Cozmo 2.0 laptop bag seems to be the type of bag that would be useful in a business setting. While reviewing the bag, I found that it is even more attractive in person, is made of high-quality materials and is very well constructed. The main compartment is large enough for a 15″ laptop or smaller, a one-inch binder, and two iPad minis. The small outer pockets allow for easy access of your smaller items and gadgets. It even has a removable, adjustable shoulder strap to attach when needed as well as a strap that is sewn into the back of the bag to slip onto the handle of your suitcase when traveling. Even though I found the bag a little too large for my needs and others in my family found it heavy when carrying a laptop, a full-sized tablet, and papers; all of us agreed that it is a sturdy, well-made, beautiful laptop bag that is useful for business purposes.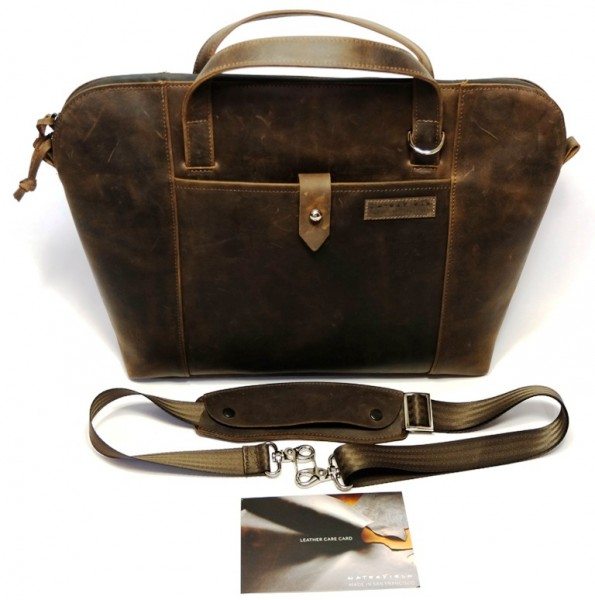 Package Contents:
Waterfield Cozmo 2.0 full-sized leather laptop bag
Removable matching leather should pad with strap
Leather Care card
Specifications:
Full-grain, naturally-tanned leather—chocolate
Padded laptop compartment: Full-Sized-up to 15″ laptops
Dual-side YKK waterproof zippers with matching leather zipper pulls
Two interior open pockets
Key tether
Front pocket with leather + metal bolt closure
Slot for rolling suitcase and back pocket
Removable matching leather Shoulder Pad with Strap
Dimensions: Full-sized: 15.5~18 x 12.5 x 4.75 inches, 2.9 lbs
Design, Construction & Use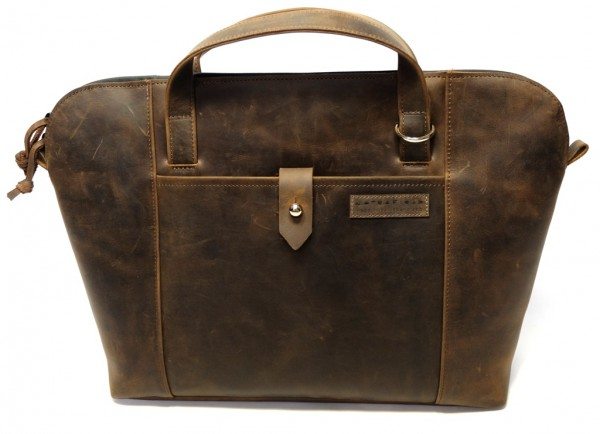 My first impression of the Waterfield Cozmo 2.0 Laptop bag (made in San Francisco) was that it is a gorgeous laptop bag. Unfortunately, the pictures really don't do it justice – the dual tones of the chocolate colored, distressed, full-grain leather are difficult to capture. Additionally, the quality of the construction and materials is amazing.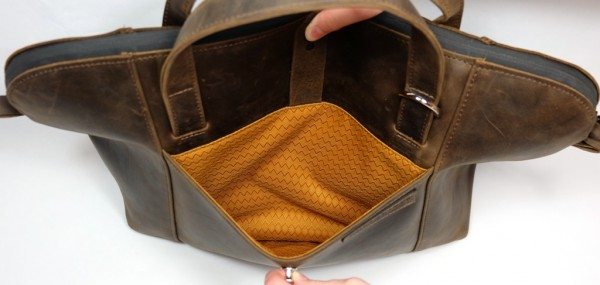 The front of the bag has a small pocket with a metal bolt and leather strap closure. This pocket is large enough for small tablets or large phones, wallets, plane tickets, etc. You'll also notice that there is a metal D-ring that is sewn into one side of the front handle. There is another D-ring on the other handle of the bag, diagonal to the first. You use these rings to attach the adjustable shoulder strap for the bag. These "offset D-rings [are] for ergonomic balance" when using the shoulder strap.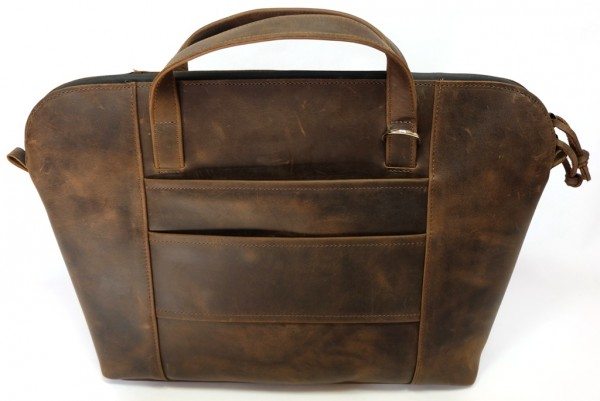 The back of the bag also contains an easy access small pocket which is the same size as the pocket in the front. It too is used to carry small devices, tickets, etc. Also sewn into the back is a wide strip of leather that is meant to slip over the extended handle of your rolling suitcase to free up your hands to complete other tasks while traveling.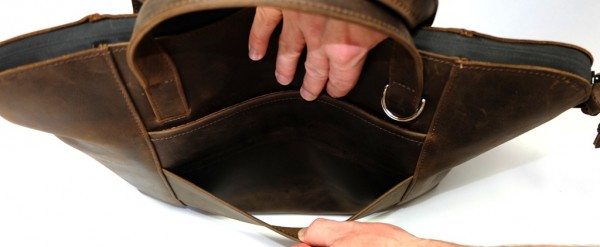 Here is a better picture of the wide strip of leather that slips over your suitcase handle.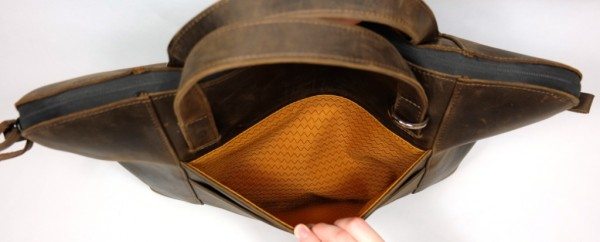 All compartments of the bag are lined with this orange chevron patterned, textured material.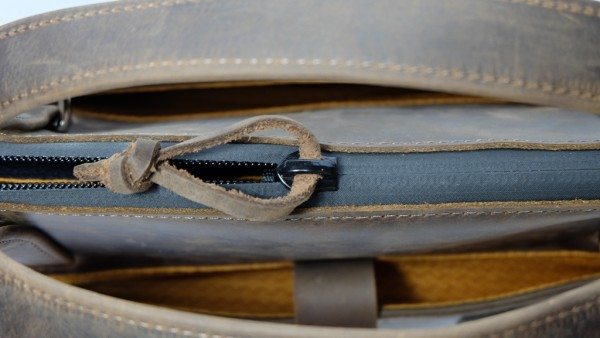 The YKK waterproof zippers (there are two) for the main compartment of the Cozmo 2.0 bag seal the main compartment when zipped closed and are the type of zippers found on higher end bags and backpacks to help ensure that water does not enter the bag and damage your electronics. You'll also notice the leather pull on the zipper.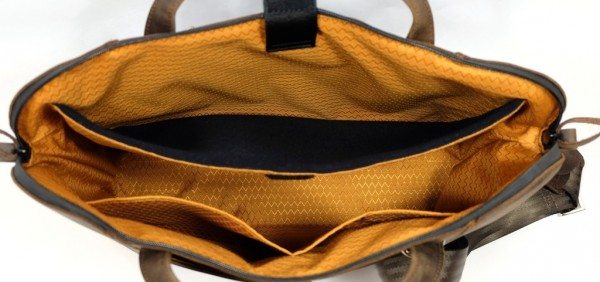 The main compartment is spacious. The laptop pocket is padded and has a nylon (seatbelt-like material) flap velcro closure. One side of the laptop pocket is lined with a soft, black material to prevent scratching the face of a large tablet or two-in-one laptop. The laptop pocket is only large enough for laptops that are 15″ or smaller.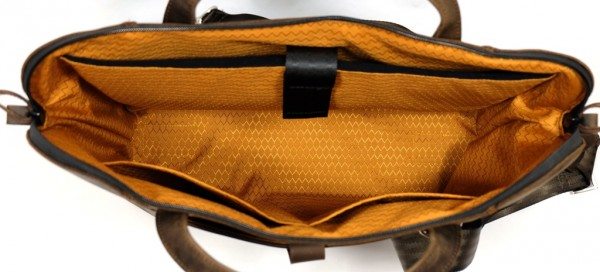 There is room outside the laptop pocket for folders or larger tablets.
There are also two inner open pockets that are large enough to carry iPad minis.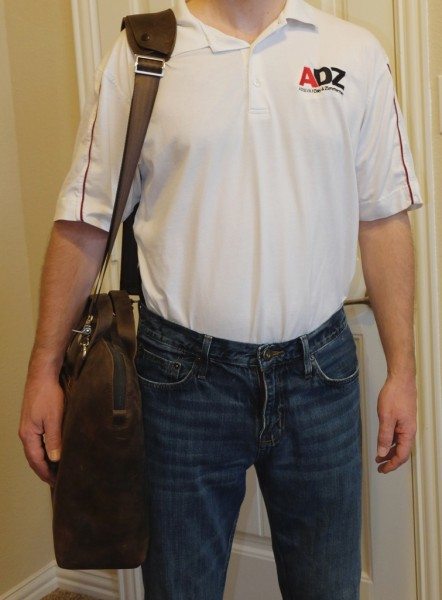 The shoulder strap looks exactly like the seatbelt of a car and is made from the same material and thus should be very rugged and durable. It is easily adjustable, easily removable with its two metal claw-like hooks, and has a leather shoulder pad for added comfort.
Care and weatherproofing. After receiving this gorgeous leather laptop bag, I was curious about the care that it would require and about whether or not it would adequately protect my electronics from rain, etc. The Cozmo 2.0 bag came with a leather care instruction card which recommends that the user NOT employ any leather conditioners or oils since these products tend to darken the leather. Simply leaving it alone will actually allow the leather to improve in appearance over time. The card states that full-grain leather "develops its own character as it ages – weathering with the elements and the occasional nick or bump" without weakening its integrity. When it comes to protecting the gadgets inside the main compartment from the weather, I was also told by a Waterfield Designs representative that the leather used to make this bag was naturally tanned with vegetable oils which would help the bag resist the elements. The bag's main compartment is weatherproof for at least one hour with the aid of the YKK waterproof zipper and tanning of the leather which means that the interior would remain dry during a typical rainstorm. However, the small outer pockets do not have zippers and would thus not be weatherproofed. Having zippers on these pockets would provide the added benefit of decreasing the likelihood of your smaller devices falling out or being stolen.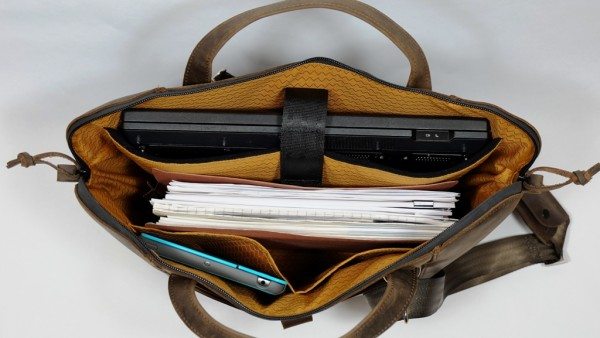 Carrying Capacity. A nice feature of the bag is that it will stand upright whether it is empty or not, thus making it easier to pack. The above photo shows a 14″ Lenovo Thinkpad L420 laptop in the laptop pocket, about a one-inch expandable folder, and an iPad mini in the small compartment. This is the approximate limit of all that you would want to fit into the Cozmo 2.0 bag to comfortably zip close the main compartment. My brother was able to fit his 2014 MacBook Pro Retina (it was snug, but fit perfectly), iPad Air 2, and a notepad in it but noticed that this is all he wanted to carry in the bag since the weight of the bag with these items was fairly heavy. The bag alone weighs 2.9 pounds and thus gets heavy with the addition of just a few items (the Lenovo is about 5 lbs and the Macbook about 4.5 lbs).
Comfort. Using the shoulder strap of the bag proved to be comfortable enough for the short distances that it was carried. However, if you needed to carry the bag for long durations, the weight of it on one shoulder would become uncomfortable. The handles of the bag are very sturdy and carrying the bag by the handles was comfortable as well.
*It is important to note that anything bigger than the 2014 MacBook Pro Retina dimensions (height: 0.71 inch/1.8 cm, width: 14.13 inches/35.89 cm, depth: 9.73 inches/24.71 cm) will not fit in the laptop pocket.
Final Thoughts
I and others in my family tend to gravitate toward backpacks to carry our everyday materials and gadgets, but those aren't always appropriate for business occasions. This is where the Waterfield Cozmo 2.0 laptop bag is useful. Not only does it look professional, but it is the kind of bag that will last a lifetime because of the high-quality materials used and the construction of the bag. I did find that it was a little large for my purposes since I am a minimalist and would only carry a laptop and maybe a pad of paper. My husband, who tends to carry more than he needs, found that it didn't quite hold enough for him, but also felt in business situations it would work well to carry his essentials. My brother even tried it out and also found that even though it weighs a great deal when carrying around his MacBook Pro Retina laptop, an iPad Air 2 and a notepad, it was useful for business purposes. The Cozmo 2.0 bag is expensive ($389 for the 15″ laptop bag) but if you see yourself involved in business-like environments for the duration of your career, this is definitely a striking, well-made, and useful bag that is worth the price.
Source: The sample used in this review was provided by Waterfield Designs. Please visit their website for more information or to purchase this gorgeous bag.
Product Information
Price:
$389 (full-sized 15
Manufacturer:
Waterfield Designs
Pros:

High-quality full-grain leather and materials
High-quality construction
YKK waterproof zipper for the main compartment
Gorgeous, professional appearance for business purposes
Made in the USA (San Francisco)

Cons:

It is heavy when carrying a laptop, a full sized tablet, and papers
It would be nice to have a large internal pocket to accommodate a full-sized tablet
It would also be nice to have zippers on the small outer pockets to decrease likelihood of gadgets falling out or being stolen