We use affiliate links. If you buy something through the links on this page, we may earn a commission at no cost to you. Learn more.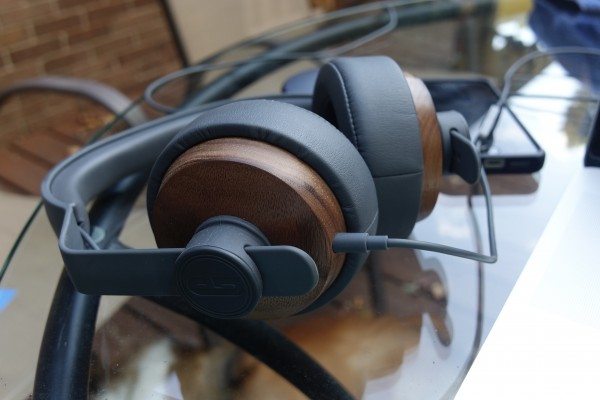 The magic of natural materials is never lost on a true gadgeteer. While silicon, glass and aluminum (the most common building blocks of our current most popular gadgets) are natural, we also like to ensconce them in other natural materials – leather, wool felt, and wood. The individual uniquenesses that each of these bring inspires us each time we pick up those items. I thought at first that this was the reason for the construction of the latest item I was sent, the Grain Audio OEHP.01 headphones. These over-the-ear cans feature rich, solid walnut enclosures, which are lined with leather-covered memory foam. The headpiece that attaches the two earcups is a matte-finished light metal, also lined with leather-covered memory foam. It's a high-tech/high touch device, for sure.
Note: Photos may be tapped or clicked for a larger image.
The box specs are as impressive as the first glance and touch:
Ear cups made of FSC Certified Walnut with hand-applied oil finish
2x40mm proprietary loudspeakers featuring Neodymium magnets and a CCAW voice coil
Inline mic and remote
TPE jacketed cable
3.5mm jack and ¼" adapter
Weight .5 lbs (.22kg)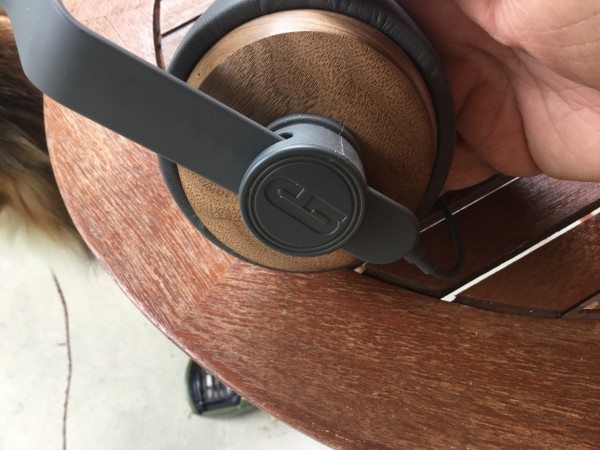 The earpieces are attached to the headpiece with a silicon bushing. This creates a friction connection to the metal arms of the headpieces. The arms each have nine indented positions that allow the cups to be clicked into position easily to make the fit your own. At the top of each wooden enclosure is a set of three small holes about a millimeter in diameter. These provide air venting to enable the speakers to be more active, improving the sound.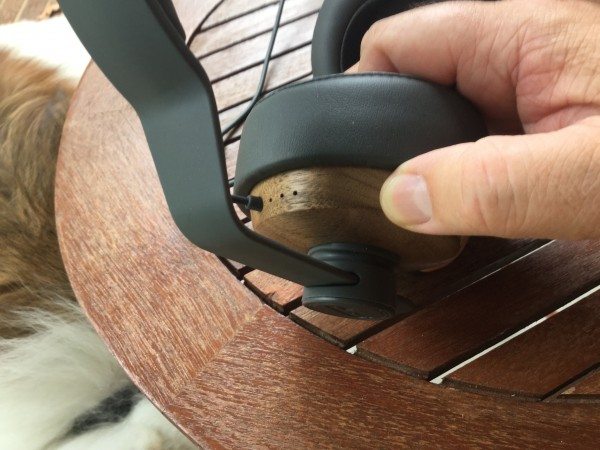 The cables are attached to the speakers by holes just in front of these vents. On the lower side of the left enclosure is an eighth-inch AUX jack.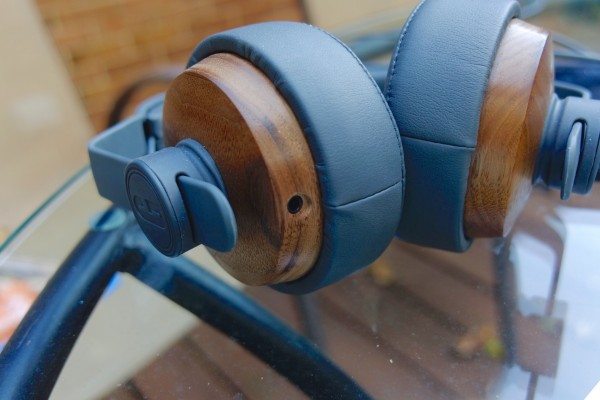 There are no volume control buttons on the enclosed cable, but the button is solid and the microphone picks up readily. The cable is made from a heavy gauge wire with a tough, smooth insulating cover that resists tangling.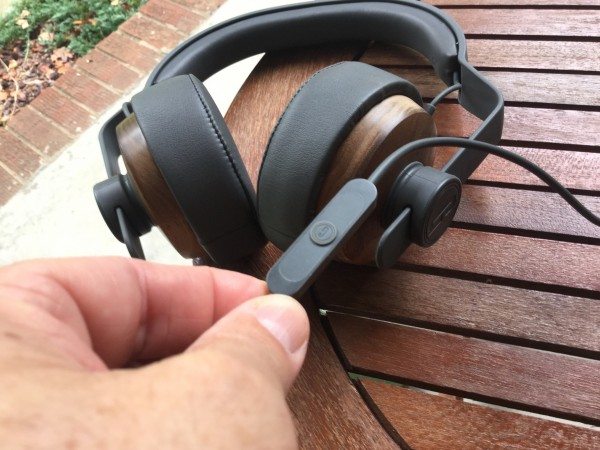 The cushioning and leather materials are extremely light and go almost unnoticed on your head. Some over-ears can cause sweating fairly quickly, but I never found these to cause any discomfort. This could be due to the deeper than normal distance from the edge of the foam to the actual surface of the speaker cover. On this set, that distance is a full inch, whereas most of the other headphones I have around the house average about 5/8″. The on-ear headphones provided by work for my phone headset are flush, providing great sound, but make my ears hot fairly quickly. Not sure if it's circulation of the air or the aforementioned venting, but whichever it is, it works, and increases the length of your listening session comfort immensely.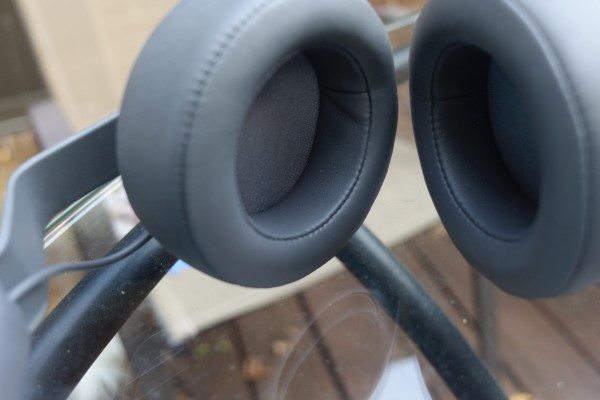 As most reviewers of audio equipment will say, the most important feature of headphones is simply this: "How good does it sound?" With this in mind, I fired up my iPad and put on some acoustic classic rock (Crosby, Stills, & Nash, Jimmy Buffett, early Santana, etc.) while I was doing some other work. At first, I thought the music would just be similar to my other over-the-ears, but as I concentrated more closely, I felt more like I was back in my dorm room in college, with my huge wood-cased JBLs pumping the same music, filling my room. Headphones, of course, never give you the full body-thumping experience as speakers, so I moved on to some heavier stuff – for me. Michael Franti, Ke$, Walk Off the Earth, The Who, Rolling Stones, Eric Clapton. All the details within the sound were more than impressive. Even on files that were compressed, the sound was full and rich.
I carried the headphones out to my "day-off office" – the rear deck – and attached them to my MacBookPro. With mowers and weed whackers droning in the neighborhood, I noticed much more background noise than I had in the comfort of my inside office. Even things like planes overhead (we're 10 miles or so from the airport) could be heard through the cushion, unless I turned the volume up a good bit louder than was comfortable. Pressing on the outside of the earcups to increase the pressure on my head didn't help. I'm guessing the cushioning is not quite thick enough to provide good acoustic isolation.
The strange thing about the audio jack is this: The functionality is there for using these headphones with inline volume controls, just by getting the correct cable. I tried a cable from a different set of headphones that have volume controls, and it worked just fine. Why Grain decided not to include this type of controller is beyond me. At the price point, it's a pretty serious omission, in my opinion.
Now, at $199, these are not going to be an impulse buy for most people, but if you're really serious about getting great sound in an attractive package, these may just fill the bill. There is no sound isolation (other than that provided by over-ear-cushions) or noise cancellation, which many cans in this price range include. If you're wanting to just have these in a place where you want to revel in great sound without disturbing those around you, you'll be very well-served.
Source: The sample for this review was provided by Grain Audio. Please visit their site for more info and Amazon to order.
Product Information
Price:
$199.00
Manufacturer:
Grain Audio
Retailer:
Amazon
Requirements:

Ears
a sound source with an AUX (1/8 " stereo) output

Pros:

Look very, very nice
Comfortable to wear for long periods
Great sound across a wide range of music and video styles

Cons:

Little sound isolation when listening in noisy environments
Included cable doesn't control volume