We use affiliate links. If you buy something through the links on this page, we may earn a commission at no cost to you. Learn more.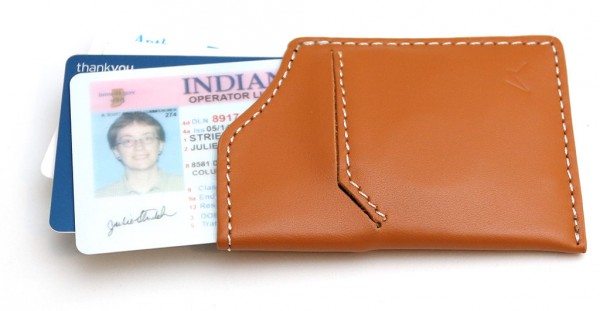 I'm always looking for ways to minimalize my every day carry. My latest challenge is to find a new wallet that gives me easy access to several credit cards and cash, while remaining pocket friendly. I've been testing the Kisetsu Natsu wallet for a couple weeks and am ready to tell you all about it. Ready, set, go.
Note: Images can be clicked to view a larger size.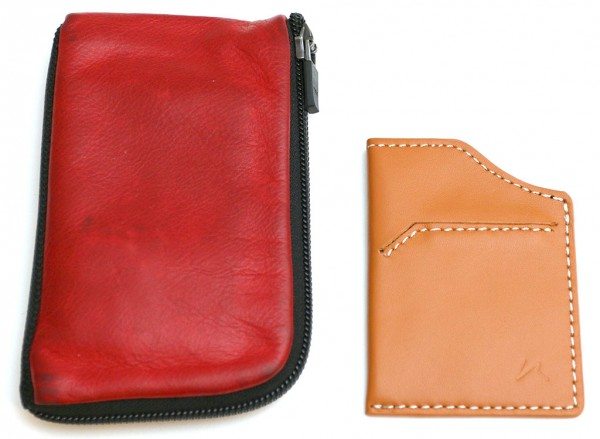 My current wallet is the WaterField Designs Finn wallet. I still love it because it holds a lot of stuff and has a zipper that prevents anything from falling out. The only problem with the Finn wallet is that it's too large for my pockets. I usually keep it in my bag and if I am going shopping and not wearing a jacket with pockets, I just take out a credit card and some cash, stuff that in my pocket and leave the wallet in the car. This solution works fine, except when I forget that my credit card and driver's license is in my pants pocket and I throw them in the dirty clothes pile. There have been a few times when I've gone days without knowing that I don't have these cards with me.
So let's look at the Kisetsu Natsu wallet as an alternative. Kisetsu stands for seasons and Natsu stands for summer. The Natsu is definitely a minimalist wallet as you can see it compared to my Finn wallet in the image above.
I was sent the genuine vegetable tanned leather Natsu, but it is also available in PU Saffiano leather in a variety of colors. If you're not familiar with Saffiano leather, it's still leather, it's just a process where the leather is stamped with a cross hatch type pattern that leaves it scratch and stain resistant. The genuine leather version that was sent to me is made of very smooth fine grained leather, which feels nicer to me. It smells great too!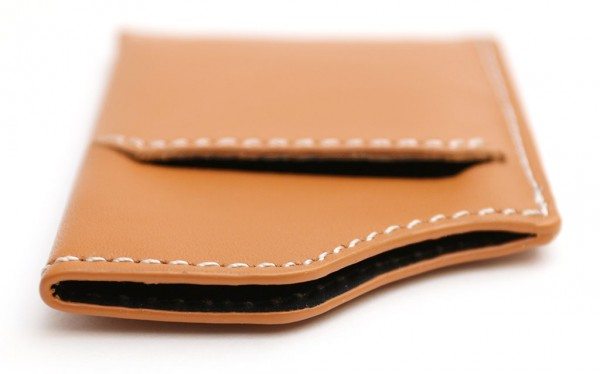 The wallet has contrasting white stitching around the edges that is straight and evenly spaced. You'll also notice the nicely burnished edges around the credit card pocket and sides.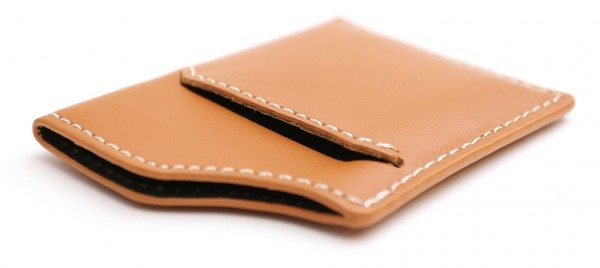 The Natsu has a large pocket that can hold 4-6 cards and it also has an extra pocket on each side. One for folded cash and the other one can hold coins and a key. More about that one later. Note that these pockets do not have raw edges that have not been burnished.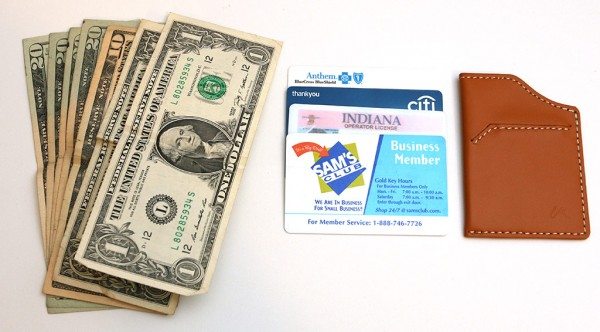 I usually need to carry four cards (drivers license, credit card, loyalty card and insurance card) and several folded dollars.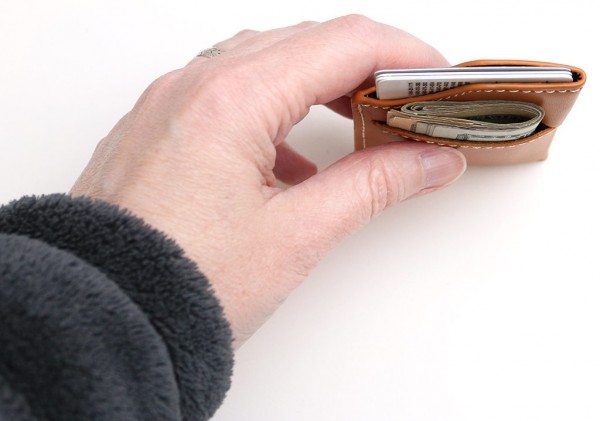 This is what the Kisetsu Natsu looks like with everything in place. It's a nice small bundle that easily fits in my side cargo or even my front pocket without causing any discomfort when I sit.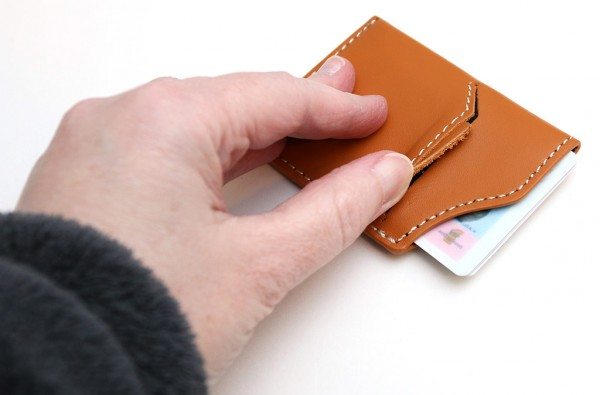 One of the front pockets on the wallet is designed to hold coins and a key. This pocket has a tab along the top edge that helps keep the contents from falling out by accident.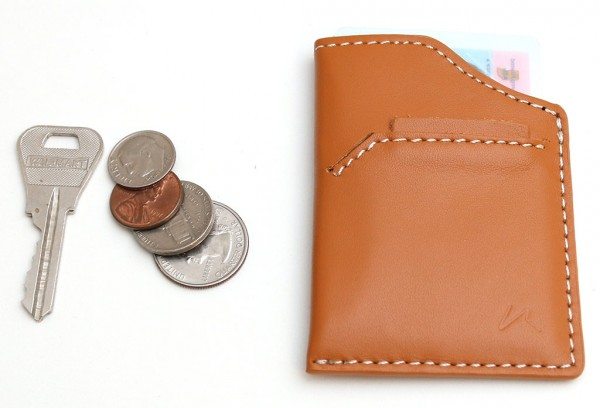 Not many minimalist wallets also feature a coin pocket like the Natsu. The coins and keys shown in the image above easily slide into the pocket.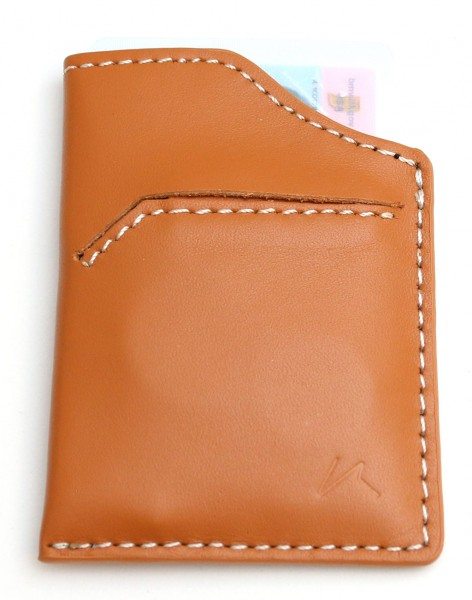 This is what it looks like with the key and coins in the pocket. Shaking the wallet upside down does not result in anything falling out, from the coins, key, folded money or cards. Everything is held nicely in place without being too tight to easily remove. However, I did find an issue with the coin pocket. Removing the coins is a little tough because they want to slide into the area above below the pocket slit when you hold the wallet upside down.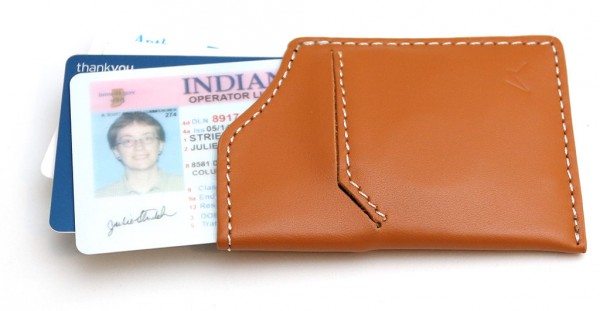 Removing cards is easy since because you can grab the corner of the cards, slide them up and fan them out to find the one you need. It's also important to note that the wallet is supposed to be RFID blocking. I wasn't able to test this feature though.
I like the Kisetsu Natsu wallet because it has a simple design that allows me to carry exactly what I need in a very small package that easily fits in my pocket. As long as you don't expect to stuff it full of receipts and too many cards / cash, it is great for minimal carry.
Source: The sample for this review was provided by Kisetsu. Please visit their site for more info.
Product Information
Price:
$25 ($19 for PU Saffiano version)
Manufacturer:
Kisetsu
Pros:

Minimal
slots for cards, cash, coins and a key
RFID blocking

Cons:

Can be difficult to remove coins