We use affiliate links. If you buy something through the links on this page, we may earn a commission at no cost to you. Learn more.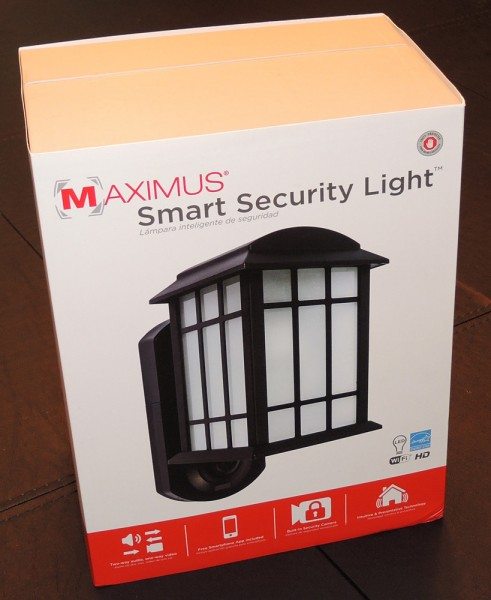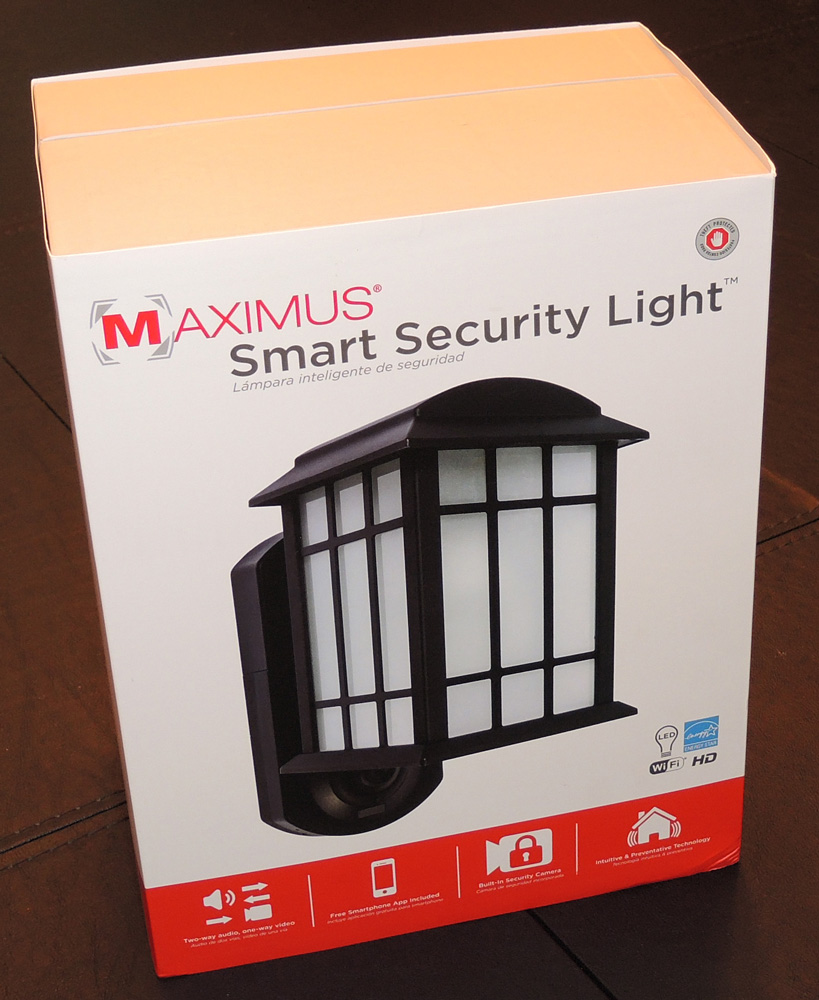 While living less than 20 miles from downtown Seattle, we live out in the middle of no where at the end of a very long gravel road on a piece of property that we can't see any of our neighbors. It is a quiet and relatively peaceful place but remote enough people could drive up our drive, empty our house, and get away without anyone realizing what's happened for quite some time. That said, I have reviewed/tried various surveillance systems over the years to better protect our home from thieves. In this case, Maximus has created the Smart Security Light, a well made motion light with stealthy built-in camera, speaker, and microphone that should hopefully bring even greater awareness and capabilities to my fight to fend off the hordes ;).
Note: Images can be clicked to view a larger size.
The Maximus Smart Security Light  began as crowdfunded Indiegogo effort back in 2014 that blew past its initial goal of $50k ultimately reaching a respectable $230k. Since then, Maximus has taken this easily installed smart-home security device to the mainstream masses.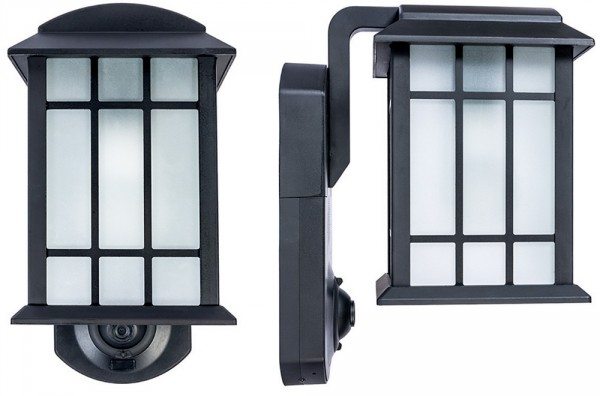 The Smart Security Light is an outdoor wall-mounted entry light constructed of aluminum, glass and plastic with an integrated 720p video camera enabling you to stream live surveillance video from your home to your smartphone. The smartphone app receives real-time alerts/push notifications when motion is detected at your door. In addition to providing real-time notifications and live streaming video, the Smart Security Light also has a built-in speaker and microphone enabling you to have a conversation with your visitor. If the situation goes bad, there is also a 100dB alarm/siren than can be activated remotely as well.
In the Box: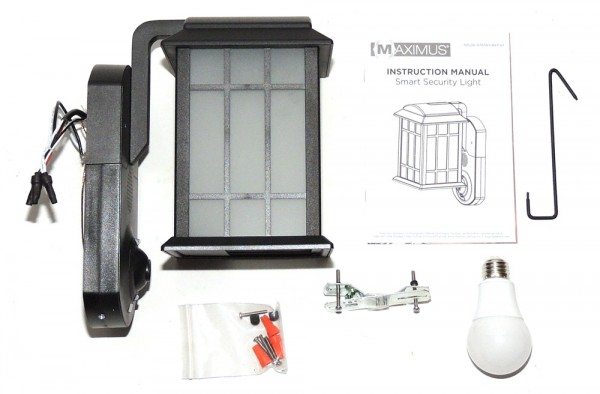 Smart Security Light
Mounting bracket and hardware
Install bar
15W LED bulb
Installation/setup manual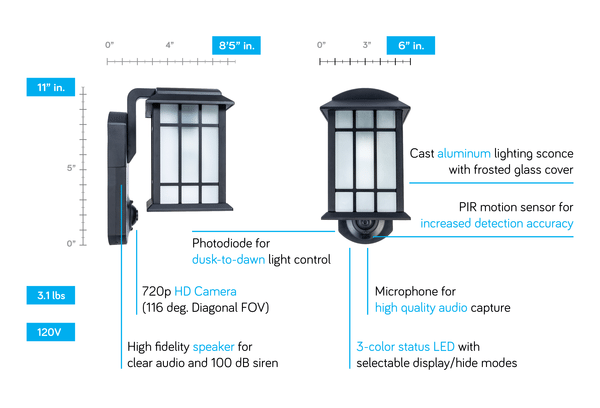 Specifications:
High fidelity speaker for clear audio and 100 dB siren
720p HD Camera (116 deg. Diagonal FOV)
3-color status LED with selectable display/hide modes
Microphone for high quality audio capture
PIR motion sensor for increased detection accuracy
Cast aluminum lighting sconce with frosted glass cover
Wi-Fi for internet connectivity
Bluetooth 4.0 for easy setup with smartphone
120v only from pre-existing wall mount (240v not available)
Installation: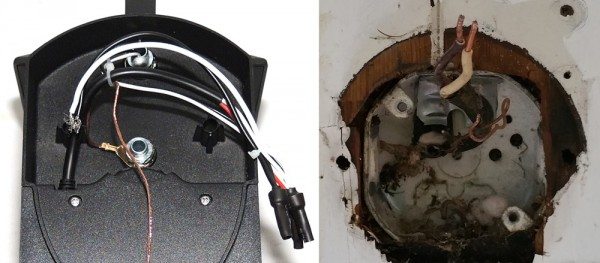 Our old porch light was a piece of happiness to say the least. It has been on my to-do list for a long time to replace it with something better looking and higher quality. The Smart Security Light enabled me do just that plus adding much better awareness at our front door. An added perk: the installation process allowed me to clean out the power box of all the bees, bugs and spiders that had built-up over the years.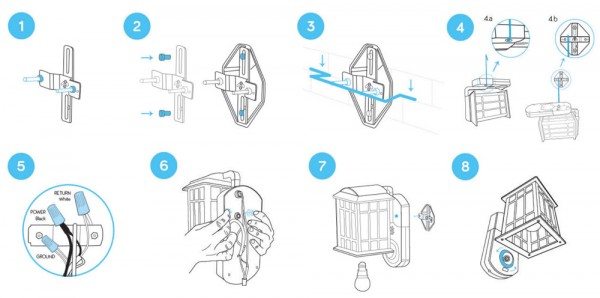 If you have ever installed a light fixture, installing the light should not take you long at all. According to their website, the fixture should take less than 15 minutes to install and I agree. Even with removing the bug carcasses, it took me less than 10 minutes start to finish. If you are replacing an old entry light (aka the electrical box and wiring are already in place), Maximus has included everything you need to complete the installation process quick and easy.
Setup & Application:
Once installed and the Smart Security Light is receiving power, the initial setup took mere minutes. In addition to power, the Smart Security Light requires Wi-Fi/internet connectivity to operate. Bluetooth 4.0 allows for easy setup via your smartphone and the app.
While Maximus includes an energy efficient LED bulb, the hardware can accommodate any normal sized light bulb.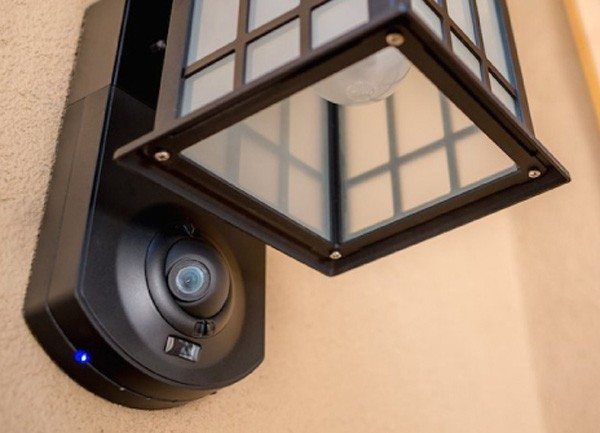 The Smart Security Light's camera does not pan or tilt remotely but can be angled to the desired view that works best for you. The camera has a relatively wide angle (116°) and 2x digital zoom and can rotate 40° left, right, and down. The camera, as seen above, is for the most part, hidden below the sconce. The lighting controls are smart as well. In addition to providing night vision for the camera, you can control the light from your smartphone app. You can set a schedule or use different modes to add to your home's overall safety and security.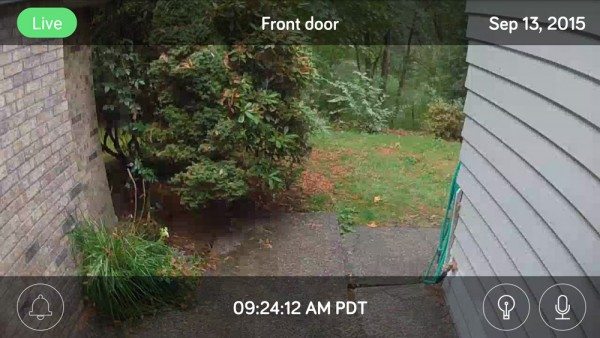 While 1080p would be nice, the 720p video feed works well enough for the Maximus Smart Security Light. Being an entry light, you most likely are not going for ultra wide angles or far distances. The video resolution and field of sight give solid coverage as people approach your front/back/side door.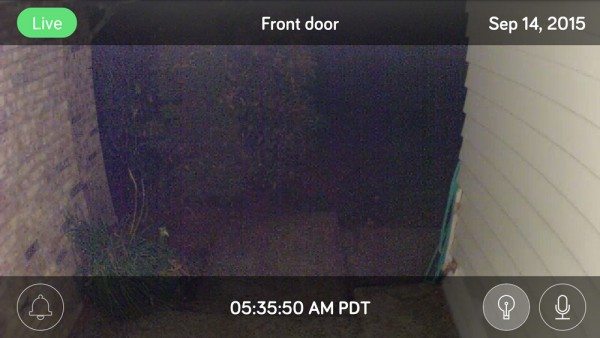 The night video is alright but not great. It does not operate like many surveillance cameras that typically use night time IR lighting but gets its illumination from the LED bulb being on all night long. I agree with the premise that having the light on all night long adds a bit of additional deterrence (this function can be managed in the smartphone app). Bottom line is that the night time operations and video feed are more than usable.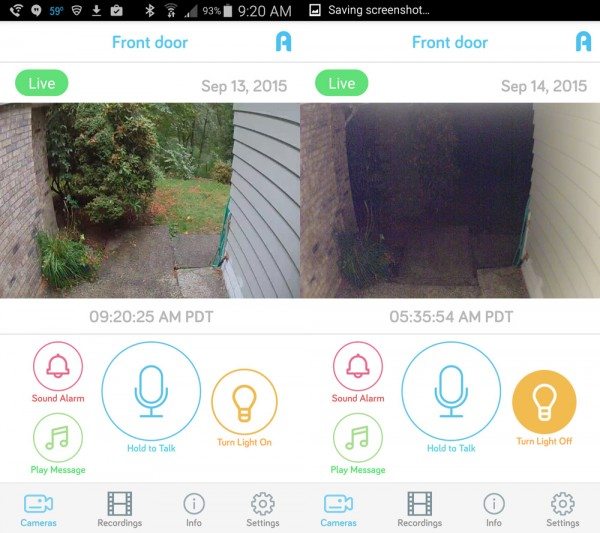 The mobile app give you the ability to turn on the light, communicate with your visitor/trespasser, play a prerecorded message, and/or sound an alarm. It also allows you to view past recorded videos and tweak individual camera's settings.
The Smart Security Light uses a PIR (infrared) motion sensor (located beneath the camera) and 'sophisticated' software that learns your preferences for increased detection/notification accuracy. This combination should filter out false alarms like swaying trees/bushes, small animals, or incidental movement in the environment. Overtime the system will learn that it should ignore pets and/or wildlife and primarily focus on people. This is a great feature…many of the previous surveillance systems I have used sent countless notifications that our bushes and trees were swaying in the wind. Having the sensor based on heat signature should eliminate this issue completely.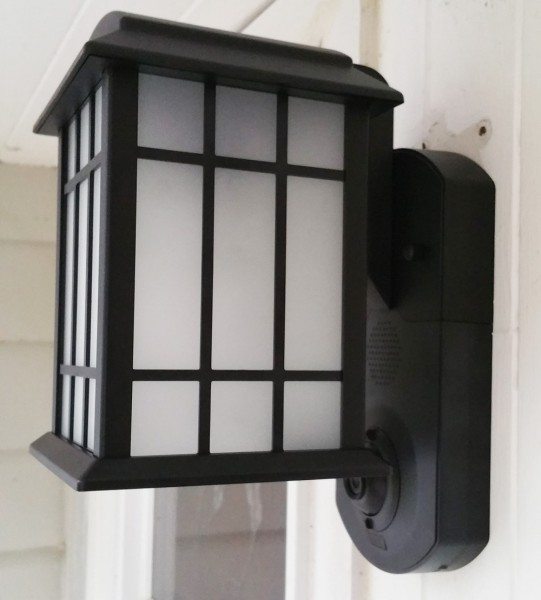 The 'high fidelity' speaker is located behind the sconce and provides relatively clear audio and the 100 dB siren is pretty loud and definitely gets your attention.
I have to say, the Maximus Smart Security Light is surprisingly well made especially considering that many decorative lights are more about looks than quality construction these days. The cast aluminum sconce and smoked glass are very nice. The housing that holds the camera, speaker, microphone, sensors, etc is primarily plastic but well constructed as well. The overall look is very polished and nicely finished.
Here is a very exciting video clip I downloaded of the Gadgeteer Kid getting home from school to show the Smart Security Light's video quality.
This video of me heading into work (GO HAWKS!!!) shows the night time/darkness video quality. While a bit more pixelated than daytime, is still very usable.
The Smart Security Light does not offer internal storage via an microSD card but has cloud storage for a monthly or yearly fee (currently in beta/trial). If you pay for the cloud storage option Maximus will upload a (approximately) 60 second clip when motion is detected that can be viewed at a later time using the mobile app. Within the app you can manage your cloud storage, giving you the ability to rename, save, delete, share or download clips locally. The live streaming, push notifications, two-way audio, lighting control, alarm control (aka main features) are all included without the monthly service charge.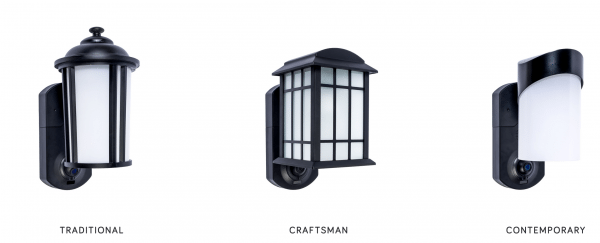 The Maximus is currently available in three styles (seen above) and two finishes (matte black and bronze) that both may expand with time and popularity. There are also matching, non-smart lighting fixtures available if you need.
I really like the look, quality and functionality of the Maximus Smart Security Light. It is a great, stealthy way to add security and awareness to your home. For being a first generation home connect smart-device and application, the overall experience is very polished. Considering other wireless, smart surveillance systems…at $200, the Maximus is a solid bang for the buck that is very understated and well executed.
Updates 02/22/16
The Maximus Smart Security Light continues to operate very well, providing rock solid surveillance and email notifications. The one change worth mentioning is that Kuna has ended their free beta cloud service. Their new premium paid services allow you to "go back in time" for up to 30 days. The (free) standard functionality of your device and mobile app still allows complete control of your Kuna security light including: the ability to turn your lights on/off, sound its 100+ decibel siren, hear audio, and speak with people anytime and receive email activity alerts. In addition to functional control, you can still go back and look at video up to 2 hours of past footage.
Source: The sample for this review was provided by getkuna.com. Visit their site for more info or Amazon to order one.