We use affiliate links. If you buy something through the links on this page, we may earn a commission at no cost to you. Learn more.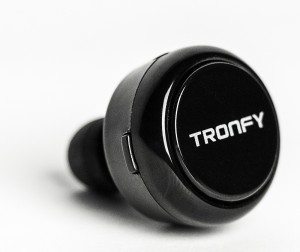 It wasn't too long ago that many Bluetooth headsets came with the protruding boom mic so that you didn't have to speak loudly and so that the person on the other end of the phone could hear you more clearly as you spoke. However, it was just a look I could not get used to out in public. I just wasn't a fan of that boom mic sticking out from my ear and down across my cheek. Although, there are still some Bluetooth headsets that have a less obvious boom mic, and people that still wear them out in public for that matter, there are newer and discreet headsets on the market today. And the iWork from Tronfy is one of them.
The performance on this small headset, or rather earpiece, is pleasingly good. I was expecting the sound to be tinny like most small portable devices tend to be since this thing is small. But with loud and heavy music playing on my smartphone the music sounded just as good as other Bluetooth headsets I have reviewed. You can check out my review of the Plantronics BackBeat FIT Review here.
The sound from the Tronfy isn't going to wow a seasoned audiophile but considering the size and shape of this earpiece headset is small and doesn't scream look at me I'm wearing a Bluetooth headset, the sound is on par with its size. However, as small and portable as this earpiece is, I would have liked for it to be just a little bit more slimmer. I like that the sound is clear and not tinny. I thought the sound was great. You can really hear the separation of the musical tones. Although it would be a stretch to compare this headset side by side to the BackBeat FIT, it still has a crisp, clean and clear sound coming out of the earpiece.
Although I would use this headset in the hotel gym if I were traveling, I wouldn't use this headset earpiece for those long grueling workouts since it isn't sweat proof or waterproof. However, if you know you aren't going to get it soaked with sweat then it can be a great companion for music in the gym.
This headset earpiece is a combination of a little bit of headset and a little bit of music headphones, so you are going to have to give up some of the higher and features in the sound department to fit in this little button shaped device.

Keep in mind that if you are listening to music in one ear that you will not be used to judging the sound quality since we are accustomed to hearing in stereo. So Tronfy has included an extra ear bud attachment that you can connect via the micro USB charging port. This is a nice added features so if you want that. Rio headphone experience then connecting the extra earbud is the way to go. Then if you need to switch to the typical mono earpiece for your phone conversation you can just unplug the extra earbud. This way you have a choice in how you want to use the Tronfy iWork headset, in stereo or mono.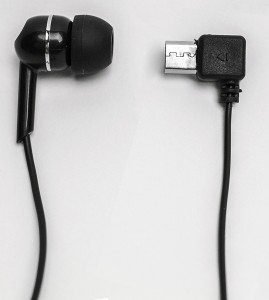 On the headset itself is the Multifunction  button which is the large round button on the front of the headset ear piece. You can't miss it, it has the company logo across it. Next there is a micro USB charging port and an LED status indicator. By the way, not only is the LED status indicator small but it doesn't constantly blink like most Bluetooth headsets. That blinking just rubs me the wrong way when I see it. But thankfully on this headset it doesn't blink at all.
I never liked the blinking LED indicator, it always reminded me of a small blinking beacon. Plus I always felt that the LED blinking added to the draining of the battery life, but since I could never turn it off manually I could never test out my theory.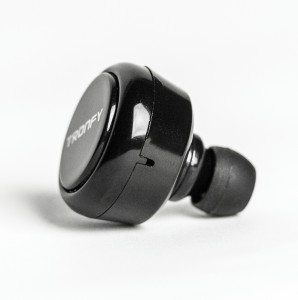 On the side of the handset earpiece is a tiny hole which is the microphone. I wondered if the person on the other line I was talking to would have a difficult time hearing me since the mic is basically by my ear and further away from my mouth but surprisingly they heard me just fine. I spoke in a normal volume without having to raise my voice and I was told they could hear me just fine. With the advancement of technology today, it doesn't surprise me that microphones have come a long way  especially in smartphones and iPhones. However I am still amused when people out in public, like the grocery store, have to talk so loud on their phones. No one wants to hear your conversation. I can speak low or even whisper when I am on my phone at the store and the person on the other line can hear me just fine. Loud talkers bother me. Please stop.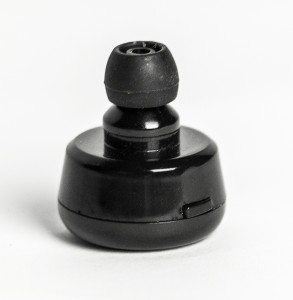 And since we are on the topic of volume, the volume button on the headset is interesting. It's not your typical UP/DOWN rocker type of button, nor are there two separate buttons for increasing or decreasing the volume. Instead it is a single button on the side which you press and it cycles through the volume ranges. For example, you press the button once and it gets loud, press it again and the volume gets louder. Once it gets to its loudest volume it cycles back and resets to its lowest volume. Considering how small this year peace is I can see how they scaled many of the physical features to accommodate the size. I found it very easy to cycle through the volume from high to low and back again. Just keep in mind that the device you are listening to music on has its own separate volume too so that can affect the volume output on the Tronfy.
When I mentioned before about LED lights maybe draining battery life, well, the battery life on the Tronfy iWork has an excellent battery life of its own so you don't have to worry about running out of battery right away. It has up to 6 hours of continuous talk time and 5 hours of music time. I roughly got those times out of the sample I was sent so I was enjoying the longer battery life on this particular headset. On the side of the Tronfy is a Micro USB port for the included Micro USB cable. Charging time for the battery is around 1 and a half hours.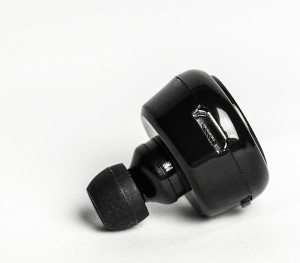 A feature on the Tronfy, which I have come to expect from higher end hands-free headsets, is the ability for Multipoint connectivity, basically allowing the headset to be paired with two phones or devices at the same time. Since I have two phones with me most of the time, this Multipoint connectivity comes in very handy.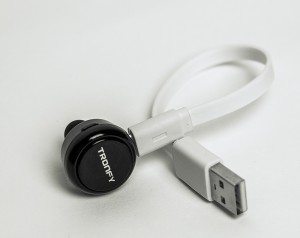 The Bluetooth on the Tronfy iWork is Bluetooth version 4.0 and supports A2DP and AVRCP. You can also answer and reject incoming phone calls by just saying Yes to answer and No to reject the call. The in-ear design is perfect if you wear glasses or sunglasses while using the headset earpiece since it doesn't hook over your ears or get in the way of the arms of your glasses. However, if you do need the support or want to hook the Tronfy to your ear, included are four clear plastic hooks as well as extra varying sized rubber tipped earbuds for a more custom and comfortable fit.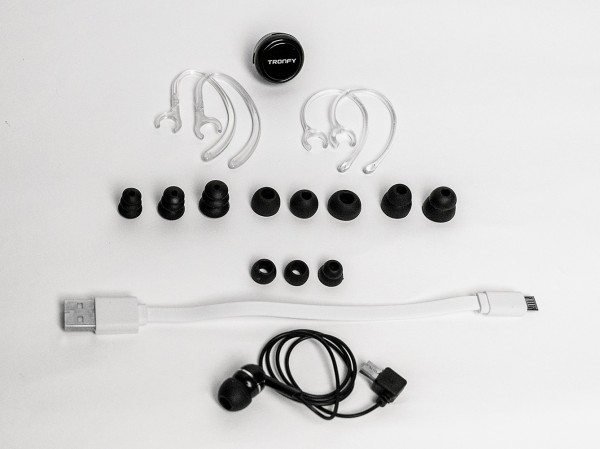 The Tronfy also has an auto power off in case the distance between the paired devices and headset is lost, or if you forget to turn it off, then the headset will automatically shut off in 10 minutes if there is no activity with the headset.
A feature that I liked is the battery indicator for iOS. It displays the remaining time of the battery life so it can tell you how much juice the Tronfy has left. However, I did try this on my smartphone to see if the battery status works in Android as well. I paired it to my LG G3 and it shows that the Tronfy is connected but did not show the remaining battery life. Maybe a future firmware will fix that issue.
If you use Bluetooth headsets often and you like them to be more low key and discreet then you will like the low profile design and the features of the Tronfy iWork Mini Bluetooth headset. Plus they come in other colors for you to choose from.
Source: The sample for this review was provided by Tronfy. Please visit their site for more info or Amazon to buy one.

Product Information
Price:
$16.99 on Amazon
Manufacturer:
Tronfy
Retailer:
Amazon
Pros:

Bluetooth 4.o
Up to 6 hours of battery life.
Can be connected to two devices at the same time.
Supports A2DP&AVRCP.
Extra earbud attachment to allow stereo listening.
Extra gel earbuds and hooks included.
No flashing LED light.
Android and iOS compatible.

Cons:

Not sweatproof or waterproof.