We use affiliate links. If you buy something through the links on this page, we may earn a commission at no cost to you. Learn more.

I usually tote an iPad and my iPhone with me around the house, looking for a comfortable place to read.  I also reference cookbooks every so often, with no clever way to hold them up.  The Mükava Tablet and Mobile Table may have just solved both problems for me.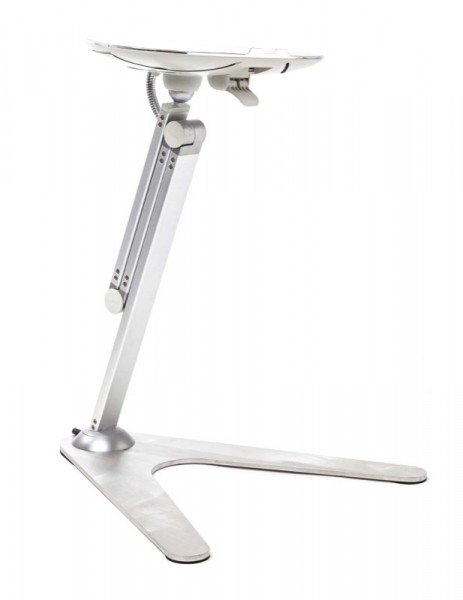 FEATURES
No assembly required – plug and play
All brushed steel contemporary design
2-in-1 design
Unique and proprietary Mukava pads
2 USB ports
USB Light
Mukava book bands and document pebbles
Lightweight and sturdy
Felt Feet
BENEFITS
No need to figure out how to assemble – just plug in
Can be used to read your tablet or as a great side table
A wide range of devices can be moved to and from the table in seconds
Charge your device while you read or while you are away and use the reading light
Allows you to hold a book or documents
Easy to move from room to room
WHAT'S IN THE BOX
Mükava Pads (3 Tablet Pads & 1 Mobile Pad)
USB LED Light
Power Adaptor + universal plug set
Mükava Table
This oddball looking table isn't quite an "end table" or a podium.  It seems deliberately purpose-made for your tablet or a book.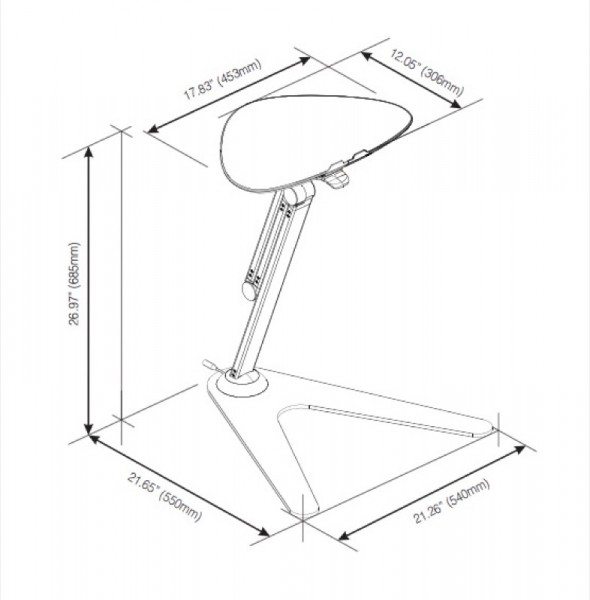 Folded up, the top measures 27″ above the floor.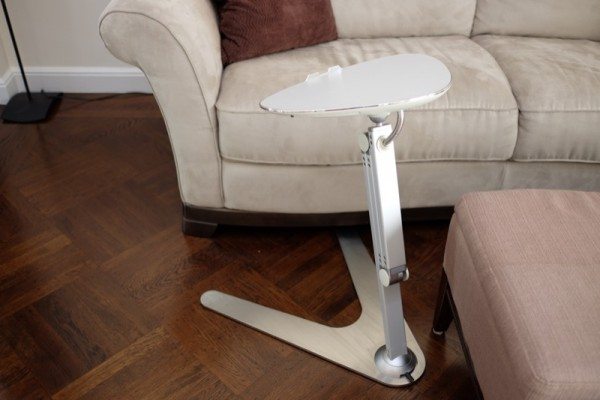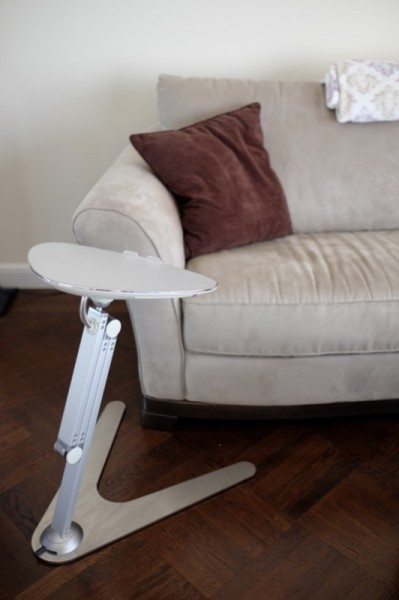 The first thing I tried was setting it next to a couch.  The folded up orientation seems perfectly sized for this.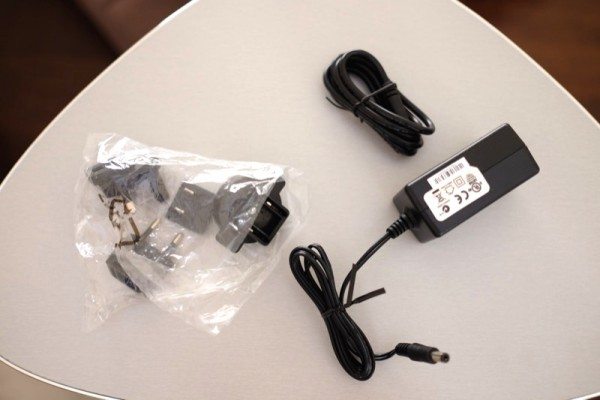 What's this, a power supply?  The table has a built in two-port USB outlet.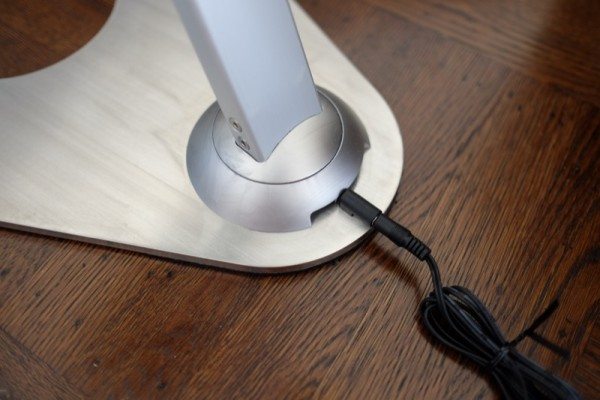 Plug the power supply into the base.  A cord extension is also included.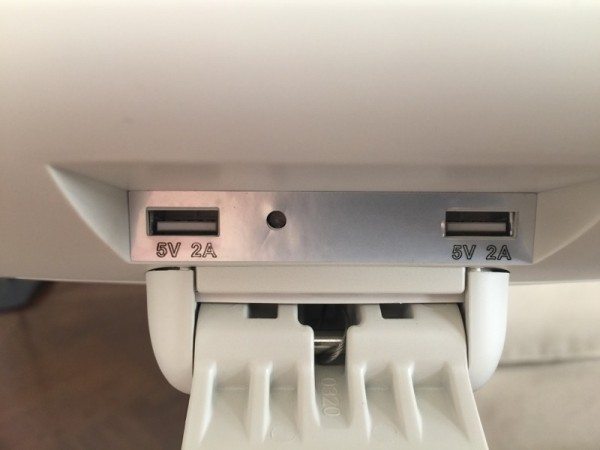 Under the table you'll find two USB ports, rated at 2A each.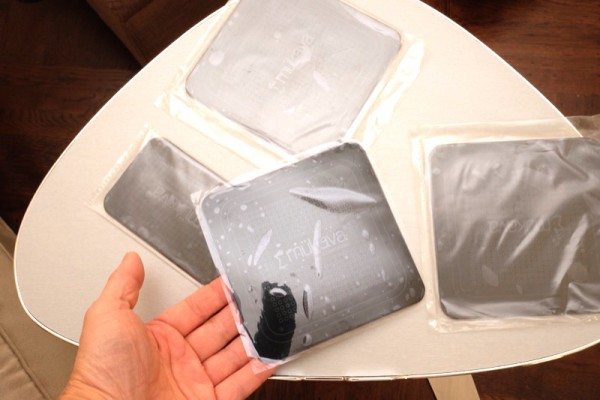 Also included are several mysterious black squares.  They're sticky on one side, and magnetic on the other.  The idea is to give your maximum traction for your smart devices.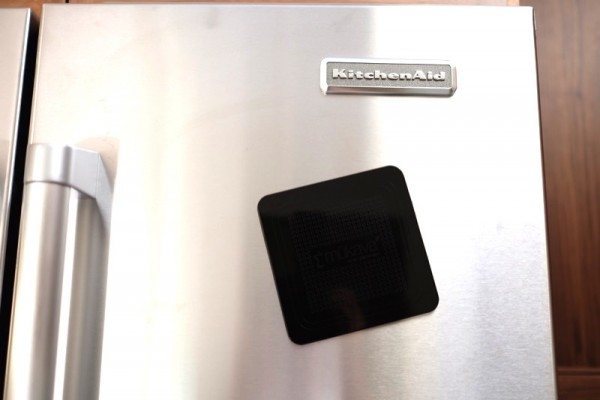 Fridge tested.  Yup, these squares are magnetic.  (Note:  Do not attach your tablet to your fridge.)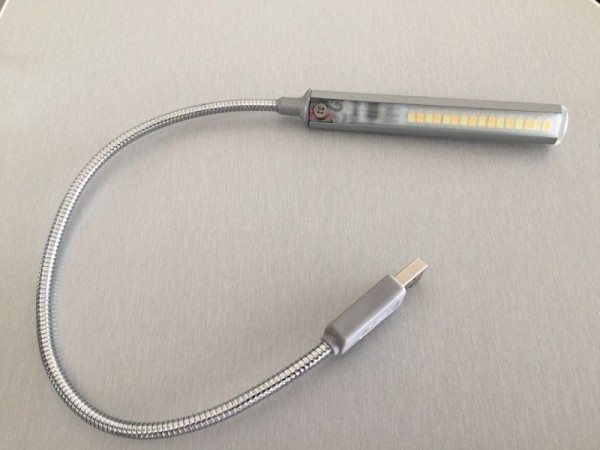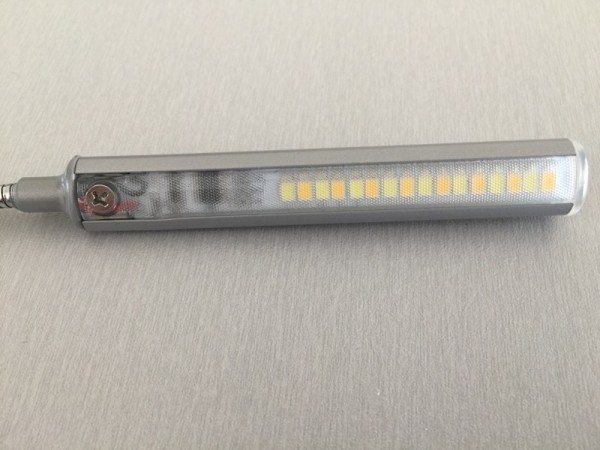 A flexible-arm LED lamp is included as well.  Note the two types of LEDs.  One provides a whiter light, the other a warmer color temperature.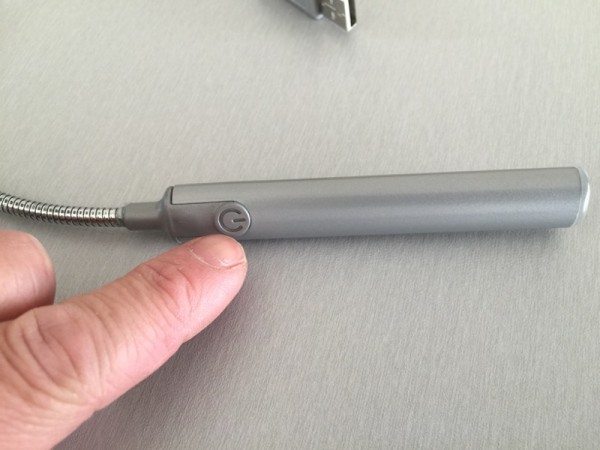 To turn on the LED, press and hold the power button for 4 seconds.  It's touch sensitive, not mechanical.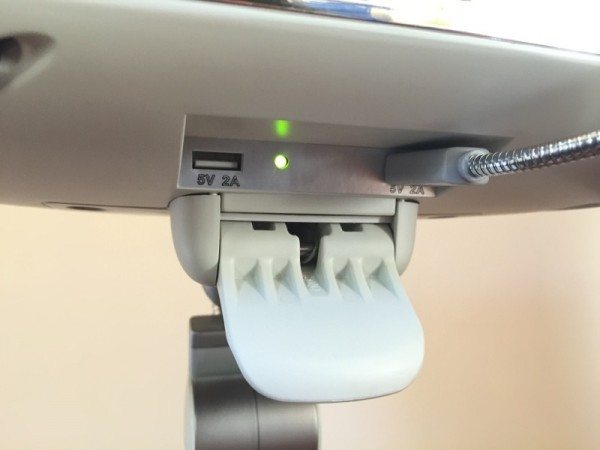 The LED plugs right into the USB port under the tabletop.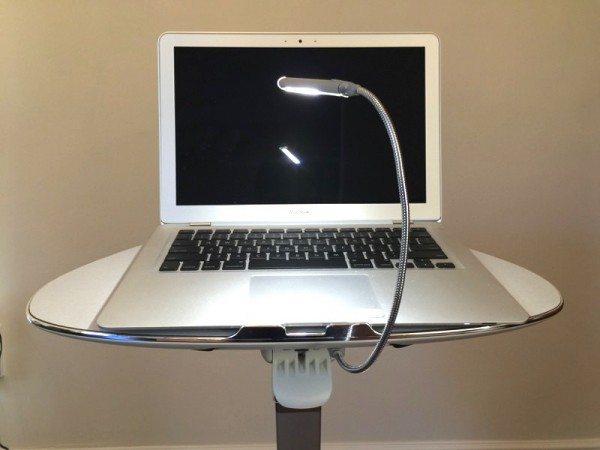 I'm not entirely sure why the USB ports are up front.  The flexible lamp arm kind of gets in the way.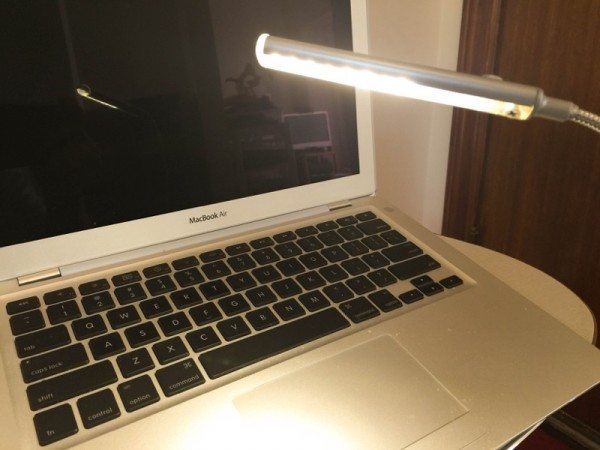 I've tried to capture the effect of the two selectable color temperatures.  Tap the power button once to toggle between whiter white (top) and warm (bottom).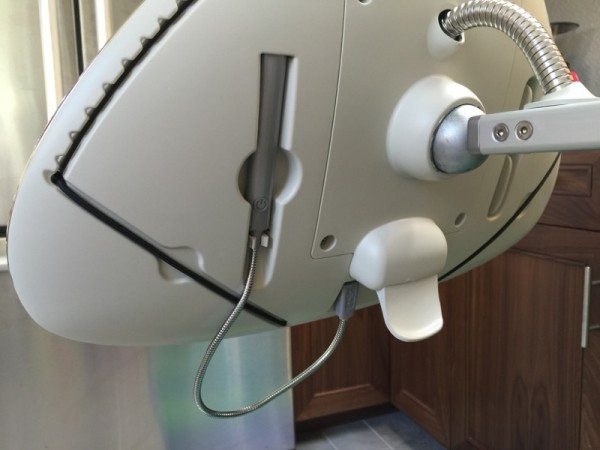 When the LED lamp isn't in use, it stows away underneath.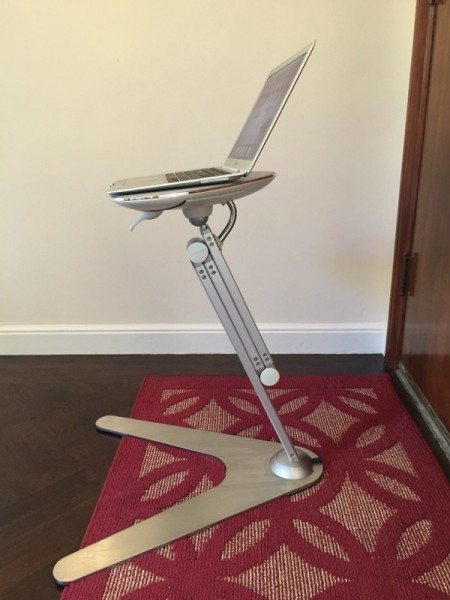 Oh yes, you've noticed I placed a Macbook Air (2008) on the table.  The listed capacity is 5 lbs.  Mükava suggests only using the table with a laptop in the fully-folded position (shown above).  This is probably to discourage people from knocking over their laptops.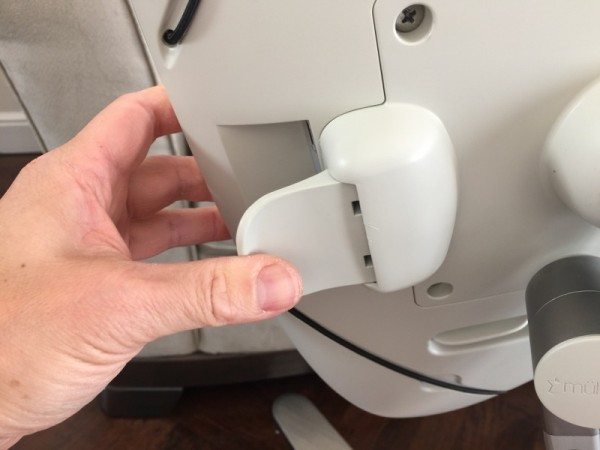 There is just one manual control of the Mükava.  This releases both hinges at once.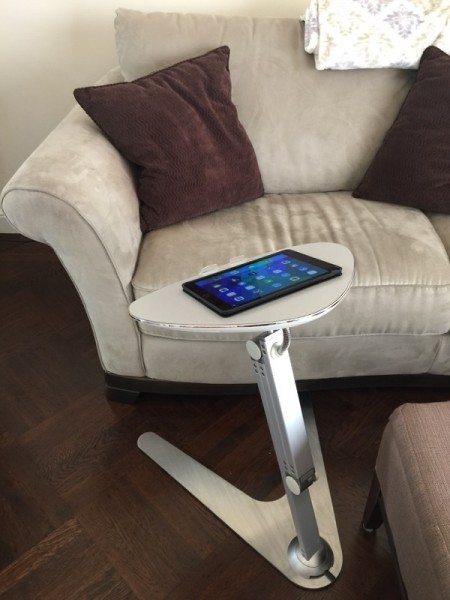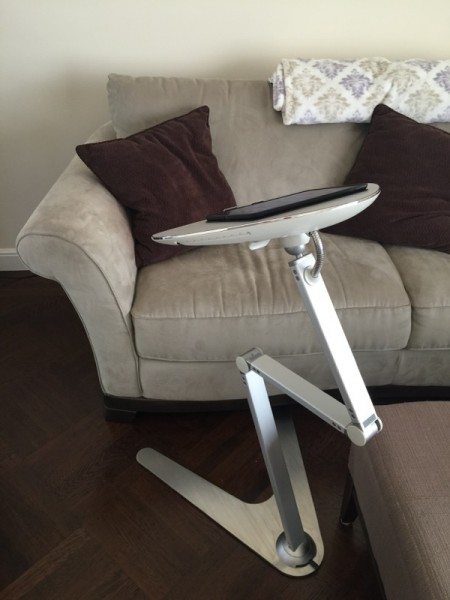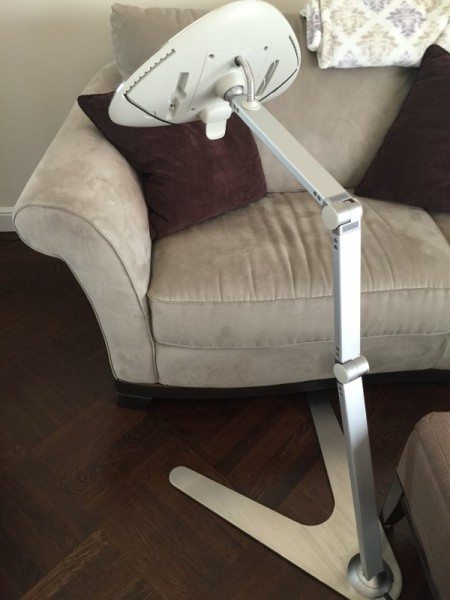 But what about tablets?  I stuck my iPad Air 2 (2014) on the surface and experimented with a few positions next to the couch.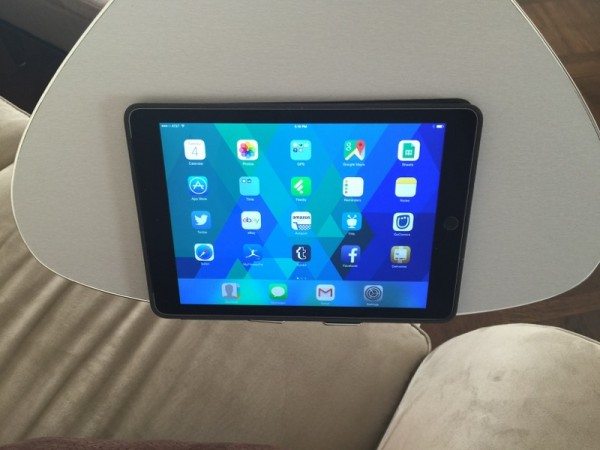 Because the Mükava tabletop is metallic, I discovered the Apple Smartcase magnets provided quite a bit of grip.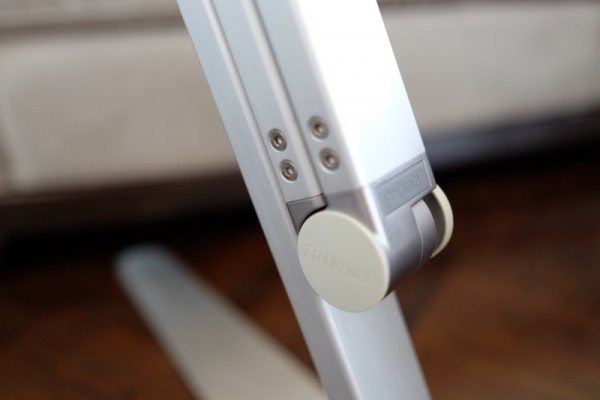 A close up of the one of the hinges.  The Mükava locks in preset, 12-degree gradients.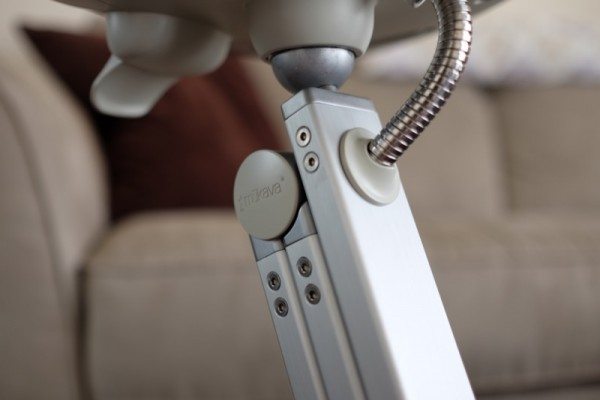 Under the tabletop is a flexible gooseneck bendy bit.  The USB power goes through here.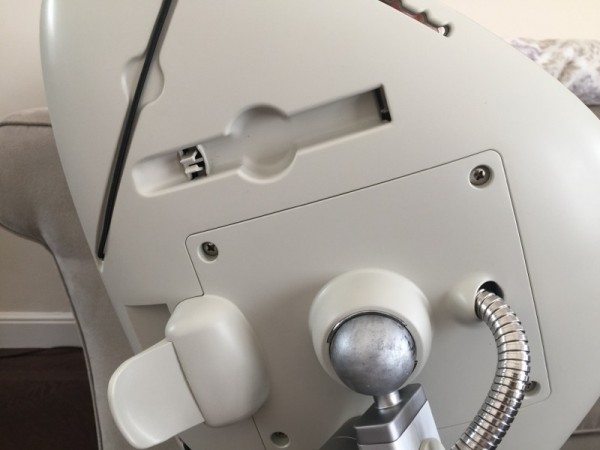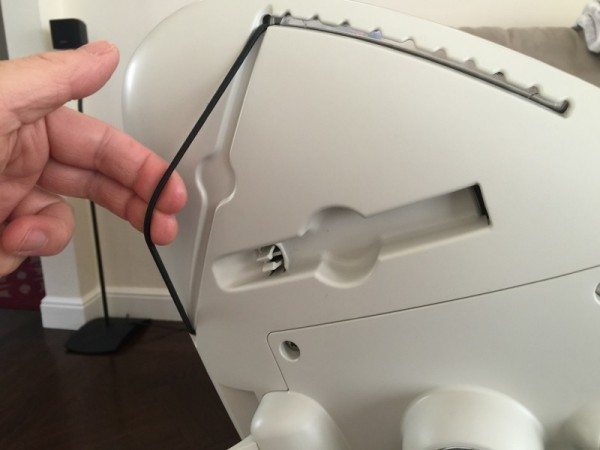 This is one of two elastics found underneath.  Why elastic?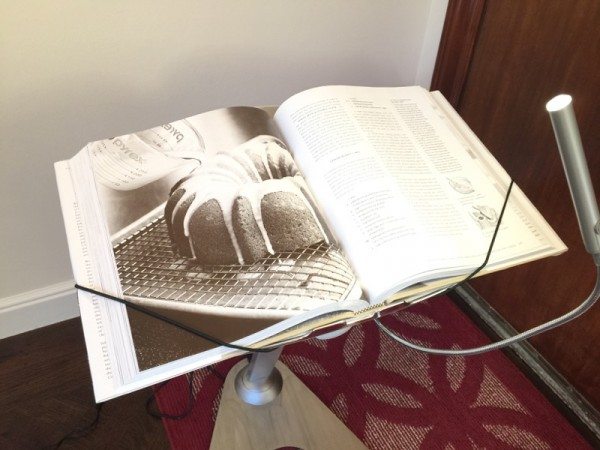 Books!  Here's a book opened up with both elastics in place, plus the USB lamp.  Once again, I have mixed feelings about the lamp being up front.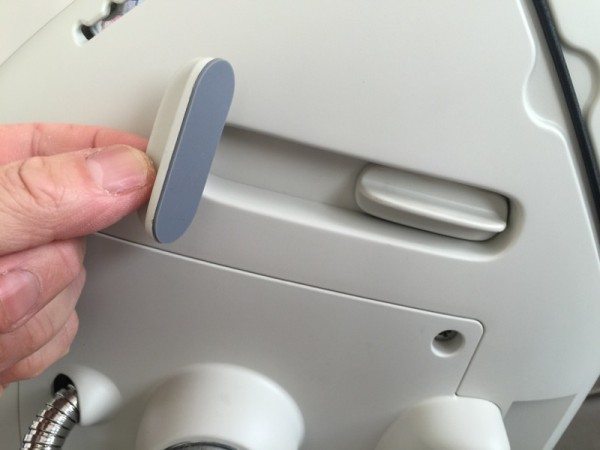 In another bit of clever design, the Mükava has two magnets that stow away underneath.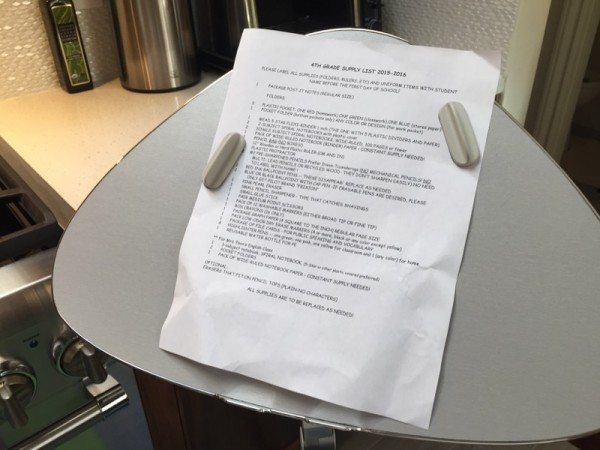 I found this perfect for securing papers to the tabletop.  No worries about it blowing away.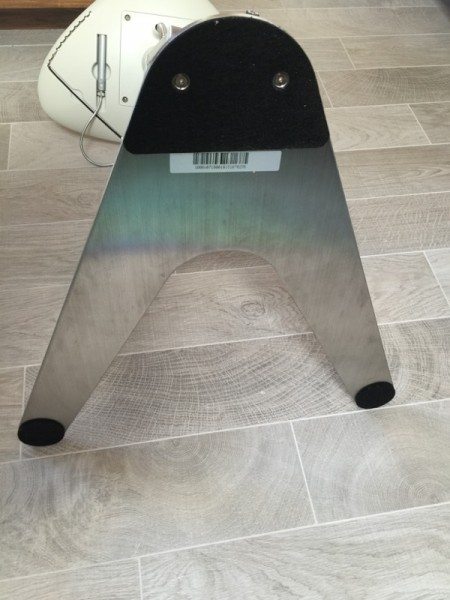 Is the Mükava ready for a spanking?  No, it's showing off the gigantic felt feet.  They're huge!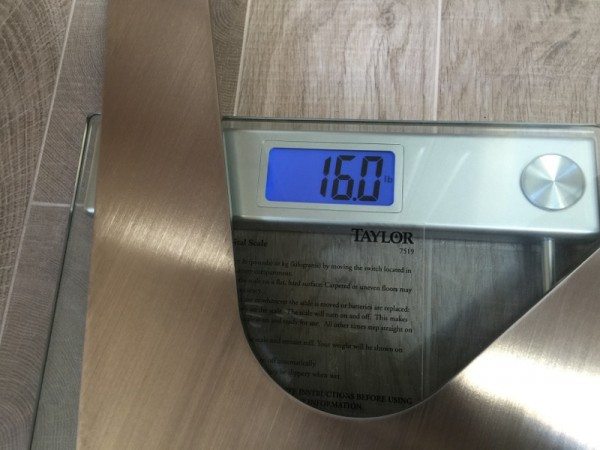 This is no lightweight.  The Mükava weighed in at exactly 16 lbs.  Used properly, the Mükava isn't tipping over anytime soon.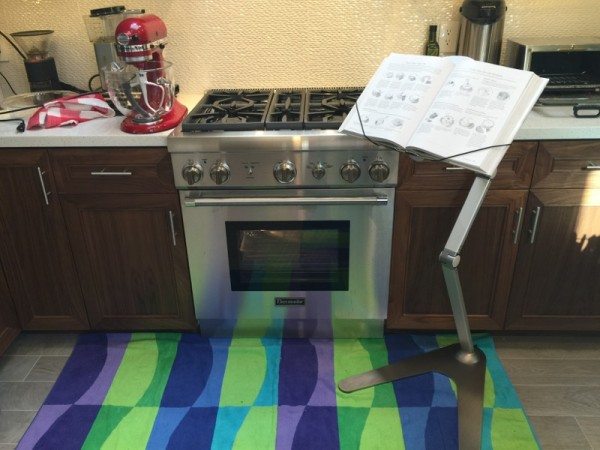 If I have one gripe, is that the table surface assembly seems to have a lot of plastic.  It makes a cheap creaking sound when you try to make fine adjustments.  It also wobbles a tiny bit when extended, so I' not sure I'd try typing on a keyboard.  I also question the position of the USB ports on the front.  If they were on the back, an LED lamp might be a bit more useful without getting in the way.
However, it's unbeatable as a "third arm" to hold up your tablet or cookbook.  I really like the slick and modern looks of the Mükava.  It's like the good-looking, do-anything, accessory table.
Source: The sample for this review was provided by Mükava. Please visit http://www.mukava-tables.com for more info.