We use affiliate links. If you buy something through the links on this page, we may earn a commission at no cost to you. Learn more.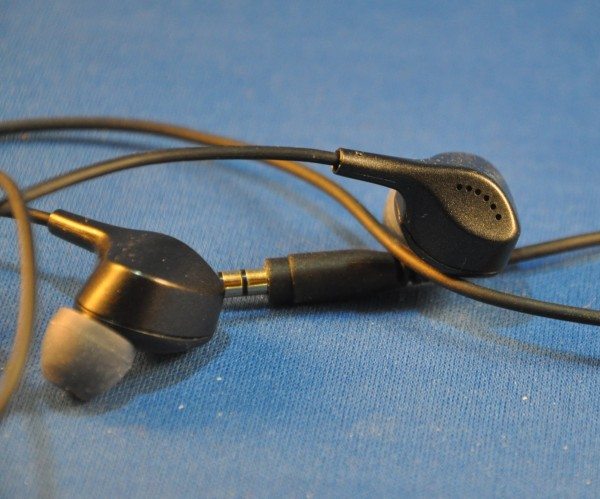 Earbuds are, for most folks, a commodity item. We find them in bargain bins, as freebies with most hardware, offered for free on some flights, and, I'm sure, probably in cereal boxes. I much prefer full over-the-ear cans personally, but when I'm traveling or walking, I am not a fan of the weight and heat of wearing anything more than earbuds. Recently, we were offered a very nice looking set of buds from a company called Huaham 233621®. The E300 Comfortable Music Earphone is one of a line of headphones and earbuds they make. I was sent a pair to try out, so let's take a closer look.
Note: Photos may be tapped or clicked for a larger image.
The earbuds are nicely sculpted out of a black matte-finish plastic with gray silicone tips that seal to your ear canals and offer a bit of sound isolation. There's an extra set of tips of the same size included in the box. There are a half-dozen small holes (maybe .3 mm in diameter?) opposite the sound hole on each earbud. The cable is about 4 feet long, divided for the first foot and held together at the split with a rubbery strain relief knob. On the left ear fork, there is a microphone/control button about a third of the way down the left wire. There is an old-fashioned telephone handset and a music note stenciled on it – signifying that you can start and stop phone calls and music with the button inside. The other side is printed with 233621®, so that you can also remember the catchy name. I expected the top and bottom of this piece to control volume, as it does with many other earbuds, but there is only the microphone and the stop/start button.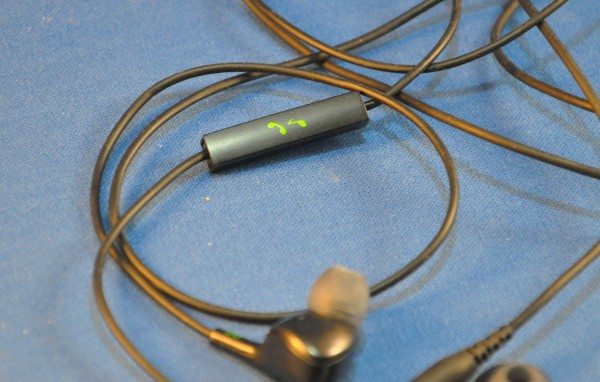 The earphones are supposed to be sound isolating or noise canceling (depending on which translation of the web sites you get), and some reviewers state this is very good. I did notice that the earbuds prevented me from hearing small sounds (a tea kettle whistle down the hallway, squeaky chairs, etc.), but it was as much due to the music playing as to the sound isolation. With the house quiet and the AC running, I can put on just the earphones and still hear the hum of the fan. With true noise canceling or isolating devices, those small, monotonous noises are canceled, even without music playing. I kept reading reviews online about how well these earbuds performed, and I'd go back and listen to a podcast or something for a while, and just couldn't hear it. I worked with the fit in my ear canals, but could never hear anything that resembled active voice cancelation. It sure didn't live up to the statement on the packaging – "Sound without Noise."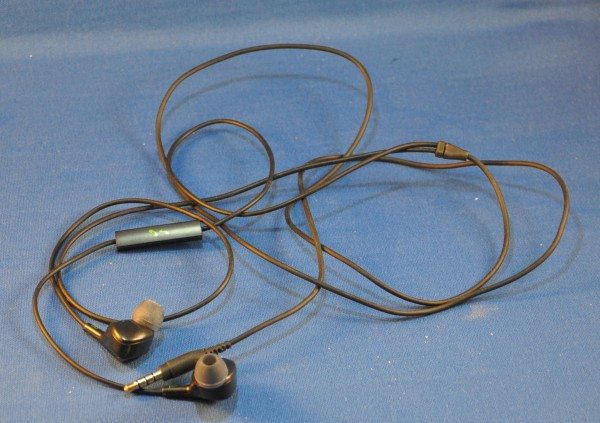 But what about the quality of the sound? Does the spoken word of a podcast come through clearly? Does the soundscape of a piece of music deliver the product the producer intended? When I'm talking on the phone, can I tell who it is, or does Aunt Hermione sound like Uncle Albert? This is, to me, by far, the most important aspect of any listening gadget. I tried the earbuds with these different types of content, and found the sound wanting. Not really horrible, mind you, but the lack of bass in both the music and spoken word made the sound a little thin. With podcasts, it actually made words easier to understand, but music was definitely worse off for the lack of aural richness.
Bottom line – I'd go for a $1 pair of gas station buds and save the $19 towards a high-end set.
Source: The sample for this review was provided by
Huaham
. Please visit their site for more info or
Amazon
to buy.
Product Information
Price:
MSRP $20 - but much lower online
Manufacturer:
Huaham 233621
Retailer:
Amazon
Requirements:

device with 3/8" stereo output

Pros:

nicely made - excellent fit and finish
cable is very springy - doesn't tangle easily
earplugs are soft and fit the ear well.

Cons:

sound is thin
noise canceling is limited to sound isolation
inline controller doesn't control volume