We use affiliate links. If you buy something through the links on this page, we may earn a commission at no cost to you. Learn more.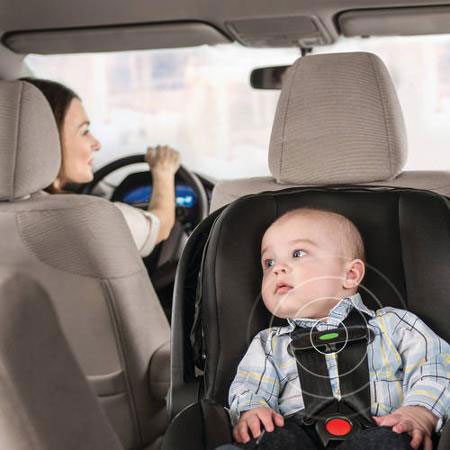 Walmart and Evenflo have teamed up to announce a new baby car seat that has built-in technology to alert the driver when the child's harness clip becomes unbuckled and when the child is still in the seat after arriving at their destination. Last summer it seemed like each week that passed we were hearing about a child who had been left in a car and had died due to heat-related issues. According to an article on CNN:
On average, 38 children die every year as a result of being trapped in hot cars. In about half the cases, children are forgotten in the back seat, according to the nonprofit KidsAndCars.org. Often, a parent has forgotten to drop a child off at daycare.
Distraction and fatigue are just two factors that parents deal with on a daily basis. The Evenflo Advanced Embrace DLX Infant Car Seat with SensorSafe has a special receiver that has been designed to plug into the vehicle's diagnostic port. This receiver syncs with the harness clip that secures the baby in the car seat. It will alert the driver with a tone when the clip becomes disconnected and when the clip is still connected once the car arrives at the destination and the ignition is turned off. This reminds the parent that the baby is still in the back seat. The connection method doesn't require a smartphone or use of Bluetooth, making it easier to setup and use for non-technical parents.
The Evenflo Advanced Embrace DLX Infant Car Seat with SensorSafe is available in three colors and is priced at $149.88 through Walmart's online store. For more info visit Walmart.
Source: CNN.