We use affiliate links. If you buy something through the links on this page, we may earn a commission at no cost to you. Learn more.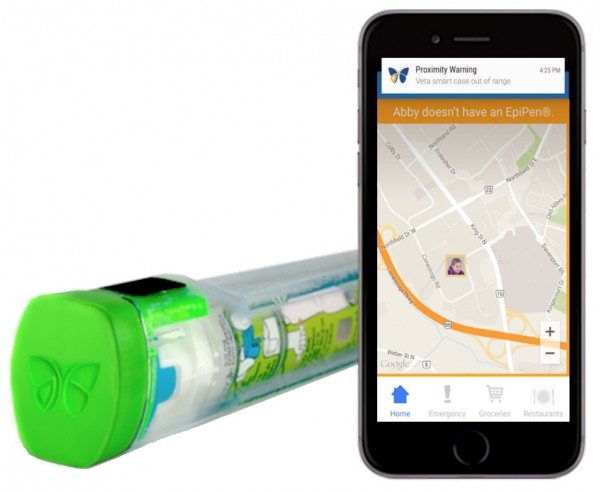 Within the first few months of her life, my daughter exhibited asthma and an array of allergies, including one to peanuts.  We had to give her treatments several times a day to protect her lungs and minimize asthma episodes, and we also had to protect her from exposure to foods and inhaled allergens that could potentially kill her.  We carried an EpiPen epinephrine auto-injector at all times in case of anaphylactic shock, and I was always worried about making sure I knew where the pen was and if it was still at full strength.  We weren't alone with these worries, and finally Aterica Digital Health has created a device that can support people who need to carry an EpiPen for their child or their own use.
The Veta Smart Case for EpiPen is available with a yellow or green cap to match the dose of the pen it holds.  The case monitors the pen, and it connects to your support networks through a cloud-based infrastructure via an app installed on your smartphone.  Electronics inside the Veta case monitor the temperature the pen is exposed to, so you'll know if the EpiPen might have been compromised by temperature extremes.  It has a "find me" function with a flashing light and audio pings to help you locate a misplaced Veta smart case, and the smartphone app remembers the last known location of your device so you can find your smart case in your house or even across the city.  A proximity alert lets you know if you move too far away from the Veta case, reducing your chance of leaving the EpiPen behind.  The case also has an emergency button that you can press to alert your personal support network that you are having a medical emergency, and it will automatically send the alert in some cases, such as when the case is opened to remove the pen.  Once you pull the cap off, Veta and the app will check with you in a few minutes; if you aren't able to respond, it will provide a loud verbal warning to bystanders in the area to alert them of the medical emergency. If you are traveling, this warning can be announced in a second language.
Aterica is accepting pre-orders for the Veta Smart Case for EpiPen now.  The Veta comes with a 1-year subscription for your private support network and a 12-month supply of batteries; ordering during the pre-order period doubles the subscription period to 24 months at no extra cost.  The reserve price now is $59 for either a yellow- or green-capped Veta.  Discounts are available for multiple orders.  Veta is expected to ship in Fall 2015.  Learn more about Veta at the Aterica Digital Health site.